Fresh Peach Pie Bars
Fresh Peach Pie Bars are a heavenly treat made with fresh summer peaches. Try this tasty trio of a shortbread crust, peaches, and a crumble topping!
When local or southern peaches, kissed with a gorgeous blush of color, are available, there's nothing better than a homemade peach dessert!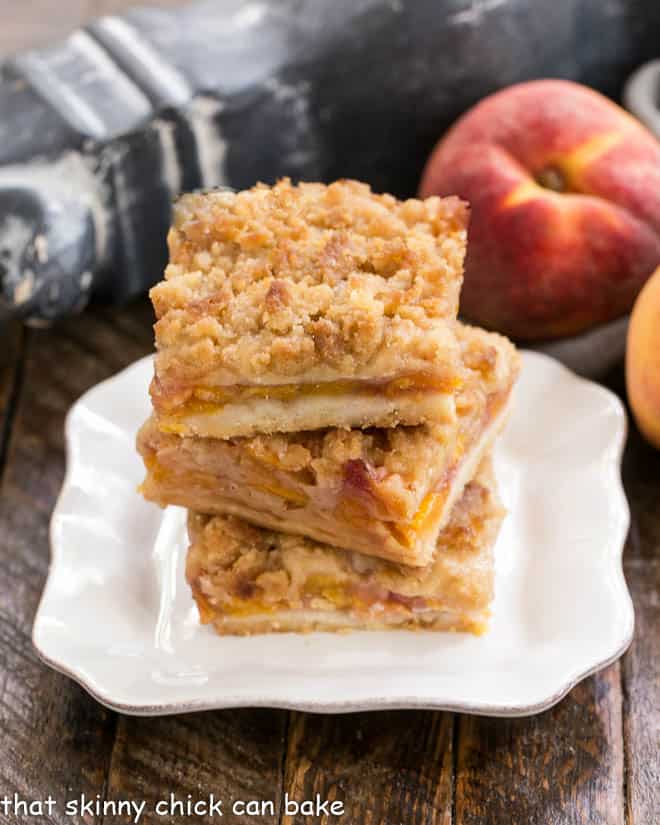 Fresh Peach Pie Bars
I wait all summer till the local peaches are ripened to perfection, then put on my apron and bake up a storm. First on the agenda was a batch of crumb-topped peach bars. With a shortbread crust and a buttery streusel sandwiching the luscious peach slices, I knew the results would be nothing short of spectacular. The family made these peach streusel bars disappear in a flash.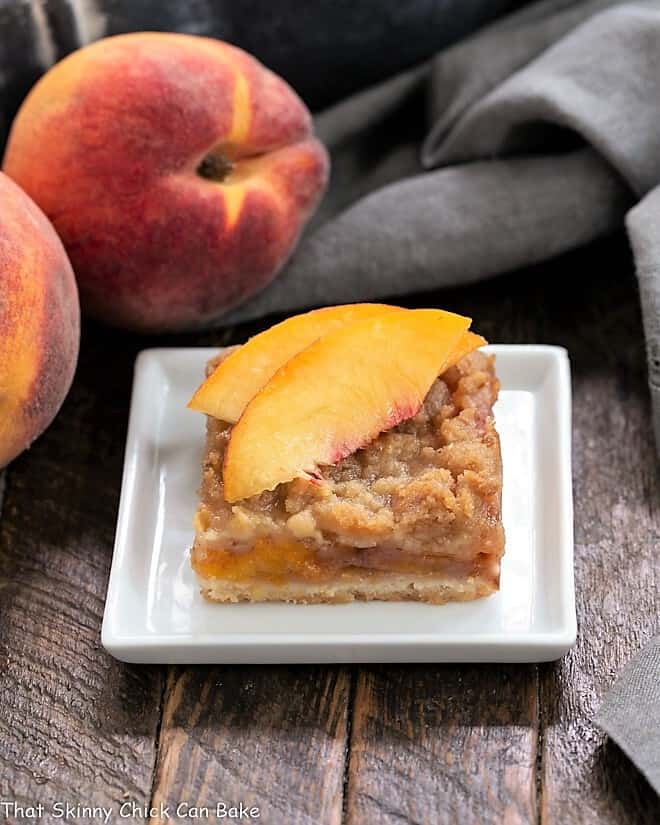 Peach Crumble Bars
Making pies can be a daunting task. Between rolling out the crust without tearing the pastry, laying the top crust without a fiasco, and making sure the filling is thick enough, but not too thick, are frequent worries! Every step has a potential fail. That's why I love fruit-filled bar cookies like these fresh peach pie bars.
Starting with a simple press-in shortbread crust, followed by a layer of peach preserves and sliced peaches, then topped with a buttery streusel is the recipe for a much less stressful task. Plus the reward is a bar cookie that tastes like a classic peach pie! Bill, the consummate pie authority, raved about these peach crumble bars. And I was happy not to sweat out the nerve-racking process of rolling out a crust!
A Few Tips for Making the Best Peach Bars
It's easy to make the shortbread crust with a food processor if you have room in your dishwasher to clean it! I've used a pastry blender, too. This crust is pressed onto the bottom of a prepared baking pan. Use the flat bottom of a measuring cup to help even out the surface.
Use ripe, flavorful peaches for the best results. The peach preserves (affiliate link) provide some peach flavor, but using tasty, seasonal peaches is key for terrific peach bars.
If slicing cookie and dessert bars is a challenge, check out this post on How to Cut Perfect Bar Cookies.
A reader recently asked me if these could be made ahead. My family is happy to eat these peach crumble bars for days after they're baked, but the topping does absorb moisture from the peaches, especially if they're extra juicy. So if you're planning to serve this peach dessert for special company, serve them on the day they're baked.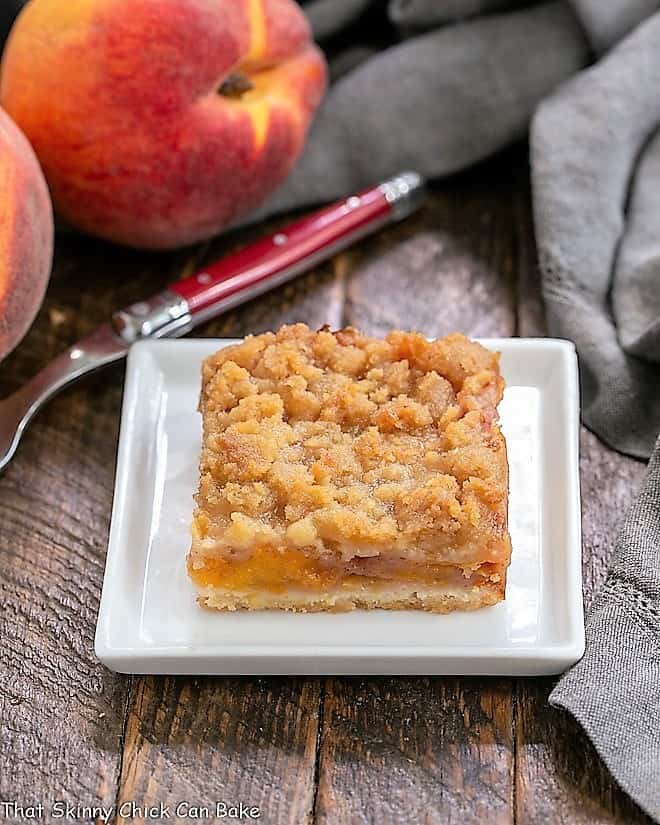 How to Select Fresh Peaches
Look at the stem end for a nice blush and no green tinge. If you see green, the peaches were picked too early and will not ripen properly.
Take a deep inhale. Fresh peaches should have a sweet, peach aroma when ripe.
Gently squeeze the fruit. It should give slightly when ripe. Firm peaches may need a few more days before they're ready to eat.
How to Store Fresh Peaches
Keep your fresh peaches at room temperature until they're ripe. To hasten the ripening, place your peaches in a brown paper bag. The bag traps ethylene gas which helps fruit to accelerate the ripening process.
Once the peaches are ripe, you can store them in the refrigerator for 3-5 days. When the skin starts to shrivel, your fruit is dehydrating and should be eaten, baked with, made into jam or jelly, or frozen ASAP. Try a homemade peach dessert like a peach galette, peach crisp, or peach bread.
More Fruit Bars:
This post from August 2016, was updated with additional tips and new photos in 2019.
The Recipe:
Fresh Peach Pie Bars
Prep Time 30 minutes
Cook Time 42 minutes
Total Time 1 hour 12 minutes
Yield 16 servings
All the flavors of a peach pie in these easy to make, streusel topped bar cookies!
Ingredients
Crust:
¾ cup flour
¼ cup powdered sugar
Dash of salt
6 tablespoons butter, cold and cut into pieces
Peach Filling::
¼ cup peach preserves (I used Bonne Maman)
2 cups fresh peach slices (2-3 peaches), peel, remove the pit, and slice
1 teaspoon fresh lemon juice
2 tablespoons flour
1 teaspoon cornstarch
¼ teaspoon cinnamon
Topping:
4 tablespoons butter, cold and cut into pieces
½ cup flour
½ cup packed brown sugar
1 tablespoon sugar, to sprinkle over peaches
Instructions
Preheat oven to 375º. Line an 8 x 8-inch baking pan with non-stick foil.
Make the crust by combining ¾ cup flour, powdered sugar, salt, and 6 tablespoons of butter. Cut butter into dry ingredients till the butter is the size of small peas (may use a pastry blender or even a food processor).
Sprinkle the mixture into the bottom of your prepared pan. Press into an even layer using your hands.
Bake for 10-12 minutes or till just starting to brown.
When the crust is baked, spread preserves over the top. Set aside.
Gently mix the peach slices with lemon juice. Toss the peaches with the flour, cornstarch, and cinnamon. Set aside.
Make the streusel topping by mixing the remainder of the butter, flour, and brown sugar using a pastry blender or food processor just till combined and crumbly.
Arrange the peach slices, overlapping slightly if needed, in a single layer across the jam. Sprinkle with the 1 tablespoon of sugar. Sprinkle evenly with the streusel topping.
Bake for 25-30 minutes or until the filling is bubbling and the topping is golden brown. Cool completely before cutting.
This recipe can easily be doubled and baked in a 9 x 13-inch pan. Baking times remain the same.
Notes
Taste your peaches before adding them to the bars. You may need more or less sugar to sweeten.
Nutrition Information:
Yield:
16
Serving Size:
1
Amount Per Serving:
Calories: 161
Total Fat: 7g
Saturated Fat: 5g
Trans Fat: 0g
Unsaturated Fat: 2g
Cholesterol: 19mg
Sodium: 70mg
Carbohydrates: 23g
Fiber: 1g
Sugar: 13g
Protein: 2g
Note: This post may contain affiliate links; view
my Disclosure Policy
for details. I earn a small percentage from any purchase you make by clicking on these links at no extra cost to you.