I hadn't made this Creme de Menthe Cake in ages and doubted my family even remembered its deliciousness. It's my mom's super easy recipe from the 1970's but I nixed the Cool Whip for real whipped cream. A girl's gotta have some standards.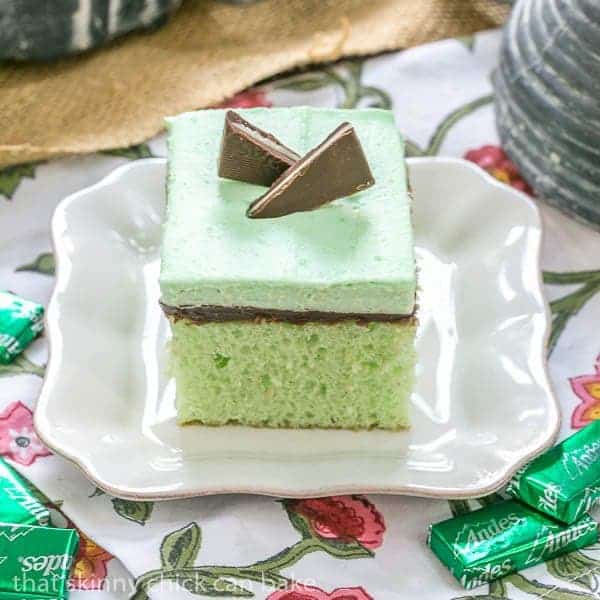 Creme de Menthe Cake
Those midweek calls from our oldest are usually paired with a request. He was invited to a Thursday night BBQ and he was wondering what treats I had lurking in the freezer. He was plum out of luck as I had made two desserts for my book club dinner that night, and there was nothing to spare. I was nearly baked out, but I remembered doctored up cake mix recipe that was always a crowd pleaser: Creme de Menthe Cake.
Easy Doctored up Cake Mix Cake Recipe
This is one simple dessert. A box of white cake mix, jar of fudge sauce, whipped cream and creme de menthe, a mint liqueur, were the basic ingredients. Eggs, water, oil and the liqueur were added to the mix and baked up in a 9 x 13 pan.
Topped with fudge, then minty whipped cream and voila, a dreamy dessert! The circa 1970's recipe was topped with Cool Whip, but I prefer real whipped cream stabilized with a packet of Whip It. Dazzle the mint fans in your life with this yummy cake mix cake recipe!
More Mint Recipes You'll Love:
Print
Creme de Menthe Cake
A super simple, yet impressive cake that starts with a box mix and ends a triple layered delight!
Author:
Prep Time: 30 minutes
Cook Time: 28 minutes
Total Time: 58 minutes
Yield: 12-18 slices
Category: Dessert, Cake
Ingredients
1 box white cake mix (I used Duncan Hines brand)
Oil (amount listed on box)
Water (amount listed on box, then remove 3 tablespoons)
3 tablespoons creme de menthe (green mint liqueur)
2 whole eggs (instead of eggs listed on box)
2-3 drops of green food coloring, optional
1 jar of fudge topping (I used Hershey's)
8 ounces (1 cup) heavy cream
1/4 cup powdered sugar, sifted
1 packet Whip-It, optional, to stabilize whipped cream
3 tablespoons creme de menthe
Instructions
Preheat oven to 350º. Grease a 9 x 13 pan and set aside.
Mix cake mix according to package instructions using 2 eggs and removing 3 tablespoons of water from the water called for on box. Add creme de menthe along with the water. If you'd like a greener cake, add a few drops of green food coloring.
When mixture is smooth, scrape it into the prepared pan and smooth the top. Bake according to the box instructions.
When cake is done a toothpick inserted in the center will come out clean. Cool cake completely.
When cake is cool, carefully spread fudge sauce over top.
Whip cream with powdered sugar and Whip-It, if using. Mix in creme de menthe and whip till firm peaks form. Spread over fudge.
Chill for 4 hours before serving.
Notes
The total amount of liquid used in the cake will be the same as what was called for on the box. You will need to remove 3 tablespoons of water from what is listed on the box and replace it will 3 tablespoons of creme de menthe.
Total time does not include cooling and chilling times.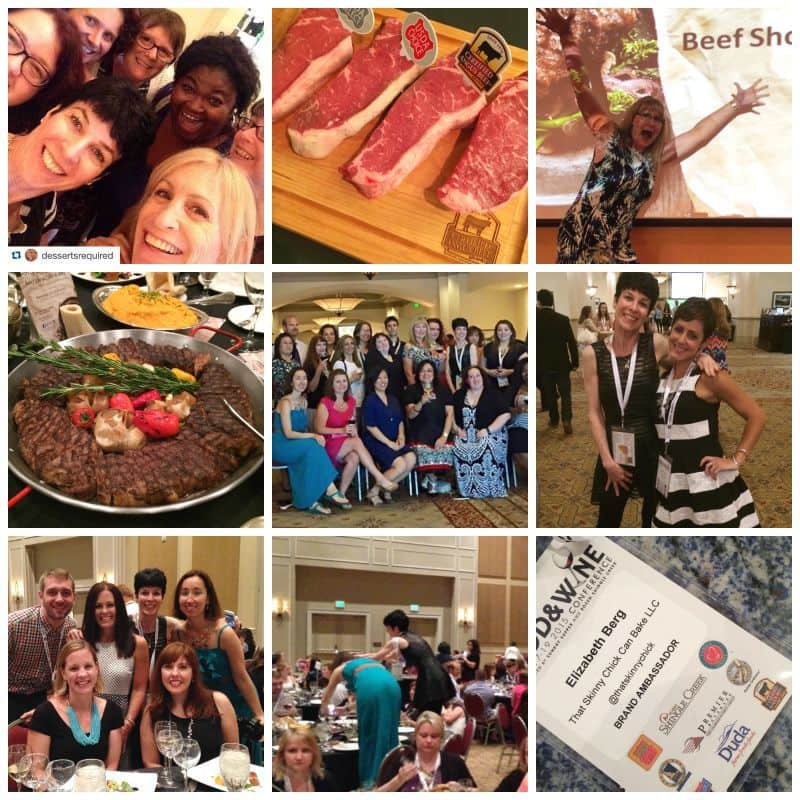 Food & Wine Conference, 2015
I attended my second Food & Wine Conference in Orlando a couple weekends ago. This terrific gathering of food bloggers was a spin off of the Sunday Supper blogging group I've been a part of for years. Isabel, the founder of the Family Foodie blog and the Sunday Supper group, has been using her platforms to spread the importance of family meals since their inception. She took the opportunity to educate bloggers via a food bloggers' conference and I knew I must join in. Here are some reasons I will attend again in 2016.

The attendees were kind and generous bloggers, speakers and sponsors who were happy to share their tips and experiences whether while gathered together at one of the presentations,  sipping cocktails or during conference downtime.
The conference was held at the very posh Rosen Shingle Creek. Our price break this year was well worth spending an extra night.
The location in Orlando, Florida, allows the opportunity to bring your family who can go to the nearby theme parks while you attend the conference.
There were amazing sponsors in attendance like Certified Angus Beef® Brand, Idaho Potatoes, Georgia Peaches, and Dixie Crystals Sugar and more. You can see the perfectly cooked, melt in your mouth, well marbleized Certified Angus Beef® Brand Sirloin we were privileged to sample for our Around the Sunday Supper Celebration in the above photo. The brand representatives were open and approachable. I was honored to be an ambassador for Certified Angus Beef® Brand.
You will have the chance to connect with bloggers you've only known "online" and reconnect with other bloggers you may have met in person.
You will pick up many tips and methods for making your blog better, from SEO to photography to creative writing.
There are many opportunities to win a free scholarship through recipe contests in the months before the conference.
I hope to see you in Orlando next summer!!
Note: This post may contain affiliate links; view
my Disclosure Policy
for details. I earn a small percentage from any purchase you make by clicking on these links at no extra cost to you.