Creme de Menthe Cake
This retro Creme de Menthe Cake recipe came from my mom. Mint-infused cake, a layer of fudge and minty cream create a dreamy combo!
Based on my mom's super easy recipe from the 1970s, I nixed the Cool Whip for real whipped cream. Plus this Grasshopper Cake can be made with a cake mix or a white cake from scratch, depending on how much time you want to spend in the kitchen.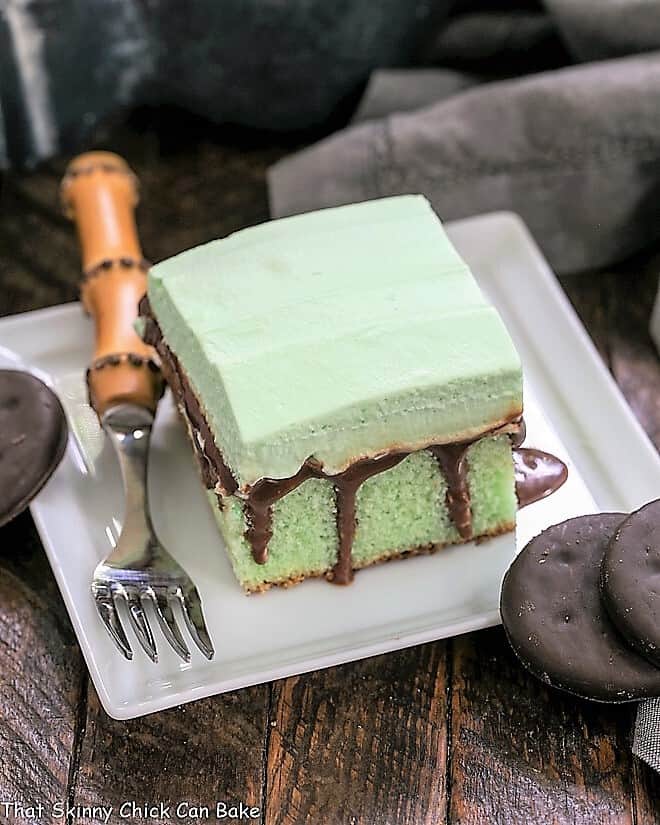 Why You Must Make
Those midweek calls from our oldest are usually paired with a request. He was invited to a Thursday night BBQ and he was wondering what treats I had lurking in the freezer. He was plum out of luck as I had made two desserts for my book club dinner that night, and there was nothing to spare. I was nearly baked out, but I remembered doctored-up cake mix recipe that was always a crowd-pleaser: My mom's Creme de Menthe Cake.
This Mint Cake is a semi-homemade dessert made with a box cake mix for a quick dessert!
It's perfect for St. Patrick's Day or any time you want to bake something for a mint lover.
It's the classic, irresistible pairing of mint and chocolate!
Ingredient Notes
Kitchen Staples – Vegetable Oil, Water
Box of White Cake Mix – I used Duncan Hines brand. You can also use a homemade white cake recipe baked in a 9 x 13-inch pan
Creme de Menthe – Green Mint Liqueur. Most of the alcohol will evaporate during the baking time.
Whole Eggs – Use instead of the eggs listed on the box. It's always best to have your eggs at room temperature when baking.
Green Food Coloring – Will intensify the green colors in the cake.
Jar of Fudge Topping – Use a good quality brand. You can always use a homemade recipe. I like Mrs. Richardson's or Graeter's brands. Double the amount for an extra thick fudge layer.
Heavy Cream – 36% butterfat
Vanilla Extract – Make sure it's pure vanilla and not imitation.
Powdered Sugar – sifted for a smoother topping.
Cream Cheese – at room temperature for a smoother topping
Creme de Menthe – Adds the mint flavor and color.

How to Make
This is one simple mint dessert. A box of white cake mix, a jar of fudge sauce, whipped cream and creme de menthe, a mint liqueur, are the basic ingredients.
Eggs, water, oil, and liqueur are added to the cake mix.
Then the cake is baked in a 9 x 13 pan.
Once cooled, the cake is topped with fudge, then minty whipped cream, and voila, a dreamy grasshopper cake!
Note: This circa 1970s recipe was topped with Cool Whip, but I prefer real whipped cream stabilized with a packet of Whip It. Dazzle the mint fans in your life with this yummy cake mix cake recipe!
Recipe Tips
For years, I made this Mint Cake from scratch, but it's still darned tasty using a box mix, especially when you're short on time. It's a ridiculously easy recipe, especially my mom's recipe topped with creme de menthe spiked Cool Whip instead of whipped cream. So feel free to take the easy route and it will still be a delicious mint cake.
I like using a Duncan Hines white cake mix for this grasshopper cake.
If you'd like to make this dessert from scratch, I've used this terrific White Cake Recipe in lieu of the box mix. Remove 3 tablespoons of the buttermilk and add the 3 tablespoons of creme de menthe to provide the mint flavor. Bake as directed.
Use an extra half jar of fudge sauce to make a thicker chocolate layer. Fudge sauces are now made to pour so will not necessarily make a solid layer when refrigerated. A homemade fudge sauce will be thicker.
I prefer the taste of Mrs. Richardson's Fudge Sauce, but it oozed more than when I used Hershey's brand.
The minty topping was originally an 8-ounce tub of Cool Whip flavored with creme de menthe.
It will work in a pinch, but I prefer the flavor of homemade whipped cream or a homemade whipped topping like in the recipe below.
The addition of green food coloring will intensify the green color.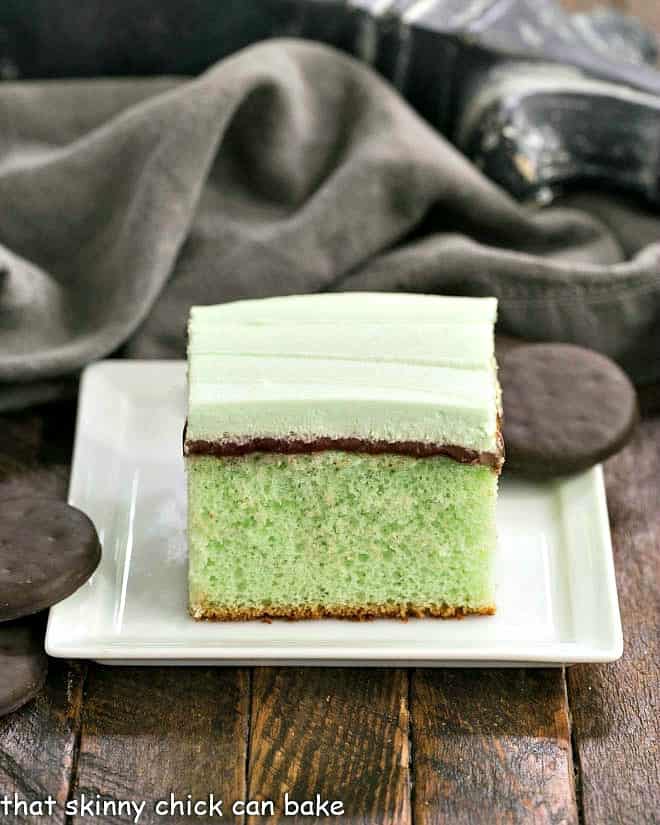 Frequently Asked Questions
Where Did the Name Grasshopper Originate?
The grasshopper cocktail was invented in 1918 in New York City for a cocktail competition. Philibert Guichet came in second place and brought this winner home to New Orleans where it really took off decades later in the 1980s. The name was due to the green color of the cocktail.
Are Grasshopper Desserts Peppermint or Spearmint?
Creme de Menthe, the source of mint flavor in grasshoppers is made from Corsican mint or dried peppermint, not spearmint.
What is in a Grasshopper Cocktail?
The grasshopper cocktail is made with cream, Crème de Menthe, and white Crème de Cacao.
You May Also Like
Stay in touch through social media @ Instagram, Facebook, and Pinterest. Don't forget to tag me when you try one of my recipes! And if you love the results, please give it a 5-star rating in the recipe card. Note: As an Amazon Associate, I earn from qualifying purchases. Visit my Amazon Store for my favorite products.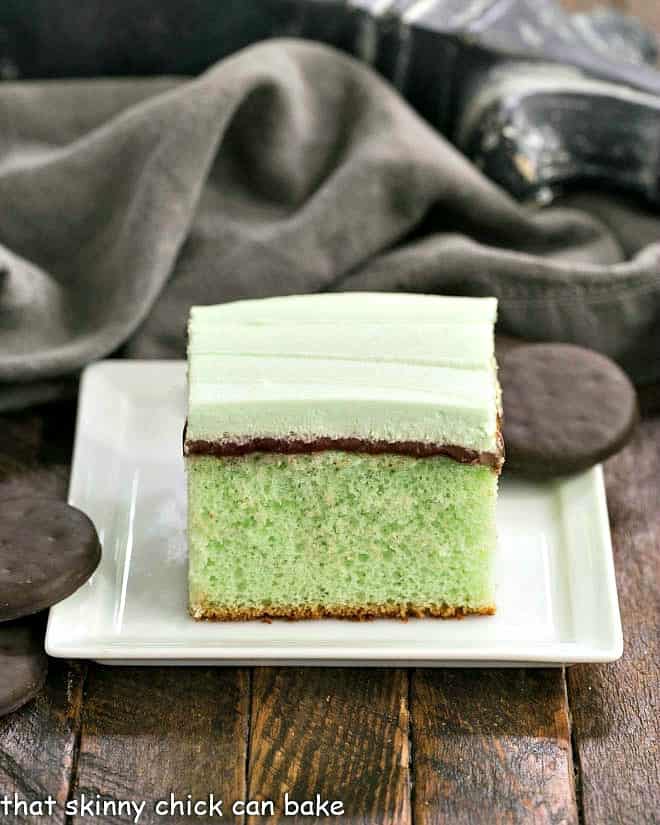 The Recipe:
Creme de Menthe Cake
Prep Time 30 minutes
Cook Time 28 minutes
Total Time 58 minutes
Yield 20 servings
A super simple, yet impressive cake that starts with a box mix and ends a triple layered delight!
Ingredients
Cake:
1 box white cake mix (I used Duncan Hines brand)
Oil (amount listed on box)
Water (amount listed on box, then remove 3 tablespoons to account for the extra liquid from the creme de menthe)
3 tablespoons creme de menthe (green mint liqueur)
2 whole eggs (instead of eggs listed on the box)
2-3 drops of green food coloring, optional
Toppings:
1 jar of fudge topping
2 cups heavy cream
1 tablespoon vanilla
⅔ cup powdered sugar, sifted
8 ounces cream cheese, at room temperature
3 tablespoons creme de menthe
Instructions
Preheat oven to 350º. Grease a 9 x 13 pan and set aside.
Mix cake mix according to package instructions using 2 eggs and removing 3 tablespoons of water from the water called for on box. Add creme de menthe along with the water. If you'd like a greener cake, add a few drops of green food coloring.
When the mixture is smooth, scrape it into the prepared pan and smooth the top. Bake according to the box instructions.
When the cake is done a toothpick inserted in the center will come out clean. Cool cake completely.
When the cake is cool, carefully spread fudge sauce over top.
Whip cream to soft peaks. In another large bowl, whip the powdered sugar, cream cheese, and creme de menthe until lightened and smooth. Stir in whipped cream and whip to firm peaks. Spread over fudge.
Chill for 4 hours before serving.
Notes
The total amount of liquid used in the cake will be the same as what was called for on the box. You will need to remove 3 tablespoons of water from what is listed on the box and replace it will 3 tablespoons of creme de menthe.
Use a homemade white cake baked in a 9 x 13-inch pan instead of a cake mix if desired. Just add the creme de menthe to the batter.
Total time does not include cooling and chilling times.
If you want a thicker fudge layer, use 2 jars of fudge sauce.
Recommended Products
As an Amazon Associate and member of other affiliate programs, I earn from qualifying purchases.
Nutrition Information:
Yield:
20
Serving Size:
1 slice
Amount Per Serving:
Calories: 189
Total Fat: 14g
Saturated Fat: 8g
Trans Fat: 0g
Unsaturated Fat: 5g
Cholesterol: 57mg
Sodium: 69mg
Carbohydrates: 11g
Fiber: 0g
Sugar: 9g
Protein: 2g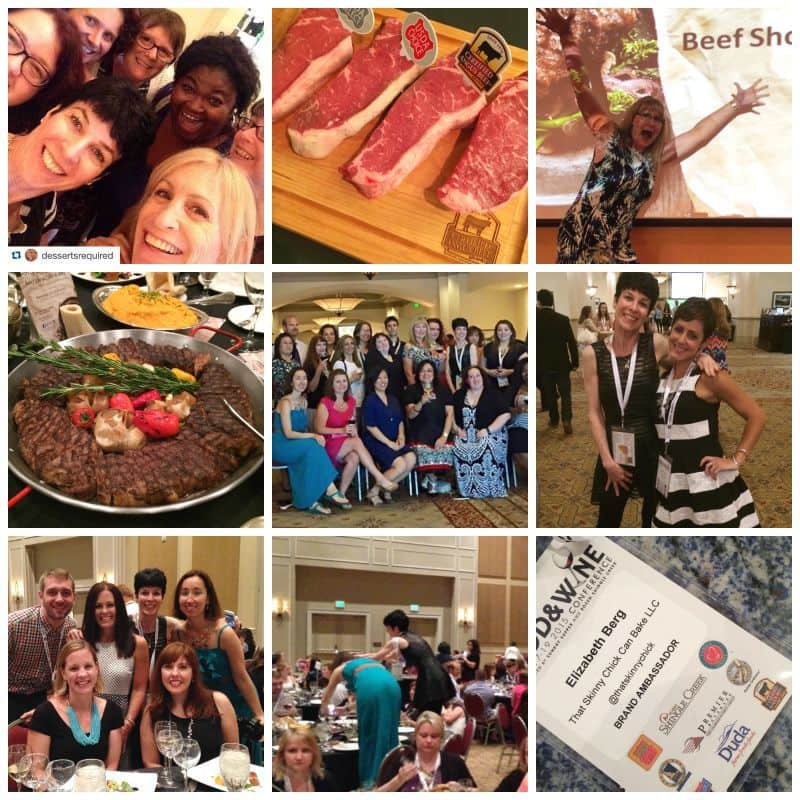 Note: This post may contain affiliate links; view
my Disclosure Policy
for details. I earn a small percentage from any purchase you make by clicking on these links at no extra cost to you.