Sheet Pan Brownies
Sheet Pan Brownies are a scrumptious way to serve a crowd. Rich, fudgy, and delicious, they are perfect straight up or with a scoop of ice cream!
When your husband lets you know that 20 guys are coming for dinner the night before you're hosting a baby shower, menu planning gets creative. These from-scratch brownies are easy enough to make for dessert when time is tight!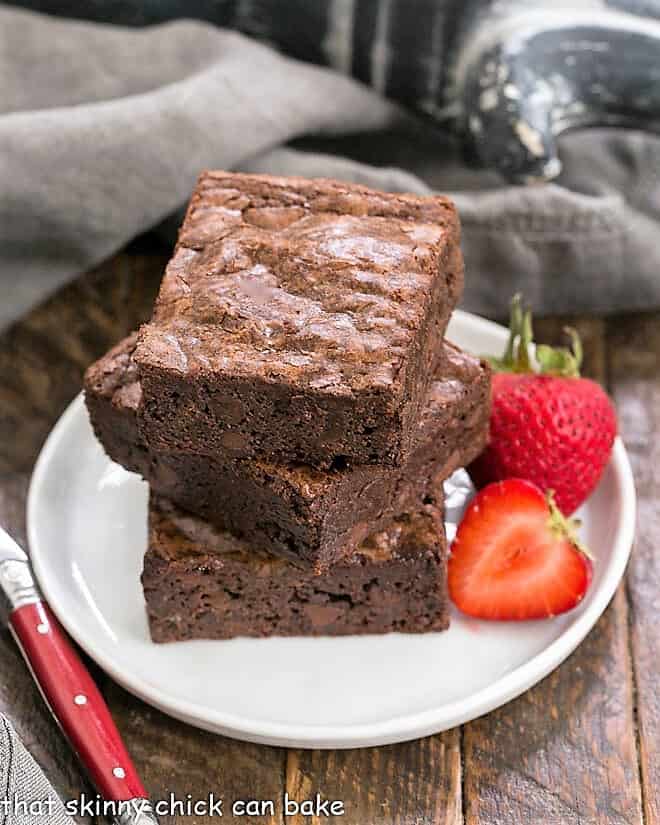 Sheet Pan Brownies
With the coveted shiny crust, these super fudgy brownies also are loaded with chocolate chips for the ultimate brownie experience! And best of all, this batch fills a half sheet pan (affiliate links), which measures 18 x 13 inches (or 46 by 33 cm). Enough from scratch brownies to feed a crowd!
Dessert for this gathering involves one tray of sheet pan brownies, a half-gallon of premium vanilla ice cream, jarred hot fudge sauce and butterscotch sauce. Simple and a crowd-pleaser.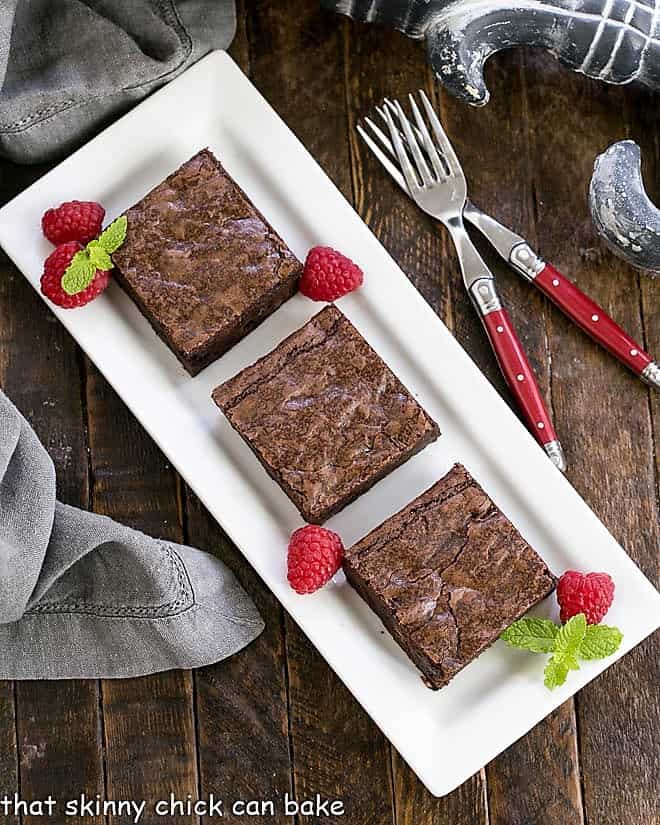 Tips for Making these Fudgy from Scratch Brownies
As seen below, I like lining my baking sheets with non-stick foil (affiliate links). Besides easy cleanup, using the foil helps with easy removal of individual brownies.
See that paper-thin layer on top of these brownies? Between that, their extreme fudginess, and a smattering of chocolate chips, these sheet pan brownies are difficult to cut into perfect squares.
But using a hot, dry knife, does help it glide through the brownies. Chilling the brownies also assists to minimize them adhering to the knife. Check out my tips on How to Cut the Perfect Bar Cookies.
This recipe was tweaked from Ina Garten. My changes were to use large eggs instead of her extra-large eggs and only use one-third of the coffee granules in her recipe.
The 3 tablespoons of instant coffee in her original recipe would pack a lot of coffee flavor into these brownies. I cut it to 1 tablespoon but feel free to up the amount if you prefer more of a mocha flavor.
To make fudgy brownies from scratch, do not beat with a mixer as this will incorporate air. Instead, once the flour is added, stir with a wooden spoon or rubber spatula.
Serve these brownies with a scoop of vanilla ice cream and a drizzle of fudge sauce for a delicious brownie sundae.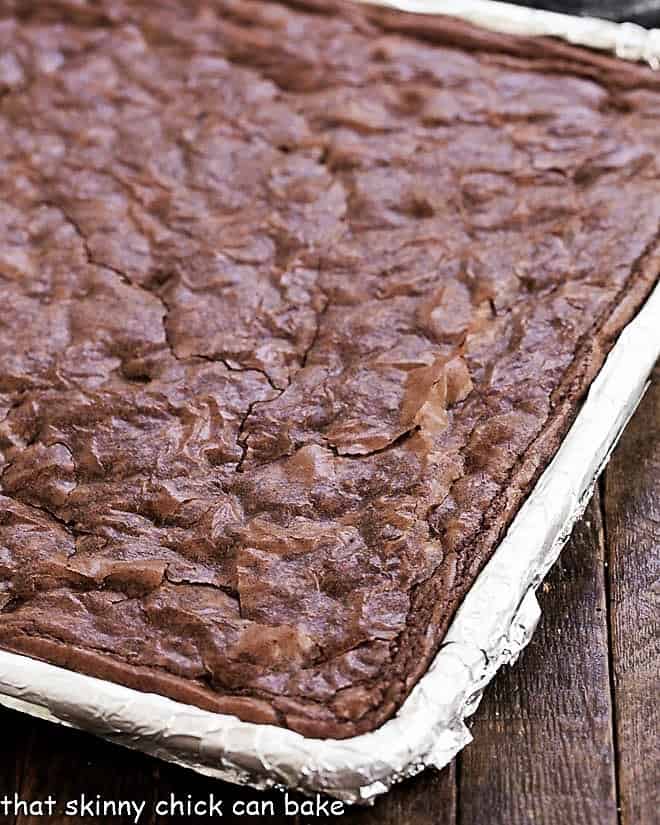 More Brownies from Scratch Recipes: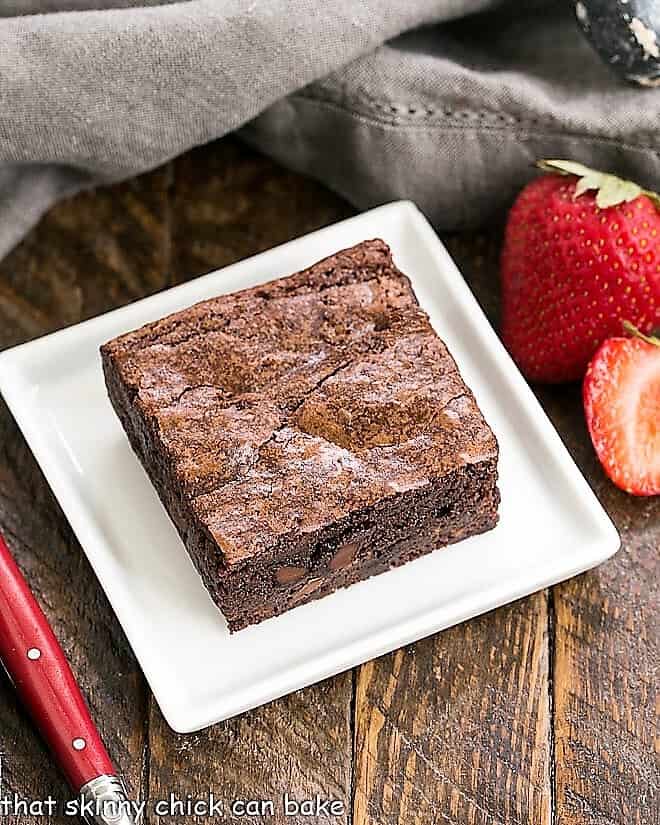 The Recipe:
Sheet Pan Brownies
Prep Time 20 minutes
Cook Time 15 minutes
Total Time 35 minutes
Yield 24 brownies
Ridiculously fudgy brownies spiked with chocolate chips! Plus one batch is big enough to serve a crowd!
Ingredients
4 sticks butter (one pound)
1 pound plus 12 ounces semisweet chocolate chips, divided
6 ounces unsweetened chocolate
7 eggs, large
1 tablespoon instant coffee
2 tablespoons pure vanilla extract
2 ¼ cups sugar
1 ¼ cups flour
1 tablespoon baking powder
½ teaspoon salt
Instructions
Preheat the oven to 350 degrees. Line a half baking sheet (18 x 13 inches) with non-stick foil.
Gently melt the butter, 1 pound of chocolate chips, and the unsweetened chocolate in a medium bowl in the microwave.
Stop to stir at 30-second increments until the mixture is smooth. Allow to cool slightly.
In a large bowl, whisk together the eggs, instant coffee, vanilla, and sugar. Stir the chocolate mixture into the egg mixture and allow to cool to room temperature.
In a medium bowl, whisk together the flour, baking powder, and salt. Add the remaining chocolate chips to the flour mixture and toss.
Add this flour mixture to the cooled chocolate mixture and stir to combine. Pour into the baking sheet and smooth the top with an offset spatula.
Bake for 20 minutes, then using hot pads, tap the pan against the rack a couple of times to remove any air pockets. Bake for another 15 minutes, until a toothpick comes out clean.
Let cool to room temperature on a wire rack then refrigerate. When cold, cut and serve.
Notes
Adapted from Ina Garten's Outrageous Brownies.
Ina always uses extra large eggs and I prefer the more standard large eggs. Adding an extra egg to her recipe ensures there's enough egg for this brownie recipe. One source said to add a tablespoon of water to the extra egg, but I did not do this.
Nutrition Information:
Yield:
24
Serving Size:
1 brownie
Amount Per Serving:
Calories: 369
Total Fat: 25g
Saturated Fat: 15g
Trans Fat: 1g
Unsaturated Fat: 8g
Cholesterol: 95mg
Sodium: 251mg
Carbohydrates: 35g
Fiber: 2g
Sugar: 27g
Protein: 4g
Note: This post may contain affiliate links; view
my Disclosure Policy
for details. I earn a small percentage from any purchase you make by clicking on these links at no extra cost to you.