Caramel Chocolate Brownies
My favorite Caramel Chocolate Brownies were given a facelift. Truly a decadent, to-die-for dessert, made with a homemade brownie recipe! Chocolate and caramel lovers will swoon!
These Homemade Brownies with Caramel are even more heavenly than a similar recipe made with a boxed cake mix!
Why You Must Make
This is a homemade version of those caramel-filled brownies made with a cake mix from back in the 1980s!
Well, maybe not totally homemade, but the caramel filling is still mighty tasty.
Using quality bagged caramels is a terrific shortcut and so much easier than making caramel from scratch.
Ingredient Notes
Kitchen Staples – Butter, Sugar, Eggs, Flour, Salt
Semi-sweet Chocolate – Chocolate chips can be used, but Ghirardelli bars are higher quality. Just chop if using the bars.
Semi-sweet Chocolate Chips – I used Ghirardelli, but Nestles are fine.
Vanilla Extract – Make sure it's real vanilla extract, not artificially flavored.
Caramels – Werther's Chewy Caramels are my preference, but Kraft caramels will work, too.
Heavy Cream – 36% butterfat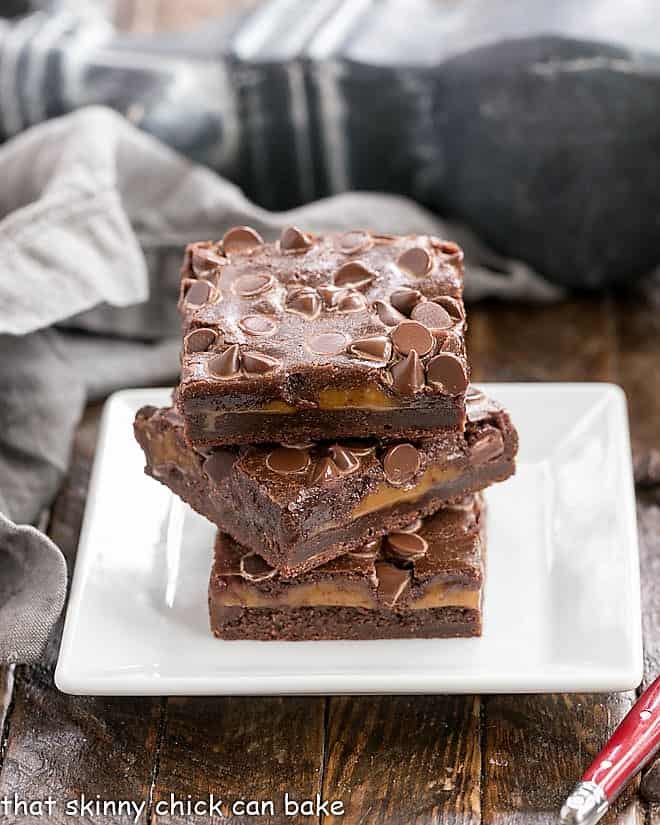 Expert Tips
My addiction to caramel brownies began when I visited my college roommate's hometown outside of Chicago. Her mom made that fabulous recipe using a box of German chocolate cake mix, bagged caramels, and nuts. I became obsessed!
Though the shortcut is wonderful, I love to use a scratch brownie recipe for an even richer version. I still melt bagged caramels, though I now look for Werther's brand, so it's definitely "semi-homemade," but utterly delicious nonetheless!
It was back in 2012 when I spotted a vaguely familiar recipe for homemade brownies with a caramel filling. It was my favorite caramel brownies (hooray!), sans nuts (hooray!), made with homemade brownies vs. a cake mix (hip, hip hooray!). I immediately copied the recipe, bought some caramels, and I was ready to go!
These got rave reviews all around. Even the hubby, who's not as enamored with caramel as I am, offered high praise. If they had nuts like the original recipe, I'd have to eat the whole batch myself, which wouldn't be the worst, now that I think of it!
PRO-Tip: Line your baking pan with nonstick foil or regular foil sprayed with Pam or any other non-stick cooking spray. This will make for easy removal for cutting and also easy cleanup.
First, you layer half the batter, bake and cool, then pour over the caramel layer, then dollop tablespoons of the remaining batter over the caramel. If the batter has gotten cool and looks like it will be difficult to spread, gently warm it in the microwave before proceeding.
Use an offset spatula to spread the brownie topping over the caramel layer, then sprinkle with chocolate chips and bake as directed.
PRO-Tip: Chill before cutting, but let come to room temperature to serve.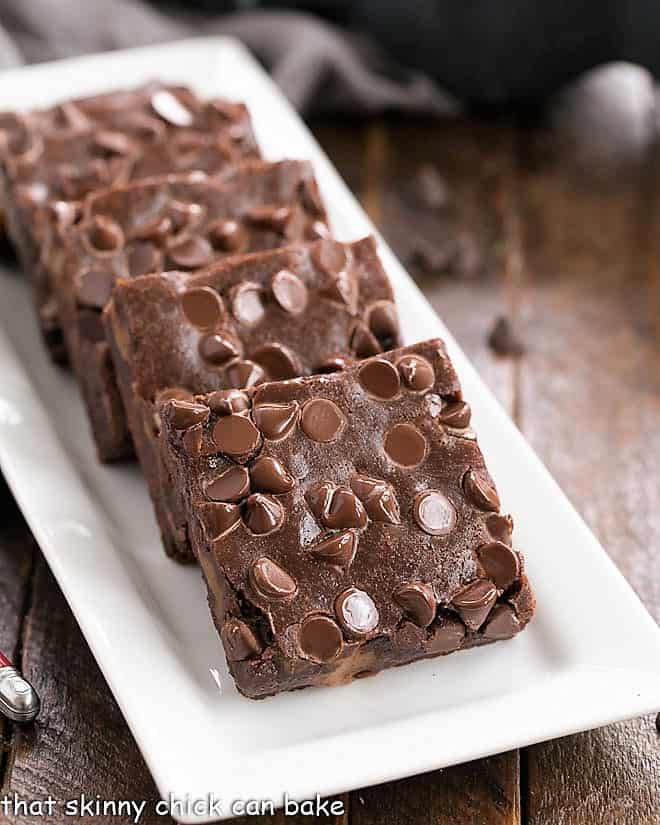 Frequently Asked Questions
How Long Do Brownies from Scratch Last?
Not long at my house, but seriously, they can sit out on the counter in an airtight container for about 3 days, then I like to either park them in the refrigerator for a couple more days or place them in the freezer for up to 3 months.
My husband keeps track of any brownies in our freezer and will bring one out at the start of dinner so he can have one for dessert.
How Should You Store Homemade Brownies?
To maintain freshness, store your brownies in an airtight container, with a piece of wax or parchment paper between each layer. If your kitchen is warm, you may want to refrigerate these caramel brownies to minimize oozing.
Can You Freeze Brownies?
Brownies freeze wonderfully. Either freeze brownies already cut, or freeze the whole slab of brownies. Just wrap well to prevent freezer burn with plastic wrap, then foil. Alternatively, place the cut brownies in an airtight container with parchment between any layers.
Defrost your brownies overnight in the refrigerator. There are some gourmet brownies that could sweat a little when defrosted, like those with a cream cheese swirl. They'll still taste great, but maybe not look as perfect as if never frozen.
How Do You Slice Brownies?
PRO-Tip: I find homemade brownies slice nicely if they are chilled first. Use a hot, dry knife to help glide through the cold brownies to make a clean cut. Run the blade under very hot water. Wipe off the knife and reheat if needed between slices.
If you want perfect squares, break out the ruler and make marks along the edges to mark where you want to cut. With an 8 x 8-inch pan, I make marks along the sides at two-inch intervals which help guide the slicing of 16 2 x 2-inch brownies. Bring the brownies to room temperature before serving as the cold caramel will be difficult to bite through.
Note that when the brownies are loaded with nuts, chocolate chips, etc., it will be more difficult to slice perfectly. Try using a serrated knife with a sawing motion to cut through the brownies if needed.
You May Also Like:
These homemade brownies with caramel are one of my favorite brownie recipes. But there are tons of varieties to test out to find your ideal recipe. Some are made with cocoa powder, others with bars of semisweet chocolate.
Others are topped with creamy chocolate frosting or are filled with nuts or chocolate chips. And there's always a doctored-up box mix in a pinch! What's your favorite brownie recipe? Plus, check out my tips for cutting cookie bars and brownies. Another resource is my post on How to Make Brownies with loads of tips and even more brownie recipes.
The Recipe:
Caramel Chocolate Brownies Recipe
Prep Time 20 minutes
Cook Time 40 minutes
Total Time 1 hour
Yield 24 brownies
A from-scratch version of the famous caramel-filled brownies made with a box cake mix!
Ingredients
1 cup butter
12 ounces semi-sweet chocolate, chopped
1 ½ cups sugar
4 eggs
1 tablespoon vanilla
1 ¼ cups flour
½ teaspoon salt
1 cup semi-sweet chocolate chips
14-ounce bag of caramels, unwrapped (I prefer Werther's Chewy Caramels over other brands. You may need 2 bags to get 14 ounces)
⅓ cup heavy cream
Instructions
Preheat oven to 350º. Line 9 x 13 pan with non-stick foil or regular foil sprayed with cooking spray.
Melt butter and chocolate in a microwave-safe bowl, using 30-second increments, stirring each time till smooth.
Add sugar, eggs, and vanilla and whisk till well incorporated. Stir in flour and salt.
Spread half the batter over the bottom of the prepared pan. Bake for 20 minutes and allow to cool for 20 minutes.
Melt caramels and cream in a microwave-safe bowl, using 30-second increments, checking and stirring each time till smooth.
While still warm, pour caramel over the top of the brownies and spread to cover. If the caramel has cooled, gently reheat it in the microwave.
Top with remaining brownie batter by dropping tablespoons of batter across the caramel then spread to the edges. If the batter has become stiff, very gently reheat it in the microwave. Sprinkle the top of the brownies with chocolate chips and bake for an additional 20 minutes.
Allow to cool completely, then use foil to remove the brownies from the pan. Cut and serve.
Notes
!Adapted from The Pastry Queen via Tracey's Culinary Adventures
Nutrition Information:
Yield:
24
Serving Size:
1 brownie
Amount Per Serving:
Calories: 331
Total Fat: 17g
Saturated Fat: 10g
Trans Fat: 0g
Unsaturated Fat: 6g
Cholesterol: 56mg
Sodium: 161mg
Carbohydrates: 44g
Fiber: 1g
Sugar: 35g
Protein: 4g
Note: This post may contain affiliate links; view
my Disclosure Policy
for details. I earn a small percentage from any purchase you make by clicking on these links at no extra cost to you.