Braided Challah Bread
This glorious Braided Challah Bread from Baking with Julia brought back childhood memories of my first bites of this delightful, dense, and chewy loaf!
Try this Challah Bread Recipe and dazzle your friends and family with this gorgeous Jewish bread. Your kitchen will fill with a tantalizing aroma as this egg bread bakes in the oven.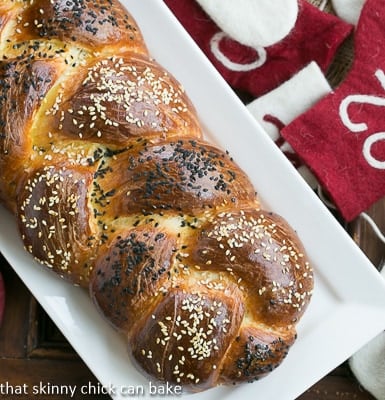 Why You Must Make
Braided challah was my absolute favorite bread as a child, it's delicious!
Soft, chewy, eggy. I loved it from my first bite.
It's perfect for French toast and other breakfast casseroles, but just as tasty smeared with some creamy butter.
This wasn't a loaf commonly found in Ames, Iowa, where I grew up. It was on our annual family summer vacation to Aspen, Colorado, where I was exposed to my first challah bread recipe.
Wired up with anticipation, my sisters and I could never sleep the night before departure. 4 girls, dosed with banana Dramamine, piled into the back of our green Plymouth Satellite station wagon with my dad at the helm and my mom at his side.
No seat belts, no radio, no air conditioning, just each other singing, bickering, and bugging my parents for the duration of the 12-hour ride. The stretch across Nebraska was unending, but when we finally caught a glimpse of the foothills of the Rockies, our excitement was palpable.
Note: With the addition of butter, this challah recipe is not considered parve, so more of a brioche than challah. But whatever it's labeled, it's a winner. Parve or pareve is a Yiddish term that means the dish does not contain meat or dairy.
I made challah pretzels with half my dough, and those disappeared even faster than the loaf. Whole Wheat Challah is wonderful, too! I've also made a delicious, autumnal Pumpkin Challah.
Expert Tips
I've never been formally trained but these are some tips that have helped me braid challah bread. It certainly helps if you grew up braiding hair, although it's simple enough to learn even if you're a novice braider.
PRO-Tip: Start with the easier 3-stranded braid. There are some fun 6+ stranded loaves, but they're for the more advanced bread baker.
PRO-Tip: Practice with some defrosted frozen bread dough. The results won't be quite as tasty, but you won't have to learn both the making of the dough and how to plait at one time. I did this when teaching some friends how to braid bread and it worked well.
Begin with forming 3 evenly sized ropes of dough. Roll them on a very lightly floured work surface, but do not stretch. The lengths and diameters should be the same.
Start by placing all 3 ropes on a parchment-lined baking sheet and pinching the 3 ropes together on one end.
Start the braiding process by crossing the rope on the right over the center rope, then the rope on the left over the center rope. Repeat until the braid is complete.
Pinch the ends of the ropes together and tuck them under for a clean look.
Allow the bread to proof per your recipe's instructions, then glaze and bake.
Sprinkling the top with sesame or poppy seed is a nice finishing touch.
Frequently Asked Questions
What Makes Challah Different from Other Bread?
Challah is made with both eggs and oil (or butter). It is a rich bread with a light, airy texture plus a slightly yellow color. It's a traditional Jewish yeast bread.
What's the Difference Between Challah and Brioche?
Brioche is a French creation and is a rich, though light, yeast bread. It can be made into loaves, but is often formed into small buns. There are special fluted molds used to create brioche à tête which are small buns with an extra dough topper creating a "tete" or head.
Challah, hallah, or challa is a Jewish bread, served on the Sabbath as well as holy days. Typically braided but it can be made into many other shapes.
It's traditionally made without butter so it will be kosher/dairy-free. This version does contain butter so is not kosher.
How Do You Braid Challah?
Challah is braided just as you'd braid hair. The dough for one loaf is made into three equal-length ropes. To braid, they are lined up side by side, then one rope is crossed over another just as with plaiting hair.
What Do the 3 Braids Symbolize?
The braids represent truth, peace, and justice.
How Do You Serve Challah?
A slice of challah is delicious with a drizzle of honey, dipped in flavored oil, but I love it with butter. Jam can also be added. Use it for toast, for sandwiches or serve it sliced with almost any meal!
You May Also Like:
Stay in touch through social media @ Instagram, Facebook, and Pinterest. Don't forget to tag me when you try one of my recipes! And if you love the results, please give it a 5-star rating in the recipe card. Note: As an Amazon Associate, I earn from qualifying purchases. Visit my Amazon Store for my favorite products.
The Recipe:
Braided Challah
Prep Time 30 minutes
Cook Time 35 minutes
Total Time 1 hour 5 minutes
Yield 2 loaves
A delicious braided egg bread.
Ingredients
2 packages of active dry yeast
½ cup lukewarm water (about 110°)
⅓ cup sugar, plus a pinch
1 stick (4 ounces) unsalted butter, thinly sliced, plus 2 tablespoons, melted
1 cup warm milk
1 tablespoon honey
2 ½ teaspoons salt
4 extra-large eggs, at room temperature, plus 1 extra-large egg beaten with 1 extra-large egg yolk and 1 tablespoon water, for glazing
About 6 cups of bread flour
Cornmeal, for dusting
Sesame seeds, Poppy seeds, optional
Instructions
In a small bowl, dissolve the yeast in the lukewarm water with a pinch of sugar and let it stand until it starts to bubble.
In a medium saucepan, combine the sliced butter and the milk. Warm over low just until the butter melts. Stir in the remaining ⅓ cup of sugar, honey, and salt. Pour the milk mixture into a large bowl and stir in the yeast and the 4 eggs.
Add the flour, ½ cup at a time, stirring vigorously with each addition. Stop adding flour when the dough has cleaned the sides of the bowl and it is difficult to stir.
Grease a large bowl with 1 ½ tablespoons of the melted butter. Place the dough in the buttered bowl and brush the top with the remaining ½ tablespoon of melted butter.
Cover the bowl with plastic wrap and a thin towel and let rise in a warm spot until doubled, about 2 hours.
Punch down the dough, then cover and let rise until doubled again, about 1 1/4 hours.
Line two rimmed baking sheets with parchment paper and sprinkle the paper with cornmeal. On a lightly floured work surface, divide the dough in half. Cover one half with plastic wrap and divide the other half into 3 equal pieces.
Using lightly floured hands, roll each piece into a 10-inch-long rope with tapered ends.
Arrange the ropes side by side and just touching. Starting in the middle and working toward one end, braid the ropes together, bringing the outside ropes over the center one. Pinch the ends to seal and tuck them under.
Turn the loaf around and repeat with the other half, this time braiding the outer ropes under the center one. Seal the ends, tuck them under, and transfer the loaf to a prepared baking sheet. Repeat with the remaining dough. Cover the loaves with thin towels and let rise for 35 minutes.
Preheat the oven to 375°. Brush the loaves with the egg glaze. Let stand uncovered for 10 minutes, then brush again with the glaze.
Sprinkle with sesame seeds or poppy seeds if desired.
Bake the loaves in the upper and lower thirds of the oven, switching the pans halfway through baking, for 35 to 45 minutes, or until they are golden and sound hollow when tapped on the bottom. Tent the loaves with foil if they become too brown during baking.
Transfer to a rack and let cool thoroughly before slicing.
Notes
Total time does not include proofing times.
This recipe contains butter so is not dairy free so not kosher.
Recommended Products
As an Amazon Associate and member of other affiliate programs, I earn from qualifying purchases.
Nutrition Information:
Yield:
24
Serving Size:
2 slices
Amount Per Serving:
Calories: 186
Total Fat: 3g
Saturated Fat: 1g
Trans Fat: 0g
Unsaturated Fat: 1g
Cholesterol: 56mg
Sodium: 250mg
Carbohydrates: 33g
Fiber: 1g
Sugar: 4g
Protein: 7g
Note: This post may contain affiliate links; view
my Disclosure Policy
for details. I earn a small percentage from any purchase you make by clicking on these links at no extra cost to you.