Italian Sausage and Pasta Soup
A speedy, comforting Italian Sausage and Pasta Soup that's perfect for those chilly winter nights. Loads of flavor in every delicious bite!
Sausage Soup takes little time to make and is packed full of vegetables, beans, and pasta, plus a touch of spice from the mild Italian sausage.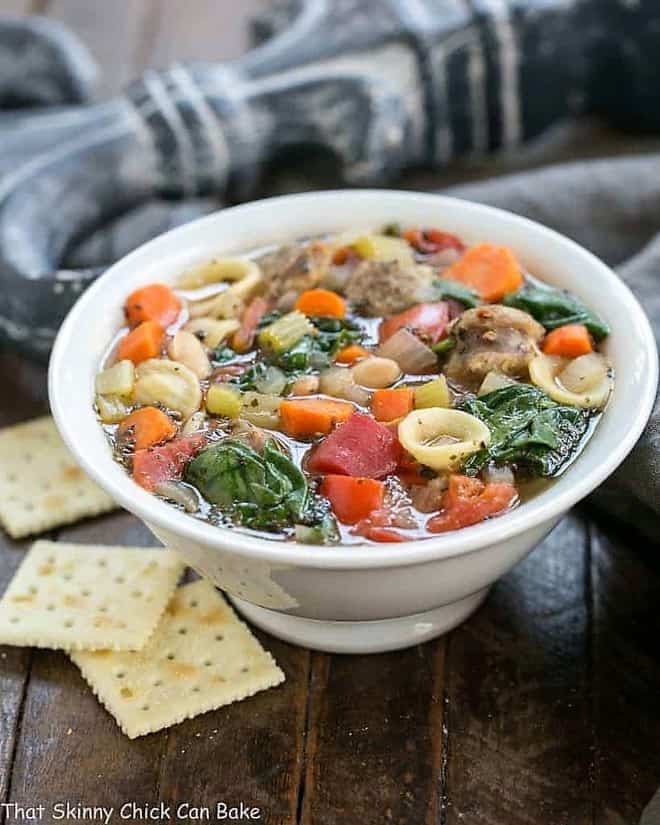 Why You Must Make
It's quick, healthy, and flavorful!
A steamy bowl of soup is perfect when nursing a cold. It will help open your nasal passages if eaten when piping hot.
This Italian Sausage and Pasta soup recipe is perfect for a busy weeknight. 
It's made with many ingredients that are already in your pantry or refrigerator.
This sausage and bean soup can be on your table in less than an hour.
Recipe Tips
Saute your meat in the pan you plan to make the soup. The browning will provide glutamates, a key source of umami,  the fifth sense of taste.
Also, saute the onions and garlic in your soup pot if appropriate for the recipe. They also provide umami.
Use stock or broth instead of water.
Add herbs and spices.
If your soup is to be cooked for over an hour, consider adding vegetables like carrots towards the end of the cooking time. This will prevent them from getting mushy.
Once all the ingredients are in the pot, simmer to concentrate the flavors (by evaporating some of the liquid).
Skim off any excess fat from the top of the soup. Some fat is good, but you don't want an oil slick on top!
Make sure to garnish for the best presentation. Use fresh herbs or Parmesan cheese.
Pro-Tip: If you buy a chunk of Parmesan cheese, save the rind (wrap well and freeze). Add it while the soup is simmering. It will add flavor and salt as well as slightly thicken the soup.
Frequently Asked Questions
In What Order do you Add the Ingredients When Making Soup?
1. Begin by browning the meat in a little oil. The oil will take on the flavors from the protein and pass it on to the other ingredients. Set it aside if the recipe directs.
2. Next, saute the aromatics like onions and garlic, along with any other vegetables.
3. Add the broth, seasonings, and any other ingredients except pasta.
4. Bring to a boil then add the pasta.
5. Cook until the pasta is tender.
6. Mix in any greens or quick cooking additions. Add back in the protein/meat.
7. Taste for seasonings and add more salt and spices as needed.
How Can You Perk Up Bland Soup?
Taste for salt and add more if needed. If you use low-salt broth, you may need additional salt unless you're keeping a low-sodium diet.
Brown your meat before adding it to the soup to get the Maillard reaction (which gives browned food its delicious, distinctive flavor).
Use stock, not water when making.
Boost the spices and herbs.
Simmer to concentrate the flavors via evaporation.
You May Also Like:
Fall and winter mean busy schedules. School is in session and spare time is limited with homework and after-school activities. A bowl of soup and homemade biscuits or corn muffins is a wonderful, fulfilling meal.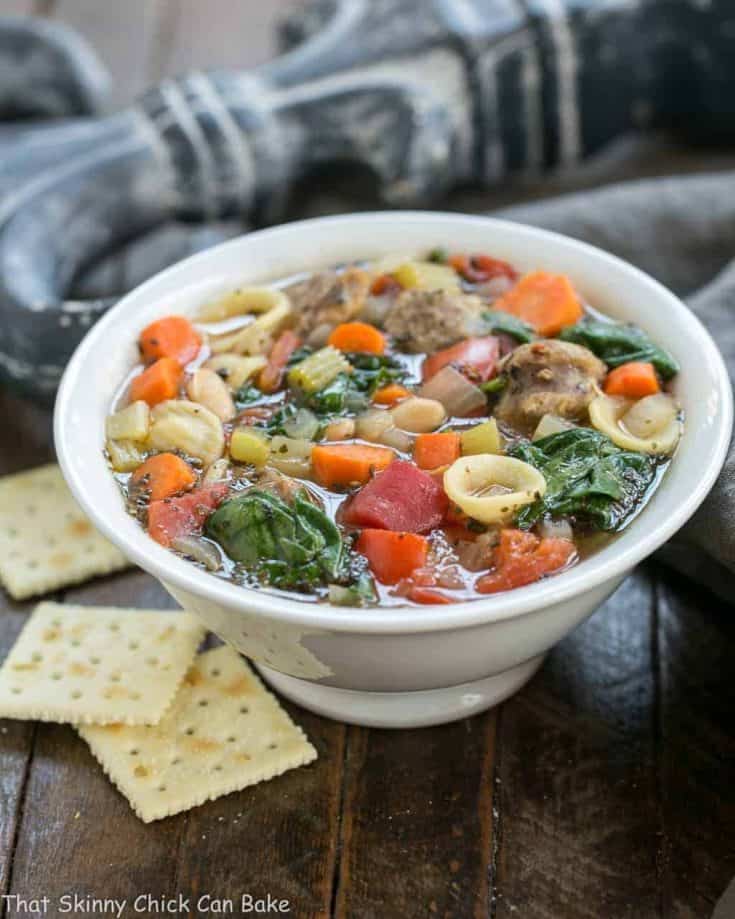 The Recipe:
Italian Sausage and Pasta Soup
Prep Time 20 minutes
Cook Time 30 minutes
Total Time 50 minutes
Yield 6
A quick, comforting soup. Perfect cold weather meal!
Ingredients
1 1/2 pound mild Italian sausage links, sliced
4 medium carrots, peeled and chop or slice
2 celery stalks, chopped
1 large onion, peeled and chopped
1/2 red bell pepper, chopped
3 cloves garlic, minced
8 cups chicken broth, I like Pacific brand
1 tablespoon dried basil
15-ounce can diced tomatoes
15-ounce cannellini beans, drained and rinsed
1 1/2 cups pasta shells or orecchiette
5 ounces baby spinach, slightly chopped if needed
Salt and pepper to taste (I didn't need any extra salt)
Grated Parmesan cheese, to serve
Instructions
Saute sausages in a Dutch oven until browned. Discard excess fat. Add carrots, celery, onion, red bell pepper, and garlic. Saute until the onion is limp and translucent.
Add broth, basil, tomatoes with juice, and beans. Bring to a boil. Add pasta, reduce heat and simmer until the pasta is tender.
Skim any excess fat. Stir in spinach and cook till wilted, about 30 seconds. Season with salt and pepper to taste. Garnish with Parmesan.
Notes
Adapted from my friend, Kim S.
May use other pasta shapes or tortellini.
Nutrition Information:
Yield:
6
Serving Size:
1
Amount Per Serving:
Calories: 605
Total Fat: 33g
Saturated Fat: 12g
Trans Fat: 0g
Unsaturated Fat: 24g
Cholesterol: 72mg
Sodium: 2484mg
Carbohydrates: 43g
Fiber: 9g
Sugar: 9g
Protein: 35g
Note: This post may contain affiliate links; view
my Disclosure Policy
for details. I earn a small percentage from any purchase you make by clicking on these links at no extra cost to you.