Homemade Tomato Soup with Thyme
This simple Homemade Tomato Soup with Thyme was creamy, hot, and comforting. It's the perfect cold-weather lunch. Paired with grilled cheese fingers made a deliciously satisfying meal!
As a bonus, there is NO cream in this Tomato Soup Recipe. I'll let you in on the secret.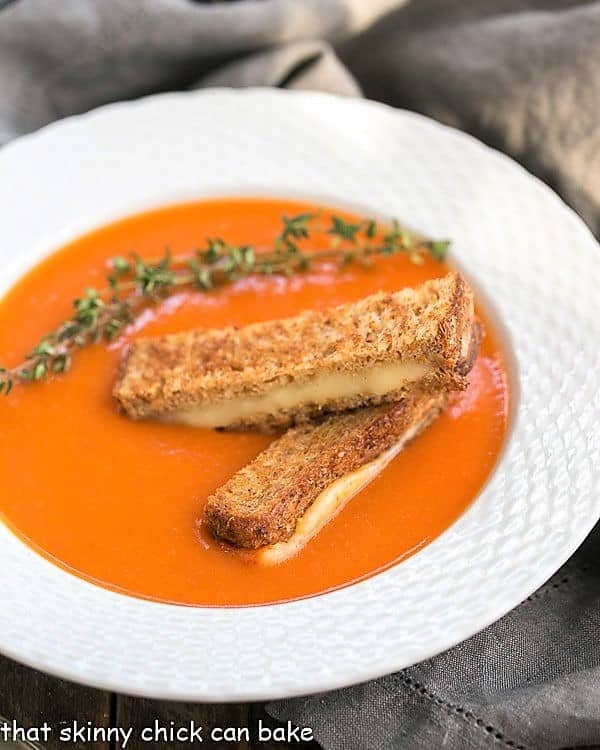 Why You'll Love this Soup
It's creamy, yet there's no heavy cream or half and half in the recipe.
It's flavored with aromatics, herbs and paired with gourmet "croutons."
This is an updated version of the classic pairing of tomato soup and a grilled cheese sandwich.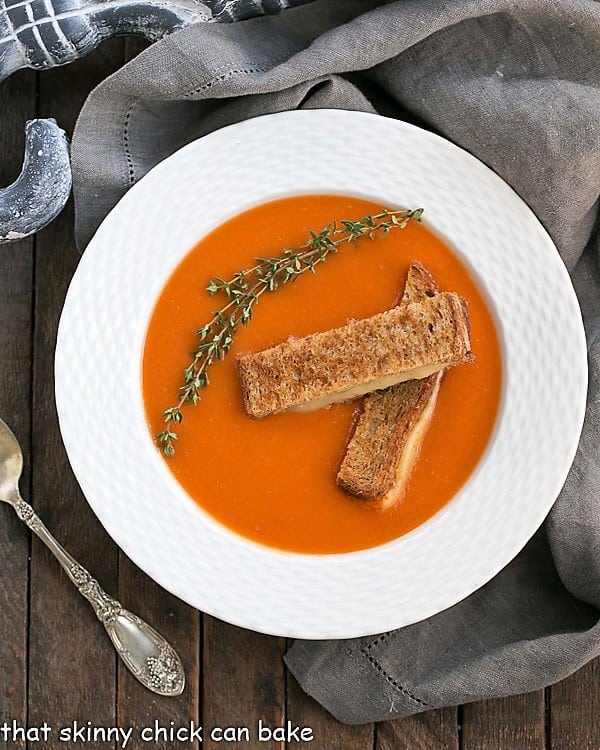 How to Make
You'd never guess this homemade tomato soup wasn't loaded with cream. The secret is to use a blender to puree the smithereens out of the contents of your stock pot before serving.
Nearly silky smooth, it was nice to focus the calories on a thick layer of cheese in my sandwich. A gooey Muenster and sharp cheddar melted together deliciously. An excellent pairing, I'd say! But use your favorite cheeses when you make your version.
Cook the onions are garlic until soft.
Add the rest of the soup ingredients, and bring to a simmer over medium-high heat stirring occasionally so the bottom does not burn.
Reduce the heat to low, cover, and simmer for 40 minutes.
Remove the thyme sprig, cool briefly, and puree.
Reheat if needed to serve. Taste, adjust seasonings if needed, and serve.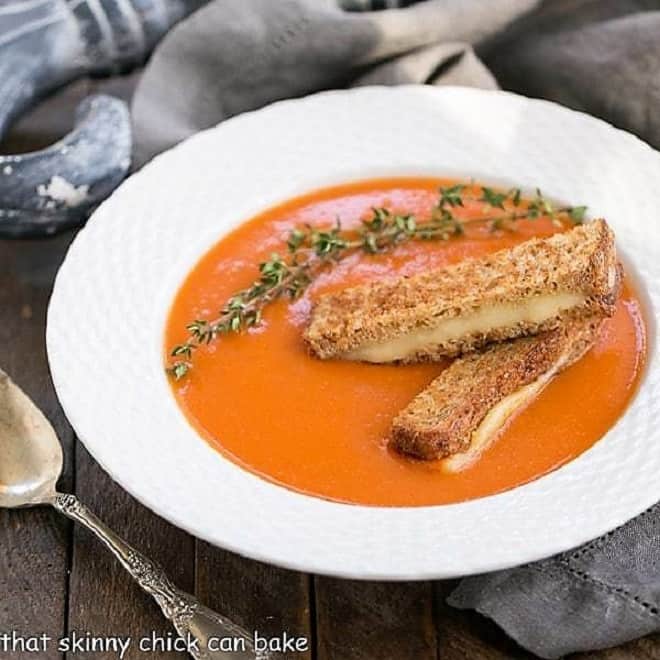 Frequently Asked Questions
What is a Nonreactive Pan?
Have you ever seen a warning not to use a reactive pan in certain recipes? Did you wonder if you owned one and what would happen if you used it?
Most of us own stainless steel cookware which is nonreactive. Reactive pans include copper, aluminum, and cast iron (unless it has an enamel finish).
Acidic ingredients like tomatoes, citrus, and wine can react with metal. If this happens, it can damage the pan's surface transferring metal, at a microscopic level, to your food.
Can You Leave the Skin on the Tomatoes When Making Soup?
Generally, the peels will disintegrate during the cooking and pureeing process, so you can leave them on if you'd like. When using canned tomatoes, like in this recipe, it's very easy to remove the skins, so that's my preference.
Is Tomato Soup Healthy?
Yes! Since tomatoes are full of lycopene, flavenoids, Vitamins C, E, and A, there are lots of health benefits from eating tomato soup. If the recipe is full of heavy cream or half and half, though, it will not be as healthy due to the addition of saturated fat.
How Do You Add Flavor to Tomato Soup?
Add aromatics like onions and garlic to boost the flavor. Herbs like thyme or basil are delicious, too. Garnishes of toasted nuts or seeds provide texture and a swirl of flavored oil or cream is tasty.
Besides onions, a sprinkle of parmesan cheese will contribute to umami. And if your soup tastes flat, make sure you've added enough salt.
You May Also Like: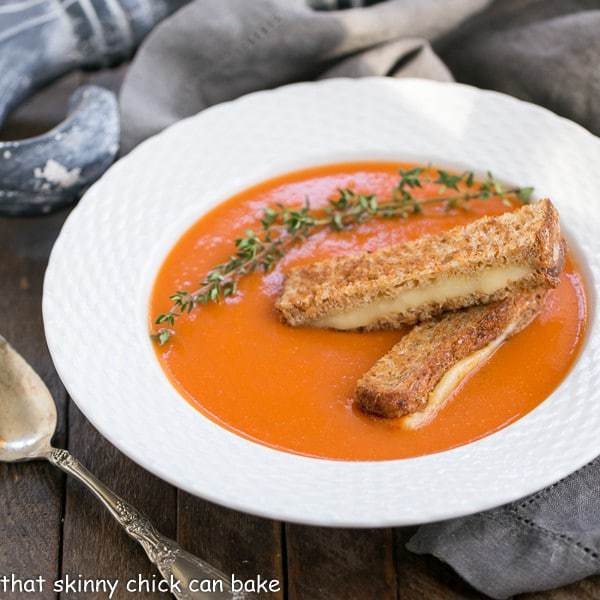 The Recipe:
Homemade Tomato Soup with Thyme
Prep Time 20 minutes
Cook Time 50 minutes
Total Time 1 hour 10 minutes
Yield 8 servings
A Classic Tomato Soup flavored with thyme adapted from Fine Cooking.
Ingredients
2 tablespoons olive oil
1 tablespoon butter
1 large white onion, finely chopped
1 large clove garlic, minced
2 tablespoons flour (all purpose is fine, but I like using Wondra because it doesn't lump)
3 cups chicken broth
28-ounce can whole peeled plum tomatoes, puréed (include the juice)
1-1/2 teaspoons sugar
1 sprig fresh thyme
Kosher salt and freshly ground black pepper
Fresh thyme sprigs to garnish, optional
Grilled cheese fingers (cut grilled cheese into 4 strips), to serve, optional
Instructions
In a nonreactive 5- to 6-quart Dutch oven, heat the oil and butter over medium-low heat until the butter melts. Add the onion and garlic and cook, stirring occasionally, until soft but not browned, about 8 minutes.
Add the flour, stir and cook for a minute to get rid of the raw flour flavor.
Slowly whisk in the broth, then add the tomatoes, sugar, thyme, and about ¼ teaspoon of both salt and pepper. Bring to a simmer over medium-high heat stirring occasionally so the bottom does not burn.
Reduce the heat to low, cover, and simmer for 40 minutes.
Remove the thyme sprig. Let cool a bit, then add to blender to puree in small batches.
Reheat if needed to serve. Taste for seasonings and add salt and pepper if needed.
Serve with a small sprig of thyme and grilled cheese fingers if desired.
Notes
May use fresh or frozen garden tomatoes if desired. Blanch, then add to a bowl of ice water to remove the skin, if desired.
Recommended Products
As an Amazon Associate and member of other affiliate programs, I earn from qualifying purchases.
Nutrition Information:
Yield:
8
Serving Size:
1 bowl
Amount Per Serving:
Calories: 131
Total Fat: 8g
Saturated Fat: 3g
Trans Fat: 0g
Unsaturated Fat: 4g
Cholesterol: 14mg
Sodium: 511mg
Carbohydrates: 12g
Fiber: 2g
Sugar: 6g
Protein: 3g
Note: This post may contain affiliate links; view
my Disclosure Policy
for details. I earn a small percentage from any purchase you make by clicking on these links at no extra cost to you.