Homemade Chicken Soup
This recipe for Homemade Chicken Soup with Matzo Balls AKA Jewish Penicillin will hit the spot and maybe even cure what ails you! Does a cold, flu or other illness have you down? Or are you just craving chicken soup?
If you're under the weather, make a batch of the best chicken soup recipe I've ever tasted. And it just might alleviate some of your congestion and other symptoms. At the very least, it tastes amazing!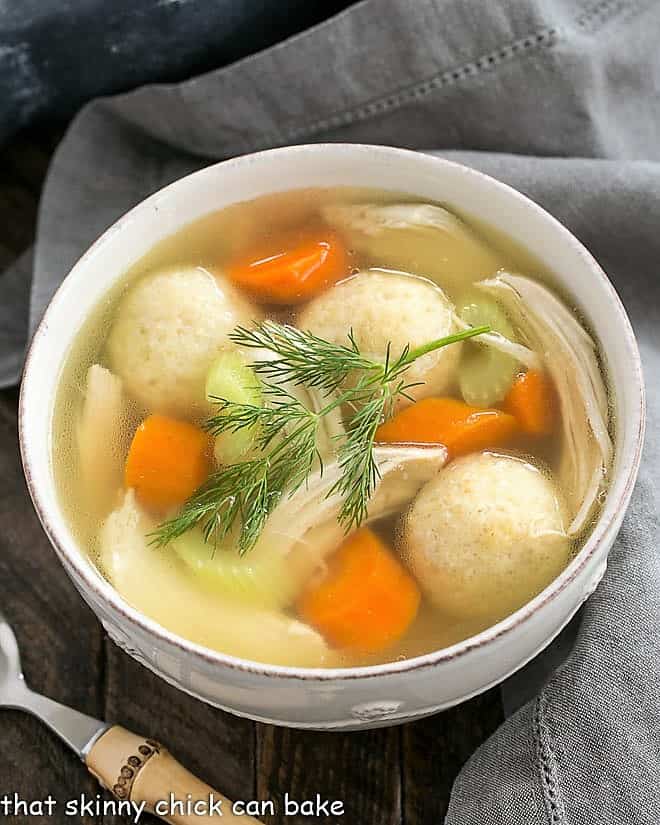 Homemade Chicken Soup with Matzo Balls
This is the BEST chicken soup, Jewish penicillin, or whatever you'd like to call it. I've always shied away from parsnips and dill is not my favorite herb, but they both add layers of flavor to this delicious chicken vegetable soup. The only homemade chicken soup I remember from my childhood was matzo ball soup, which may seem unusual for our Catholic family. My sisters and I adored it.
We had Jewish neighbors down the street, and I imagine my mom's version came from her friend, Hanna. Even growing up in a small college town in the Midwest, my mom collected recipes from her friends of all ethnicities, Julia Child on PBS, and her treasured cookbook collection including the New York Times Cookbook.
I've added matzo balls or orzo, a small rice-shaped pasta, in the past, but any noodle or dumpling would be nice in this flavorful chicken stock. This Jewish chicken soup is perfect if you're under the weather or just want something to warm you to the core on a chilly evening. I've shared this recipe with numerous friends, and every single one swears this is the best chicken soup recipe they've ever tasted.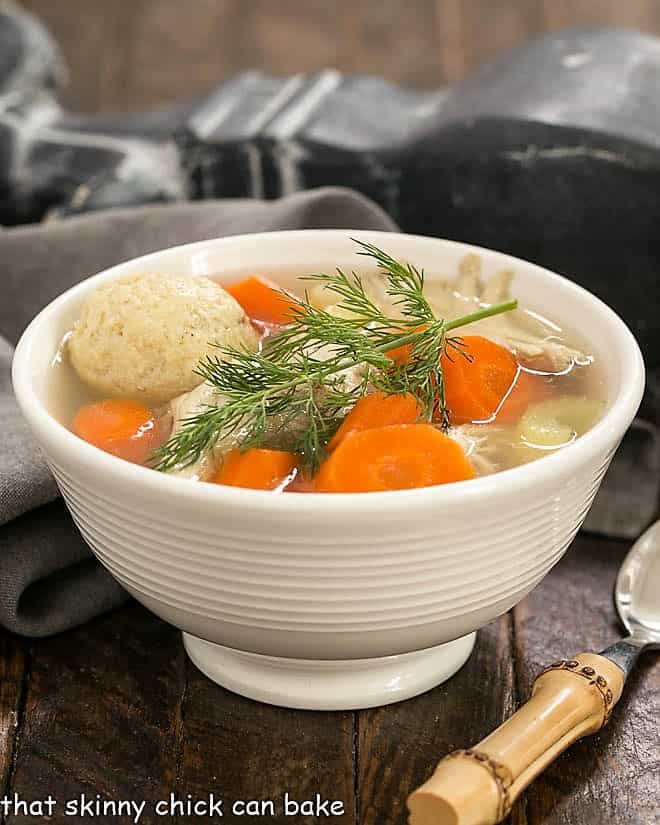 How Do You Make Chicken Soup From Scratch?
The process for making this Chicken Soup AKA Jewish Penicillin starts with placing a whole chicken in a large pot. This just won't work best with boneless, skinless chicken breasts; you need the bones for an unequivocal success in the flavor department. If you'd rather use bone-in chicken pieces, make sure to include both dark meat and white meat as the dark meat is more flavorful. Cover the chicken with water.
Large chunks of vegetables are added along with herbs and the simmering process begins. The long cooking time helps reduce the liquid via evaporation to concentrate the flavors, plus more flavors are extracted from the chicken and bones. Make sure to occasionally skim off any foam, which comes from impurities, and will make the broth cloudy if not removed. I add about a tablespoon of kosher salt to start (it takes a lot of liquid to cover the chicken!), but after an hour or so, taste and add a bit more if needed.
After waiting patiently for 3 hours, you'll be clamoring for a bowl of this fragrant broth, but make sure to add back some chunks of carrots and the shredded chicken. I also like to slice up some celery and add it towards the end of the cooking time for some additional vegetables.
Loading this soup up with matzoh balls makes for a most gratifying meal, but pasta is a delightful alternative. I like using small pasta like orzo. The small pasta can be cooked right in the soup pot, but when I make matzo balls, I cook them separately in salted water or a box of chicken broth, so they don't absorb too much of the soup. I hope you'll give this recipe a shot!
Place Chicken in the Pot – Add all the Veggies – Add water to Cover the Ingredients – Top with Herbs and simmer away!
What Can Be Added For More Flavor?
If your chicken soup is bland, it may need more salt. That's why it's important to taste it along the way and adjust the seasonings. PRO-Tip: You can always add more salt, but you cannot remove any excess. Other ingredients you might consider include herbs, garlic, peppercorns, chicken bones, along with more unusual vegetables like parsnips.
Note: do not taste the broth until the chicken has simmered for over an hour to avoid the chance of a foodborne illness like salmonella.
What is Matzo Ball Soup?
Matzo Balls are Ashkenazi Jewish dumplings made from matzo meal, eggs, fat, water or broth, and salt. They are typically served in homemade chicken soup and a traditional Passover dish. I usually add some minced parsley to give the matzo balls some color, but forgot this time!
If you'd rather add noodles or rice to your chicken soup, they'd also be delicious!!!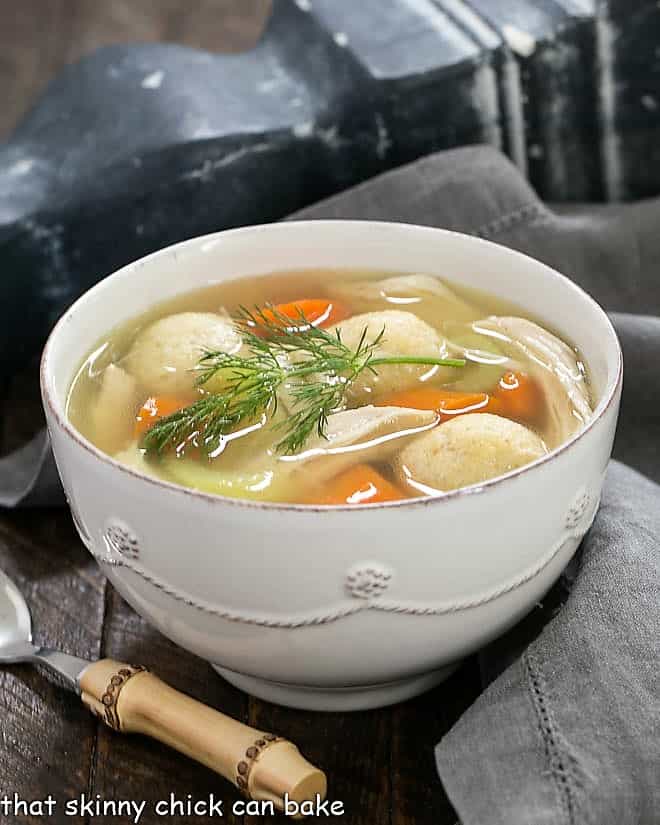 Health Benefits of Chicken Soup
Have you ever wondered why chicken soup is constantly recommended when you're feeling under the weather? Or why chicken soup is often referred to as Jewish Penicillin? Well, there are a few reasons why a good, homemade (or even canned) chicken soup can relieve your upper respiratory infection symptoms. There are quite a few health benefits!
Fluids help reduce congestion, though this is not limited to chicken soup.
The steam of a hot liquid can also help soothe the throat and open the nasal passages.
A 2000 study by The American College of Chest Physicians showed that chicken soup can help reduce upper respiratory inflammation, although it does not kill the viruses causing the illness. It actually inhibits the movement of white cells to the inflamed areas, which helps prevent further congestion.
A Huffington Post article sites the TLC factor, like when someone cares enough to provide comfort through a bowl of soup, it can actually help you feel better. It's not the same as the placebo effect.
Often referred to as "Jewish" penicillin, as chicken soup is a traditional food in Ashkenazi Jewish culture and part of the Passover meal.
More Chicken Soups You'll Love
I always have a stash of chicken in my freezer, and I appreciate how versatile it is. From this comforting Chicken Jambalaya Soup to this hearty White Chicken Chili, the flavor profiles are endless. I also adore this Chicken Wild Rice Soup and how about this Creamy Chicken Soup? This French Côte d'Azur Cure-All-Soup has loads of garlic and chicken broth and is touted to cure hangovers! it might also have similar powers as this Jewish chicken soup! This flavorful Verde Chicken Soup and Asian Chicken Soup also caught my eye! If you have a pressure cooker, this Instant Pot Chicken Stock is unbelievably good!
Plus check out all my Best Soup Recipes.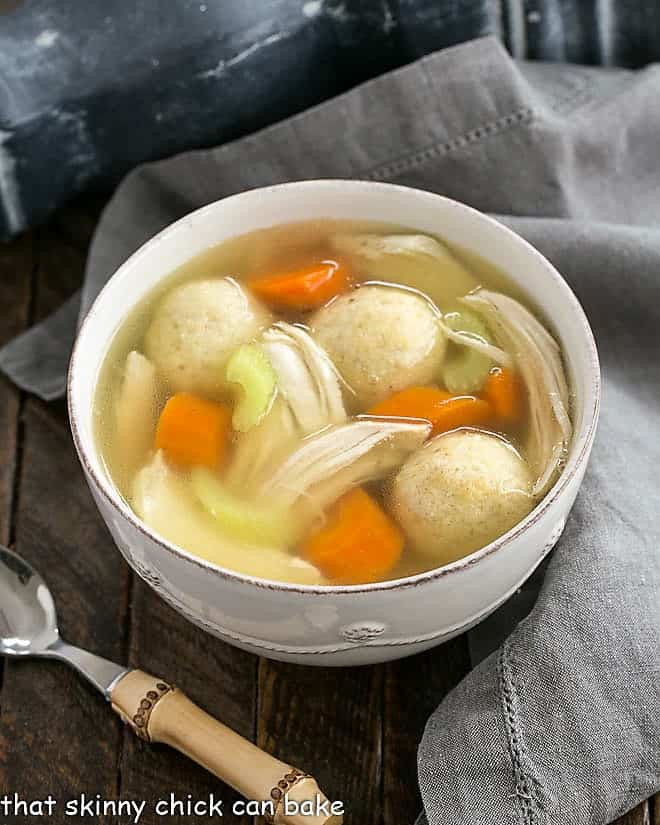 The Recipe:
Homemade Chicken Soup
Prep Time 20 minutes
Cook Time 3 hours
Total Time 3 hours 20 minutes
Yield 8 servings
The BEST chicken soup you'll ever make!! My friends will vouch for this!!
Ingredients
3-5 pound chicken (you can also use bone-in chicken parts)
2 large onions, peeled
5 stalks of celery, leaves included, cut in half
1 pound carrots, peeled, with ends removed
1 parsnip, peeled
1 or 2 small zucchini, each cut into 3-4 chunks
3 whole cloves of garlic, peeled
1 bunch of Italian parsley
1 bunch of dill
Kosher salt to taste (start with a scant 1 tablespoon and taste after an hour or two, then re-season if necessary)
Orzo or other small pasta or homemade matzoh balls
Instructions
Place chicken in a large pot. Add onions, celery, carrots, parsnip, zucchini, and garlic. Cover all ingredients with cold water...but not too much...just an inch over the veggies. Bring to boil, then reduce to simmer. Skim off any foam.
Add salt. Lay parsley and dill atop the soup. Place lid on the pot, but leave it off slightly to allow steam to escape. Continue simmering for 3 more hours, skimming the foam from time to time.
Remove chicken and veggies from the broth. Strain the broth through a sieve. Slice carrots and add to broth. Remove chicken meat from bones and tear into bite-sized pieces. Add back to the broth. Add cooked orzo or another pasta, matzoh balls or dumplings. Garnish with parsley to serve.
Notes
So that the pasta or matzo balls don't soak up all the chicken soup, cook them separately in salted water (or boxed broth), then add to the soup to serve.
Adapted from How to Cook a Wolf Blog
Nutrition Information:
Yield:
8
Serving Size:
1
Amount Per Serving:
Calories: 749
Total Fat: 38g
Saturated Fat: 11g
Trans Fat: 0g
Unsaturated Fat: 23g
Cholesterol: 266mg
Sodium: 333mg
Carbohydrates: 27g
Fiber: 4g
Sugar: 6g
Protein: 72g

Lambeau checking out this Homemade Chicken Soup in November 2010 when this recipe was first shared. Photos and text were updated in 2020.
Note: This post may contain affiliate links; view
my Disclosure Policy
for details. I earn a small percentage from any purchase you make by clicking on these links at no extra cost to you.