Chicken Jambalaya Soup
Chicken Jambalaya Soup is a taste of New Orleans made easy and the perfect dish for your Mardi Gras dinner. A little spicy with loads of flavor from the classic holy trinity of Cajun cooking plus andouille sausage, this hearty soup will hit the spot!
This Creole Jambalaya, unlike the Cajun version, contains tomatoes and is a tasty entree on a chilly day or a delicious course when serving a Fat Tuesday feast!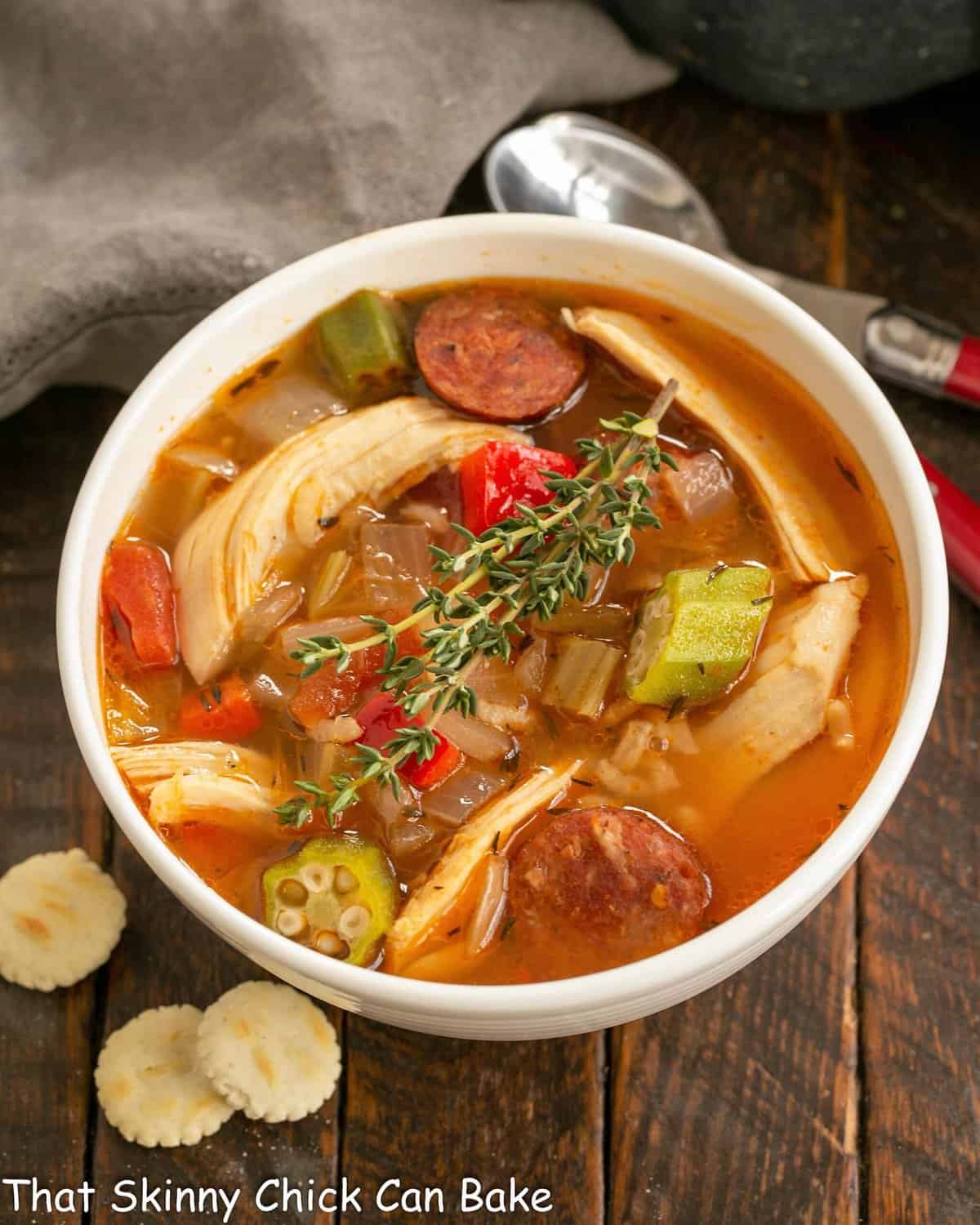 Why You Must Make
It's a piping hot, spicy, flavorful soup that makes a perfect winter meal. You'll get a taste of Cajun Jambalaya in every spoonful.
If you're looking for a Creole recipe to celebrate Mardi Gras, this delicious soup fits the bill.
You can close your eyes and picture yourself in the French Quarter as you're enveloped by the amazing aroma emanating from the soup pot.
Chicken and Sausage Jambalaya soup is easy to make and tastes even better if you make it a day ahead of time, so there's no excuse not to give it a try!
It's been years since we visited New Orleans, but I still have glorious memories of the beignets, étouffée, and gumbos. Then, of course, there's jambalaya. With a strong Spanish influence, it consists of meat, vegetables, and rice. Adding some additional broth transformed the traditional, stew-like jambalaya into a soup.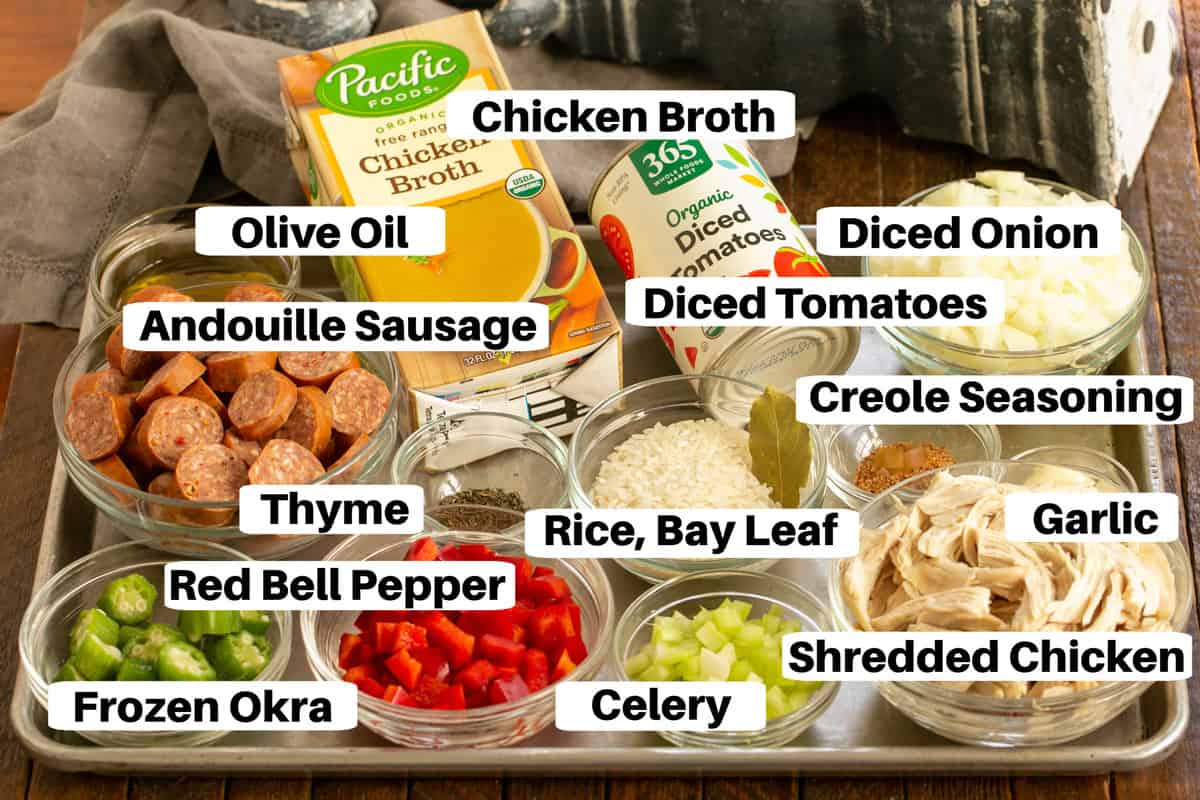 Ingredient Notes
Kitchen Staples – Olive Oil, Onion, Kosher Salt
Andouille Sausages – Sliced
Celery – Diced
Red Bell Pepper – Dice half the pepper
Garlic – Minced
Creole Seasoning – I used Zatarain's
Thyme – Dried to season, fresh to garnish, optional.
Bay Leaf
Chicken Broth – Add salt to taste if you use low-salt broth.
Can of Diced Tomatoes – Use the juice, too.
Frozen Okra Slices
Chicken – Shred cooked chicken breast meat
How to Make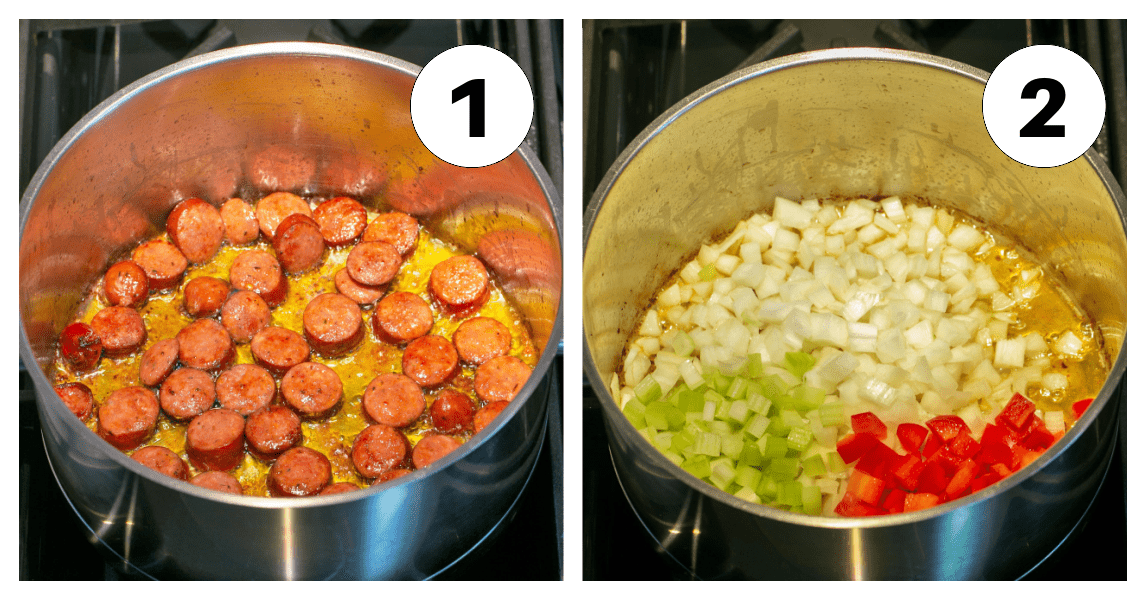 Brown the Andouille sausage slices in olive oil. Remove and set aside.
Cook the onion, celery, and red bell pepper.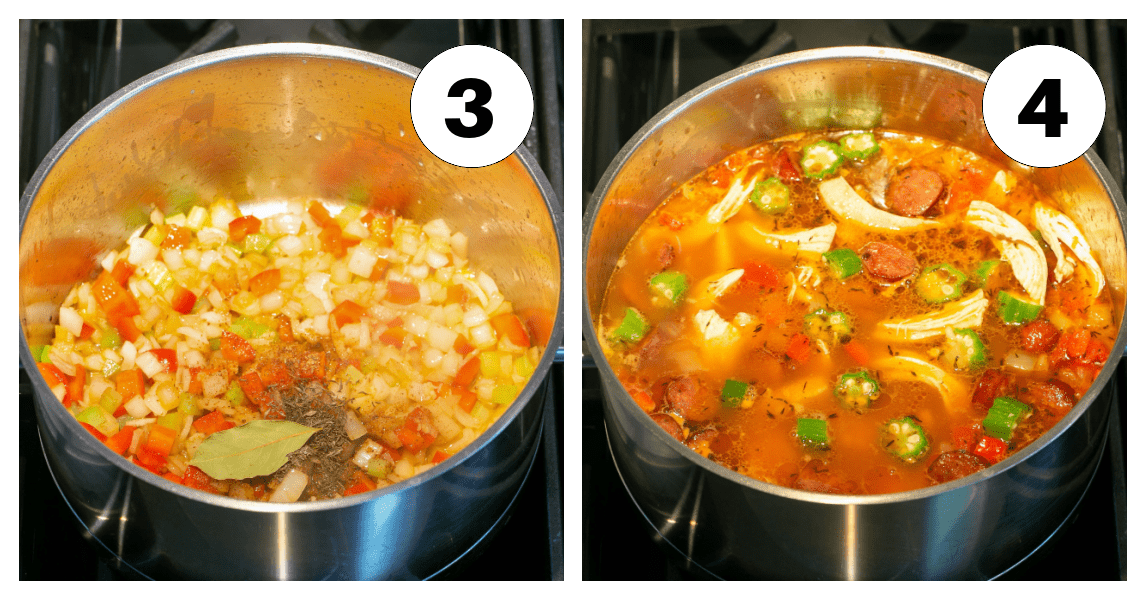 Add the garlic, then the Creole seasoning, and bay leaf, and stir.
Pour in the broth, rice, and tomatoes and simmer until the rice is cooked. Then add back the sausage, plus the okra and shredded chicken. Check for seasonings, and serve hot with a sprinkle of fresh thyme if desired.
How to Celebrate Mardi Gras
Tuesday is the conclusion of Mardi Gras, the big celebration before Lent begins. Fat Tuesday, Shove Tuesday and even Pancake Tuesday are other names for this day before Ash Wednesday. Since New Orleans is known for their Mardi Gras celebration, it makes sense to add a dish like this Creole soup to your Fat Tuesday menu!
There are so many traditions for this day, ranging from parades to king cakes decked out in purple (justice), green (faith), and gold (power) to eating a huge stack of pancakes for dinner. I've made the classic New Orleans dessert, Bananas Foster, but this year, I wanted to make a spicy entree worthy of The Big Easy.
This twist on classic jambalaya was a hit! And I've also used this Creole seasoning on Roasted Edamame and Sweet Potato Fries!
Expert Tips
Poor Bill. When I make anything spicy, I announce a disclaimer. Make that a warning. The heat in this fabulous soup was from the Andouille sausage and Creole Seasoning, which both imparted magnificent flavors.
Jambalaya can easily be customized to your palate, so feel free to dial down the amount of the spicy sausage and Creole seasoning if you have a sensitive palate.
Brown your sausage. The process of browning creates the Maillard reaction and which results in a magnificent flavor (also known as umami or the 5th sense of taste).
Shrimp or crawfish can be used instead of chicken.
Though not traditional, you can use small pasta shapes instead of rice—try orzo, acini di pepe, penette, or tubetti.
I used Pacific brand chicken broth. Other brands can be quite salty, so you may need to replace a cup or two of the broth with water if yours is.
Whatever your twist, you'll find this Jambalaya soup hearty and comforting. A steamy bowl is perfect on any chilly evening, but consider whipping up your version of this Chicken and Sausage Jambalaya Soup on Fat Tuesday for your Mardi Gras celebration. Laissez Les Bons Temps Rouler!
Frequently Asked Questions
What is the Difference Between Jambalaya and Gumbo?
Both are Creole dishes that are popular New Orleans cuisine. But there are a few differences that will help you discriminate between the two:
Jambalaya – A Creole dish with cooked rice, tomatoes, onion, green peppers, and any kind of meat or shellfish. The name is derived from the French word for ham, jambon.
Gumbo – Another Creole dish that's thick and stewlike and starts with a dark roux, made of flour and fat, that adds an incomparable rich flavor. It also contains okra, tomatoes, and onions plus one or more meats or shellfish. Both the okra and file powder along with the roux help thicken the stew. The word gumbo is derived from an African term for okra.
Is Jambalaya a Soup or a Stew?
Jambalaya is definitely a stew, but adding extra liquid transforms this classic New Orleans dish into a hearty soup.
What's the Difference Between Creole Jambalaya and Cajun Jambalaya?
Creole jambalaya is known as red jambalaya since it contains tomatoes. The ingredients are layered, or added in steps. Cajun Jambalaya does not contain tomatoes and is also known as brown jambalaya. The ingredients are all added and once, then cooked.
You May Also Like:
The Recipe:
Chicken Jambalaya Soup
Prep Time 20 minutes
Cook Time 40 minutes
Total Time 1 hour
Yield 4 servings
A hearty, flavorful soup based on the classic Jambalaya.
Ingredients
3 tablespoons olive oil
4 andouille sausages, sliced (about 14 ounces)
1 onion, diced
1 stalk of celery, diced
½ red bell pepper, diced
3 cloves garlic, minced
1-2 teaspoons Zatarain's Creole Seasoning
½ teaspoon dried thyme
1 bay leaf
6 cups chicken broth (if your broth is very salty, use 4 cups chicken broth plus 2 cups water)
1/2 cup long-grain white rice
1 14-ounce can of diced tomatoes and juice
½ cup frozen okra slices
2 bone-in chicken breasts, roasted and shredded (or use leftover or rotisserie chicken)
Kosher salt, if needed
Fresh thyme to garnish, optional
Instructions
Add olive oil to a large pot. Adjust the burner to medium-high heat and add sliced sausages. Cook until browned, then remove from pan and reserve.
Add the onion, celery, and red pepper and cook until soft.
Add garlic and cook until fragrant, about a minute.
Add the Creole seasoning, thyme, and bay leaf and stir,
Pour in the chicken broth, rice, and tomatoes and simmer until the rice is cooked about 20 minutes.
Add the reserved sausage, okra, and shredded chicken, and cook until hot.
Check for seasonings and add salt if desired.
Sprinkle with fresh thyme if desired to serve.
Notes
If you use low-sodium chicken broth, you may want to up your seasonings including the salt unless your diet prohibits that. And if your chicken broth is very salty, consider replacing 2 cups of it with water.
Recommended Products
As an Amazon Associate and member of other affiliate programs, I earn from qualifying purchases.
Nutrition Information:
Yield:
6
Serving Size:
1
Amount Per Serving:
Calories: 574
Total Fat: 38g
Saturated Fat: 10g
Trans Fat: 0g
Unsaturated Fat: 23g
Cholesterol: 110mg
Sodium: 2982mg
Carbohydrates: 25g
Fiber: 3g
Sugar: 15g
Protein: 34g

Photo Circa 2016
Note: This post may contain affiliate links; view
my Disclosure Policy
for details. I earn a small percentage from any purchase you make by clicking on these links at no extra cost to you.