Zuppa Toscana Recipe
I'm not sure I've ever eaten at an Olive Garden, but their Zuppa Toscana Recipe is world-famous! An Italian Sausage Soup, it's chicken broth-based and full of Italian sausage, bacon, greens and a heck of a lot more deliciousness!
Zuppa Toscana Soup AKA Italian Sausage Soup
My first trip abroad was to the quaint walled Tuscan town of Cortona. My parents were living in Italy for part of the summer and the temptation to visit was impossible to ignore. From the cobblestone streets to the narrow shops to the most flavorful produce I'd ever encountered, it was a trip I'll never forget.
Everything tasted better in Italy. Not a can of Chef Boyardee in sight (my introduction to Italian food!). Whether anyone in Italy has ever even made this Zuppa Toscana Soup is questionable, but it does have Italian sausage, so there's that!
What is the Origin of Zuppa Toscana Soup?
Zuppa Toscana translates to Soup in the style of Tuscany, and was made famous by the Olive Garden restaurant chain. I'd never heard of it until I saw different bloggers' versions which piqued my curiosity. I pieced together my favorite parts of some of those recipes and whipped up a batch.
Bill, better known as the picky husband, was an instant fan. I knew it was a bit spicy for his "delicate" palate, but nothing a few crumbled saltines wouldn't pacify. When the weather turns for the worse, this Italian Sausage Soup will hit the spot, by warming you from the inside out.
Tips for Making this Zuppa Toscana
You can easily tweak this recipe in many ways. More spicy or less spicy, more vegetables or less, a thin broth or thicker, it's all up to you!
If you don't like spicy foods, start with only 1/4 teaspoon red pepper flakes. You can always add more after tasting a few spoonfuls. The same goes for salt as chicken broth varies in sodium content, so definitely taste before adding more salt.
I use mild Italian sausage, but it you like heat, try this zuppa toscana with spicy Italian sausage.

Rumor has it that the Olive Garden uses kale instead of spinach. Any favorite greens will work.
I added red bell pepper for color, feel free to leave it out if you wish. The potatoes can be sliced or cubed depending on your preference.
There is some heavy cream in this recipe, providing some richness to the broth. If you'd like a lighter version, substitute half and half.

I added a tablespoon of cornstarch to give the broth a little more body. I didn't think it made much difference, so you can always omit this step or increase the amount to 2 tablespoons.
PRO-Tip: If you'd like to freeze this soup, note that potatoes don't freeze well. I'd suggest adding them after the soup is defrosted as you reheat the soup.
More favorite soups include this Chicken Jambalaya Soup, and this Classic French Onion Soup. I've been eyeing some soups from my blogger friends including this Navy Bean Ham Bone Soup and this Turkey Dumpling Soup. Plus peruse my Recipe Index for all my Soup Recipes.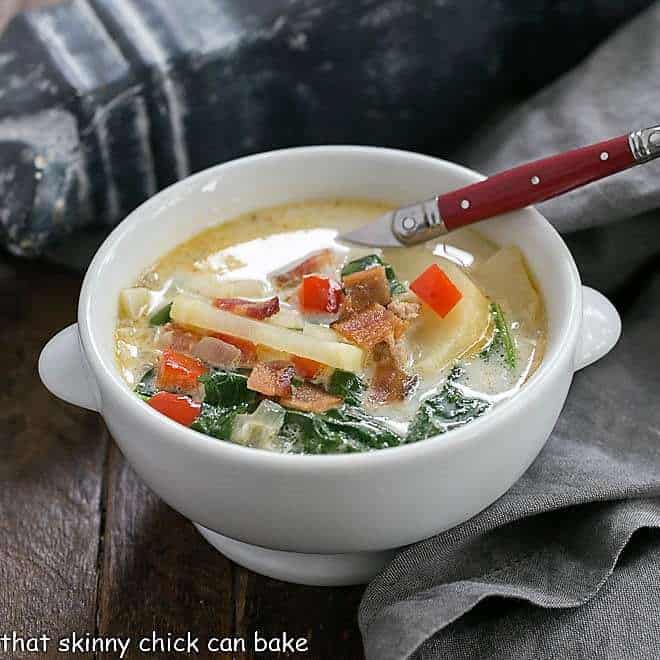 The Recipe:
Zuppa Toscana Recipe
Prep Time 20 minutes
Cook Time 1 hour
Total Time 1 hour 20 minutes
Yield 6 servings
A flavorful, spicy sausage soup in the style of Tuscany!
Ingredients
1 pound bulk mild Italian sausage
1/2 teaspoons crushed red pepper flakes, more or less depending on desired heat
4 slices bacon, cut into 1/2 inch pieces
1 large yellow onion, diced
2 cloves garlic, minced
1 red bell pepper, diced
4 cups chicken broth, I used Pacific brand, divided
1 tablespoon cornstarch
1 teaspoon salt (taste broth first before adding any salt)
1/2 teaspoon freshly ground black pepper
2 large russet potatoes, peeled, cut in half lengthwise and sliced
1 cup heavy cream
4 cups baby spinach
Instructions
Cook the Italian sausage and red pepper flakes in a Dutch oven over medium-high heat until crumbly, browned, and no longer pink, 10 to 15 minutes. Drain and set aside.
Cook the bacon in the same Dutch oven over medium heat until crisp, about 10 minutes. Drain, leaving a few tablespoons of drippings from the bacon in the bottom of the Dutch oven. Remove bacon and dice when cool; set aside with the sausage.
Stir the onions, garlic and bell pepper into the bacon drippings, and cook until onions are soft and translucent, about 5 minutes.
Pour about 1/4 cup of broth into a small bowl. Whisk in 1 tablespoon cornstarch and set aside.
Pour the rest of the chicken broth into the Dutch oven with the bacon and onion mixture; bring to a boil over high heat. Add salt and pepper to taste.
Add the potatoes, and boil until fork tender, about 20 minutes.
Whisk in the cornstarch slurry and let boil a few more minutes.
Reduce the heat to medium and stir in the heavy cream, cooked sausage and bacon; heat through. Mix the spinach into the soup just before serving.
Nutrition Information:
Yield:
6
Serving Size:
1
Amount Per Serving:
Calories: 564
Total Fat: 38g
Saturated Fat: 18g
Trans Fat: 1g
Unsaturated Fat: 22g
Cholesterol: 99mg
Sodium: 1701mg
Carbohydrates: 32g
Fiber: 3g
Sugar: 6g
Protein: 23g
Note: This post may contain affiliate links; view
my Disclosure Policy
for details. I earn a small percentage from any purchase you make by clicking on these links at no extra cost to you.