This Classic Italian Meat Sauce simmers all afternoon, fills your house with a marvelous aroma and will elicit groans of pleasure from all who indulge. Definitely worth the wait!
Out of the Ordinary Classic Italian Meat Sauce
My typical spaghetti sauce recipe requires no recipe. It's tasty, and on occasion even memorable. But I toss in cans of tomatoes, tomato paste and sauce. Sprinkle in some Italian herbs and a few glugs of red wine if there's an open bottle.
Usually, I add Italian sausage and sometimes meatballs. It's never the same twice in a row. Then there are easy recipes like this Italian Chicken Bake, for another quick an easy alternative with the same fabulous flavor profile. And if you're looking for a simple meatless sauce, this simple Homemade Tomato Basil Sauce looks terrific, too.
But on a chilly Sunday when I'm home for the afternoon, I pull out all the stops. That's when I make a classic Italian meat sauce and simmer a pot of gravy like a real Italian mama. Starting with country ribs and sausage, there are layers upon layers of flavor which only intensify as the pot slowly cooks for hours. Those Italians knew what they were doing—this is a winner!
Gravy or Sauce?
I grew up in Iowa, daughter of a German father and Irish mother.  It was "sauce" that topped our spaghetti, not gravy. It wasn't till I met foodies from across the US via the Internet that I heard that there was a sauce vs. gravy debate. It seemed to me that those of Italian heritage called this tomato based sauce a gravy. Whatever your preference, I know you'll love this dish. It's the perfect way to warm up on a chilly night.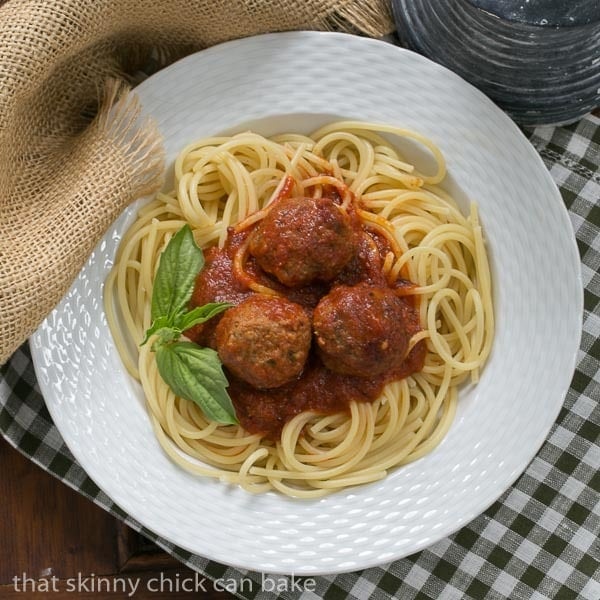 More Warming Recipes:
Beverages
Desserts
Main Dishes and Soups
Note: This post may contain affiliate links; view
my Disclosure Policy
for details. I earn a small percentage from any purchase you make by clicking on these links at no extra cost to you.