Classic Italian Meat Sauce
This Classic Italian Meat Sauce simmers all afternoon, fills your house with a marvelous aroma, and will elicit groans of pleasure from all who indulge.
This is the Best Spaghetti Sauce Recipe I've ever made and definitely worth the wait!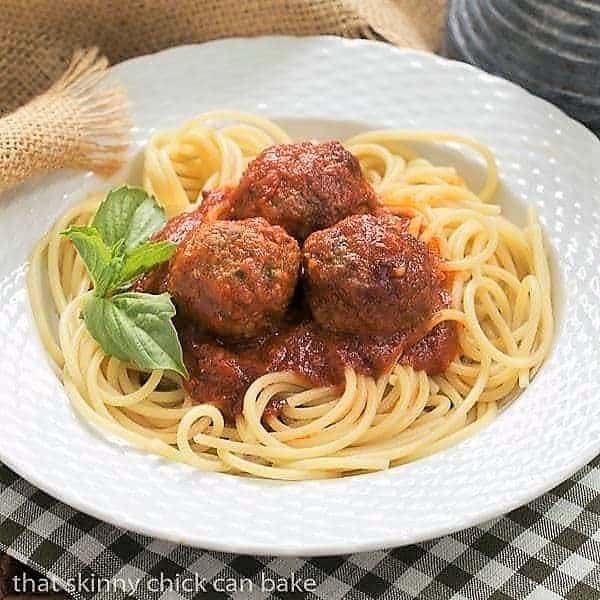 Classic Italian Meat Sauce
My typical spaghetti sauce recipe requires no recipe. It's tasty, and on occasion even memorable. But I toss in cans of tomatoes, tomato paste, and sauce. Sprinkle in some Italian herbs and a few glugs of red wine if there's an open bottle.
Usually, I add Italian sausage and sometimes meatballs. It's never the same twice in a row. Then there are easy recipes like this Italian Chicken Bake, for another quick and easy alternative with the same fabulous flavor profile. And if you're looking for a simple meatless sauce, this simple Homemade Tomato Basil Sauce looks terrific, too.
But on a chilly Sunday when I'm home for the afternoon, I pull out all the stops. That's when I make a classic Italian Sunday gravy and simmer it all afternoon long like a real Italian mama. Starting with country ribs and sausage, there are layers upon layers of flavor that only intensify as the pot slowly cooks for hours. Those Italians knew what they were doing—this is a winner!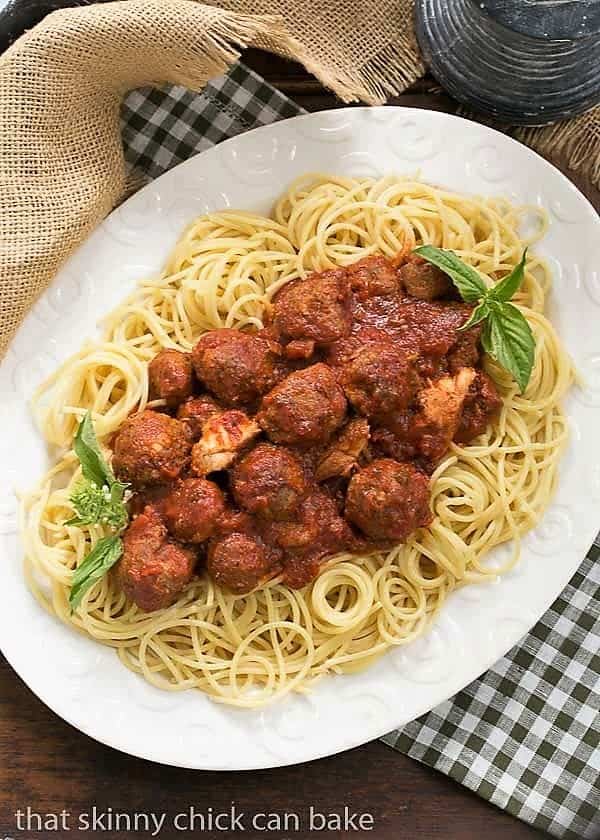 What's the Difference Between Italian Pasta Sauce and Gravy?
I grew up in Iowa, daughter of a German father and Irish mother. It was "sauce" that topped our spaghetti, not gravy. Until I met foodies from across the US via the Internet, I never realized there was a sauce vs. gravy debate.
It seemed to me that those of Italian heritage called this tomato-based sauce a gravy, especially in the northeast states. For what it's worth, there is no Italian word that translates to gravy, which is a sauce made from meat juices and something added to thicken, like flour. Whatever your preference for what to call this recipe, I know you'll love this Spaghetti Sauce Recipe. It's the perfect way to warm up on a chilly night.
Tips for How to Make Spaghetti Sauce:
This is a recipe that can't be hurried along. Perfect to make on a lazy Sunday afternoon when there's nothing on your agenda.
PRO-Tip: Bone-in ribs provide a flavor that's unbeatable. It's the bones that are key, so don't buy boneless ribs and expect the same results.
Good Italian sausage also contributes with an irresistible combination of flavors from the spices and fat.
Don't skip the red wine unless it's for health reasons. Almost all the alcohol cooks off, so it's safe for children to eat. PRO-Tip: Did you know that alcohol, like salt, is a flavor enhancer?
Simmering this Italian meat sauce for 3 hours helps all the flavors develop and concentrate. Simmering is not the same as boiling. You do not want to see the sauce bubbling vigorously.
Simmer with the lid askew so steam can escape. If the sauce gets too thick, add some water. Stir on occasion so the bottom does not burn.
If you're going to go through the trouble of making a fabulous Italian gravy, use the best ingredients available. Canned San Marzano tomato products outshine their competitors. I buy my Italian sausage from our butcher shop, but if you have an Italian market, give them a try.
When cooking the garlic, do not brown. Just cook until fragrant. Browning the tomato paste helps caramelize the sugars and concentrate the flavors.
My family also loves this Creamy Chicken Marsala, Italian Skillet Sausage and Peppers, Mozzarella Stuffed Meatballs, Classic Italian Meat Sauce, and Chicken Piccata Pasta. Plus check out all my Pasta Recipes for more inspiration.
The Recipe:
Classic Italian Meat Sauce
Prep Time 20 minutes
Cook Time 3 hours
Total Time 3 hours 20 minutes
Yield 8 servings
This classic slow cooked Italian Meat Sauce is adapted from Vita Greco
Ingredients
2 tablespoons olive oil
4 country style pork ribs
1 pound Italian sausage links, may slice or keep whole
For meatballs:
1 pound meatball mix (equal parts ground beef, ground pork, and ground veal) or all ground beef
2 eggs, slightly beaten
2 tablespoons fresh Italian parsley, chopped
1/4 cup grated Romano cheese (or Parmesan)
1/2 cup bread crumbs
4 cloves of garlic, minced
1/2 teaspoon salt
Freshly ground black pepper
For meat sauce:
4 cloves garlic, minced
1 small can tomato paste
2 large cans crushed tomatoes
Freshly ground black pepper
Salt to taste
1 teaspoon sugar
A few pinches of Romano or Parmesan
1/4 cup fresh Italian parsley, chopped
1 tablespoon dried basil
1 small can tomato sauce
1/2 cup dry red wine
1 small can water
Instructions
In a Dutch oven, brown Italian sausage and pork ribs in a bit of olive oil. Pierce the sausage casings while the first side is browning. Remove and set aside.
Make meatballs by mixing all ingredients. Scoop out tablespoons of mixture and form into balls.
Brown in oil left in the Dutch oven, adding more if needed. Remove when browned but not cooked through.
Add garlic to Dutch oven and sauté till fragrant; do not brown. Add tomato paste and cook for a few minutes.
Add the rest of the sauce ingredients and bring to a simmer. Add the meat (sausage, ribs, meatballs) to the sauce.
Simmer for about 3 hours with the lid partially covering the pan. Stir every half hour or so to prevent the bottom from burning.
Remove the ribs from the sauce, pull the meat from the bones discarding any excess fat, and return the meat to the sauce. Serve over spaghetti.
Nutrition Information:
Yield:
8
Serving Size:
1
Amount Per Serving:
Calories: 707
Total Fat: 49g
Saturated Fat: 17g
Trans Fat: 0g
Unsaturated Fat: 32g
Cholesterol: 198mg
Sodium: 1317mg
Carbohydrates: 18g
Fiber: 3g
Sugar: 6g
Protein: 46g
Note: This post may contain affiliate links; view
my Disclosure Policy
for details. I earn a small percentage from any purchase you make by clicking on these links at no extra cost to you.