Burrata Caprese Salad with Balsamic Pearls
In the summer, I could eat fresh garden tomatoes and mozzarella with a sprinkling of basil day after day. This Burrata Caprese Salad with Balsamic Pearls is a jazzed-up version of my favorite fresh tomato salad.
This Caprese Salad Recipe is a twist on the classic, using Burrata cheese instead of the classic Buffalo or Fresh Mozzarella. Add heirloom or garden tomatoes for the best of summer salads!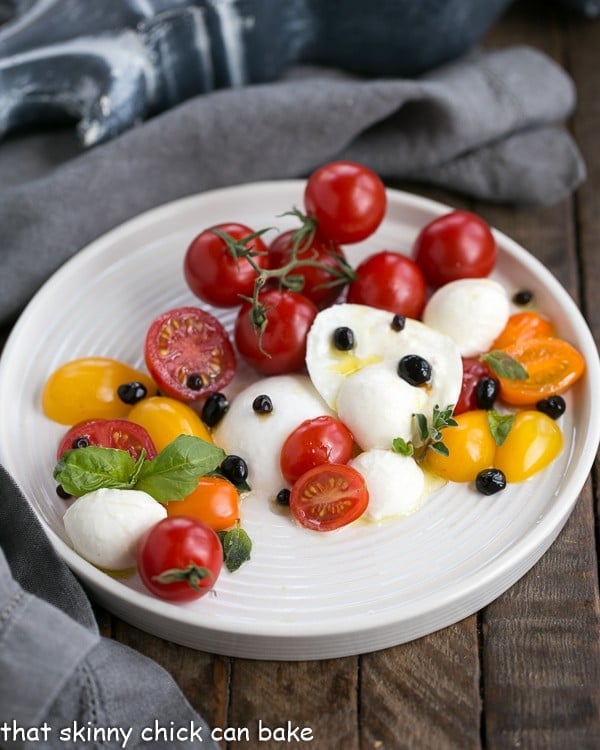 Why You Must Make
With nothing close to a ripe garden tomato in the markets, I chose sweet cherry tomatoes on the vine to create this burrata Caprese salad. Fresh mozzarella is usually my choice for a classic Caprese (pronounced cah-preh-zseh), but burrata is an indulgent option. Burrata translates to "buttered" in Italian and is a shell of fresh mozzarella filled with cream and cheese curds. But the coolest thing about this salad is the balsamic pearls!
You can make a Caprese salad any time of year. You may have to change up the type of tomatoes during the off season.
Balsamic pearls are a fun, impressive alternative to a drizzle of balsamic vinegar.
If you haven't tried burrata cheese, this is a great introduction.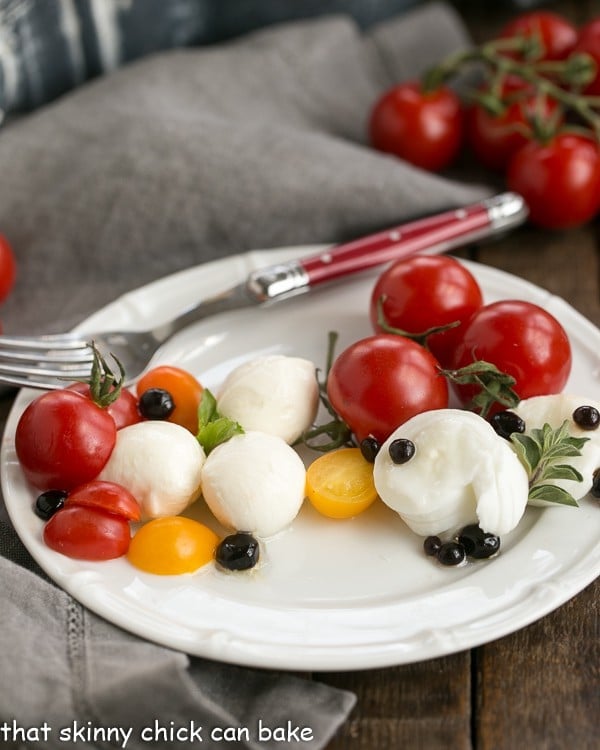 Twist on the Classic Tomato Mozzarella Salad
I was reminded of my failed attempt at making balsamic vinegar pearls when my friend, Juliana, of Color Your Recipes, posted her Balsamic Vinegar Caviar recipe. Since I still had a stash of agar-agar and an endless supply of balsamic, I figured it was worth another shot. And Juliana's recipe was much more detailed than what I had used before. Whew, success! They made quite a statement on my tomato mozzarella salad!
How to Make Balsamic Pearls
First, it's nice to know exactly what balsamic peals are! They're basically gelled balsamic vinegar. Adding agar agar to balsamic vinegar helps solidify the liquid. But there's more to the process.
First, your choice of oil must be chilled. Either vegetable or olive oil will work, but you may not want to use expensive oil for these pearls. Set the oil in the freezer for 30 minutes to cool.
Next,  heat the balsamic and agar-agar to a boil, then let the mixture cool to 130° F.
Then comes the fun. Use a dropper to slowly drip the balsamic mixture into the oil. It will form pearls as it drops through the oil.
Retrieve the pearls and use them to garnish your salad. Keep any extras in the refrigerator.
Frequently Asked Questions
What is Burrata Cheese? How Does it Differ from Fresh Mozzarella?
Like Mozzarella, Burrata is a fresh, semi soft Italian cheese. Both are packed in whey or water to keep them moist. Burrata, though, has a mozzarella shell and is filled with strings of mozzarella and cream.
What Goes with Burrata Salads?
For lunch, a burrata Caprese salad pairs nicely with some crusty bread and seasoned olive oil for dipping. As a side salad, it's perfect with grilled meat or Italian entrees.
What is a Burrata Caprese?
It's simply an Italian Caprese salad in which the fresh Mozzarella is replaced by Burrata cheese.
What Ingredients Are in a Caprese Salad?
The classic Caprese salad is quite simple. Here are the ingredients needed: Fresh tomatoes, fresh basil, fresh mozzarella, and olive oil. Variations include balsamic vinegar, balsamic reduction or an Italian salad dressing.

Where Did the Caprese Originate?
If you're familiar with Italy, you know of the island of Capri, off the west coast. Insalata Caprese AKA Salad in the Style of Capri, originated in that locale. The early version was served with arugula and oregano instead of basil.
You May Also Like: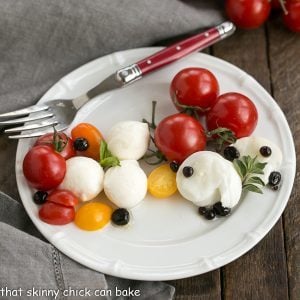 The Recipe:
Burrata Caprese Salad with Balsamic Pearls
Prep Time 30 minutes
Cook Time 5 minutes
Total Time 35 minutes
Yield 4 servings
A twist on the Italian Caprese salad using Burrata cheese and balsamic vinegar pearls.
Ingredients
For Balsamic Pearls:
1/2 cup balsamic vinegar
1.5 grams agar-agar, weigh with your kitchen scale
1 1/2 cups vegetable oil (may use olive oil if desired)
For Salad:
11-ounce package of super sweet cherry tomatoes on the vine, sliced in half or garden or heirloom tomatoes
4 ounces Burrata, sliced (centers will ooze, so don't expect beautiful slices)
8-ounce package of small fresh mozzarella balls (ciliegene)
Extra virgin olive oil
Balsamic pearls (or balsamic vinegar if desired)
Fresh basil and oregano, small leaves, or chopped
Kosher salt, to taste
Instructions
To make the balsamic pearls, pour the oil into a tall thin glass and place into the freezer for about 30 minutes to chill the oil.
Place the balsamic vinegar in a small pan and sprinkle agar-agar over it. Bring the mixture to a boil, stirring to dissolve the agar-agar. Remove from heat and let cool to 130 degrees (much colder and your mixture will gel. If this happens, just gently reheat.).
Remove the cold oil from the freezer and keep it cold by placing it into a container filled with ice. Fill a syringe (I used a medicine dropper) with the warm balsamic and slowly drip it into the cold oil. As it falls through the oil, it will cool and gel. One drip will make small "caviar" like pearls. I made some of these and also did a quick double drop to make larger pearls.
Using a slotted spoon, remove the pearls from the oil and rinse with water. Store in the in a covered container in the refrigerator until needed.
For each salad, place one or two slices of Burrata in the center of the plate, then add small mozzarella balls. Scatter tomatoes over the plate, followed by balsamic pearls and herbs. Sprinkle with kosher salt, then drizzle with olive oil.
Notes
Calories are elevated due to the whole amount of olive oil used in making the pearls was included in the calculation.
Nutrition Information:
Yield:
4
Serving Size:
1
Amount Per Serving:
Calories: 938
Total Fat: 93g
Saturated Fat: 11g
Trans Fat: 2g
Unsaturated Fat: 77g
Cholesterol: 27mg
Sodium: 368mg
Carbohydrates: 20g
Fiber: 2g
Sugar: 16g
Protein: 9g
Calorie count is including the vegetable oil used to make the pearls and is exaggerated.
Note: This post may contain affiliate links; view
my Disclosure Policy
for details. I earn a small percentage from any purchase you make by clicking on these links at no extra cost to you.