Summer Tomato and Burrata Panzanella Salad
A Summer Tomato and Burrata Panzanella Salad is the perfect way to showcase juicy, ripe garden tomatoes! Fresh produce, creamy burrata cheese filled with cream and garlicky toasted bread cubes combine in a most delicious way!
Today, I'm cooking from Susan Pridmore's newly released cookbook, Simply Vegetarian Cookbook: Fuss-Free Recipes Everyone Will Love. If this recipe is any indication, everyone will love these easy recipes!
Why You Will Love
This recipe is from my friend, Susan, the blogger at The Wimpy Vegetarian.
As a lover of fresh summer tomatoes, especially with basil and fresh mozzarella, this panzanella recipe caught my eye.
Besides the burrata, chickpeas provide additional protein, so this salad makes a perfect lunch or light dinner.
Expert Tips
This simple, rustic Italian salad is a pretty basic recipe. But there are a few tricks when it comes to making a terrific bread salad.
Use a sturdy, crusty bread, otherwise it will turn to mush when mixed with the vinaigrette and tomato juices. I used ciabatta, but sourdough would also work well.
If you don't have time to let your bread cubes get stale (the classic way to make panzanella), toast the bread in the oven like in Susan's recipe. Plus you can then toss the cubes with olive oil and garlic for a boost of flavor.
Use juicy, ripe homegrown or heirloom tomatoes. A variety of colors makes for a beautiful presentation.
Use a sweet yellow onion instead of a sharp white onion. Red onions are nice, too, and I like to soak them in cold water to lessen the bite.
There are numerous other ingredients you can add to the mix like bell peppers, cucumbers, even capers.
To thinly slice basil, stack a few leaves, then roll them up like a cigar. Using a sharp knife, cut thin slices perpendicular to the roll. This process is called chiffonade.
Let the salad sit for at least 2 hours before serving so the flavors meld and the dressing and juices have a chance to soak into the bread.
Frequently Asked Questions
What is a Panzanella Salad?
Panzanella is a Tuscan salad composed of fresh tomatoes and stale bread. Also called panmolle, the bread is soaked in a simple vinaigrette of vinegar and olive oil and often includes onions and basil. This version contains chickpeas AKA garbanzo beans and burrata, a variation on fresh mozzarella.
What is Burrata?
Burrata is a "cousin" of fresh mozzarella cheese. The shell is made out of mozzarella and inside is a mixture of cream and stringy curd, known as stacciatella. It can often be found in the refrigerator case next to the fresh mozzarella.
You May Also Like
Stay in touch through social media @ Instagram, Facebook, and Pinterest. Don't forget to tag me when you try one of my recipes! And if you love the results, please give it a 5-star rating in the recipe card. Note: As an Amazon Associate, I earn from qualifying purchases. Visit my Amazon Store for my favorite products.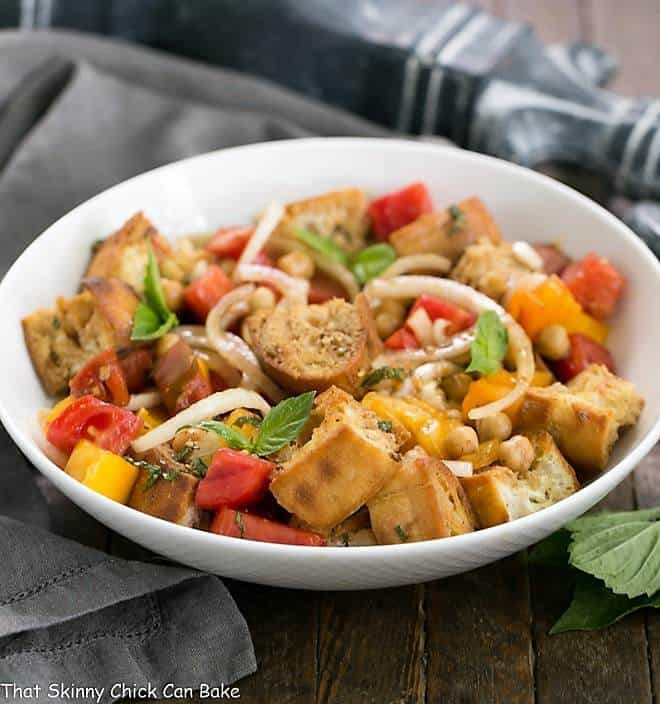 The Recipe:
Summer Tomato and Burrata Panzanella Salad
Prep Time 15 minutes
Cook Time 15 minutes
Total Time 30 minutes
Yield 2-3 servings
A beautiful panzanella salad with chick peas and burrata cheese
Ingredients
2 tablespoons balsamic vinegar
1 1/4 teaspoons kosher salt, divided
1/2 teaspoon freshly ground black pepper, plus 1/8 teaspoon
6 tablespoons olive oil, divided
4 cups chopped tomatoes
1 (15-ounce) can chickpeas, drained and rinsed
1/2 sweet onion, thinly sliced
2 tablespoons thinly sliced fresh basil
3 (1-inch-thick) slices crusty bread, such as ciabatta
1 teaspoon garlic paste or minced garlic
2 balls burrata mozzarella cheese, torn into 4-6 pieces
Instructions
Preheat the oven to 400º. Line rimmed baking sheet with parchment paper.
In a large bowl, whisk together the vinegar, 1 teaspoon of salt, 1/2 teaspoon of black pepper, and 3 tablespoons of olive oil. Add the tomatoes, chickpeas, onion, and basil, and toss to evenly coat. Set aside.
Tear or cut the bread into large pieces about 2 inches across. Add the remaining 3 tablespoons of olive oil to a large bowl and stir in the garlic. Toss the bread with the garlic and olive oil and arrange in a single layer on the baking sheet. Season the bread with the remaining 1/4 teaspoon of salt and remaining 1/8 teaspoon of pepper. Bake for 10 minutes. Turn the bread pieces over and bake for another 5 minutes.
To serve, place the pieces of burrata on a serving plate. Toss the toasted bread with the tomato salad and pour everything over the burrata, including any residual dressing.
Notes
Recipe courtesy of Susan Pridmore.
Nutrition Information:
Yield:
3
Serving Size:
1
Amount Per Serving:
Calories: 620
Total Fat: 39g
Saturated Fat: 9g
Trans Fat: 0g
Unsaturated Fat: 28g
Cholesterol: 24mg
Sodium: 1636mg
Carbohydrates: 52g
Fiber: 11g
Sugar: 16g
Protein: 19g
Note: This post may contain affiliate links; view
my Disclosure Policy
for details. I earn a small percentage from any purchase you make by clicking on these links at no extra cost to you.