Soft Shell Salmon Tacos with Mango Salsa
Soft Shell Salmon Tacos are made with succulent roasted salmon and will be the Best Fish Tacos Recipe you've ever tasted! These soft shell tacos are garnished with the works: fresh mango salsa, tangy cabbage slaw, and a spicy lime sriracha sauce! Plus using salmon instead of fried or battered tilapia makes these seafood tacos a healthier, but extremely delicious dinner alternative.
Soft Shell Salmon Tacos with Mango Salsa
The hubby has always taken a pass when I've made fish tacos. So last week, when he called on his way home from work, there was silence when I told him we were having fish tacos for dinner. Crickets. I let him sweat it out.
His childhood experience with seafood included salmon loaf and tuna fish casserole. He lived in the landlocked Midwest, right on the Mississippi where catfish was the only fresh fish available. Slowly, he's learned to love shrimp, fresh salmon, and even crab cakes. I didn't reveal that these were salmon tacos and had to giggle inside, knowing there was a strong possibility he'd enjoy my soft shell salmon tacos.
How to Make Fish Tacos
Make any or all three of the accompaniments to these tacos. I'd recommend the cabbage slaw tossed in a simple vinaigrette. Definitely a classic pairing. But the mangoes in the market were calling my name so I created a vibrant mango salsa with some heat from a single jalapeno.
Last but not least, having a flavorful fish tacos sauce pulls the whole dish together. Whisk up an easy lime, sriracha cream sauce which can be drizzled over the works just before taking your first bite. How would you make yours??? Bill dived into his taco donned with slaw and salsa with gusto and gave it two thumbs up. See, mama knows best! Another victory.
Are Fish Tacos Healthy?
Considering that these tacos are made with roasted salmon, which is a terrific source of Omega-3 Fatty Acids, these tacos do have health benefits. Research suggests Omega-3s may lower blood pressure and triglycerides, slow plaque development in the arteries, reduce the chance of heart attacks and strokes, reduce the chance of arrhythmias and decrease sudden cardiac death in those with diagnosed heart disease. Eating fatty fish like salmon is the best way to get these benefits. Omega 3s may also help relieve joint stiffness, improve brain health, help prevent colon cancer, reduce depression and anxiety, and more.
Eating fatty fish like salmon is the best way to get these benefits, though you can also take oral fish oil capsules.
The slaw and salsa provide fiber and vitamins. The lime sauce has minimal health benefits but eaten in moderation as a condiment to these salmon tacos, it's a lovely contrast to the seafood and other accouterments and won't ruin your diet.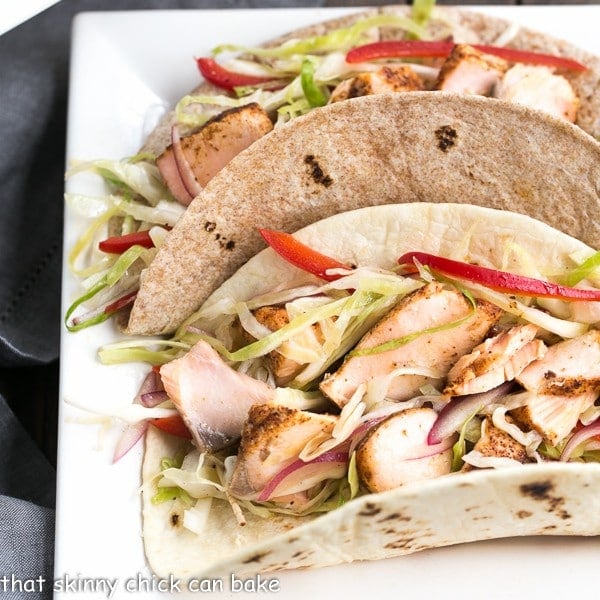 You Might Also Like:
The Recipe:
Soft Shell Salmon Tacos Recipe with Mango Salsa
Prep Time 45 minutes
Cook Time 15 minutes
Total Time 1 hour
Yield 4 servings
Roasted salmon with all the fixings for a sophisticated seafood taco
Ingredients
Cabbage Slaw:
2 cups shredded green cabbage
½ cup thinly sliced red bell pepper
⅓ cup thinly sliced red onion
2 tablespoons champagne vinegar
2 tablespoons olive oil
¼ teaspoon salt
Mango Salsa:
1-2 ripe mangoes, peeled and diced
½ red bell pepper, diced
1 tablespoon minced red onion
1 tablespoon minced cilantro
2 tablespoons fresh lime juice
2 tablespoons olive oil
Salt and freshly ground black pepper, to taste
Lime Sriracha Sauce:
3 tablespoons sour cream
2 tablespoons mayonnaise (I use Hellmann's organic)
1 tablespoon lime juice
½ teaspoon garlic powder
½ teaspoon sriracha
⅛ teaspoon salt
Salmon:
4 4-ounce salmon fillets, skin on
1 teaspoon cumin
1 teaspoon ancho chili powder
1 teaspoon brown sugar
½ teaspoon kosher salt
Olive oil
To assemble:
Instructions
To make the slaw, toss together the cabbage, bell pepper, and onion in a bowl. In a Pyrex liquid measuring cup or small bowl, whisk together the vinegar, oil, and salt. Pour the dressing over the vegetables and toss gently. Set aside.
To make salsa, place mangoes, bell pepper, onion, and cilantro in a bowl. In a measuring cup or bowl, whisk together the lime juice, olive oil, salt, and pepper. Pour over the mango mixture and gently toss to combine. Set aside.
To make the lime sriracha sauce, whisk together all ingredients and refrigerate until needed.
To make the rub for the salmon, mix together the cumin, chili powder, brown sugar, and salt. Rub all over the top and sides of the salmon. Drizzle with olive oil.
Place salmon on an oiled grill pan, skin side down, and preheat oven to 400 degrees. Roast for 10-15 minutes or until just cooked through (time will vary depending on the thickness of your salmon). Set aside.
To assemble, place one tortilla on a plate, flake one salmon fillet, discarding the skin. Place all or half of the salmon on the tortilla (depending on your preference--I like half the salmon and lots of slaw), top with slaw, salsa, and sauce, and serve.
Notes
May use other types of seafood including shrimp or sea bass instead of salmon.
Nutrition Information:
Yield:
4
Serving Size:
1-2 tacos
Amount Per Serving:
Calories: 917
Total Fat: 46g
Saturated Fat: 9g
Trans Fat: 0g
Unsaturated Fat: 34g
Cholesterol: 80mg
Sodium: 1166mg
Carbohydrates: 91g
Fiber: 8g
Sugar: 29g
Protein: 37g
Note: This post may contain affiliate links; view
my Disclosure Policy
for details. I earn a small percentage from any purchase you make by clicking on these links at no extra cost to you.