Smoked Salmon Deviled Eggs
Bill has a thing for deviled eggs. His eyes practically glaze over when our friend, Sally, brings a platter to our 4th of July party. I treated the hubby to a batch of Smoked Salmon Deviled Eggs, being the nice wife that I am. He was thrilled!
I used my tried and true recipes for the Best Deviled Eggs and added smoked salmon, plus garnishes I use when making a salmon platter. They were delicious!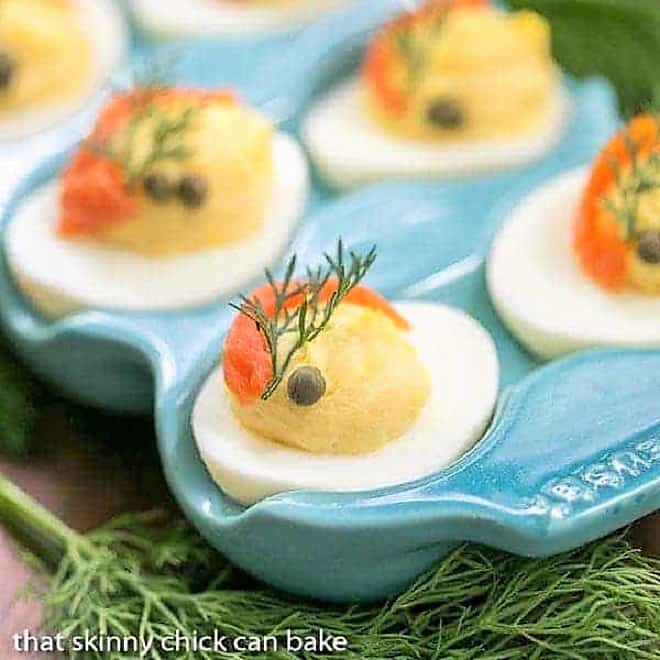 Why You Must Make
So some mayo and Dijon were mixed into my grated yolks, then I checked the fridge for garnishes. Bacon came to mind, but I had some smoked salmon as well as jars and jars of caper berries on the door. The picky hubby could pull off the capers and he'd be set! I had a feeling he'd approve of these smoked salmon deviled eggs.
Deviled Eggs are classic picnic fare and perfect after Easter when there are lots of hard-boiled eggs around the house.
This is a very simple recipe that can be garnished in all sorts of ways or just served plain.
They got rave reviews from the picky deviled egg fan in the house so the basic recipe, sans garnish, is a winner.
Easy Deviled Eggs with Salmon
Well, as I predicted Bill removed the capers and dill, but happily devoured his share of barely garnished smoked salmon deviled eggs. Nick, the youngest offspring, thought they were good enough for snacks and breakfast. He was curious about the garnishes but gobbled them right up.
He's home for the summer before starting grad school and lets me know that he's always hungry! No wonder I'm hitting the market every other day!
At our house, I can't get too crazy when it comes to deviled eggs. I kept the filling rather basic. If the color appeared "off" with the addition of spices, avocado, or any of the numerous options, I'd get drilled on the exact ingredients before any tasting could begin.

Expert Tips
Everyone wants to know the best technique for making hard-boiled eggs. One where the shell comes off and there's no green ring around the yolk. Here are a few tips for making hard-boiled eggs.
Use older eggs. They peel more easily than fresh eggs. After you purchase your eggs, don't cook them for at least a week.
Start peeling from the large end when eggs are chilled. Peel under running water to help clean the bits of shell off the egg.
Always store your cooked eggs in the refrigerator.
Find a ceramic egg crate (affiliate link) to serve!
Instant Pot Hard-Boiled Eggs
Do you have an Instant Pot (affiliate link) ? Mine stayed in its box until about a month ago. Over the holidays, I was having lunch with some girlfriends who extolled the advantages of cooking with an IP. The best chicken broth, the fastest ribs, and on and on. I finally started experimenting.
One thing I've learned is that the Instant Pot makes perfect hard-boiled eggs. And I mean perfect.
Put the rack in your IP along with 1 cup of water.
Add the rack and place your eggs on the rack.
Place the lid on and shut. Move the valve to seal.
Set to High Pressure for 5 minutes. It will take 5 minutes to come to pressure, then 5 minutes to cook.
When the 5-minute cook time is up, let the IP do a natural release for 5 minutes.
After 5 minutes, carefully move the valve to release any leftover steam (wear an oven mitt).
Open the lid and carefully move the eggs to a bowl of ice water to stop the cooking.
Peel when cool. You won't believe how easily the shells release!! Now you can make these Easy Deviled Eggs and garnish them to your liking.
Stove Top Hard Boiled Eggs
To make hard-boiled eggs, place the eggs in a saucepan and fill with cool water to an inch over the eggs.
Bring water to a rolling boil, cover the pan with a lid, and remove from heat.
Set the timer for 10 minutes.
While waiting for the eggs to cook, fill a bowl with water and ice. Set aside.
When the timer goes off, remove the eggs and place them in ice water.
After the eggs cool for a minute, crack the shells a bit as this will help the peeling process.
Let them cool completely, then peel.
Frequently Asked Questions
What Does Devil Mean in Cooking?
To devil is to combine a food with hot or spicy seasonings including red pepper, mustard, tabasco, etc.
Are All Stuffed Eggs Deviled Eggs?
A stuffed egg is a hard-boiled egg that's cut in half lengthwise and has the yolk removed. The yolk is then mixed with ingredients to give it flavor, plus mayonnaise or sour cream to provide a creamy texture. Adding any spicy ingredient, including mustard, makes them deviled eggs.
How Long Can You Keep Deviled Eggs?
As long as they were not left out at room temperature for more than 2 hours, they'll keep well in the refrigerator for up to 4 days. Make sure they're covered with plastic wrap or stored in an airtight container so they stay fresh. They do not freeze well.
You May Also Like: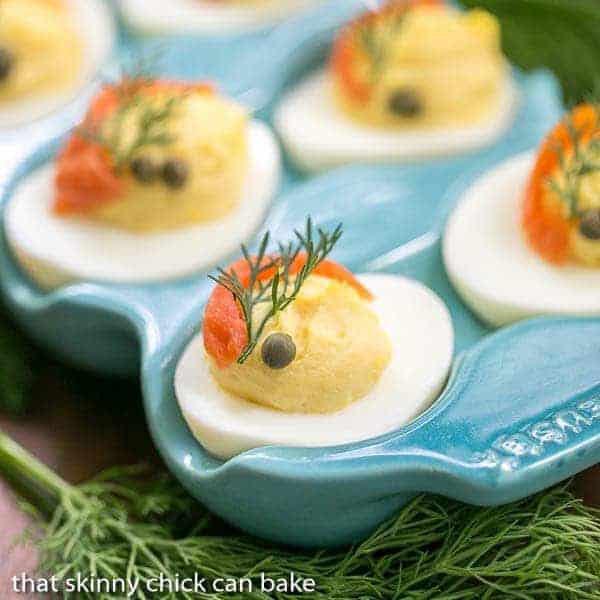 The Recipe:
Smoked Salmon Deviled Eggs Recipe
Prep Time 15 minutes
Total Time 15 minutes
Yield 12 deviled eggs
Deviled eggs are a classic summer picnic treat! Jazz them up with some fun garnishes!
Ingredients
6 hard boiled eggs, peeled and chilled
3-4 tablespoons mayonnaise
1 teaspoon Dijon mustard
Pinch of salt
Smoked salmon
Capers
Sprigs of dill
Chives and chive blossoms
Instructions
Slice hard-boiled eggs in half. Remove yolks and grate into a medium bowl.
Add mayonnaise, starting with 3 tablespoons, and blend with a whisk. Add up to another tablespoon of mayonnaise till the filling reaches your preferred consistency. Add a pinch of salt or salt to taste.
With a spoon or cookie disher, scoop and fill each egg white with yolk mixture.
Garnish each with a strip of smoked salmon, capers, and a sprig of dill or a couple of strips of chives.
Keep chilled until serving time.
Notes
For a classic deviled egg recipe, just leave off the garnishes!
Do not leave them out at room temperature for longer than 2 hours.
Nutrition Information:
Yield:
12
Serving Size:
1 deviled egg
Amount Per Serving:
Calories: 79
Total Fat: 6g
Saturated Fat: 1g
Trans Fat: 0g
Unsaturated Fat: 4g
Cholesterol: 97mg
Sodium: 241mg
Carbohydrates: 0g
Fiber: 0g
Sugar: 0g
Protein: 5g
Note: This post may contain affiliate links; view
my Disclosure Policy
for details. I earn a small percentage from any purchase you make by clicking on these links at no extra cost to you.