Baked Denver Omelet
Add this easy, delicious Baked Denver Omelet to your breakfast menu for a warm, hearty, protein filled way to start the day!
I was given a copy of Carolyn Ketchum's The Everyday Ketogenic Kitchen to review. As always, all opinions are my own.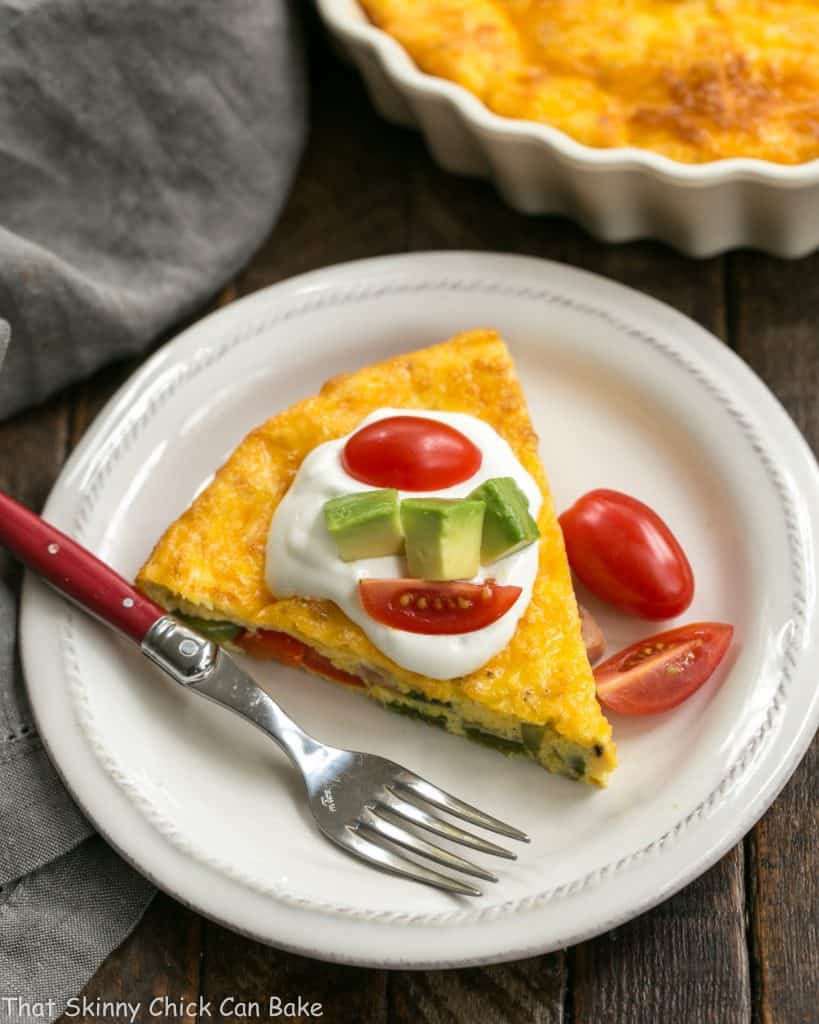 Baked Denver Omelet
Carolyn, the author of The Everyday Ketogenic Kitchen: With More than 150 Inspirational Low-Carb, High-Fat Recipes to Maximize Your Health, was one of my first blogger friends and now an expert in cooking low-carb and mostly gluten-free dishes, from enticing appetizers to scrumptious desserts. Carolyn blogs at All Day I Dream about Food.
When I saw her beautiful baked Denver omelet, I knew it would be the first recipe I'd test. I'm always hunting for easy low-carb, high protein breakfast recipes, and this easy omelet recipe was perfect. Who doesn't love easy healthy breakfast recipes???
Low-Carb Recipe
When I was diagnosed with Hashimoto's thyroiditis, the most common cause of hypothyroidism, I was definitely not the poster child for this autoimmune disease. I was tired and cold, but definitely not overweight.
Shortly after that diagnosis, came unexplained spikes in my blood sugar. After going through a battery of tests, some more than once, I didn't meet the criteria for a diagnosis of diabetes nor even pre-diabetes according to my endocrinologist.
But the crazy symptoms lead me to eat a cleaner diet, which included upping my protein intake and decreasing my simple carbs. Bye, bye cookie dough binges! I feel a heck of a lot better when I don't cheat. This cookbook is ideal for those folks, like me, trying to cut back on their sugar and simple carbohydrates intake.
How to Bake an Omelet
Are you intimidated by the thought of making an omelet? Scared of over-cooking? Fearful of folding or flipping it without tearing or making a big mess? Then making a baked omelet is the answer!
Tips for making a Baked Omelet:
Whisk together the eggs, cream, and seasonings until well combined, but you don't want to over-mix so that the mixture if frothy. Using a fork instead of a whisk works well, too.
Add the sauteed veggies to the dish, first, then pour the egg mixture on top.
You are not limited to the classic Denver or Western omelet filling of onions, peppers, and ham. Add your favorite sauteed vegetables. Try this with another cheese if cheddar isn't your thing! Mix in your go-to omelet ingredient in similar amounts to make it your own.
You can easily cut this recipe in half as I did. Bake in a Quiche Pan and start checking at the 25-minute mark. The center should look set when your omelet is done.
Store leftovers up to 4 days for an easy breakfast, brunch, lunch or even dinner. Pair with a tossed salad for a healthy evening meal!
A dollop of sour cream kicks this baked Denver omelet up a notch or two. I loved mine with diced avocados and sliced cherry tomatoes, too.
I know you'll love this baked Denver omelet. Save it for the holidays when you have a house full of family. Or make a half batch and enjoy it for your weekday breakfasts. Bill and I gave it two thumbs up!
More Egg Recipes You'll Love:
The Recipe:
Baked Denver Omelet
Prep Time 15 minutes
Cook Time 45 minutes
Total Time 1 hour
Yield 8
A simple, scrumptious, easy to make baked ham and vegetable omelet!
Ingredients
2 tablespoons salted butter
1/2 pound ham, diced
1 medium green bell pepper, chopped
1 medium red bell pepper, chopped
1/2 cup diced onions
1 cup shredded cheddar cheese (about 4 ounces), divided
10 large eggs
1/2 cup heavy cream
3/4 teaspoon salt
1/2 teaspoon black pepper
Instructions
Preheat the oven to 350º and grease a 1 1/2-to 2-quart oval baker or a 9 by 13-inch baking dish.
Melt the butter in a large skillet over medium heat. Once hot, add the ham and saute until browned and crispy, about 2 minutes.
Add the bell peppers and onions and continue to cook, stirring frequently, until tender, 3 to 4 more minutes. Spread the hma and vegetables in the greased baking dish. Sprinkle with half the cheddar cheese.
In a large bowl, whisk together the eggs, cream, salt, and pepper. Pour the egg mixture over the ham and vegetables in the baking dish. Sprinkle the top with the remaining cheese.
Bake for 35 to 40 minutes, until the center is cooked through. Remove from the oven and let cool for 5 minutes before serving
Notes
I made a half batch in a ceramic quiche pan and started checking for doneness at 25 minutes.
The Western flavors of this omelet pair well with a garnish of sour cream and avocado.
Store leftovers in the fridge for an easy grab-and-go breakfast. It will keep for up to 4 days.
Nutrition Information:
Yield:
8
Serving Size:
1
Amount Per Serving:
Calories: 276
Total Fat: 20g
Saturated Fat: 10g
Trans Fat: 0g
Unsaturated Fat: 8g
Cholesterol: 289mg
Sodium: 684mg
Carbohydrates: 5g
Fiber: 1g
Sugar: 3g
Protein: 18g
Note: This post may contain affiliate links; view
my Disclosure Policy
for details. I earn a small percentage from any purchase you make by clicking on these links at no extra cost to you.