Mini Cheesecakes topped with a dab of raspberry sauce and a fresh raspberry, for an impressive, delectable dessert! This recipe for cheesecake bites is perfect for a holiday dessert table!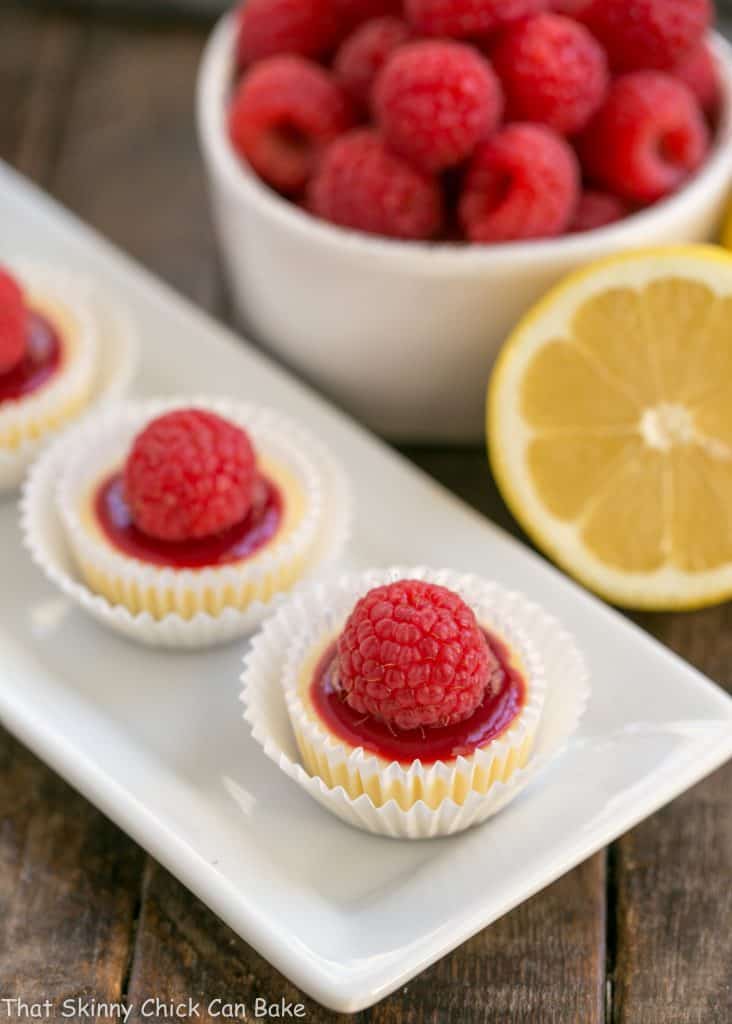 Raspberry Topped Mini Cheesecakes
I've made these raspberry topped mini cheesecakes numerous times. Only about two bites each, they're perfect for just a little something sweet! Easily made ahead of time and stored in the freezer, they're a breeze to defrost and garnish.
How to Jazz Up Cheesecake Bites
I love the look of these mini cheesecakes embellished with homemade raspberry sauce and a luscious raspberry. I've also garnished the cheesecake bites with a couple blueberries and a triangle of kiwi, swapping out the raspberry sauce with some thinned apricot jam/jelly.
For the holidays, I top them with both white and dark chocolate ganache and added a red, dark green or light green M & M to each. So festive! The options are endless.
Tips for Making Mini Cheesecakes: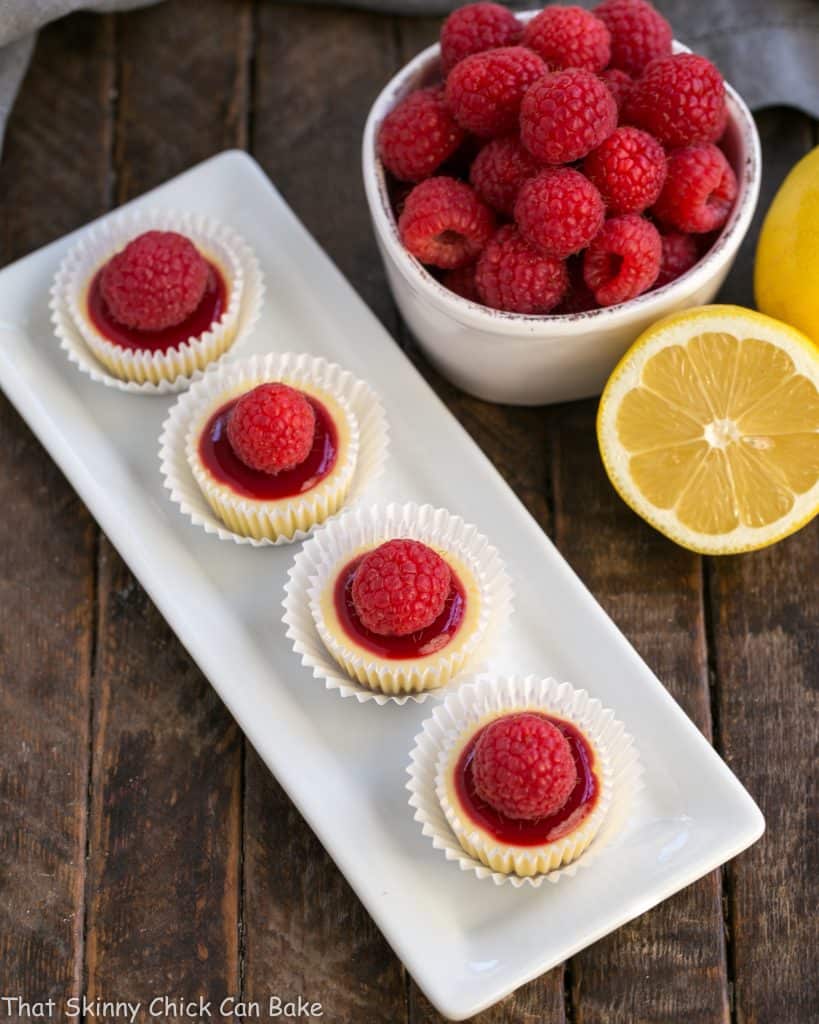 Buffet Menu Ideas:
These mini cheesecakes are ideal for a buffet. When you hit the dessert table, it's always nice to select from a variety of options. Plus, having tiny versions means you can sample more than one! Check out all these other amazing recipes that are perfect for a holiday buffet!
Buffet Menu Ideas #SundaySupper
Abundance of Appetizers
Sundry of Savory Dishes
Desserts by the Dozen
Print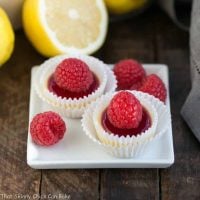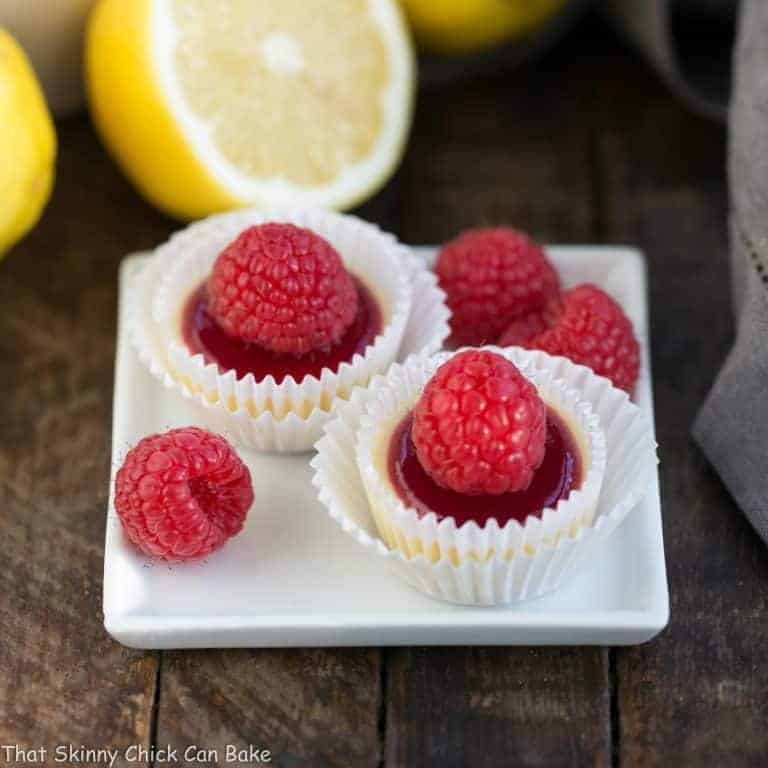 Raspberry Topped Mini Cheesecakes
These Raspberry Topped Mini Cheesecakes are perfect for all your entertaining needs!
Author:
Prep Time: 30 mins
Cook Time: 15 mins
Total Time: 45 minutes
Yield: 36 mini cheesecakes
Cuisine: Dessert, Cheesecake
Ingredients
Crust:
3/4 cup graham cracker crumbs
1 1/2 tablespoons sugar
2 1/2 tablespoons butter, melted
Filling:
2 packages (8 ounces each) cream cheese, softened
2 tablespoons heavy cream
1/2 cup sugar
1/2 teaspoon vanilla
1/2 teaspoon lemon extract
1 tablespoon Wondra flour (all purpose can be used, too)
2 eggs, at room temperature
Garnish:
Raspberry Sauce
Fresh Raspberries
Instructions
Preheat oven to 325°F. Line mini muffin tin with paper liners.
Mix crumbs, 1 1/2 tablespoons of sugar and butter. Tamp about 1 teaspoon of crust in bottom of each mini paper muffin cup.
Beat cream cheese, cream, 1/2 cup sugar,vanilla and lemon extract with electric mixer on medium speed, using paddle attachment if available, until well blended. Sprinkle flour over batter and mix until just incorporated. Add eggs, 1 at a time, mixing on low speed after each addition just until blended.
Use spoon to fill each slot about ¾ full.
Bake 15-18 minutes or until center is almost set. Refrigerate 4 hours or overnight. Remove papers before serving and garnishing (I find it easier to remove papers when frozen).
Store leftover cheesecake in refrigerator. These freeze well.
Before serving, add a dab of raspberry sauce to each cheesecake. Top with a raspberry.
Notes
Adapted from my friend, Mary.
Nutrition
Calories: 78kcal
Sugar: 4g
Sodium: 58mg
Fat: 6g
Saturated Fat: 3g
Trans Fat: 0g
Carbohydrates: 5g
Fiber: 0g
Protein: 1g
Cholesterol: 26mg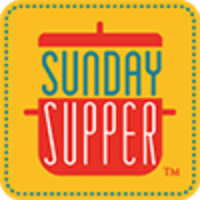 The Sunday Supper Movement is committed to bringing our readers delicious recipes that encourage them to gather and eat together around the family table. Search for your favorite ingredients on our Sunday Supper website. Also check out the Sunday Supper Pinterest boards for plenty more ideas and inspiration.
Note: This post may contain affiliate links; view
my Disclosure Policy
for details. I earn a small percentage from any purchase you make by clicking on these links at no extra cost to you.