Flourless Chocolate Torte with Raspberry Sauce
Chocolate Torte with Raspberry Sauce is the perfect gluten-free dessert for chocolate lovers! It's gluten-free and perfect for holidays!
This easy Chocolate Raspberry Torte recipe was a great Valentine's Day dessert for my family of chocoholics!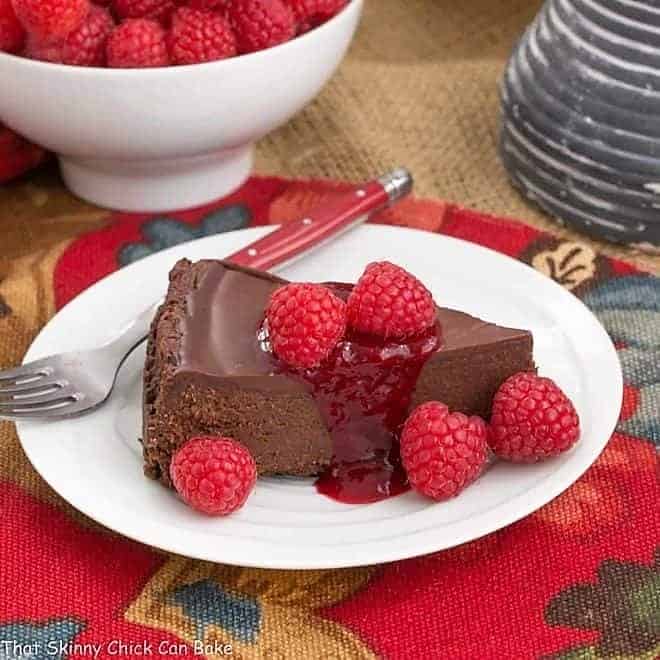 Why You Must Make
With 20 ounces of chocolate, 10 ounces of butter, and 6 eggs, you know it's going to be rich!
If you're looking for a decadent gluten-free dessert, this torte is perfect!
Vibrant fresh raspberries and raspberry sauce are an elegant way to elevate the beauty of this dessert.
We were lucky enough to be treated to a gourmet Valentine's Day dinner with some dear friends, but this meant a void in my kitchen. I had no need to bake up an uber-decadent Valentine's Day dessert for the hubby, a die-hard chocolate fan. So I spent the week after the holiday perfecting this flourless chocolate torte recipe. 60 ounces (yikes!) of chocolate later, we had a winner!

Recipe Notes
All 3 of my attempts at making chocolate torte were quite tasty according to the hubby. despite the following issues:
The first cake wouldn't come cleanly out of the pan.
With the next round, I removed the ring of the springform pan (affiliate link) before the cake was thoroughly chilled and it began to slump before my very eyes. It did release beautifully, though.
Finally, I grasped all the important lessons from my previous flops and whipped up just one more torte. Make sure the torte is fully chilled before attempting to release it. Success!
Gently warming the exterior rim of the pan and/or running a straight metal spatula around the interior of the pan can help, too. Note that the sides won't be pristine if you use a tool to help loosen the torte.
Bill was thrilled with the amount of chocolate and my girlfriends were fans, too! I think you'll love it, too. And as a bonus, it's flourless, so perfect for those with gluten intolerance.
Frequently Asked Questions
What is a Torte?
A torte is a rich cake recipe, often made without flour. Instead, it may contain breadcrumbs, ground nuts, eggs, sugar, and flavorings. A torte can be one layer or multilayered with fillings.
What is the Difference Between a Torte and a Tart?
Unlike a torte (see above), a tart typically has a pastry crust with short, straight sides, and no top crust. The filling can be sweet or savory.
Why Should You Make a Flourless Chocolate Cake?
The absence of flour makes for a denser, fudgier cake vs a typical cakey cake. It's also richer, so a smaller slice will suffice.
You May Also Like:
Stay in touch through social media @ Instagram, Facebook, and Pinterest. Don't forget to tag me when you try one of my recipes! And if you love the results, please give it a 5-star rating in the recipe card. Note: As an Amazon Associate, I earn from qualifying purchases. Visit my Amazon Store for my favorite products.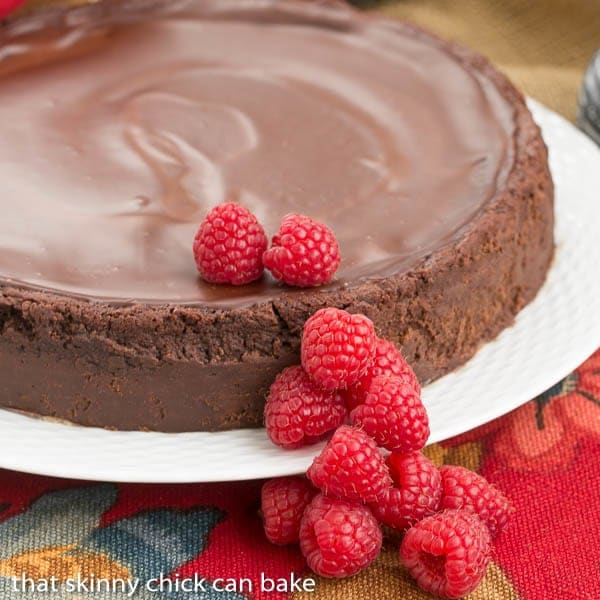 Stay in touch through social media @ Instagram, Facebook, and Pinterest. Don't forget to tag me when you try one of my recipes! And if you love the results, please give it a 5-star rating in the recipe card. Note: As an Amazon Associate, I earn from qualifying purchases. Visit my Amazon Store for my favorite products.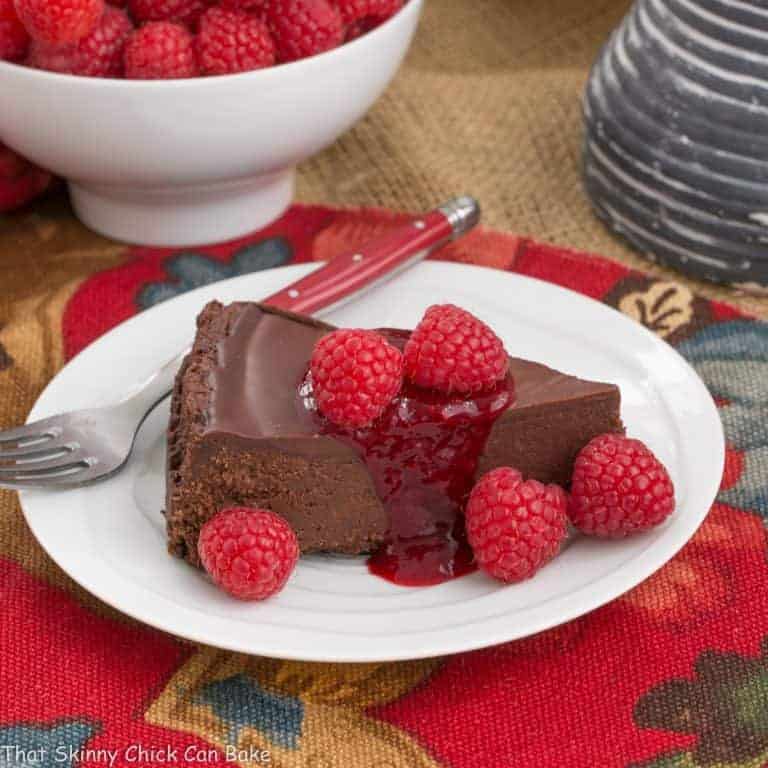 The Recipe:
Flourless Chocolate Torte with Raspberry Sauce
Prep Time 40 minutes
Cook Time 18 minutes
Total Time 58 minutes
Yield 16 servings
A flourless chocolate torte for die-hard chocoholics!
Ingredients
Torte:
2 1/2 sticks, or 10 ounces, butter
20 ounces semisweet chocolate, finely chopped
1 tablespoon vanilla extract
6 large eggs, at room temperature
Glaze:
1/3 cup heavy cream
2 ounces semisweet chocolate, chopped
Raspberry Sauce:
16 ounces frozen raspberries
1/3 cup granulated sugar
Juice of half a lemon
2 teaspoons cornstarch whisked in 1 tablespoon of water
To Serve:
Raspberries
Sweetened whipped cream
Instructions
If your eggs aren't at room temperature, place them in a bowl filled with hot water (less than 160º so you don't cook the eggs). Set aside.
Preheat the oven to 400º. Spray the bottom and sides of a 9-inch springform pan with non-stick cooking spray or cooking spray with flour. Line the bottom with a round of parchment and grease the top.
Wrap the exterior of the pan with 2 layers of aluminum foil and then place in a roasting pan and set aside.
Melt the chocolate and the butter in the microwave (about 1-2 minutes) in a large microwave-safe bowl. Stir until smooth. Stir in the vanilla.
After the eggs have warmed up (about 10 minutes in the hot water), crack into the bowl of an electric mixer. Beat on high speed until light and tripled in volume, 4 to 5 minutes.
Add 1/4 of the whipped eggs to the chocolate mixture. Fold in the eggs thoroughly to lighten the chocolate mixture. Gently fold the remaining eggs into the chocolate mixture. Transfer immediately to the prepared springform pan. Pour hot water into the roasting pan until it reaches halfway up the sides of the springform.
Bake for 17-18 minutes; the center will be jiggly when removed from the oven. Remove from the water bath and cool to room temperature. Remove the foil. Run a knife around the perimeter of the pan.
While torte is cooling, make the glaze. Put heavy cream and semisweet chocolate in a small microwave-safe bowl and microwave for about 1 minute. Whisk till smooth and let cool slightly. Let cool to room temperature. Pour the glaze over the torte (while it's still in the springform pan), then chill the torte in the refrigerator until firm, 6 to 8 hours.
To prepare the raspberry sauce, add raspberries and sugar to a saucepan. Bring to a simmer and cook for a few minutes. Add the lemon juice and the cornstarch mixed with water. Bring to a boil and cook till mixture thickens slightly. Once the mixture cools slightly, press through a sieve to remove the seeds. Refrigerate until you serve the cake.
To serve the cake, again run a knife around the perimeter of the cake. Remove sides of the pan. Slice with a hot, dry knife. Serve with a spoonful or two of raspberry sauce and a few fresh berries. You can also garnish with whipped cream if desired.
Notes
Total time doesn't include chilling and cooling times.

For the best release from the pan, chill thoroughly before removing.
Nutrition Information:
Yield:
16
Serving Size:
1
Amount Per Serving:
Calories: 592
Total Fat: 51g
Saturated Fat: 31g
Trans Fat: 2g
Unsaturated Fat: 17g
Cholesterol: 171mg
Sodium: 327mg
Carbohydrates: 35g
Fiber: 4g
Sugar: 29g
Protein: 5g
Note: This post may contain affiliate links; view
my Disclosure Policy
for details. I earn a small percentage from any purchase you make by clicking on these links at no extra cost to you.