How to Make the Best Cheesecake Recipes
Homemade cheesecake is always a delicious and impressive dessert. If you want to learn how to make cheesecake desserts that are creamy, smooth, and a notch above traditional cheesecake recipes, you've come to the right place!
Here you will find loads of delicious cheesecake recipes plus tips for how to make the best cheesecake.
Note: This post may contain affiliate links; view my Disclosure Policy for details. I earn a small percentage from any purchase you make by clicking on these links at no extra cost to you.
Why You Will Love
Here are my tips on making the best cheesecake recipes, and some of my favorite cheesecake recipes. These easy cheesecake recipes are fun to make, and they'll impress any cheesecake lover! We're going way beyond a simple cheesecake recipe here, though.
You'll find simple cheesecake recipes, but also recipes for homemade cheesecake bars, cheesecake parfaits, shooters, and even cheesecake stuffed cake! These cheesecake recipes are as gorgeous as they are delicious!
Good homemade cheesecakes are even more delicious than any you can buy.
Plus, it will save you money as purchasing good-quality cheesecakes is expensive!
The options are endless once you learn the basics for mixing, baking and serving cheesecake.
Your guests will be impressed you made a bakery-worthy dessert at home!
A delicious marriage of two favorite desserts: Mascarpone Cheesecake and dreamy, sugar-crusted creme brulee.
Tips on How to Make Cheesecake
Use Quality Ingredients and Baking Tools
If you're going to make an impressive cheesecake, use the best kitchen tools, equipment, and ingredients for the job. Brand-name cream cheese and a good springform pan are key!
For example, make sure to use a springform pan that won't leak when it's placed into a water bath. I bake my homemade cheesecakes in a (affiliate links) 9-inch springform pan (affiliate links). For the best-tasting cheesecake, use premium quality cream cheese (I recommend Philadelphia brand), large eggs (unless otherwise noted), heavy whipping cream (36% butterfat), and real, never imitation, vanilla. When making an elegant dessert, it's time to splurge on the best ingredients possible.
You'll also want to use the right size bowl and an electric stand mixer to blend the ingredients together. A 5-quart stand mixer (or larger) makes mixing a breeze. It is more powerful and has the best attachment for the job.
Use the Paddle Attachment
First of all, a hand mixer is lacking the power to do a great job creaming heavy ingredients like cream cheese. Plus, the paddle attachment is the ideal tool for incorporating the eggs without adding too much air into the batter.
Too much air can result in your homemade cheesecake cracking along with preventing your cheesecake from baking up with the classic dense texture. Who wants that???!
Have Your Ingredients at room temperature.
Remove your eggs, cream cheese, and any other dairy ingredients from the refrigerator an hour or two before you plan to start mixing. This will make the incorporation of these ingredients much easier than if they were cold.
Also, if you've ever seen little bits of cream cheese in your batter, having your cream cheese soft will minimize this from happening. You'll notice your cheesecake will be creamier.
Add Your Eggs One at a Time
Add each room-temperature egg one at a time, mixing until it's incorporated before adding the next. Make sure you're using the paddle attachment as you don't want to whip the eggs when making cheesecake. That will lighten the batter and you want a denser mixture for cheesecakes.
Serve Your Cheesecake at Room Temperature for the Best Texture
I always get asked what makes my cheesecakes so creamy. Besides using a great recipe and bringing the ingredients to room temperature before mixing, not serving it fresh out of the refrigerator is key. I like to pull it out of the fridge when we sit down to dinner. You'll be shocked at how luscious the texture becomes as it warms up a bit.
Note: Never leave your cheesecake out of the refrigerator for longer than 2 hours per the FDA. This will minimize the chance of a food-borne illness.
With an Oreo crust, a cheesecake layer infused with two types of chocolate, and a ganache topping, this is one out-of-this-world chocolate cheesecake recipe. Do you have a favorite kind of cheesecake?
Types of Cheesecake
Though my go-to cheesecake recipes are classic baked cheesecakes made with cream cheese, I also appreciate the ease of no-bake cheesecakes, especially in the summer. Here are some of the main classifications of cheesecakes.
New York Cheesecake
Also known as Jewish Cheesecake, New York Cheesecake was brought to the US by Jews from Eastern Europe. They're extra dense, rich, and creamy, and usually made with lots of cream cheese, heavy cream, eggs, and sugar.
Regular Cheesecake
This category includes most other baked cheesecakes which are lighter, fluffier, and sweeter than New York cheesecakes. They are typically shorter and come in a variety of flavors.
No-Bake Cheesecake
As you'd suspect, a no-bake cheesecake doesn't require baking. Since this category is not baked, eggs are not used. Instead, gelatin gives a no-bake cheesecake its structure. A no-bake cheesecake needs time in the refrigerator to set.
Japanese Cheesecake
Also known as cotton candy or souffle cheesecake, whipped egg whites make this version super light and fluffy.
Savory Cheesecake
Savory Cheesecakes are often used as appetizers. The crust and filling are both devoid of sugar, and along with cream cheese, these often are flavored with grated cheese along with other savory ingredients.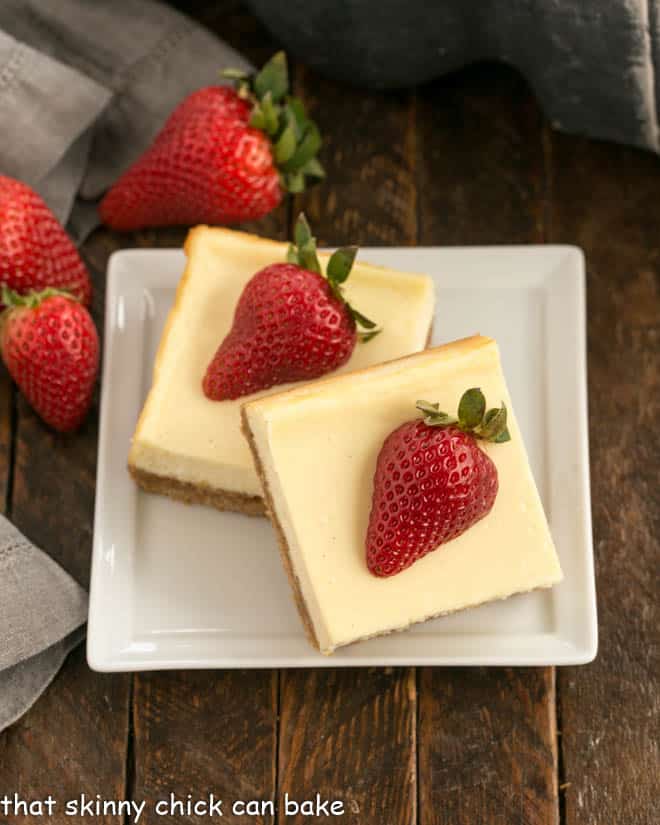 An easy-to-make, easy-to-serve cheesecake recipe! Perfect for pitch in gatherings.
Frequently Asked Questions
Why Do You Bake a Cheesecake in a Water Bath?
This is one of the tricks to minimize cracking. Placing your springform pan into a roaster filled with water helps keep the cheesecake at a steady temperature as it bakes. Any fluctuations can encourage cracking.
How Do You Make a Water Bath?
Use a large roasting pan. Place your unbaked cheesecake in the center. PRO-Tip: Wrap your cheesecake pan in a couple of layers of heavy-duty foil to prevent any water from leaking into the pan.
Pour boiling water into the roaster until it comes halfway up the sides of the cheesecake pan. Then place in the oven and bake as directed.
What Happens if you Overmix Your Cheesecake?
The texture will not be as dense and your cheesecake is likely to crack as it bakes or cools.
How Do You Prevent the Crust from Getting Soggy?
Use a springform pan which is a two-piece pan with releasable sides that is perfect for cheesecakes. It should seal tightly, but if it doesn't consider replacing it.
Also, when baking your cheesecake in a Bain Marie or water bath, make sure to wrap the pan in a couple of layers of foil to prevent any water from getting to the crust as it bakes.
Are There Any Other Ways to Minimize Cracking?
Yes, do not overmix, use the paddle attachment, and bake in a water bath.

You should also allow the cheesecake to cool slowly. Some recipes have you cool it in the oven with the door cracked for an hour, then cool at room temperature for an hour, then finally, place it in the refrigerator to finish cooling.

Your cheesecake is done when the outside is set, but the very center may still wiggle a bit if you nudge the pan. The residual heat of the pan and the surrounding cheesecake should finish the baking process.
How Do You Store Cheesecake?
Keep it in the refrigerator, covered, for up to a week. It's easier to wrap airtight if it's kept in the baking pan. This way the plastic wrap or foil won't mar the surface.

Cheesecake also freezes well. Again, wrap so that it's airtight. I like to use a layer of plastic wrap, then a layer of foil. It will keep for up to 3 months, but the quality will be best if used within a month. Just defrost overnight in the refrigerator before serving.
You May Also Like:
There are a lot of cheesecake flavors to choose from here. The chances are good that you'll only make one recipe at a time, so be sure to Pin these recipes to your favorite desserts board. That way, you can easily find them when you are in a cheesecake craving state of mind.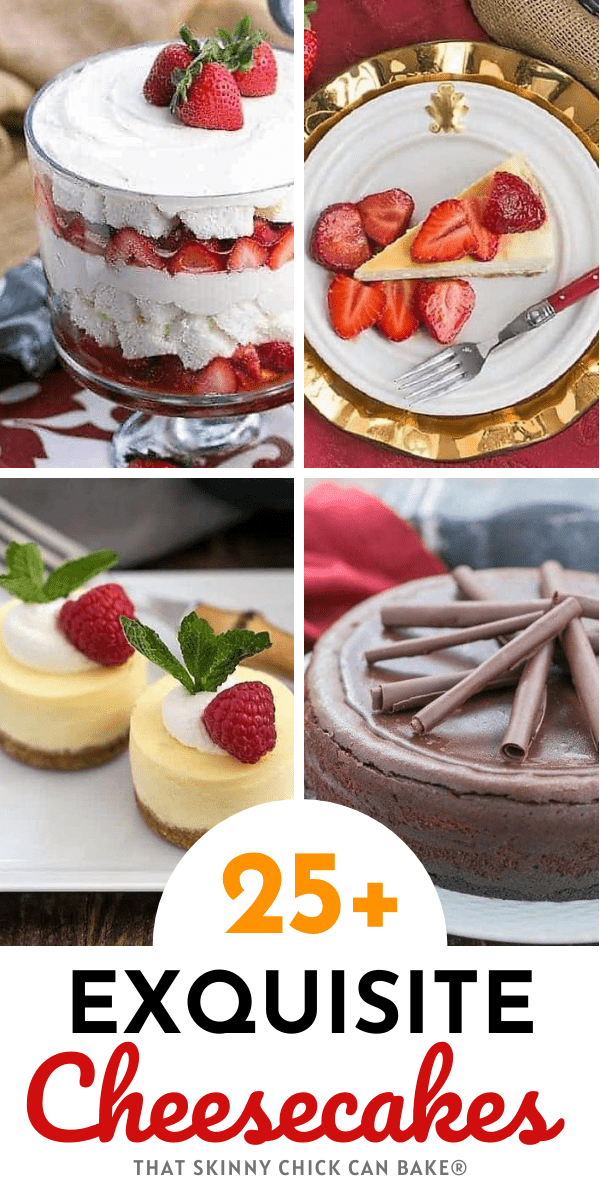 Chocolate Caramel Twix Cheesecake
Twix Cheesecake combines 3 of my favorite dessert foods: Cheesecake, Chocolate, and Caramel! This decadent homemade cheesecake recipe does not disappoint!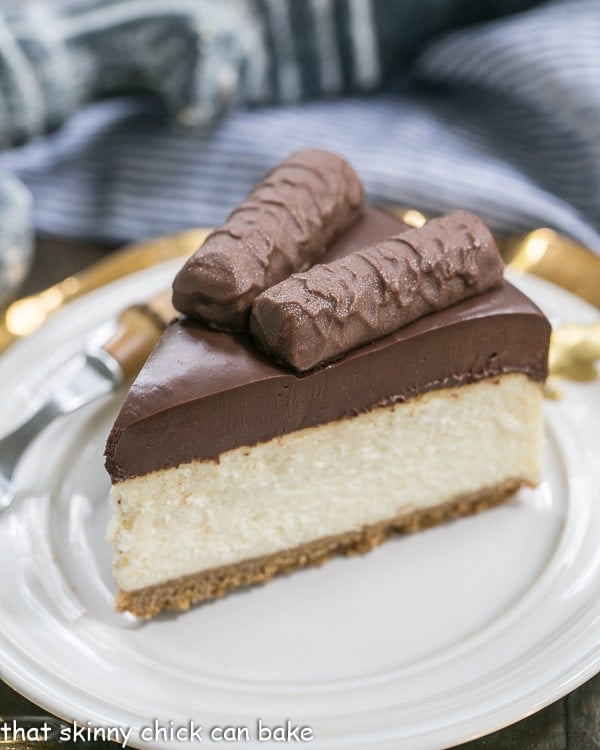 Cheesecake Stuffed Chocolate Bundt Cake
If you want to make a cheesecake dessert to impress guests, this is the cheesecake recipe for you! This rich chocolate cake with a cheesecake stuffed center is amazing!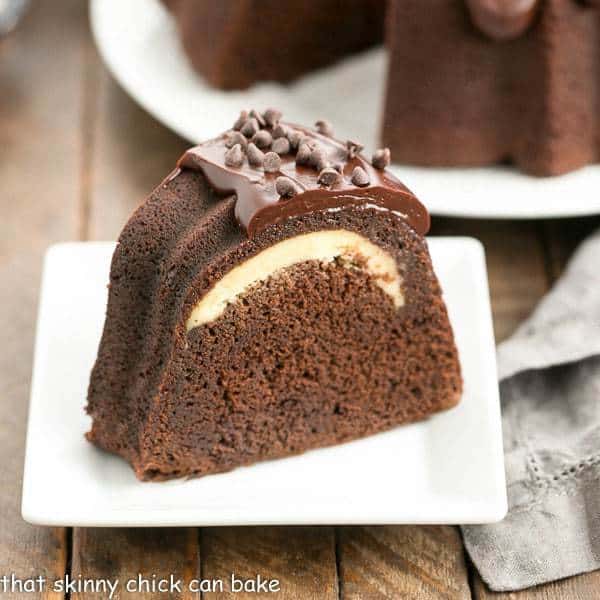 White Chocolate Raspberry Swirl Cheesecake
This unique homemade cheesecake has a swirl of fresh raspberry puree throughout the white chocolate cheesecake. It's almost too pretty to eat!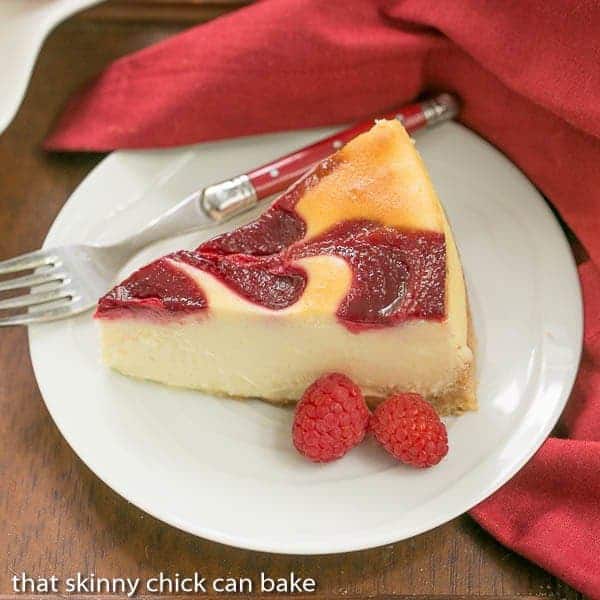 The most creamy, luscious cheesecake, made with mascarpone cheese and topped with sweetened balsamic strawberries.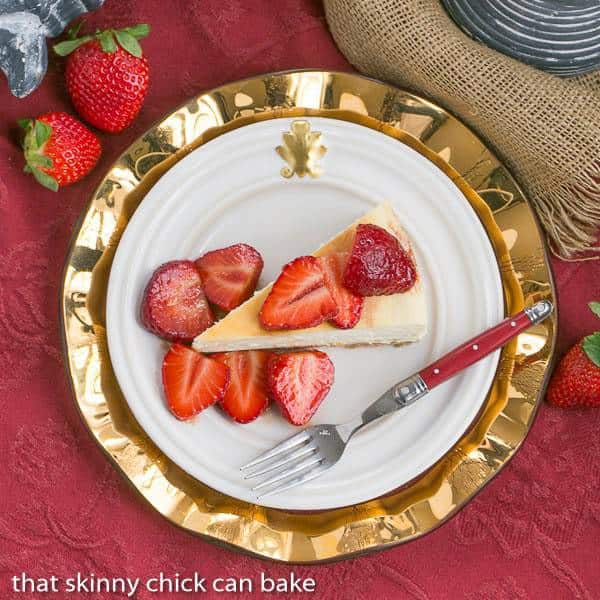 This sublime cheesecake is topped with toffee studded caramel sauce and Rolo candies. This one is RICH!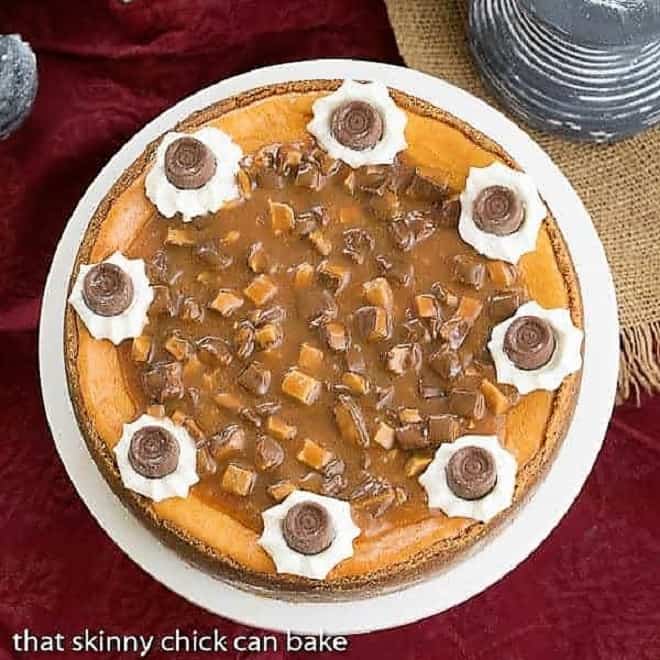 Caramel Topped Pumpkin Cheesecake
This is the best cheesecake recipe for autumn! Creamy pumpkin cheesecake with a thick swirl of caramel sauce on top.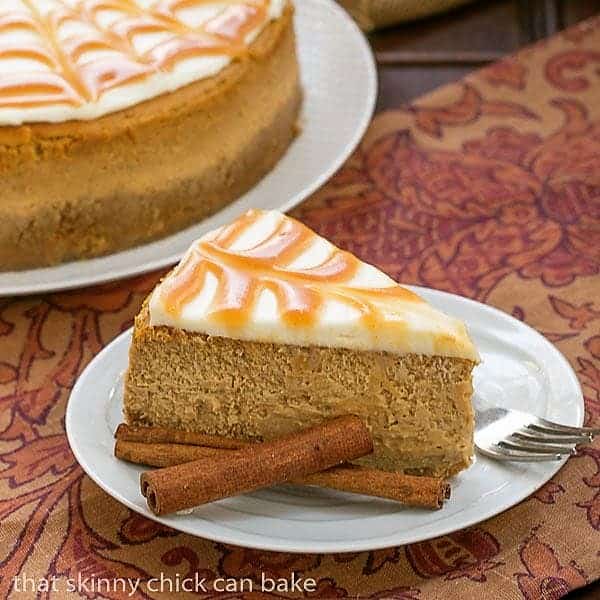 This rich cheesecake dessert is a combination of two of my favorite treats; fudgy brownies and cheesecake.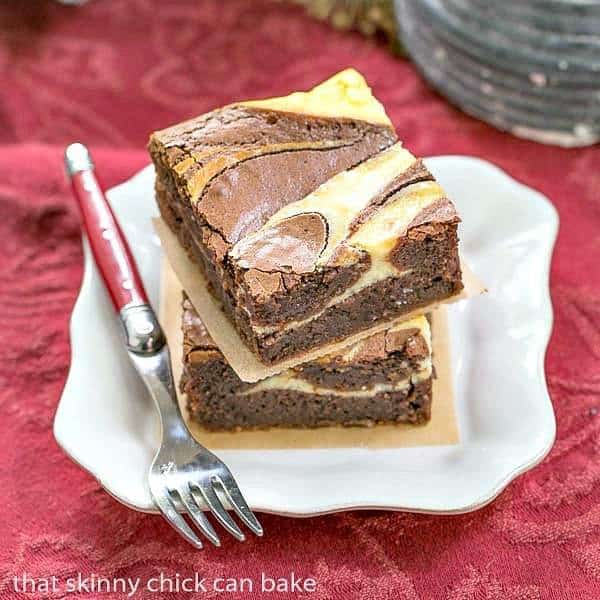 Ganache Topped Cheesecake Bars
These rich and creamy ganache topped cheesecake bars will please both cheesecake and chocolate lovers alike!
These gorgeous little cheesecake desserts are filled with my homemade mascarpone cheese. Perfect cheesecake recipe for a holiday dessert platter!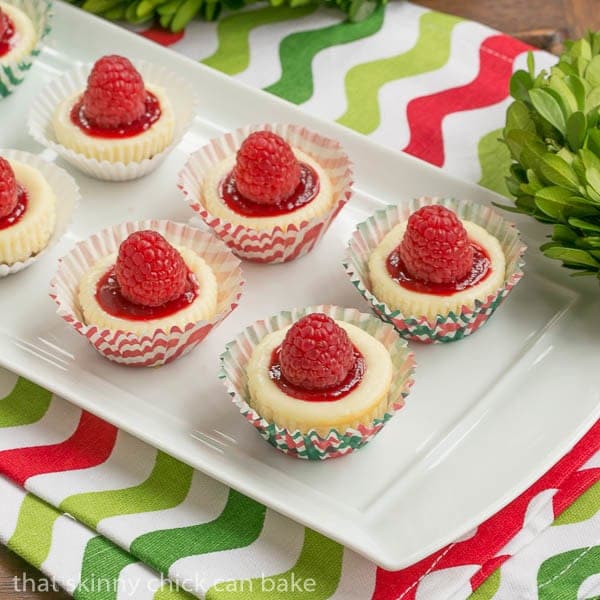 This dreamy, creamy, homemade cheesecake has all the splendid flavors of a classic Margarita cocktail! A perfect, refreshing summer dessert recipe!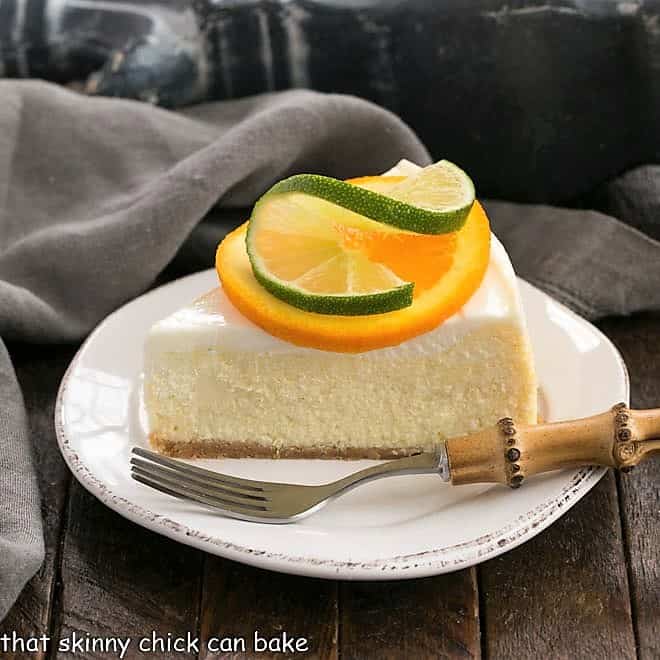 White Chocolate Frangelico Cheesecake
This white chocolate cheesecake recipe features an exquisite marriage of flavors. The Italian hazelnut liqueur adds a sublime undertone to an already delicious cheesecake.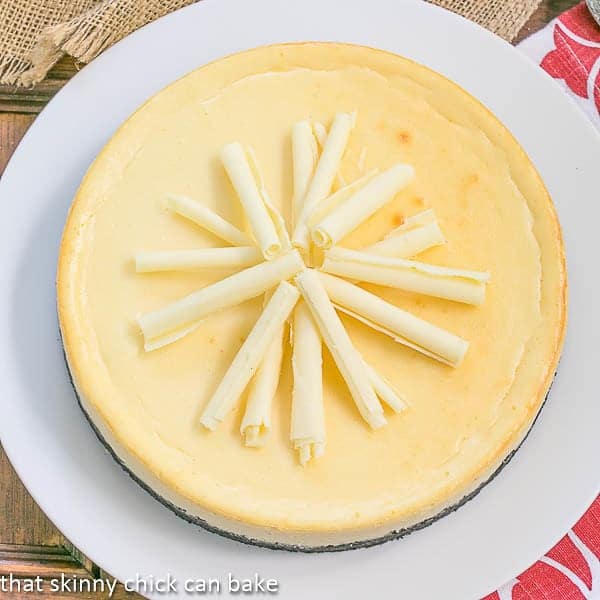 These dreamy cheesecake bars have a nutty vanilla wafer crust, topped with creamy cheesecake, pecan halves, and caramel sauce. It's an easy homemade cheesecake recipe!
I used to think lemon bars were the best summer dessert, then I added those flavors to creamy cheesecake. This cheesecake recipe is Summer dessert-loving at its best!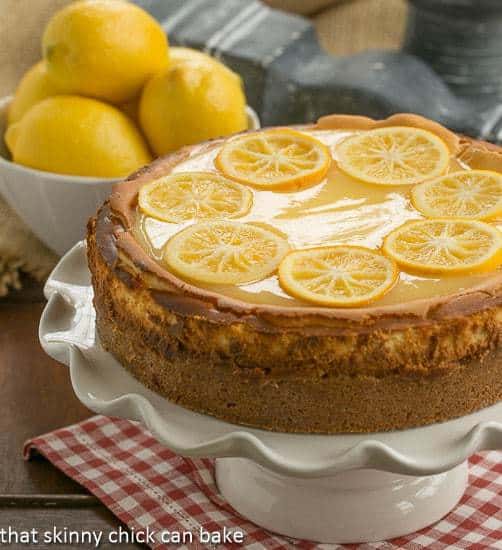 Caramel Topped Mini Cheesecakes
These mini homemade cheesecakes combine two of my dessert obsessions, caramel, and cheesecake. Making them in muffin tins provides the much-needed portion control!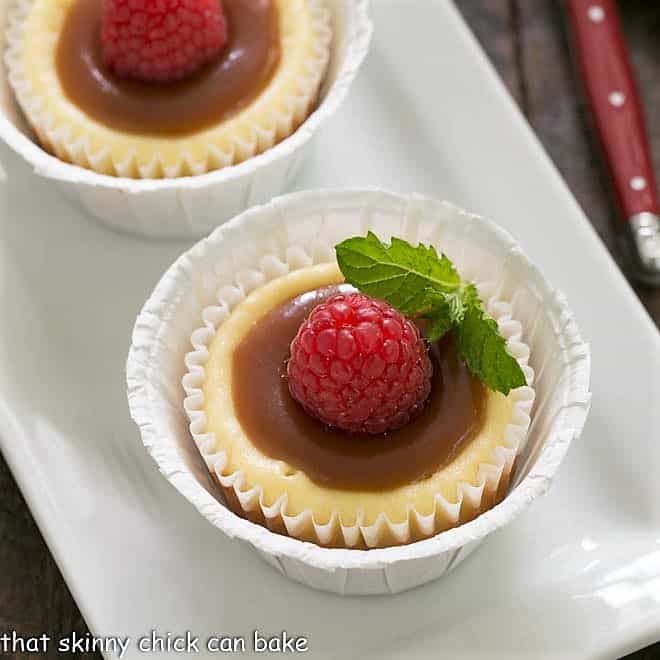 Plus More Cheesecake Recipes:
Berry Cheesecake Desserts:
Chocolate Cheesecake Desserts:
Mini Cheesecake Recipes:
No-Bake Cheesecakes
Miscellaneous Cheesecake Recipes: