Tiramisu Cheesecake
When you can't decide between tiramisu and cheesecake for dessert, this exquisite Tiramisu Cheesecake is the best of both worlds.
Inspired by the Cheesecake Factory's Tiramisu Cheesecake recipe, a creamy coffee vanilla cheesecake is baked over coffee-soaked ladyfingers before being topped with mascarpone whipped cream! Have I got your attention??
Why You Must Make
If you love classic tiramisu, you'll find the same flavors and creaminess in this cheesecake.
It has a slightly longer lifespan than traditional tiramisu.
This tiramisu dessert is rich, delicious, and will serve a crowd!
We've got a mixed bag of palates in our household. Some are coffee lovers, whereas the hubby does not drink coffee or enjoy coffee desserts. When tiramisu is on a restaurant menu, I can almost always count on two of our children ordering it. I'm on team coffee desserts and on team cheesecake, so this melding of desserts into a tiramisu cheesecake caught my attention.
This "mash-up" of two desserts gained fame when the Cheesecake Factory's Tiramisu Cheesecake hit their menu. When one can't decide between two favorite desserts, isn't it perfect to find two in one???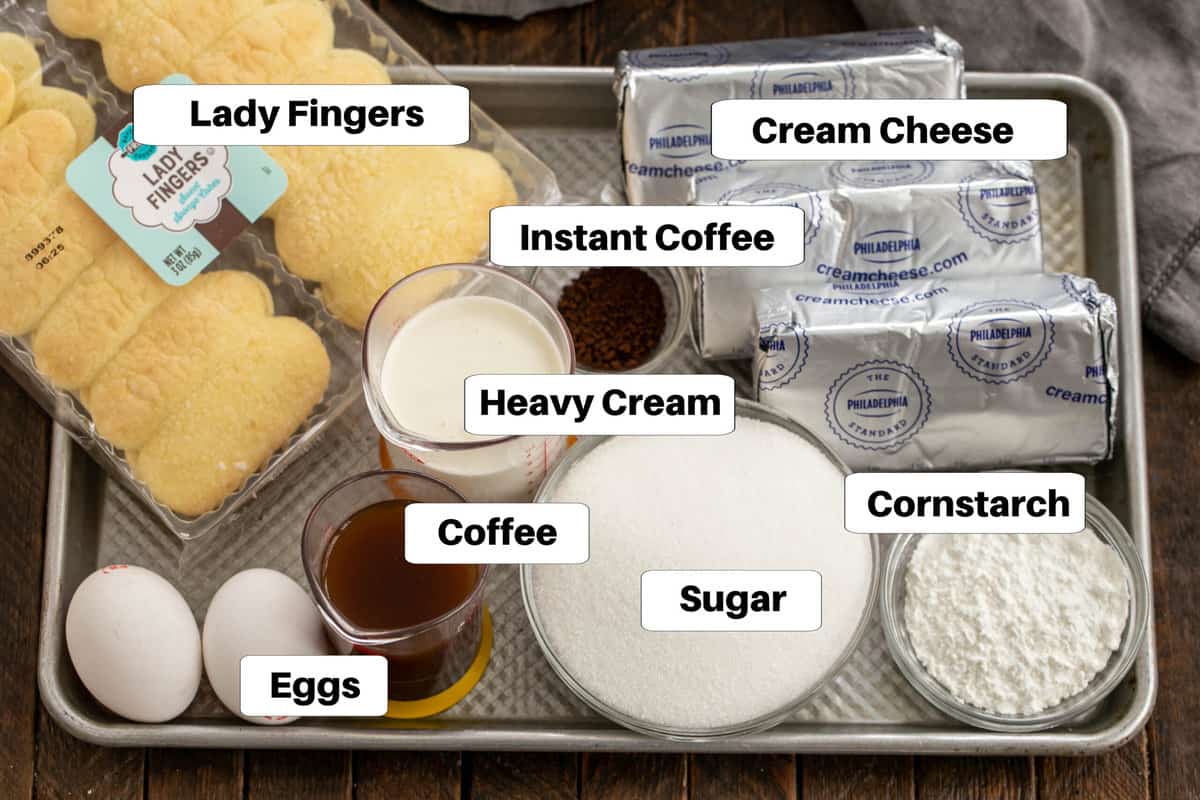 Ingredient Notes
Soft Ladyfingers – Look in the bakery department of major grocery store chains for these. The hard savoiardi ladyfingers will not work well.
Brewed Coffee – May use espresso for even more coffee intensity
Cream cheese – must be at room temperature. I recommend using Philadelphia brand.
Sugar
Eggs – Room temperature
Cornstarch – Helps minimize cracking and may even contribute to cutting cleaner slices.
Heavy Cream – Adds fat, making the cheesecake extra creamy. Should be at least 36% butterfat.
Instant Coffee or Espresso Powder – Adds the classic coffee element to this tiramisu recipe
Vanilla Extract – Use real vanilla extract, never imitation
Mascarpone Cheese
Cocoa Powder – Regular cocoa powder, not Dutch-process, optional to garnish.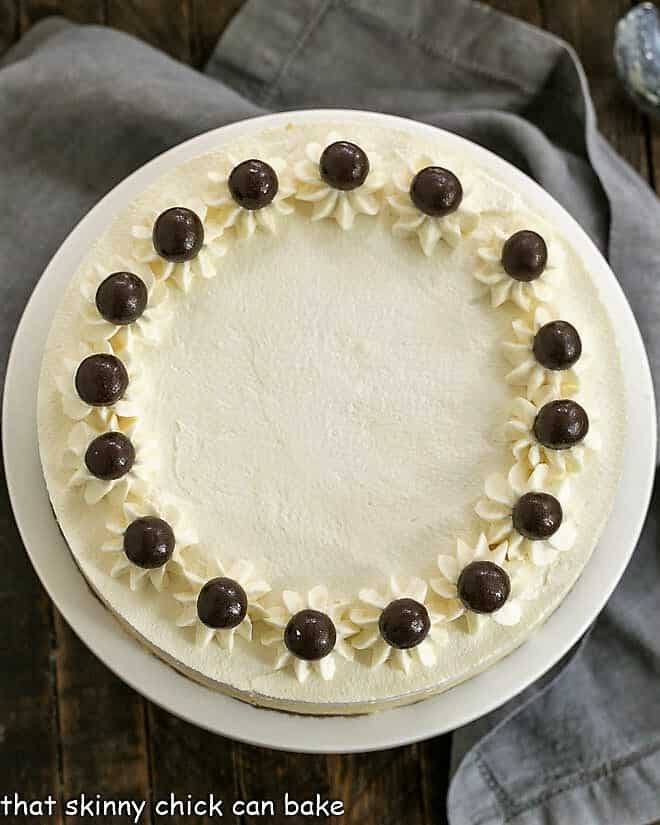 How to Make
Place ladyfingers in the prepared springform pan. Brush with coffee.
Make cheesecake batter, bake, then top with mascarpone cheese topping when cool.
Expert Tips
There's an art to making a cheesecake, especially if you want it super creamy. Here are my top tips for making the best cheesecakes and how to tweak this Tiramisu cheesecake recipe so it's just right for you.
Let's get down to cheesecake basics. PRO-Tip: First, have all your ingredients at room temperature. This means setting out your cream cheese and eggs a couple of hours before you plan to start mixing.
The cream cheese will blend more smoothly when the chill is off and it's quite soft. Similarly, the eggs will incorporate best when not fresh out of the refrigerator.
PRO-Tip: Next, use the paddle attachment for blending. If you use the whisk attachment, air will be incorporated into the cheesecake, preventing it from being the classic, dense cheesecake consistency.
Third, add your eggs one at a time, and mix just until each is incorporated. Again, over-mixing could add air to the batter.
PRO-Tip: Bake your cheesecake in a bain-marie, or water bath. The steamy environment helps minimize the possibility of the cheesecake cracking.
Wrap your cheesecake pan with a couple of layers of heavy-duty foil before placing it into the ban-marie (I use a roasting pan). This helps minimize any leakage of the water into the cheesecake.
Using 1 tablespoon espresso, instead of coffee, would impart a bit more coffee flavor. But I'm thinking some espresso powder dissolved in the cream would also give that extra coffee oomph.
There's also the option to use a second layer of coffee-soaked ladyfingers right over the baked cheesecake before adding the mascarpone topping. This adds another coffee element to this cheesecake inspired by the Cheesecake Factory's Tiramisu Cheesecake.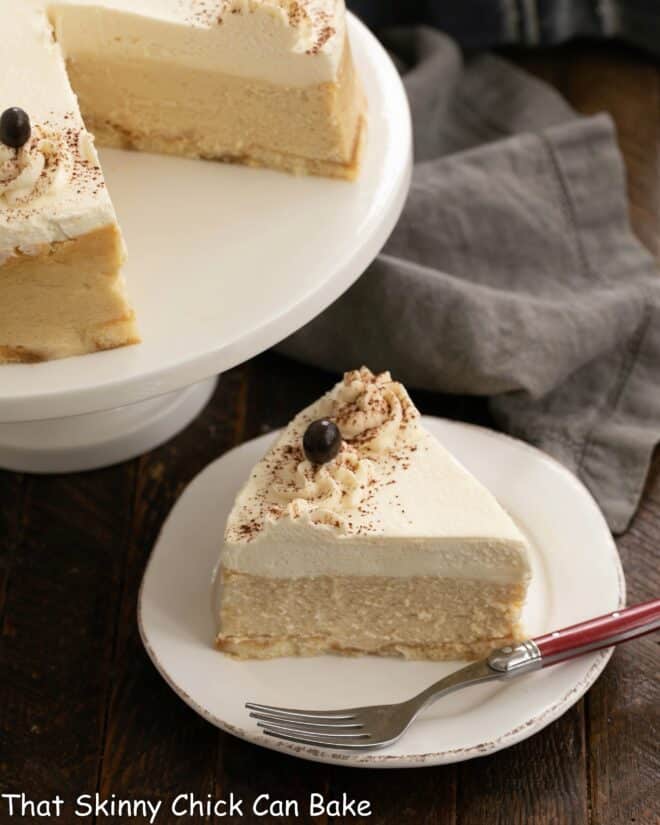 Frequently Asked Questions
What is Tiramisu?
Translated into English, the Italian word tiramisu means "pick me up" or "cheer me up" referring to the joie de vivre every bite brings. An Italian layered dessert, the components include coffee-soaked ladyfingers, Italian zabaglione custard of eggs, sugar and alcohol, mascarpone cheese, and cocoa powder.
What Does Tiramisu Taste Like?
Tiramisu is sweet and creamy with a touch of bitterness from the cocoa powder and espresso, which balances the richness.
Is Tiramisu Bad for You?
Most tiramisu desserts are full of saturated fats from eggs, mascarpone, cream cheese, and in this recipe, heavy cream. These can contribute to higher bad cholesterol, or LDL, levels.
It can often contain raw eggs, which puts those who indulge at a small risk for salmonella, a foodborne illness that is linked to undercooked or raw eggs.

As an infrequent indulgence, it's OK to have a slice of tiramisu or tiramisu cheesecake. Just don't eat the whole batch yourself.
How Do You Store Tiramisu Cheesecake?
Keep it covered and refrigerated for up to 4 days. It also can be frozen for up to a month. Defrost overnight in the refrigerator before serving.
What is a Ban Marie?
Ban Marie is the French term for water bath. A container of food is placed in a shallow pan of warm water which surrounds it with a gentle heat. This helps delicate dishes like custards, cheesecakes, and sauces from breaking or curdling (according to the Food Lover's Companion).
You May Also Like: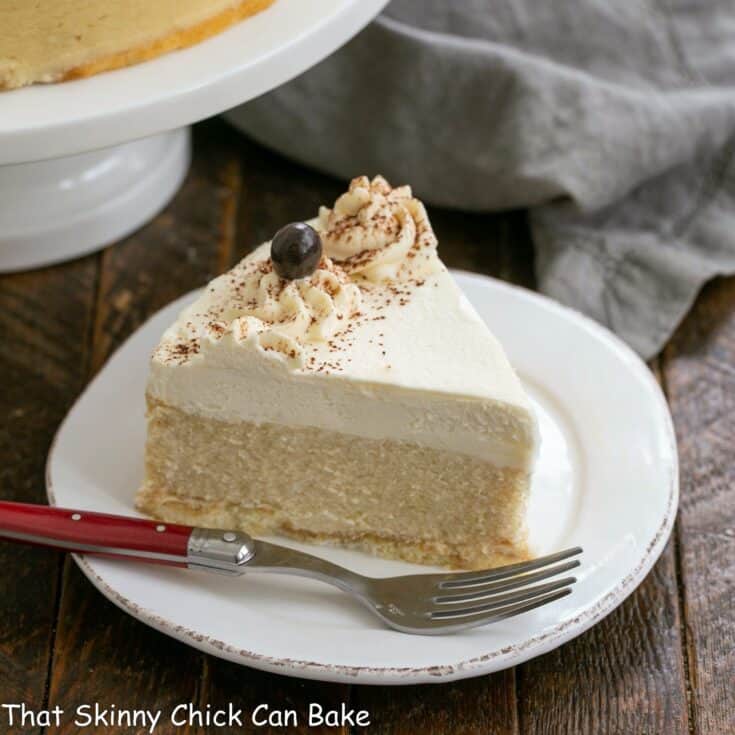 The Recipe:
Tiramisu Cheesecake
Prep Time 40 minutes
Cook Time 1 hour 10 minutes
Total Time 1 hour 50 minutes
Yield 10 servings
A delicious cheesecake twist with the amazing flavors of tiramisu!
Ingredients
For the Crust:
A package of soft ladyfingers, about 12 will be used
1/2 cup brewed coffee
For the Cheesecake:
24 ounces cream cheese, at room temperature
1⅓ cups sugar
2 eggs, at room temperature
¼ cup cornstarch
⅔ cup heavy cream
1 teaspoon instant coffee or espresso powder
For the Tiramisu Topping:
1½ cups heavy cream
1/4 cup sugar
1 tablespoon vanilla
8 ounces Mascarpone Cheese
Cocoa powder, to garnish
Instructions
Butter the inside of a 9-inch springform pan. Wrap the outside with two layers of aluminum foil. Set aside.
Lay the ladyfingers in the bottom of the springform pan. Cut extra ladyfingers into pieces to help fill the gaps.
Use a pastry brush to brush on the coffee and coat the ladyfingers well.
Make the cheesecake:
Preheat oven to 350 degrees.
Beat the cream cheese with the paddle attachment. Add the sugar and beat until combined. Scrape the bowl as needed.
Add eggs one at a time, mixing each until incorporated. Mix in the cornstarch.
Mix together the cream and the coffee or espresso powder. Add to bowl and mix until combined, scraping down the sides and bottom of the bowl as needed.
Once smooth, pour the batter over the ladyfingers.
Place the cheesecake into a roasting pan and pour hot water into the pan until it reaches halfway up the sides of the springform pan.
Bake for 70 minutes, then cool on a wire rack to room temperature.
Tiramisu Topping:
Beat the heavy cream to soft peaks.
Add sugar and vanilla and beat until stiff peaks form.
Add mascarpone cheese and mix just until blended. Spread over cooled cheesecake with an offset spatula, reserving some to pipe on top to garnish, if desired.
Chill overnight. Dust with cocoa powder before serving, if desired.
Notes
Recipe adapted from the blog, All That Jas, via Hugs and Cookies XOXO
Recommended Products
As an Amazon Associate and member of other affiliate programs, I earn from qualifying purchases.
Nutrition Information:
Yield:
10
Serving Size:
1
Amount Per Serving:
Calories: 715
Total Fat: 55g
Saturated Fat: 33g
Trans Fat: 1g
Unsaturated Fat: 17g
Cholesterol: 224mg
Sodium: 361mg
Carbohydrates: 49g
Fiber: 0g
Sugar: 36g
Protein: 9g
Note: This post may contain affiliate links; view
my Disclosure Policy
for details. I earn a small percentage from any purchase you make by clicking on these links at no extra cost to you.