Kahlua Tiramisu for Two
It figures that this small recipe for Kahlua Tiramisu for Two was the richest, most dreamy version I've ever made! I'll just have to make another batch ASAP.
This Easy Tiramisu is ideal when your spouse or family is not a fan or snubs any dessert that has a hint of coffee flavor. This is when a mini version of a dessert comes in very handy.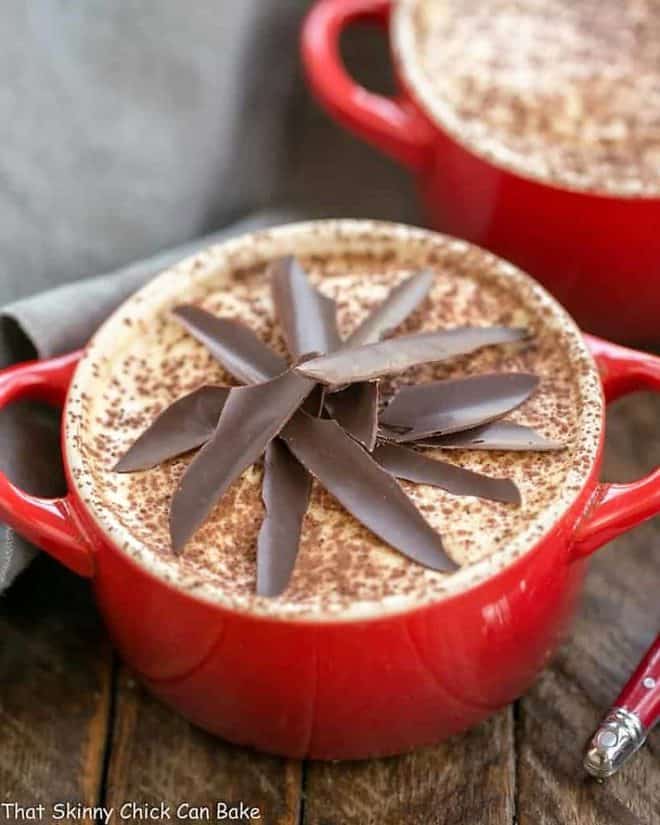 Why You Must Make
This Easy Tiramisu Recipe is perfect for date night or Valentine's Day!
If you're not feeding a big family, this small-batch recipe is the perfect way to get your tiramisu fix!
It's an easy, no-bake dessert recipe.
It's so rich and luscious, you may want to make it every week.
With Valentine's Day approaching, many of you are thinking of a romantic meal à deux. After raising 3 children, it's hard for me to make anything that doesn't serve 8! I guess that's why we sometimes eat leftovers for days and days.
Thank goodness the hubby is a good sport. But since tiramisu is not one of his favorites, I made this luscious tiramisu for two for the coffee dessert lovers in the family.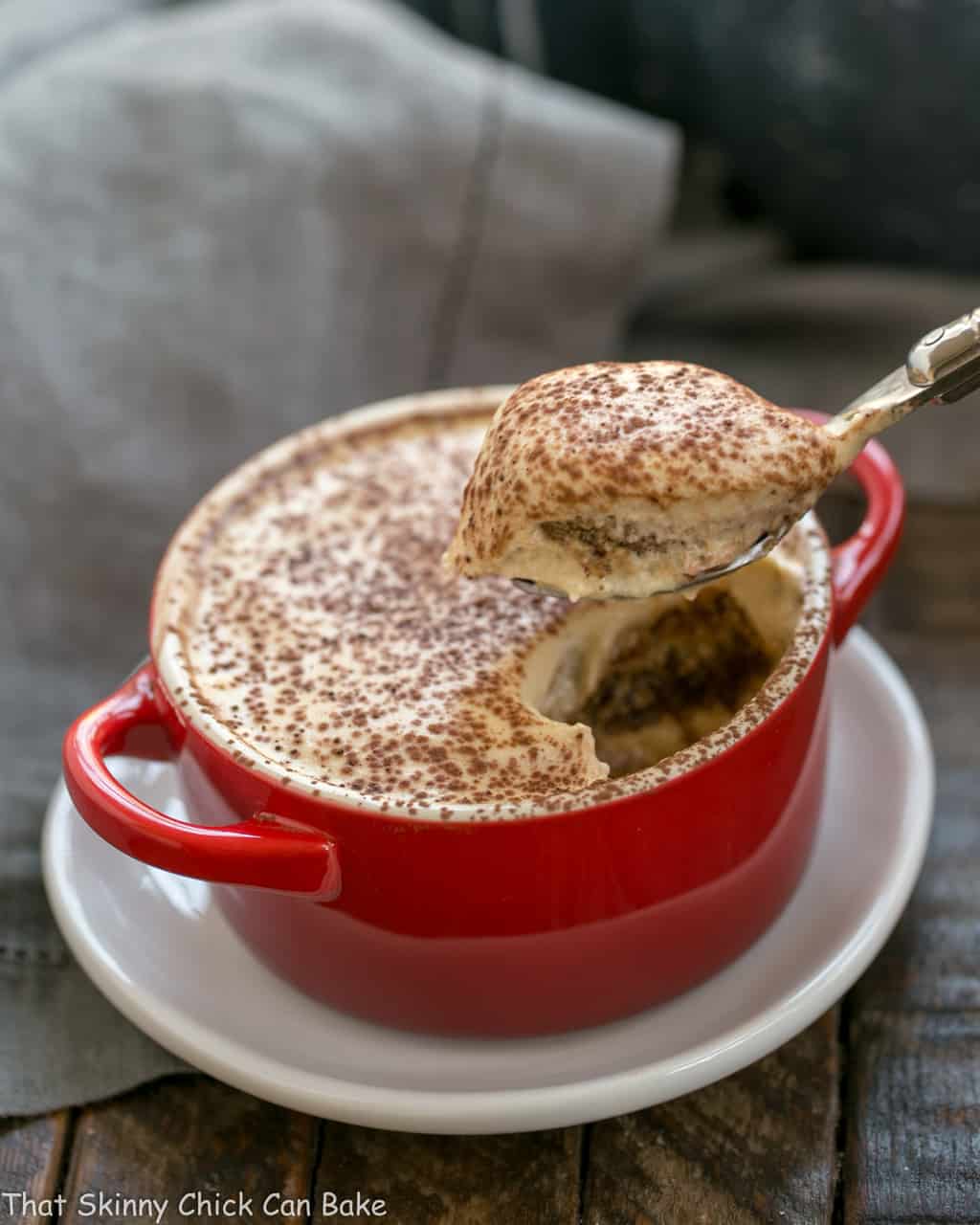 Small Batch Tiramisu
I was a little leery cutting this recipe down to just two servings. It was the first time I've used savioardi instead of the spongy ladyfingers plus I substituted Kahlua for the marsala.
Sometimes a few tweaks work, other times, they can be the death of a recipe!! Thank goodness these Mini Tiramisus came out beyond my expectations. Since my two oldest were around for dinner, they each had one. But I won't deny that I licked the bowl!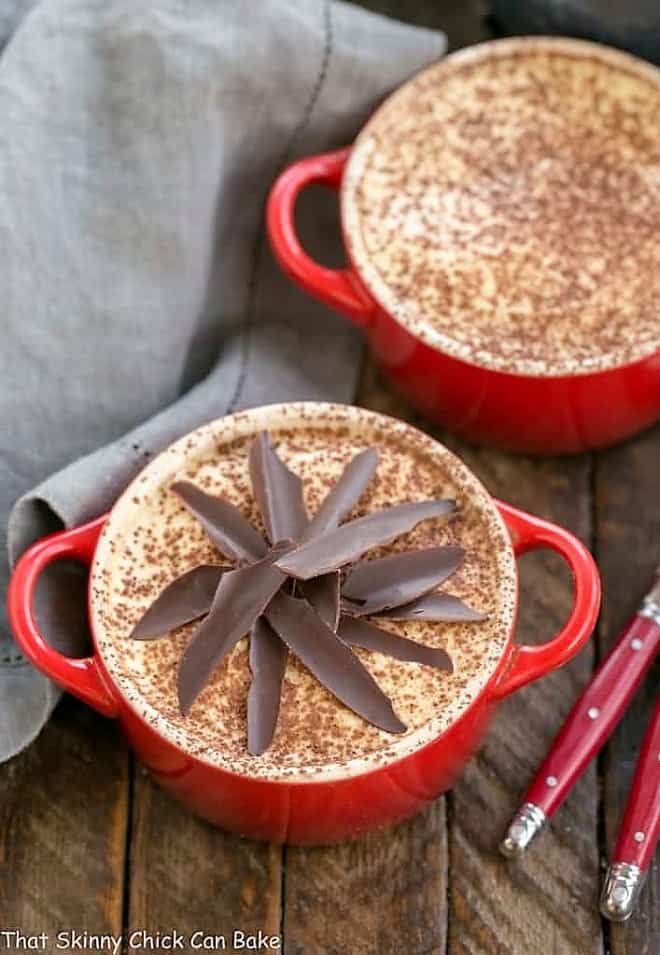 Expert Tips
I've tried scads of recipes for tiramisu and this is one of the best. The built-in portion control is wonderful for a one-time indulgence! Here are some tips for a flawless tiramisu:
PRO-Tip: Have your mascarpone and eggs at room temperature. Egg whites beat best when at room temperature and the yolks and mascarpone will also incorporate more easily with the chill off.
PRO-Tip: Don't drench your ladyfingers. A quick dip in and out of the espresso mixture is all that is needed. Soggy ladyfingers should be avoided at all costs as they'll disintegrate.
It's OK to shake up the flavors. Marsala wine is added to the espresso in a classic tiramisu, but I enjoy playing up the coffee experience with a coffee liqueur like Kahlua.
Chill for at least 2 hours or even overnight to let the ladyfingers soften and the filling firm up.
PRO-Tip: There are raw eggs in most tiramisu recipes, so be cautious and don't serve it to the very young, very old, or anyone with a compromised immune system. Raw eggs may harbor a bacteria called salmonella which may cause nausea, vomiting, stomach pain, cramping, fever, and more, when ingested.
A dusting of cocoa powder and easy chocolate shards are a pretty way to garnish for company.
Frequently Asked Questions
What is Tiramisu?
Translated from Italian, tiramisu comes from the phrase tirami su meaning 'pick me up.' It's also known as a Tuscan Trifle as legend has that it was created in Sienna in the 17th century for a visit from the Grand Duke of Tuscany.
Tiramisu is a rich, layered dish that classically contains hard ladyfingers or Savoardi, mascarpone cheese, espresso, eggs, sugar, Marsala wine, rum, and cocoa powder. Of course, there are numerous variations.
What are the Two Types of Ladyfingers?
There are hard, biscuit-type ladyfingers called savioardi and the softer spongecake-type ladyfingers often found in the bakery section of your grocery store.

Both can be used to make tiramisu recipes, though the savioardi are the most traditional when making an Italian tiramisu. They should only be dipped briefly in the espresso liquid so they don't fall apart.
You May Also Like:
Stay in touch through social media @ Instagram, Facebook, and Pinterest. Don't forget to tag me when you try one of my recipes! And if you love the results, please give it a 5-star rating in the recipe card. Note: As an Amazon Associate, I earn from qualifying purchases. Visit my Amazon Store for my favorite products.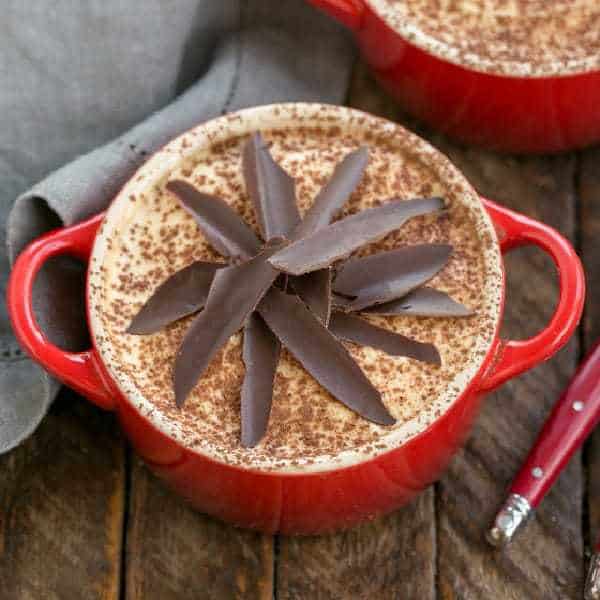 The Recipe:
Kahlua Tiramisu for Two
Prep Time 30 minutes
Total Time 30 minutes
Yield 2
It figures that this Kahlua Tiramisu for Two was the richest, most dreamy version I've ever made!  
Ingredients
6 lady fingers (savioardi), cut in half
1 egg, separated
3 tablespoons sugar, divided
⅓ cup mascarpone
2 tablespoons Kahlua
⅓ cup cold espresso (or 1 rounded teaspoon of espresso powder mixed into 1/3 cup hot water)
Cocoa powder
Instructions
Cut ladyfingers in half and set them aside.
Beat egg white in a medium bowl until stiff and glossy. Set aside.
Beat egg yolk with 2 tablespoons of sugar until thick and pale. Beat in mascarpone until light and fluffy. Add Kahlua and mix to combine. Carefully fold in egg whites until incorporated. Set aside.
In a flat-bottomed bowl combine the espresso and the remaining 1 tablespoon of sugar. Whisk to encourage the sugar to dissolve.
To assemble, use 2 8-ounce capacity ramekins or cocottes to start layering. One at a time, dip 3 of the ladyfinger halves into the espresso until almost saturated, flipping once then placing across the bottom of the ramekin. Follow with about 3 tablespoons of the mascarpone mixture, then dust with cocoa powder. Repeat with more ladyfingers, mascarpone, and cocoa powder. Repeat with the second ramekin.
Chill for at least 2 hours before serving. Make chocolate shards using 1 ounce of chocolate if desired to garnish.
Notes
This dessert contains raw eggs so it should not be served to young children, the elderly, or the immune-compromised. If you can find pasteurized eggs, that's a safe alternative!
Nutrition Information:
Yield:
2
Serving Size:
1
Amount Per Serving:
Calories: 618
Total Fat: 40g
Saturated Fat: 22g
Trans Fat: 1g
Unsaturated Fat: 13g
Cholesterol: 267mg
Sodium: 412mg
Carbohydrates: 49g
Fiber: 1g
Sugar: 26g
Protein: 11g
Note: This post may contain affiliate links; view
my Disclosure Policy
for details. I earn a small percentage from any purchase you make by clicking on these links at no extra cost to you.