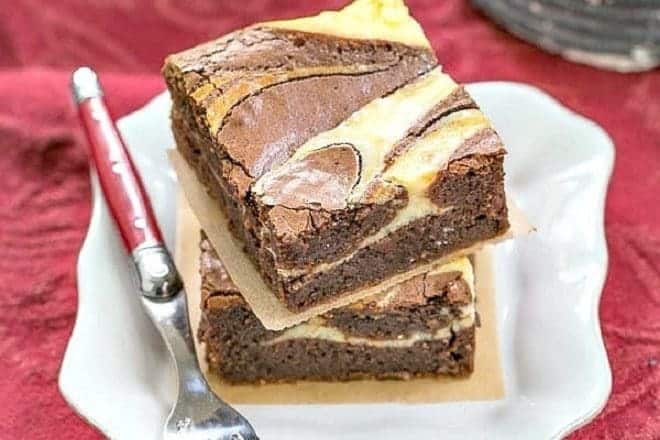 Ricotta cheesecake brownies are a combination of two of my favorite treats, fudgy brownies and homemade cheesecake. These swirled Ricotta Cheesecake Brownies will thrill your whole family! 
This post is sponsored by the Wisconsin Milk Marketing Board. See below for details.
Ricotta Cheesecake Brownies
By now, most of my loyal readers know about my family's love of chocolate. It's almost guaranteed that a batch of homemade brownies will be a hit. The fudgier, the better. But sometimes a little twist makes for an unforgettable dessert.  I am a huge fan of ricotta cheesecake, so I incorporated a cheesecake swirl into one of my favorite brownie recipes. Finding a Wisconsin made ricotta was key; Wisconsin cheese equals quality. The results were beyond incredible. These brownies did not last long!
Wisconsin Cheese
My father-in-law's dad was a dairy farmer in the small northern town of Bloomer, Wisconsin. We are, of course, fans of the Green Bay Packers (our first puppy was named Lambeau after the famed stadium and football player, Curly Lambeau), but Wisconsin cheese is close to our hearts, too.
The northlands are the ideal locale for dairy cattle with its lush pastures. The state has  a long history of cheese making and today Wisconsin produces over 600 marvelous varieties and is known for winning more awards than any other state or country. Pretty remarkable statistics. I used Wisconsin made ricotta to make these ricotta cheesecake brownies.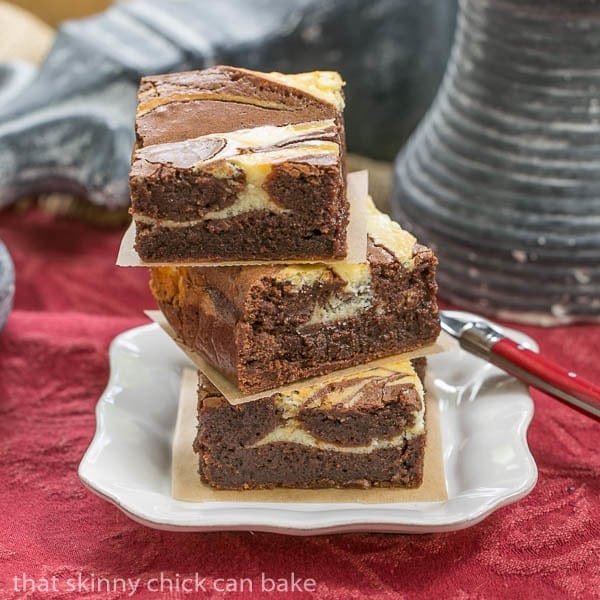 Tips for Making Swirled Ricotta Cheesecake Brownies
Two different batters are made to create these brownies. It's how you layer and swirl them that makes them an unforgettable dessert!
These decadent gems were created with two separate batters.
About two thirds of the brownie batter was spread across the bottom of a baking pan, then alternating dollops of cheesecake batter and the remaining brownie batter were placed across the surface, and simply swirled with the tip of a table knife.
To make the swirls, hold the knife upright and insert about halfway into the batter. Pull the knife through the batter from one side to another making an "S" shaped line with 2-3 full S shapes with each swipe.
Move a few inches over and repeat, then repeat a 3rd time.  Be careful not to swirl too much or the brownies will end up looking messy not elegant! You can go in and touch up if an area needs a tweak, but less is more when it comes to marbling!
After baking and cooling, just cut into bars and brace yourself for rave reviews! And while you have some ricotta in the house, try this terrific Ricotta Pound Cake!
To make these ricotta cheesecake brownies, you might need:
More Terrific Recipes Featuring Wisconsin Cheese:
Cheese Appetizers:
Cheese Bread:
Main Dishes with Cheese:
Cheese Side Dishes:
Desserts:
10 Ideas for Cheese Dip Dippers by Sunday Supper Movement
Print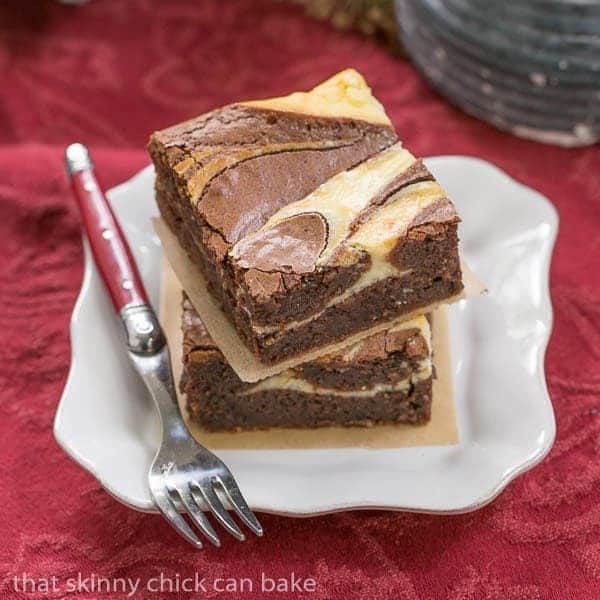 Ricotta Cheesecake Brownies
Fudgy brownies with a decadent cheesecake swirl!
Author:
Prep Time: 20 mins
Cook Time: 55 mins
Total Time: 1 hour 15 minutes
Yield: 16 brownies
Category: Dessert, Brownies
Method: Baking
Cuisine: American
Ingredients
Brownie batter:
1 stick butter
8 ounces semi-sweet chocolate
1 1/2 cup sugar
4 eggs
1 teaspoon vanilla
3/4 cup flour
1/4 teaspoon salt
Ricotta cheesecake batter:
4 ounces (approximately 1/2 cup) whole milk ricotta cheese
3 ounces cream cheese, at room temperature
1 scant teaspoon cornstarch
1⁄4 cup sugar
1 large egg
1 tablespoon heavy cream
1⁄2 teaspoon vanilla
1 tablespoon lemon juice
pinch of salt
Instructions
Preheat oven to 350º. Line an 8 x 8 pan with nonstick foil (or regular foil sprayed with non-stick cooking spray). Set aside. Place butter and chocolate in microwave safe bowl and microwave gently until butter and chocolate are melted (30 seconds x 3, stirring in between sessions). Let cool to room temperature.
Stir sugar into chocolate till combined. Whisk in eggs one at a time, then vanilla. Fold in flour and salt. Pour about ⅔ of the batter into prepared pan and smooth with an offset spatula.
Make cheesecake mixture by mixing ricotta, cream cheese and sugar till smooth. Mix in egg, then the rest of the ingredients.
With a medium (2 tablespoon capacity) cookie disher or a tablespoon, dot the surface of the brownie batter with cheesecake mixture, allowing space between dollops (my pattern was 3 across by 3 down for a total of 9 dollops).
With the rest of the brownie batter, using a medium cookie disher, drop dollops of brownie batter between dollops of cheesecake batter. Tap the pan a couple times on the counter to allow the batters to settle. Using a table knife, swirl the batters by inserting the knife into the top layer of the batter and drawing it through in a subtle "S" pattern.
Bake until cake tester comes out of center with just a few moist crumbs, 50-55 minutes. Cool completely on rack. Run knife around perimeter of pan and lift brownies out of pan using parchment. Cut into 2 inch squares.
Note: For easier slicing, place pan in freezer for one hour before cutting.
Check out my Cookies and Bars Board on Pinterest!
Food and Wine Conference
It was serendipitous that I joined the Sunday Supper team early on. A mutual friend introduced me to Triberr, an often confusing way to share blog posts across social media sites. My blogging buddy revealed that her friend, Isabel, was a pro and could hook me up with a tribe. Soon after,  Isabel invited me to join the Sunday Supper group which focused on bringing the family back to the dinner table. With a busy family, I knew the importance of gathering together over a meal to share stories and make memories. Her passion was my passion.
The group grew and flourished and Isabel continued her mission. Never scared of a challenge, she created a conference where bloggers could gather, share a meal and learn from each other. The Food and Wine Conference was born. Folks from across the land will meet for the 3rd annual #FWCon from July 17-19 in Orlando at the elegant Rosen Shingle Creek resort. I attended last year and can attest that it's loads of fun but educational as well. I hope you will consider joining me and lots of terrific bloggers at one of my favorite food blogger conferences! Details can be found on the Food and Wine Conference website.  Use this discount code(FWC15bergE) for a $50 discount on your ticket! I hope to see you there.
Disclosure: This post is sponsored by the Wisconsin Milk Marketing Board in conjunction with a social media campaign through Sunday Supper LLC. All opinions are my own.

Note: This post may contain affiliate links; view
my Disclosure Policy
for details. I earn a small percentage from any purchase you make by clicking on these links at no extra cost to you.