Italian Ricotta Cookies
It was time for our annual neighborhood cookie exchange and these festive Italian Ricotta Cookies with almond icing and holiday sprinkles were perfect for the occasion. This holiday classic will become a delicious yearly tradition!
Made with whole milk ricotta cheese, these soft Italian Christmas Cookies are cakey, tender, and irresistible!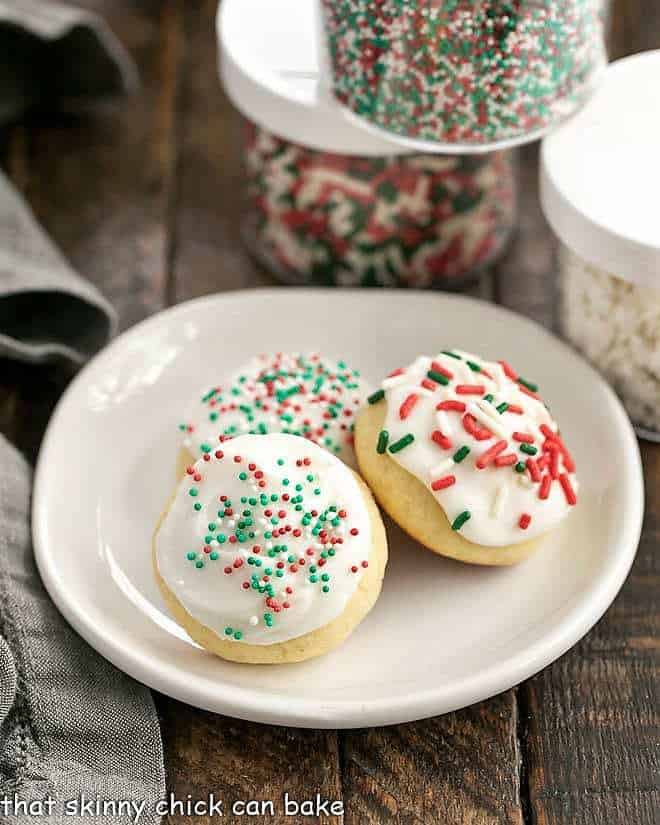 Why You Must Make
There's not always time to roll, cut, and decorate traditional frosted sugar cookies.
These ricotta cheese cookies are made by simply scooping the dough onto parchment paper, baking, and then topping with an easy powdered sugar frosting!
My frosting-loving husband, who's often a hard sell when it comes to new recipes, raved about these even before they were iced!!! FYI, his hearty endorsement included the frosted cookies, too.
Ingredient Notes:
Look for whole milk ricotta as the extra fat helps make for soft, tender cookies. The flavorings can be tweaked. I used vanilla for the cookies and almond for the frosting. Anise and lemon are also commonly used. Vary the color of your sprinkles for different holidays or occasions. Think St. Patrick's Day, Valentine's Day, Bridal or Baby Showers, etc.
Kitchen Staples: Sugar, All-Purpose Flour, Table Salt, Baking Soda, Milk
Butter – I use salted. If you use unsalted, add a little extra table salt.
Eggs – Large Eggs
Whole milk ricotta cheese – I removed 1 tablespoon from a 16-ounce container (the recipe calls for 15 ounces).
Real Vanilla Extract, – Never use imitation vanilla, the taste is subpar.
Powdered Sugar – Sift before using for the smoothest frosting.
Almond extract – Gives a more complex flavor to these Italian cookies
Colored sprinkles or sugar, depending on the holiday. Make sure to smell and taste your sprinkles if you've had them for a few years. Sprinkles can lose quality over time and even go rancid (which will ruin your cookies!).
Expert Tips
Though I'm not sure the origin of these cookies is really Italy or if this is an Italian-American contribution, they are a Christmas classic for many families across the US. Often flavored with lemon or anise, I went with vanilla in the cookies and almond extract in the frosting. Feel free to add the flavorings you and your family prefer.
As with all cookies, have your butter and eggs at room temperature. The butter shouldn't be so soft that it looks greasy, us soft enough to make it blend easily with the sugar.
PRO-Tip: Use a cookie disher (affiliate link) cookie scoop to make consistent sized cookies. I used a smaller scoop for some (my preference) and a medium scoop for the rest. Just adjust the baking time.
PRO-Tip: I also rolled the dough balls between my palms to help make them rounder.
Bake on parchment-lined baking sheets for easy cleanup. I reuse my parchment for subsequent batches of the same cookie.
Let cool completely before icing. And while the frosting is still wet, add sprinkles in colors to match the season or event. You can also decorate these Italian Christmas cookies with colored sugar or candied cherries.
Use an offset spatula (affiliate link) to spread on the icing or hold the cookies by their sides and dip the tops into the bowl of frosting.
These were perfect for a neighborhood holiday cookie exchange. There was nothing but crumbs on the platter when it was time to go home! Check out more of my favorite Cookie Exchange Recipes for holiday inspiration.
Frequently Asked Questions
How Do You Store Ricotta Cookies?
Store your ricotta cookies in an airtight container at room temperature. Once they're frosted, let them dry for at least 2 hours before placing them in a covered container, with wax paper separating each layer.
PRO-Tip: Unfortunately, the glaze can soften over time, so if giving as gifts, consider frosting on the day you deliver. They do not need to be refrigerated.
Can You Freeze Ricotta Cookies?
Baked unfrosted Italian ricotta cookies freeze well. The unbaked dough does not freeze well, though the dough can be made ahead of time and stored, covered, in the refrigerator for a few days.
Freeze the cookies before they're frosted as the sprinkles can bleed as they defrost, depending on the brand you use.
What Are Some Other Italian Christmas Cookies?
There are plenty of delicious options including Italian Fig Cookies, Biscotti, Butter Cookies, Sprinkle Cookies, Pizzelle Cookies, Canoli Cookies, and Befanini (Epiphany shortbread cookies).
You May Also Like:
I also brought my rosettes, which were a novelty among my friends!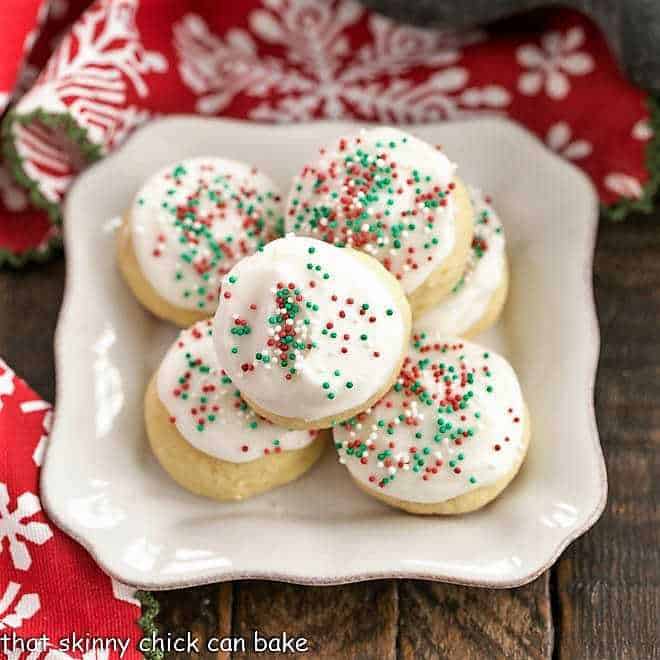 The Recipe:
Italian Ricotta Cookies
Prep Time 20 minutes
Cook Time 12 minutes
Total Time 32 minutes
Yield 8 dozen small cookies
A sweet, soft Italian sugar cookie made festive with frosting and sprinkles!
Ingredients
Cookies:
1 cup butter, at room temperature
2 cups sugar
3 eggs
1 carton (15 ounces)  whole milk ricotta cheese (I removed 1 tablespoon from a 16 ounce container)
1 tablespoon vanilla
4 cups  flour
1 teaspoon salt
1 teaspoon baking soda
Frosting:
1/4 cup butter, at room temperature
3 to 4 cups powdered sugar
1/2 teaspoon almond extract
3 to 4 tablespoons milk
Colored sprinkles or sugar
Instructions
In a bowl, cream butter and sugar. Add the eggs, one at a time, beating well after each addition.
Mix in ricotta and vanilla. In another bowl, whisk together flour, salt and baking soda, then gradually add to the creamed mixture.
Scoop out rounded teaspoonfuls of dough onto parchment lined baking sheets. Bake at 350° for 10-12 minutes or until lightly browned. Remove to wire racks to cool.
In a large bowl, cream butter, powdered sugar, almond extract and enough milk to reach your desired consistency.
Frost cooled cookies and immediately decorate with sprinkles or colored sugar. Store in the refrigerator.
Notes
Adapted from Taste of Home.
Unfortunately, the glaze can soften over time, so if giving as gifts, consider frosting them on the day you deliver. They do not need to be refrigerated.
Recommended Products
As an Amazon Associate and member of other affiliate programs, I earn from qualifying purchases.
Nutrition Information:
Yield:
48
Serving Size:
2 cookies
Amount Per Serving:
Calories: 233
Total Fat: 6g
Saturated Fat: 3g
Trans Fat: 0g
Unsaturated Fat: 2g
Cholesterol: 26mg
Sodium: 119mg
Carbohydrates: 44g
Fiber: 0g
Sugar: 35g
Protein: 2g
Note: This post may contain affiliate links; view
my Disclosure Policy
for details. I earn a small percentage from any purchase you make by clicking on these links at no extra cost to you.