Chewy Oatmeal Toffee Cookies
Homemade cookies always fly off the table at any gathering. But adding toffee made these Chewy Oatmeal Toffee Cookies impossible to resist!
These White Chocolate Chip Oatmeal Cookies also have a touch of coconut to add to their deliciousness!!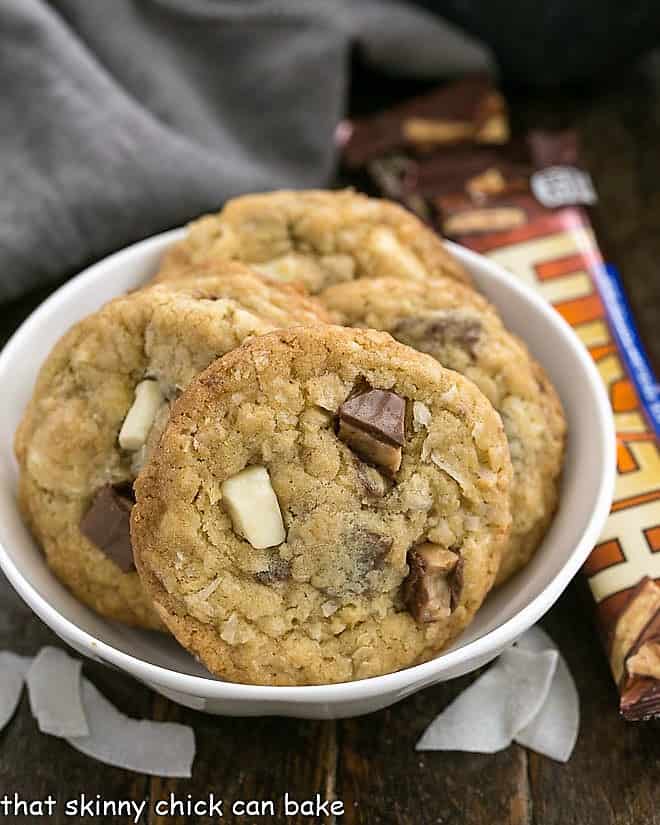 Why You Must Make
I love baking for a gathering. It gives me a chance to make treats that my family might snub. Oatmeal, coconut, and toffee. Not always popular with my crew. Only me.
So I baked up a batch of this Oatmeal Cookies Recipe to take to my sister's house in Colorado. Us Weber girls stick together when it comes to sweets. I knew Maddy would help me eat them. And love them every bit as much as I do!
Cookies freeze beautifully, so you can have a stash for a quick snack or dessert.
If you love toffee, this is a yummy way to get your fix.
There's something about oatmeal cookies, so comforting!
Swap out the add-ins for your favorites. If you aren't a fan of white chocolate, add some bittersweet chocolate, etc.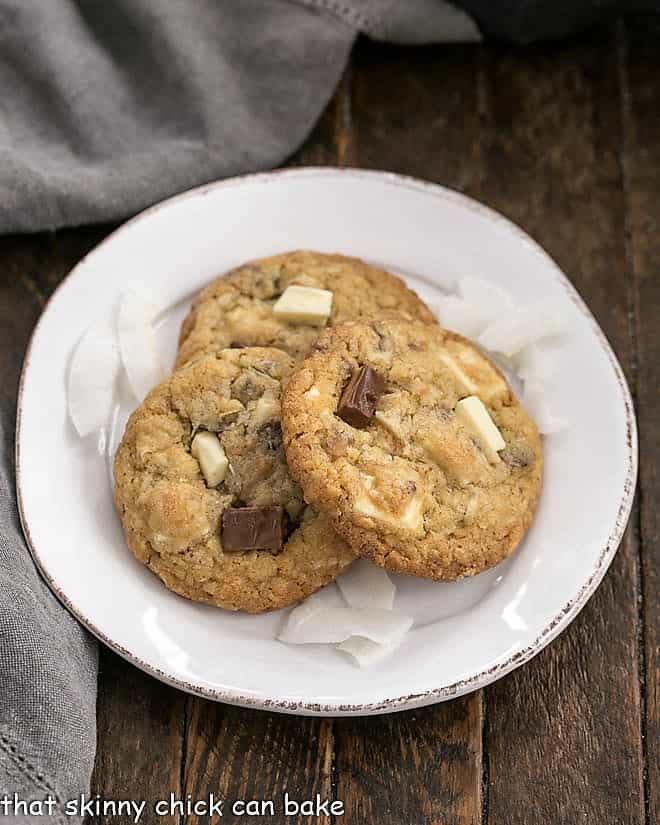 The Best Oatmeal Cookies
We're now in the midst of winter, and I'm pining for the sultry dog days of summer. One of the best ways to keep warm during the winter doldrums is to turn on the oven and bake something yummy! These easy oatmeal cookies are perfect for lunch boxes, after-school snacks, and any occasion where you need to bring a dessert. Plus, cookies are the perfect, portable treat when traveling. I've carried a cake in a metal baking dish through TSA at our airport, but putting cookies in my suitcase was much less trying on my arm muscles!
Oatmeal Cookie Recipes are one of my biggest weaknesses. I have to promise not to start taste-testing the dough or I'll eat more than I care to admit! I was on good behavior with this latest batch, even though I loaded them with my favorite add-ins, toffee, white chocolate, and coconut!!! But feel free to use dark chocolate instead of white chocolate, skip the toffee and add a second type of chocolate chip or totally omit the coconut. They'll still taste delicious!! How to make the best oatmeal cookies is in your hands!!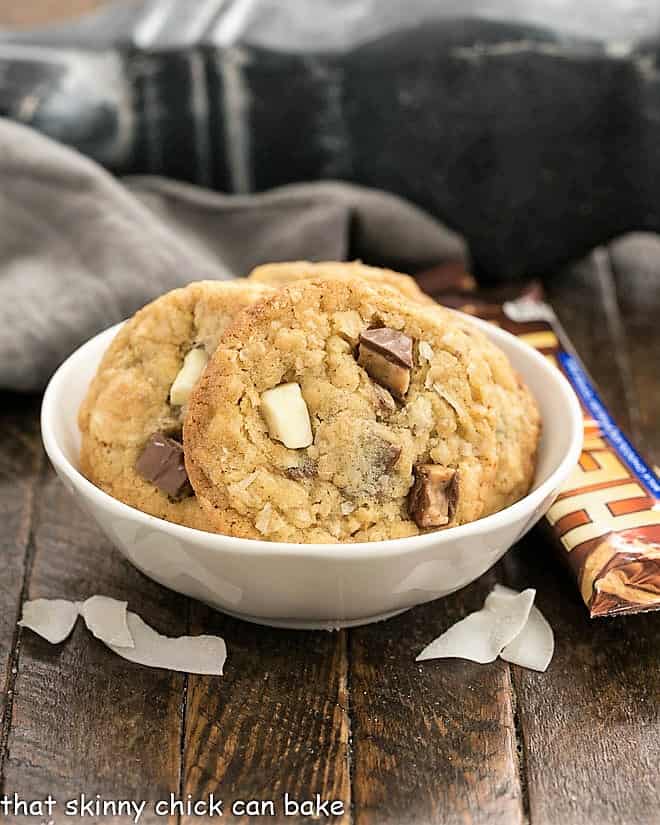 Expert Tips
Many of these cookie-making tips are universal for all cookie baking, but worth repeating if you're a novice baker.
PRO-Tip: Have your eggs and butter at room temperature unless otherwise specified. This helps for easy incorporation into the dough.
Line your baking sheets with parchment paper for easy cleanup. Silpats are a nice alternative, but you do need to wash them after use.
PRO-Tip: Do not overmix the dough. I tend to make most cookie dough by hand, using a wooden spoon to mix instead of a mixer. This limits the development of gluten and minimizes air being added to the dough, making more tender and chewy cookies respectively.
Use a cookie disher to scoop out even-sized dough balls to bake.
With cookie dough filled with add-ins, it's hard to form perfectly round dough balls. So one of my tricks is to tap the hot, fresh-out-of-the-oven cookies, into rounder shapes using my spatula.
Let your cookies cool for a few minutes on the baking sheet, then remove to a wire rack to finish cooling.
Let the baking sheet cool before reusing. You do not want the dough to start melting before it gets into the oven.
If you notice your cookies seem flat, consider chilling the dough for an hour, then scooping out another batch.
Frequently Asked Questions
Can You Use Quick Oats instead of Old-Fashioned Oatmeal When Making Oatmeal Cookies?
In this recipe, you can use either. But follow the recommendation for what kind of oats to use in the recipe you're making. They are not always interchangeable.
How Do You Make Soft Chewy Cookies?
There are a few things you can do to prevent hard, dry cookies. First, measure your ingredients properly so you don't use too much flour. Spoon the flour into the measuring cup, then use an offset spatula to sweep the excess off the top.
Don't substitute another fat, like using shortening instead of butter. Also, do not overmix or the gluten will be over-activated. Use a wooden spoon when mixing in the flour. And finally, do not overbake. The center of the cookies can look slightly underdone since they'll continue cooking as they cool on the hot cookie sheet.
Finally, use a cookie disher so that all your cookies are the same size. This way they'll all be done at the same time.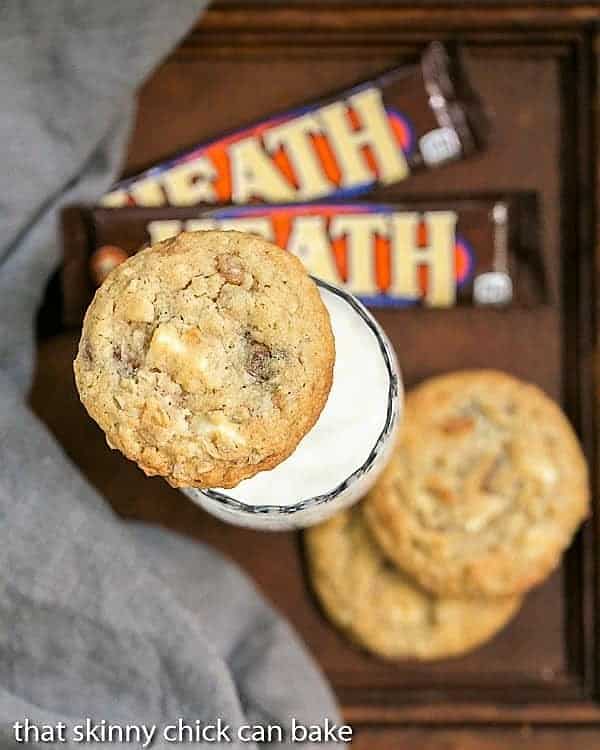 You May Also Like:
If you love toffee as much as I do, these Chewy Oatmeal Toffee Cookies are certain to become a favorite indulgence. Here are some more recipes for toffee lovers!
Stay in touch through social media @ Instagram, Facebook, and Pinterest. Don't forget to tag me when you try one of my recipes! And if you love the results, please give it a 5-star rating in the recipe card. Note: As an Amazon Associate, I earn from qualifying purchases. Visit my Amazon Store for my favorite products.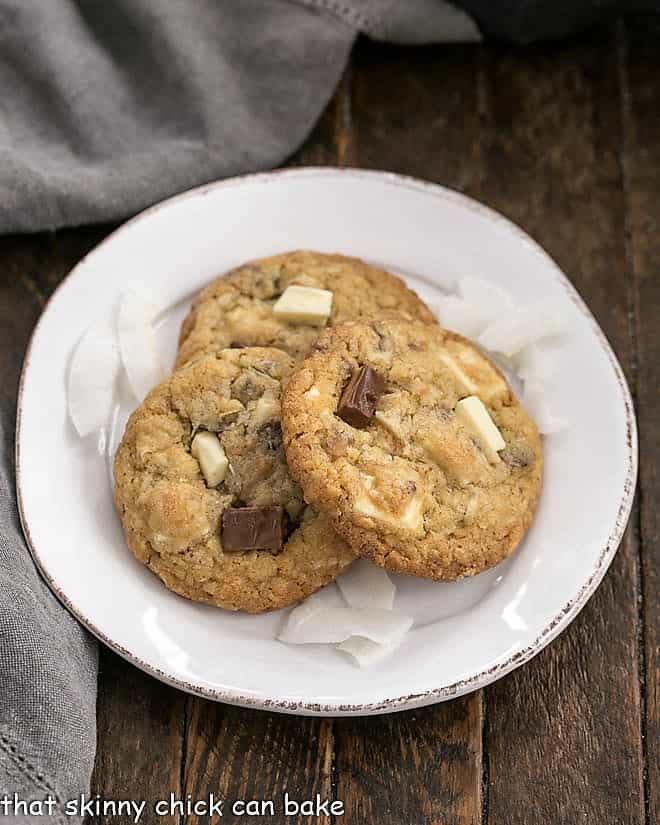 The Recipe:
Oatmeal Toffee Cookies
Prep Time 20 minutes
Cook Time 10 minutes
Total Time 30 minutes
Yield 36 cookies
Oatmeal cookies with the surprise addition of toffee, white chocolate and coconut.
Ingredients
1 cup of butter, at room temperature
1/2 cup brown sugar
1/2 cup sugar
1 egg
2 teaspoons vanilla
1 cups flour
1 teaspoon baking soda
1/2 teaspoon salt
1 cup quick oats or old fashioned oatmeal
1/2 cup coconut
5.6 ounces toffee bars, chopped (four 1.4 ounce Heath bars)
8 ounces white chocolate, cut into chunks
Instructions
Heat oven to 375°F. Line baking sheets with parchment.
In a large bowl, beat butter and sugars on medium speed of an electric mixer until creamy.
Add egg and vanilla, and mix until incorporated. Add flour, baking soda, and salt and mix just until combined.
Mix in oats and coconut with a wooden spoon. Carefully stir in Heath bar chunks and white chocolate.
Use a cookie disher or spoon to scoop out rounded tablespoonfuls onto prepared cookie sheets.
Bake for 10 to 12 minutes or until light golden brown.
Cool on cookie sheets for a few minutes, then remove to wire rack to finish cooling.
Notes
Adapted from The Cafe Sucre Farine
Nutrition Information:
Yield:
36
Serving Size:
1 cookie
Amount Per Serving:
Calories: 157
Total Fat: 9g
Saturated Fat: 6g
Trans Fat: 0g
Unsaturated Fat: 3g
Cholesterol: 25mg
Sodium: 128mg
Carbohydrates: 17g
Fiber: 1g
Sugar: 12g
Protein: 1g
Note: This post may contain affiliate links; view
my Disclosure Policy
for details. I earn a small percentage from any purchase you make by clicking on these links at no extra cost to you.