Meyer Lemon Streusel Bars
These Meyer Lemon Streusel Bars have three incredible layers: a buttery shortbread crust, a lemon curd filling, and a sugar cookie crumble topping. A scrumptious twist on the classic lemon bars!
If you love lemon desserts, these Lemon Cookies in bar form a try! No scooping and baking batch after batch. Nick Malgieri, the cookbook author, and baking guru, won't steer you wrong.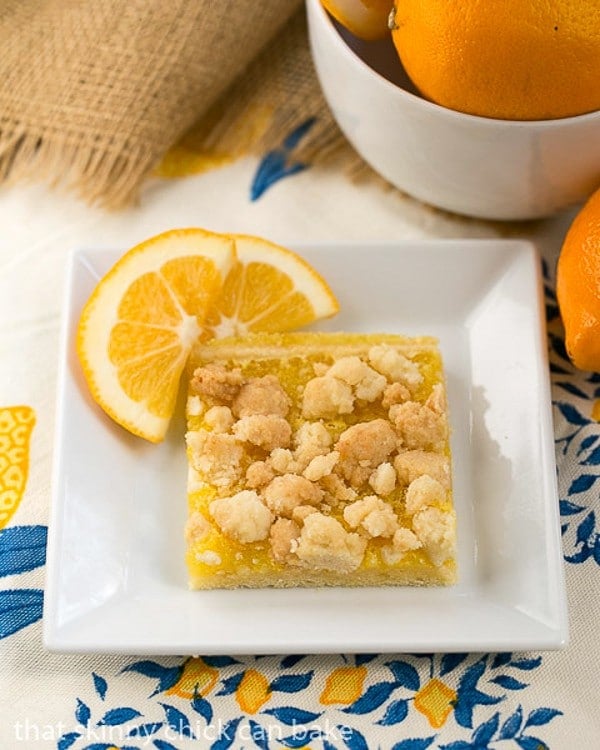 Why You Must Make
I bake a bazillion chocolate desserts, so it's nice to shake things up a bit with some lemon treats.
Lemon bars are typically two layers and a breeze to toss together. But it's definitely worth the extra effort to top these citrusy gems with some streusel, especially this crisp sugar cookie streusel.
Making bars in a 9 x 13-inch pan will make 24 servings. This is perfect for picnics, potlucks or big family gatherings.
You can make the crust and cookie streusel a day ahead. Then, make the filling, throw it all together and bake on the day you'd like to serve it!
Ingredient Notes
Kitchen Staples – Flour, Sugar, Salt
Baking Powder – It will expire unlike baking soda. Check the expiration date, and if you're still unsure, drop a spoonful into a bowl of very hot water. If it's still active, the mixture will bubble vigorously.
Butter – Salted is fine.
Eggs – Large is standard. Have at room temperature for easist incorporation.
Meyer Lemons – In season November through March. Standard lemons are great to use other times of the year.
Expert Tips
If you've visited my blog before, you may have noticed that I always line my baking pan with aluminum foil when making cookie bars. PRO-Tip: The foil creates a "sling" in which to lift out the bars for easy cutting. Chilling your bars first makes the transfer and cutting much easier.
I also spray the foil with PAM Cooking Spray (affiliate link) so if the lemon filling oozes over the crust, the bars will not stick to the pan! Plus it makes clean up a snap. Keep this in mind when you plan your holiday meals. Or just use non-stick foil.
You can also make these lemon bars in stages. See my suggestion above.
Chill before slicing to make the cleanest cuts.
PRO-Tip: Always use fresh lemon juice. They won't taste the same if you use bottled juice.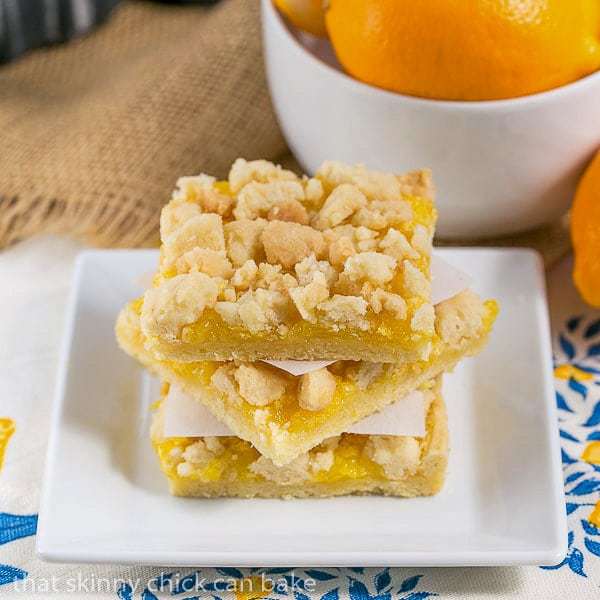 Frequently Asked Questions
What are Meyer Lemons?
Meyer lemons are a sweeter cousin of the standard lemon. Meyer lemons are actually a cross between your ordinary lemon and either a regular orange or a mandarin. Feel free to decrease the sugar in the filling if you want a bit more pucker in your bars.
Can You Use Regular Lemons to Make These Bars?
Yes! Feel free to substitute your garden variety lemons, especially if it's not Meyer lemon season in your neck of the woods. They will be a little tarter, but still delicious!
How Do You Store Lemon Bars?
These are best kept covered in the refrigerator for 3-5 days, though I know we've kept them longer. You can regular lemon bars in the freezer for up to 3 months, but bars with a crumb topping may lose a little quality when defrosted.
You May Also Like: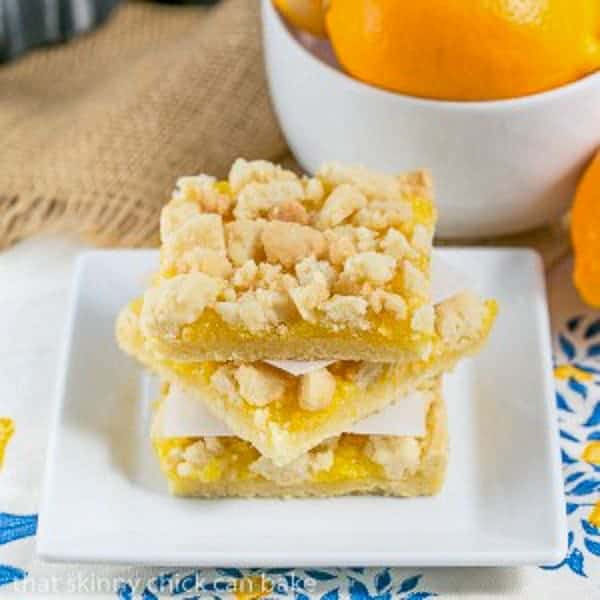 The Recipe:
Meyer Lemon Streusel Bars
Prep Time 30 minutes
Cook Time 55 minutes
Total Time 1 hour 25 minutes
Yield 24 bars
A sweet-tart lemon bar recipe made with Meyer lemons. Adapted from Nick Malgieri.
Ingredients
Crust:
Pam Cooking Spray
2 cups flour
1/3 cup sugar
1/2 teaspoon baking powder
1/8 teaspoon salt
1/2 cup butter, cut into small pieces
2 eggs, whisked together
Streusel:
1 1/4 cups flour
1/2 cup sugar
1 teaspoon baking powder
1/2 cup butter, melted
Lemon topping:
3 large eggs
1 tablespoon Meyer lemon zest
1/4 cup fresh Meyer lemon juice
1 1/4 cups sugar
Instructions
Line 9 x 13 pan with aluminum foil and spray with PAM Cooking Spray.
Line a baking sheet with parchment. Set aside. Preheat the oven to 350º.
To make the dough, combine flour, sugar, baking powder, and salt in a bowl and stir to combine.
Add butter pieces and using your fingers pinch and rub the butter till it's totally worked into flour (no big pieces will be visible).
Mix eggs into the dough until well incorporated.
Knead gently in the bowl till the dough comes together.
On a floured surface roll dough to a 12 x 16-inch rectangle. Fit into the prepared 9 x 13 pan and trim so there's just a 1/2 inch edge going up the sides of the pan.
Put a rectangle of parchment on the bottom crust and weigh down with dried beans or pie weights. Bake for 10 minutes. Remove parchment and beans and bake for 5 more minutes. Cool on rack.
To make the topping, combine flour, sugar, baking powder, and salt.
Add melted butter and combine with a rubber spatula.
Spread out on a baking sheet, breaking into small crumbs.
Bake 15-20 minutes, till golden brown. Cool on rack. If necessary, break apart into small crumbs when cool.
To make the filling, whisk eggs and zest in a bowl. Mix lemon juice and sugar in another bowl to dissolve sugar.
Stir egg and juice mixtures together. Pour over the crust and bake for 15-20 minutes.
Sprinkle with the crumb topping and bake an additional 5 minutes. Cool completely on a wire rack, then cut into bars.
Notes
Standard lemons may be substituted for Meyer lemons.
Nutrition Information:
Yield:
24
Serving Size:
1
Amount Per Serving:
Calories: 212
Total Fat: 9g
Saturated Fat: 5g
Trans Fat: 0g
Unsaturated Fat: 3g
Cholesterol: 59mg
Sodium: 118mg
Carbohydrates: 31g
Fiber: 1g
Sugar: 17g
Protein: 3g
Note: This post may contain affiliate links; view
my Disclosure Policy
for details. I earn a small percentage from any purchase you make by clicking on these links at no extra cost to you.