Meyer Lemon Bars
Meyer Lemon Bars are a twist on the classic citrus bar. Slightly sweeter, the discriminating palate will notice a subtle floral note that comes from this crossbred fruit!
Meyer Lemon Desserts are a delicious way to showcase these unique lemons. These easy lemon bars are the perfect introduction.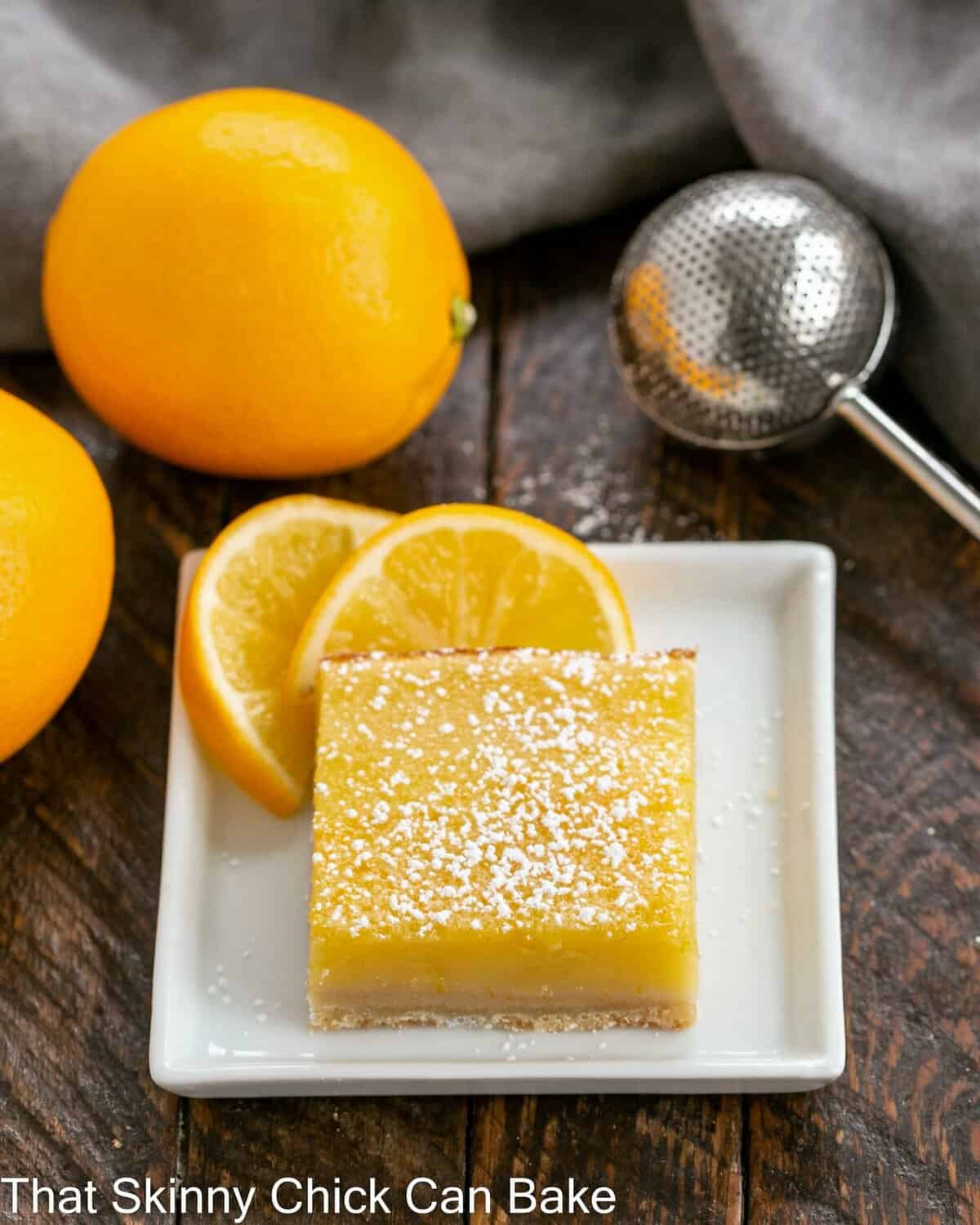 Why You Must Make
They're made with Meyer Lemons instead of Standard Lemons for a subtle twist in their flavor!
Meyer Lemons are standard lemons crossed with mandarin oranges which provides an extra touch of sweetness.
With a shortbread crust and a vibrant, citrusy custard topping, lemon dessert lovers will enjoy every tasty bite of these bars.
Meyer lemons aren't anything that would be harvested anywhere near my Indiana home, but maybe one of you has some citrus ready to pluck and juice for a twist on a classic dessert, Meyer Lemon Bars. These sweet-tart gems are the perfect way to end a family meal.
How to Make Lemon Bars
Preheat the oven and line your baking pan.
Mix together crust ingredients as directed.
Form the dough into a ball, chill, then bake. Cool.
Whisk together the filling and pour over the cooled crust.
Bake until the filling is set. Cool completely.
Cut into bars and dust with powdered sugar just before serving.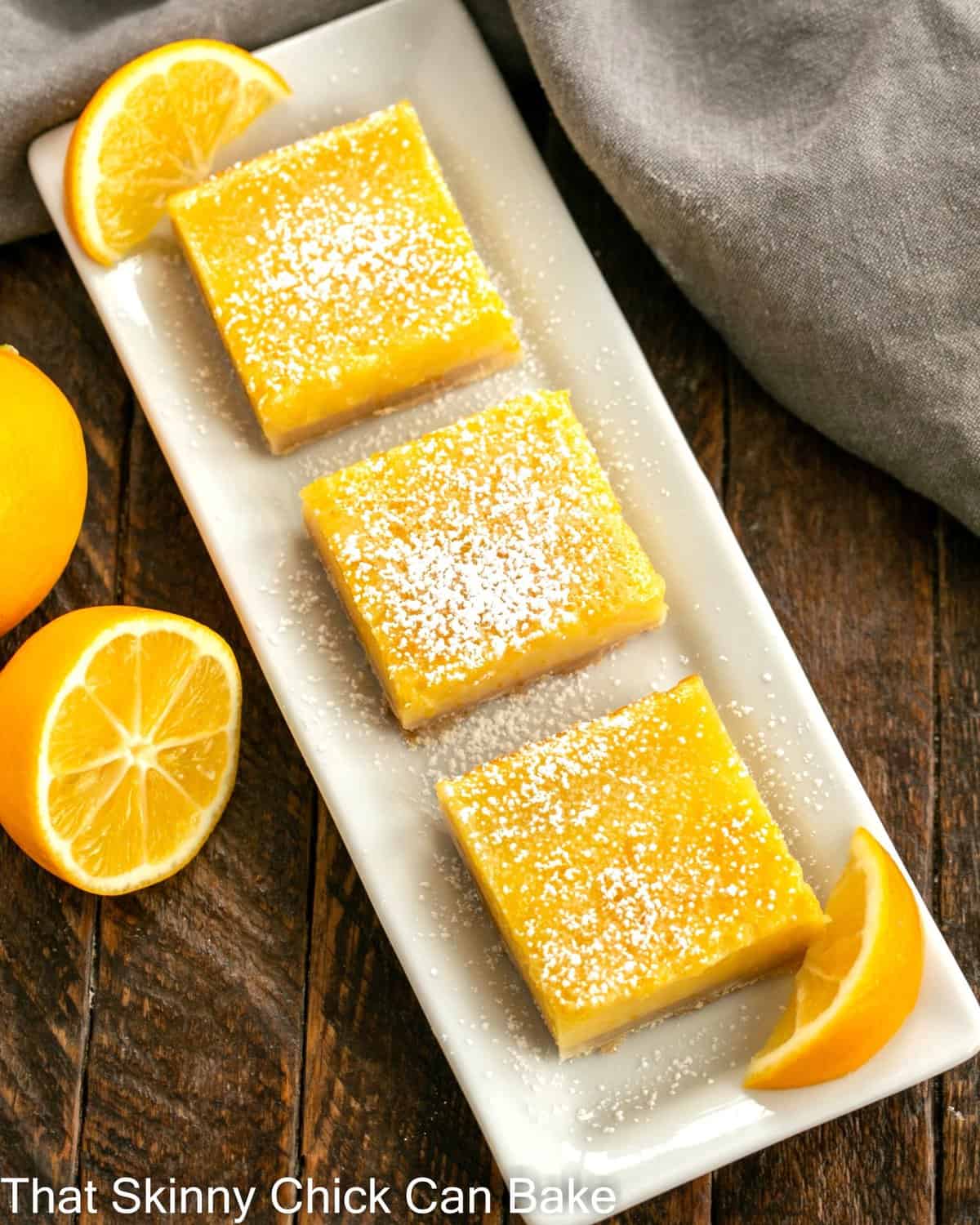 Expert Tips
Line your baking pan with non-stick foil for easy release from the sides of the pan and to use as a sling to transport them from the pan to the cutting board.
Have your eggs at room temperature for easy incorporation.
Always use fresh lemon juice, never bottled. Freshly squeezed juice is far superior and will make for tastier bars.
Zest your lemons before squeezing.
PRO-Tip: Roll your lemons under your palm before squeezing. This will break down some of the citrus membranes and soften the rind which can increase juice production.
PRO-Tip: To get the most flavor from your lemon zest, add it to the sugar called for in the filling and rub it between your fingers to release the essential oils.
Don't fret about the teeny bubbles across the baked surface. They're normal and will disappear when you dust the bars with powdered sugar before serving.
Chill well before cutting into bars for the neatest slices.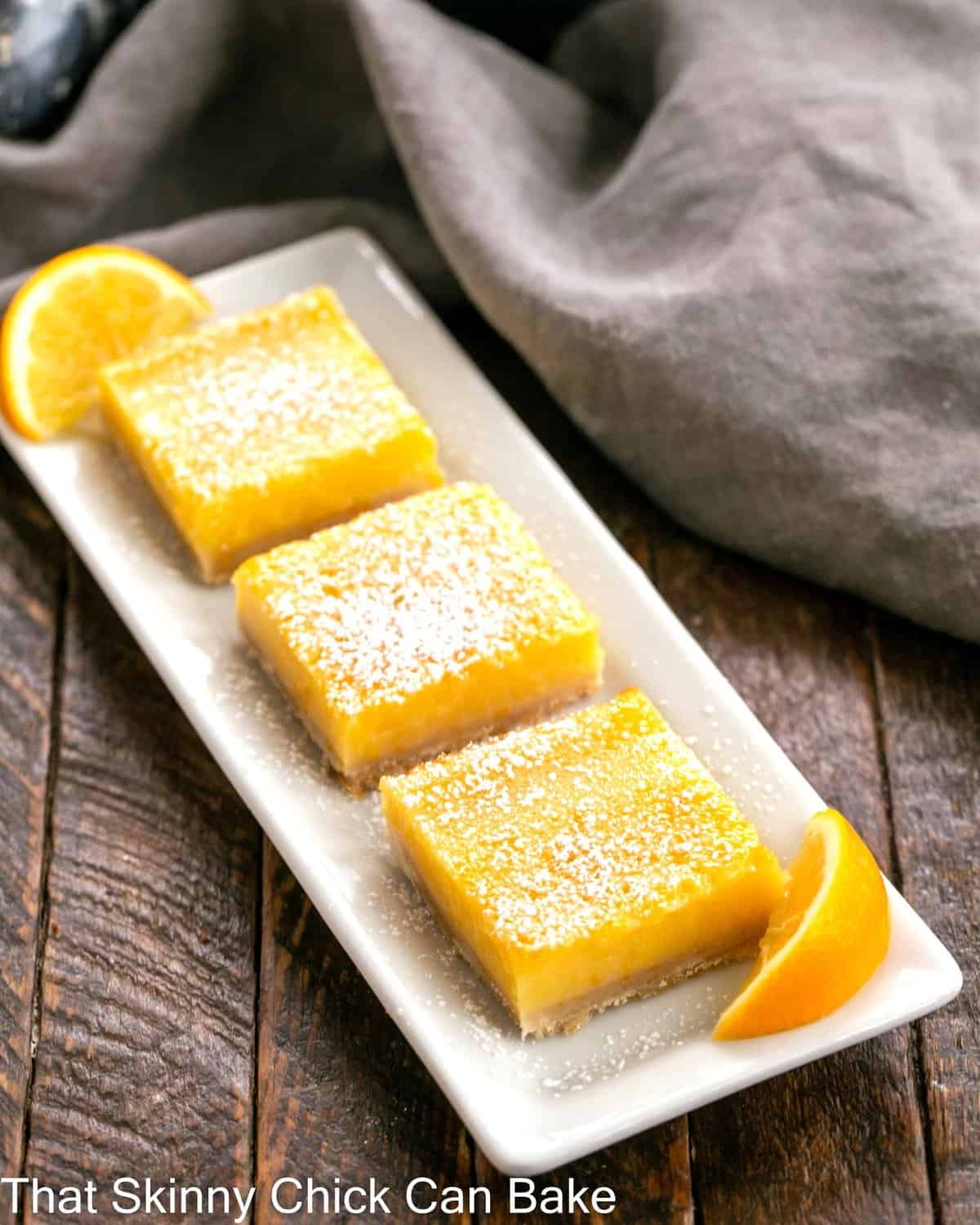 Verdict on this Meyer Lemon Recipe
I first made these in 2012 for the bridal shower of a dear neighbor. Shelli, the bride-to-be's mother, was the first to inquire about what made these lemon bars so unique. She has the most discriminating palate.
I brought the leftovers home where the dear ol' hubby had no clue that this was any different from my classic lemon bars, though he did mention how tasty they were. More than once. Maybe even three or four times.
So, feel free to try these as written if you have access to Meyer lemons, but add an extra 1/2 cup of sugar if you use the tarter standard lemons.
Frequently Asked Questions
What are Meyer Lemons?
I've made lots of versions of lemon bars, but I wanted something extra special for the bridal shower I helped host.
Meyer lemons are a cross between oranges or mandarins and lemons. I was delighted when I saw mounds of this seductive orangish-yellow citrus in the produce section of Whole Foods.
They can be used interchangeably for regular lemons, but remember that they are sweeter due to the genetic connection to oranges.
Adjust your recipe if needed to compensate for the Meyer lemons. I followed Ina Garten's perfect lemon bar recipe but decreased the sugar due to the sweetness of these lemons.
Meyer Lemon season is from December through May. Their short season and fragile rinds make them more expensive than standard lemons.
What Are Meyer Lemons Used For?
Meyer Lemons can be used in any recipe calling for standard lemons. The peel can be zested or candied, the juice can be used for baking or cooking, cocktails, and lemonade. Note that they are slightly sweeter.
Should Meyer Lemons Be Refrigerated?
Yes, To prolong the life of your Meyer lemons, keep them in the crisper/produce drawers of your refrigerator. It will prevent them from drying out and extend their shelf life to about 2 weeks.
You May Also Like:
Stay in touch through social media @ Instagram, Facebook, and Pinterest. Don't forget to tag me when you try one of my recipes! And if you love the results, please give it a 5-star rating in the recipe card. Note: As an Amazon Associate, I earn from qualifying purchases. Visit my Amazon Store for my favorite products.
The Recipe:
Meyer Lemon Bars
Prep Time 15 minutes
Cook Time 40 minutes
Total Time 55 minutes
Yield 16 servings
A twist on the  classic lemon bars featuring a slightly sweeter cousin to the classic lemon, the Meyer lemon!
Ingredients
1/2 cup butter, at room temperature
1/4 cup sugar
1 cup flour
Dash of salt
3 eggs
1 cup sugar (use 1 1/2 cups if using regular lemons)
1 tablespoon grated lemon zest
1/2 cup Meyer lemon juice
1/2 cup flour
Powdered sugar for dusting
Instructions
Preheat oven to 350º. If you'd like, line 8 x 8 pan with nonstick foil for easy removal.
Beat butter and sugar with an electric mixer, then slowly add flour and salt till just mixed.
Gather dough and press into a ball. Pat into the bottom of the pan. Chill.
Bake crust for 15 minutes, till lightly browned. Cool on rack. Leave oven on.
Whisk together eggs, sugar, zest, juice, and flour until combined.
Pour over crust and bake for 25 minutes or till filling is set. Cool to room temperature.
Cut into bars and dust with powdered sugar just before serving.
Notes
Adapted from Ina Garten
Recommended Products
As an Amazon Associate and member of other affiliate programs, I earn from qualifying purchases.
Nutrition Information:
Yield:
16
Serving Size:
1 bar
Amount Per Serving:
Calories: 198
Total Fat: 7g
Saturated Fat: 4g
Trans Fat: 0g
Unsaturated Fat: 2g
Cholesterol: 50mg
Sodium: 71mg
Carbohydrates: 33g
Fiber: 0g
Sugar: 23g
Protein: 2g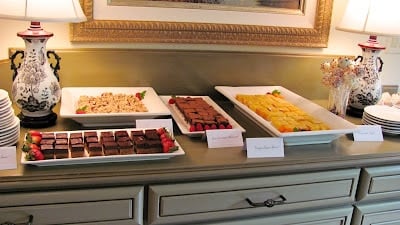 Note: This post may contain affiliate links; view
my Disclosure Policy
for details. I earn a small percentage from any purchase you make by clicking on these links at no extra cost to you.