Meyer Lemon Tart with Meringue Topping
This rich Meyer Lemon Tart has a graham cracker crust, dreamy lemon filling and a billowy topping of meringue. You'll love this citrus dessert!
Check out my tips for making a perfect meringue topping, which includes using superfine sugar which will dissolve more easily into the egg whites.
Why You Should Make this Lemon Tart
Lemon meringue pie was one of the first desserts I made in my childhood kitchen. My mom gave us free rein when it came to cooking—and nobody complained if I baked up something sweet.
There's something magical about the sweet meringue topping paired with a tart lemon filling!
Tarts are easier to make than pies with a pastry crust. This graham cracker crust is just pressed into the tart pan, baked and cooled!
Lemon desserts are perfect for winter and early spring when berries and summer fruit are not yet in season.
Tips for a Perfect Meringue Topping:
This Meyer Lemon Tart with Meringue Topping is a delicious excuse to hone my meringue skills. I'm certain I used NONE of these hints back then, but assure you they will help make the best meringue topping.
PRO-Tip: Your bowl and beaters must be scrupulously clean.
Any trace of oil (including a bit of egg yolk in your whites) will prevent the whites from whipping up properly.
PRO-Tip: Eggs will separate best when cold.
PRO-Tip: Egg whites will beat best when at room temperature.
Use superfine sugar to ensure the granules dissolve into the whites. Domino's brand is found at many grocery stores.
Add sugar slowly to allow it to dissolve properly. Start adding after the egg whites get foamy.
Do not over-beat your meringue. If the end result looks dry, you've gone too far.
If your recipe does not call for cream of tartar, you might consider adding 1/4-1/2 teaspoon per 3 egg whites to help stabilize your meringue.
I was so happy to get my hands on these super convenient Flip-Top Canisters from Domino® Sugar. They've made cooking and baking just that much easier! Here's the scoop on the flip-top sugar varieties:
This free-flowing brown sugar does not clump or harden and is available in a new, attractive and easy-to-use dispenser with a recloseable flip-top lid. The sleek dispenser comfortably fits in the hand for easy pouring or sprinkling and can sit out on your kitchen table.
The convenient dispenser makes measuring out brown sugar for recipes neater, without having to pack the sugar. The granulated brown crystals are great for sprinkling over fruit, to sweeten oatmeal and cereals.
Pourable Brown Sugar measures cup for cup as regular brown sugar. No need to try to "pack it" when measuring.
Quick Dissolve Superfine Sugar is also available in a new, attractive and easy-to-use dispenser with a recloseable flip-top lid. The sleek dispenser comfortably fits in the hand for easy pouring and can sit out on your kitchen table, eliminating the need to refill a sugar bowl. It's a convenient, neat way to store and keep sugar handy for everyday sweetening.
Quick Dissolve Superfine Sugar has finer sugar crystals than those found in traditional granulated sugar, allowing it to rapidly blend when sweetening hot or cold beverages. Ideal for hot coffee, and even cold drinks like iced tea, lemonade or smoothies. It's also excellent for making meringue pies, pavlova as well as sweetened whipped cream.
Availability
Look for Domino® Sugar flip-top canisters, or its sister brand, C&H® Sugar (available in the western half of the US), at a grocery store near you. These new canisters are the perfect fit for your kitchen. For a Domino sugar coupon, visit the Domino Sugar website or for C&H® brand (on the west coast), stop by C&H's website.
Frequently Asked Questions
What Are Meyer Lemons?
This citrus is thought to be a cross between standard lemons and either a mandarin or a common orange, creating a sweeter and less acidic fruit. They have a slightly orange hue. Their juice and zest are marvelous in desserts like this sublime lemon meringue tart.
How Long Does a Lemon Tart Last in the Fridge?
Because the meringue is fragile, a lemon tart topped with meringue is best for just 2-3 days in the refrigerator.
Can You Freeze a Lemon Tart?
This lemon tart does not freeze well.
How to Store a Lemon Tart
This tart should not be left at room temperature longer than 2 hours due to the risk of spoiling. Keep it refrigerated covered with foil instead of plastic wrap as the plastic will stick to the meringue.
The Verdict
The two pickiest taste testers in the house adored it! If you live in the boonies, and cannot locate Meyer lemons, this tart would be just as enticing using ordinary lemons. And while you're hunting down those Meyer lemons, don't forget to grab some Quick Dissolve Superfine Sugar in a handy flip-top canister. You won't be disappointed!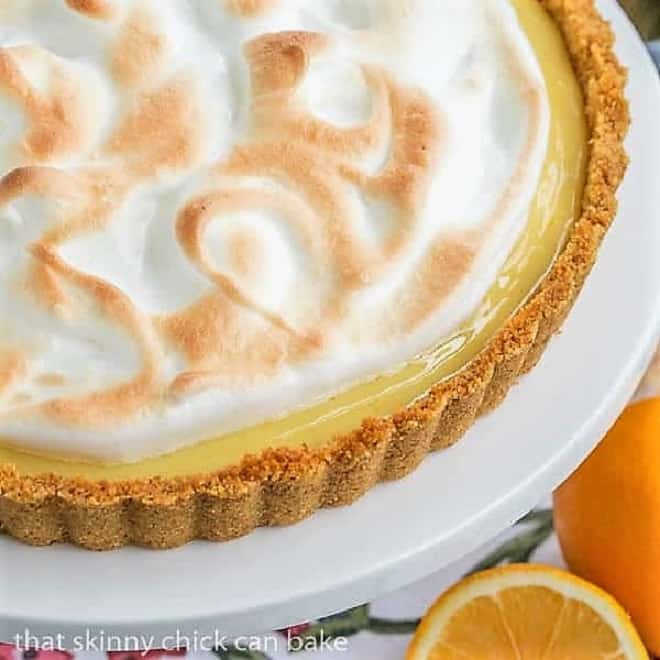 More Lemon Desserts
The Recipe:
Meyer Lemon Tart with Meringue Topping
Prep Time 40 minutes
Cook Time 22 minutes
Total Time 1 hour 2 minutes
Yield 8 servings
A decadent Meyer lemon tart topped with a pillow of meringue
Ingredients
Crust:
1 1/2 cups graham cracker crumbs
3 tablespoons sugar
1/3 cup butter, melted
Filling:
1 can (14 ounces) sweetened condensed milk
1/2 cup Meyer lemon juice (juice from about 2 lemons)
1 teaspoon Meyer lemon zest
3 egg yolks
Meringue:
3 egg whites*, at room temperature
1/4 teaspoon cream of tartar
1/4 cup Superfine Sugar
Instructions
Preheat oven to 350º. In a medium bowl, mix together graham cracker crumbs, sugar and melted butter. Pat mixture onto the bottom and sides of a greased, 9-inch tart pan with removable bottom. Bake for 8 minutes. Cool on rack.
Decrease oven temperature to 325º.
When crust is cool, whisk together sweetened condensed milk, lemon juice and lemon zest. Whisk in eggs. Pour in crust and bake for 10-12 minutes or till only center of tart is jiggly.
Make meringue. Beat egg whites with cream of tartar till foamy. Slowly add in superfine sugar until meringue forms stiff peaks but is not dry.
Pour meringue into middle of tart and spread almost to the edges. Using spoon or small offset spatula, swirl meringue to make peaks and whirls.
Place under broiler for about two minutes, watching very carefully to prevent burning and broil, turning if needed to lightly brown meringue topping.
Cool before serving.
Notes
Total time does not include cooling time.
Store tart in refrigerator.
*It is not recommended that young children, elderly or the immunosuppressed consume undercooked eggs.
Recommended Products
As an Amazon Associate and member of other affiliate programs, I earn from qualifying purchases.
Nutrition Information:
Yield:
8
Serving Size:
1 slice
Amount Per Serving:
Calories: 223
Total Fat: 11g
Saturated Fat: 6g
Trans Fat: 0g
Unsaturated Fat: 5g
Cholesterol: 91mg
Sodium: 166mg
Carbohydrates: 27g
Fiber: 1g
Sugar: 18g
Protein: 4g
Note: This post may contain affiliate links; view
my Disclosure Policy
for details. I earn a small percentage from any purchase you make by clicking on these links at no extra cost to you.