Rolo Peanut Blossoms
Topping a peanut butter cookie with a caramel-filled chocolate candy gave these Rolo Peanut Blossoms a spectacular caramel advantage over their ordinary counterparts!
This twist on Peanut Blossom Cookies is so irresistible that you may never return to the classic version again!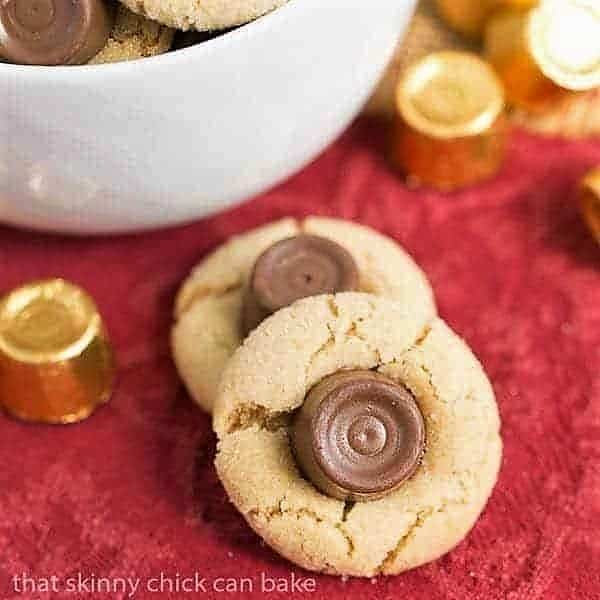 Why You Must Make
I bake the more typical peanut blossoms every Christmas using a chocolate star instead of a Hershey's Kiss, but adding a chocolate caramel candy is even more delicious!!
Perfect for peanut butter cookie fans that also love caramel!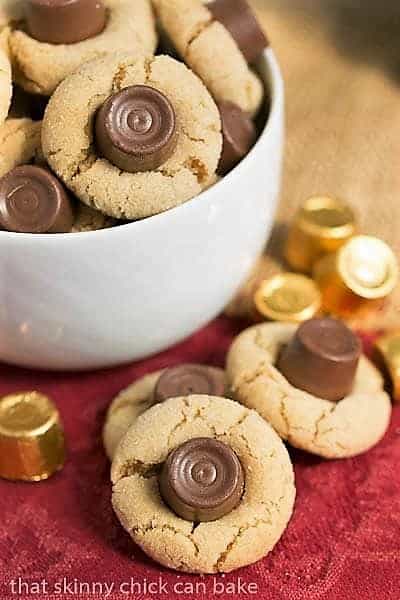 Peanut Butter Blossoms for Caramel Lovers
If this is a new combination to you, let me tell you, it works! Warm from the oven you get some ooey gooey chocolate and caramel, but they're just as scrumptious as they come to room temperature. These gems are perfect for caramel lovers! You'll also love these Peanut Butter Cookie Cups topped with either Rolos or Reeses.
While these peanut blossoms were a hit with my two chocolate-peanut butter fans, the hubby reminded me for the umpteenth time that he doesn't do peanut butter desserts. Oh, well. More peanut butter blossom cookies for me!
Recipe Tips
PRO-Tip: Lining your baking sheets with parchment paper makes for easy cleanup and eliminates any greasing of your pans.
To make evenly sized cookies, use a cookie scoop.
PRO-Tip: Roll the dough balls between your palms to make them nice and round. This will make the baked cookies more symmetrical.
Whether you use Rolos, Kisses, or Chocolate Stars, press the candies into the middle of the cookies as soon as they come out of the oven. Work quickly as the candy will start melting if you hold onto it too long, and the candy will adhere best while the cookies are hot.
Let the cookies cool completely if you're packaging them as gifts as you want the chocolate to solidify before putting them in cellophane bags or gift boxes.
Storing these peanut blossom cookies in the refrigerator can cause the chocolate to bloom or get a gray cast. This doesn't impact the quality, just the appearance.
Frequently Asked Questions
Who Created Peanut Blossoms?
Freda Smith invented peanut blossoms after baking peanut butter cookies for her grandsons. She thought they looked too plain so added a Hershey's Kiss to the warm cookies.
Why Are These Called Blossom Cookies?
When Freda first added Kisses to her peanut butter cookies, she thought they looked like black-eyed Susan flowers. But when she entered them into the 1957 Pillsbury Bake-Off, Pillsbury changed the name to Peanut Blossoms. They did not win the grand prize, but instead were awarded the "senior grand national winner" of the cookie division.
What Other Chocolates Can You Add to Peanut Blossoms?
You can add any flavor of chocolate kisses that pair well with peanut butter. This depends on your palate, but I would avoid any of the mint flavors you can find around Christmas. I like using chocolate stars as well as peanut butter cups and Rolos.
You May Also Like: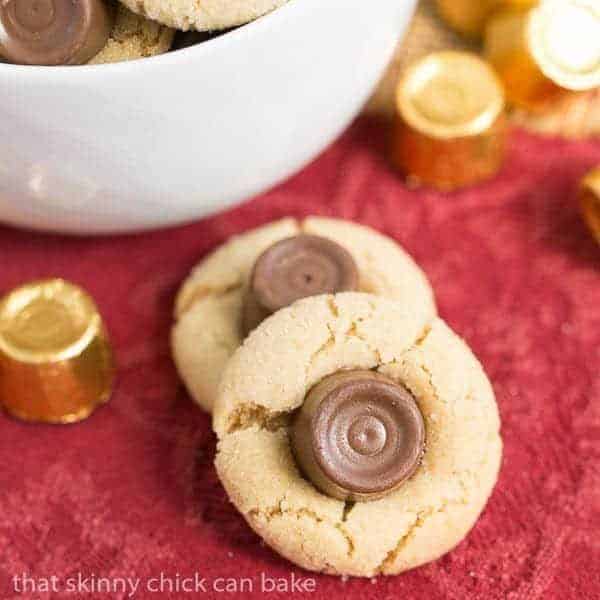 The Recipe:
Rolo Peanut Blossoms Recipe
Prep Time 20 minutes
Cook Time 10 minutes
Total Time 30 minutes
Yield 48 cookies
Peanut blossom cookies topped with Rolos. Basic recipe adapted from Land O Lakes.
Ingredients
½ cup sugar
½ cup brown sugar
½ cup butter, at room temperature
½ cup peanut butter
1 egg
1 teaspoon vanilla
¼ teaspoon salt
1 ¾ cups flour
1 teaspoon baking soda
¼ cup sugar
48 Rolo candies, unwrapped
Instructions
Preheat oven to 375°. Line baking sheets with parchment paper.
Beat together ½ cup sugar, brown sugar, softened butter, and peanut butter until light and fluffy.
Add egg, vanilla, and salt and beat until well-mixed. Add flour and baking soda and mix till combined, scraping the bowl as needed.
Place the ¼ cup sugar in a shallow bowl. Shape dough into 1-inch balls and roll in sugar. Place 2 inches apart on baking sheets.
Bake 8-10 minutes till lightly browned. Immediately press one Rolo in the center of each cookie. Remove to cooling racks.
Notes
To make your dough balls nice and round, roll them between your palms before rolling them in sugar.
Press the candy into the middle of each cookie right when they come out of the oven while the cookies are still warm and pliable.
Nutrition Information:
Yield:
48
Serving Size:
1 cookie
Amount Per Serving:
Calories: 99
Total Fat: 5g
Saturated Fat: 2g
Trans Fat: 0g
Unsaturated Fat: 2g
Cholesterol: 10mg
Sodium: 79mg
Carbohydrates: 13g
Fiber: 0g
Sugar: 9g
Protein: 2g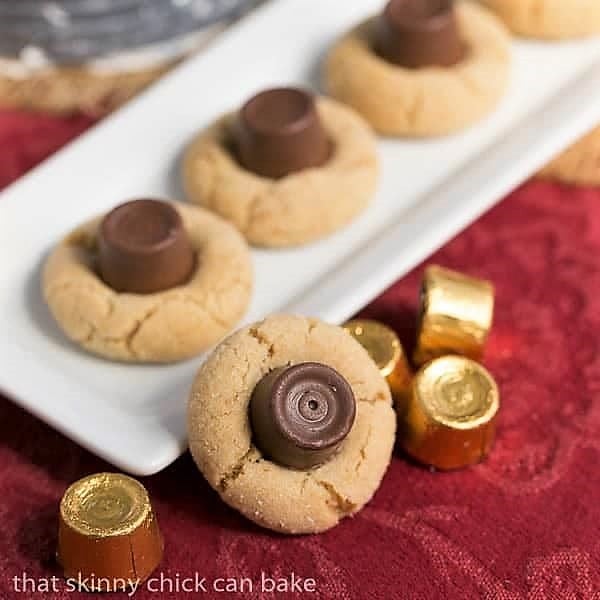 Note: This post may contain affiliate links; view
my Disclosure Policy
for details. I earn a small percentage from any purchase you make by clicking on these links at no extra cost to you.