Next Day Beef Salad
Dorie Greenspan provided the marvelous recipe for Next-Day Beef Salad utilizing the night before's leftovers, and OXO furnished the tools to tidy up and organize my messy kitchen.
Add this terrific entree to your list of Leftover Roast Beef Recipes. This loaded entree salad is perfect on a hot summer night.
Next-Day Beef Salad
I stink at repurposing leftovers. When I roast a chicken, we eat roast chicken for a couple of days. I'm certain I could be much more inventive with soups, enchiladas, even chicken salad.
This week, Dorie has us use leftover roast beef and whatever is lurking in the fridge to whip up a masterful entree salad, this Next-Day Beef Salad. I needed this push to remind me that my menus had become a bit humdrum and, with a little effort, I could transform the night before's dinner into something special.
Things to Know
The cold, rare roast beef was the star of the show. Dorie's recipe for her next-day beef salad instructed us to cube it, but I figured slices might be more appealing to the hubby. Either way works!
And I couldn't bear to coat the rosy piece in the mustard-mayo dressing, so I served it on the side. Feel free to toss the salad with dressing before serving.
To start, add a bed of greens as the base, followed by a melange of green onions, green olives, diced bell pepper, halved grape tomatoes, sliced cornichons, and diced tart apple (which I saw on the counter, whole, after taking my photos).
If the mustard sauce is too pungent (as it was for my delicate sensibilities (ha!), do as I did and thin it with some vinaigrette.
This was a lovely change of pace, though Bill was a bit disheartened that this beef wasn't served with gravy and mashed potatoes! He did admit that it was "pretty good." I'll call that a victory.
If you like entree salads, check out this Beef Taco Salad and this Ramen Noodle Salad with Chicken.
Find more Salad Recipes and Beef Recipes in my Recipe Index.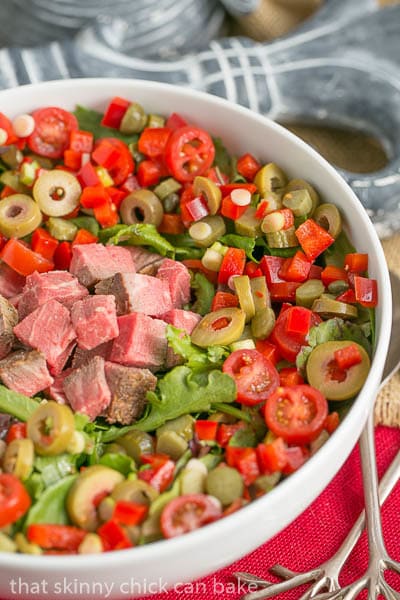 The Recipe:
Next Day Beef Salad
Prep Time 20 minutes
Total Time 20 minutes
Yield 4 servings
A delicious way to repurpose leftover roast beef or steak! A cool, fresh entree that's perfect on a hot summer's day.
Ingredients
For Salad:
1 pound cooked and cooled roast beef or steak (use leftovers)
1 spring onion, trimmed, halved lengthwise, and finely chopped (scallions are fine)
20 green olives, pitted and sliced
10 cornichons, drained and thinly sliced
10 grape tomatoes, cut in half
1 tablespoon drained capers
Salt and freshly ground black pepper
Arugula, spinach, or mixed salad greens tossed with a little olive oil
Olive oil, for greens
Dressing:
6 tablespoons mayonnaise
1½ tablespoons grainy mustard
1½ teaspoons Dijon mustard, optional
Oil and vinegar to thin, optional (I found the dressing was a bit too pungent and thinned with some vinaigrette)
Instructions
Fill a large salad bowl with greens. Scatter the rest of the ingredients over the greens.
In a small bowl, whisk together the mayonnaise and grainy mustard. Taste dressing and, if you think you want a little more heat, blend in the Dijon mustard. Add salt and pepper to taste.
Pass the salad and the dressing.
Notes
From Dorie Greenspan's "Around My French Table" (Houghton Mifflin Harcourt, New York, 2010)
Nutrition Information:
Yield:
4
Serving Size:
1
Amount Per Serving:
Calories: 637
Total Fat: 51g
Saturated Fat: 13g
Trans Fat: 0g
Unsaturated Fat: 34g
Cholesterol: 107mg
Sodium: 768mg
Carbohydrates: 11g
Fiber: 5g
Sugar: 5g
Protein: 34g
The recipe can also be found in Dorie Greenspan's magnificent cookbook,
Around My French Table.
If you'd like to see what the other "Doristas" thought of this Next-Day Beef Salad, check out the LYL section for this recipe on the French Fridays website.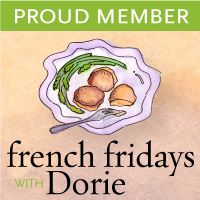 Note: This post may contain affiliate links; view
my Disclosure Policy
for details. I earn a small percentage from any purchase you make by clicking on these links at no extra cost to you.