Beef Taco Salad with Salsa Dressing
This Ground Beef Taco Salad with Salsa Dressing plus all the usual taco fixings makes for a scrumptious, fresh, and vibrant entree. Seasoned ground beef anchors the meal and the rest is up to you!
With your favorite Taco Salad Toppings, you can personalize this meal to fit your palate!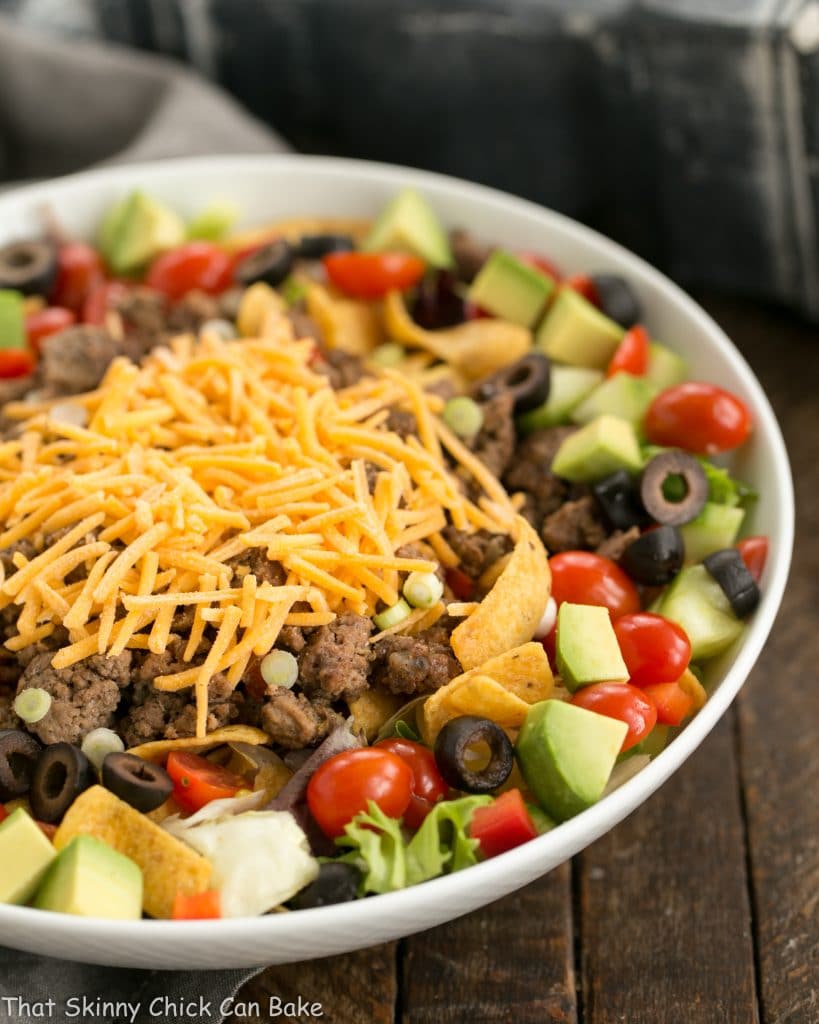 Why You Must Make
Back in my college days, my gal pals and I would order loaded Tex-Mex salads served in a deep-fried taco shell thinking we were being virtuous. Our young metabolisms could handle the calorie load, but I'm sure the numbers weren't pretty!
Nowadays, I like to focus on the veggies, so I loaded this salad with lettuces, tomatoes, avocados, cucumber, and red bell peppers for a healthier taco salad. A few corn chips and olives and a drizzle of salsa dressing added even more textures and flavors!
It's easy to tweak this entree salad with your favorite taco salad toppings and make it your own!
Another marvelous salad with a similar flavor palate is this Low-Carb Southwest Chicken Salad with Chipotle Ranch Dressing.
Expert Tips
I wasn't sure the hubby would be thrilled with a "salad" for dinner even though it is quite hearty. So as I predicted, the flour tortillas I had also purchased came in handy. Instead of taco salad, he was quite pleased with plain ol' beef tacos, a little side salad, and a whole lot of Fritos for dinner!
To shake things up, consider spicing up some rotisserie chicken and using that instead of the ground beef. Monterey Jack cheese or a blend would work swimmingly. And if you don't like avocados (not sure who doesn't except for my picky husband) or black olives, just leave them out.
Feel free to use whatever salad dressing you fancy in this Tex-Mex salad! French or Catalina would be delicious! With or without the salsa dressing, this beef taco salad would be fabulous on a warm spring or summer day.
Try a taco salad with Doritos instead of Fritos if that's what you have on hand.
Add corn, radishes, jalapenos, and even fresh herbs to shake things up!
I like using my homemade taco seasoning when browning up the ground beef, but spice it up however you like.
Frequently Asked Questions
What is a Taco Salad?
Taco salad is typically a lettuce-based entree salad that's made with all your favorite taco fillings and toppings. Greens are layered with seasoned ground beef, chopped tomatoes, avocadoes, black olives, and cheddar cheese. It's often served in a bowl made from a fried or baked tortilla shell and/or tortilla chips.
What Do You Eat with Taco Salad?
Your favorite Tex-Mex sides are perfect to pair with a taco salad. Chips and salsa, pico de gallo, and/or guacamole, quesadillas, Spanish rice or Mexican street corn would all pair well.
Can You Make Taco Salad with Chicken?
Yes, you can use seasoned ground chicken or shredded chicken instead of beef for your taco salad recipe.
In fact, any favorite protein will work. Try it with leftover salmon, black beans, and more!
You May Also Like
Ground beef is a staple in our freezer, but I tend to make the same dishes over and over. Here are a few ideas if you need inspiration, too!
The Recipe:
Beef Taco Salad with Salsa Dressing
Prep Time 20 minutes
Cook Time 15 minutes
Total Time 35 minutes
Yield 3
Beef Taco Salad with Salsa Dressing plus all the usual taco fixings makes for a scrumptious, fresh and vibrant entree.
Ingredients
Salad:
3/4 cups cooked ground beef taco meat (I cooked with my homemade taco seasoning, minced onion, red bell pepper and minced garlic)
5 ounces spring greens or favorite lettuces
1 cup Fritos corn chips
2 scallions, sliced thinnly
1/2-1 cup grape tomatoes, cut in half
1/2 -1 avocado cubed
2 tablespoons cubed cucumber
2 tablespoons sliced black olives
2 tablespoons diced red bell pepper
Salsa Dressing:
1/2 cup sour cream
2-3 tablespoons salsa, to taste
Lemon juice, to thin dressing, to taste
Instructions
Rewarm taco meat if needed.
Layer lettuce and then Fritos into a large salad bowl. Place the taco meat in the center of the bowl. Disperse the rest of the ingredients around the perimeter, saving the cheese for last.
To make the dressing, whisk together the sour cream and salsa to taste. Taste and add lemon juice to taste.
Pass the salad along with the dressing to serve.

Notes
Feel free to swap out ground beef for cooked, shredded chicken (season with taco spices) and add or eliminate any of the other ingredients according to your preferences. A bottled French dressing works well with this salad, too.

Nutrition Information:
Yield:
3
Serving Size:
1
Amount Per Serving:
Calories: 878
Total Fat: 58g
Saturated Fat: 14g
Trans Fat: 1g
Unsaturated Fat: 39g
Cholesterol: 79mg
Sodium: 994mg
Carbohydrates: 68g
Fiber: 11g
Sugar: 6g
Protein: 27g
Note: This post may contain affiliate links; view
my Disclosure Policy
for details. I earn a small percentage from any purchase you make by clicking on these links at no extra cost to you.