Fresh Salmon Cakes with Homemade Remoulade
These Fresh Salmon Cakes with Homemade Remoulade are an elegant version of comfort food!
Ditch the canned salmon and try making Salmon Patties with Fresh Salmon using wholesome, delicious ingredients! And save the remoulade recipe to use with your next batch of crab cakes–it's amazing!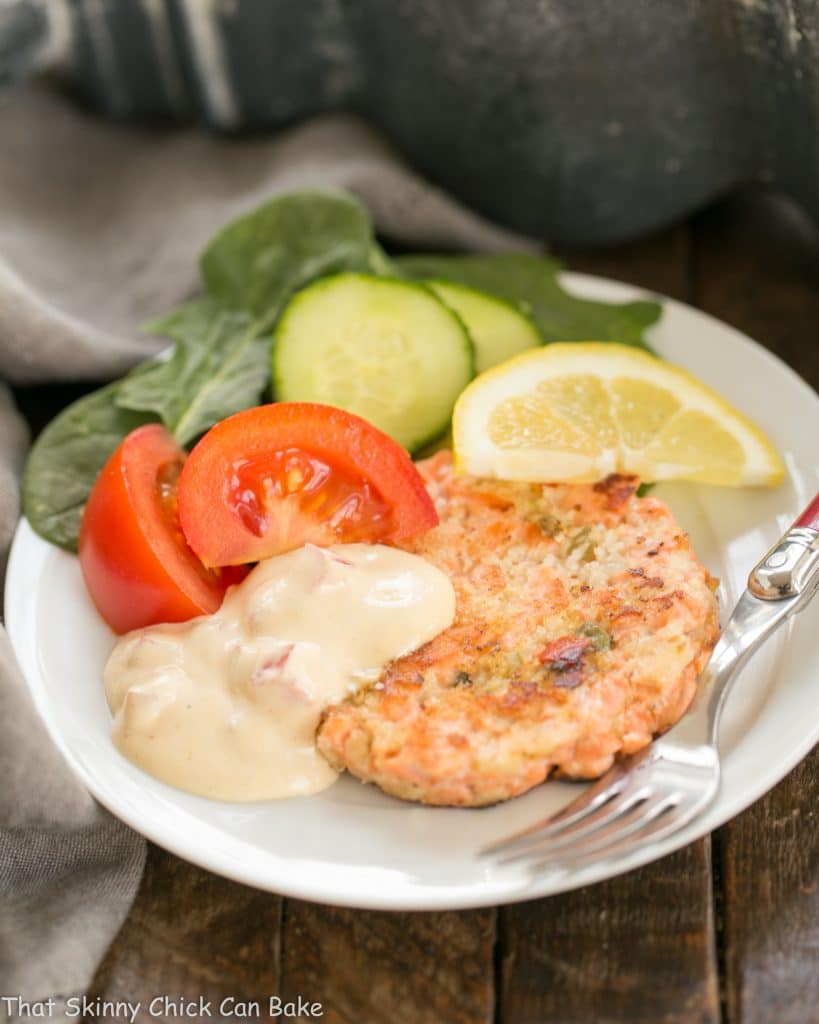 Why You Must Make
Making with fresh salmon vs. canned tastes so much better!
It's a great appetizer or Lenten dinner.
The homemade remoulade sauce is the pièce de résistance!!
When Lent rolls around each year, I have a handful of seafood and meatless recipes to make on Fridays. Bill loves his tuna casserole and salmon loaf, plus I make a mean cheese souffle. We love trying new salmon recipes, and I definitely needed to get out of my rut. Thankfully, fresh salmon cakes came to mind.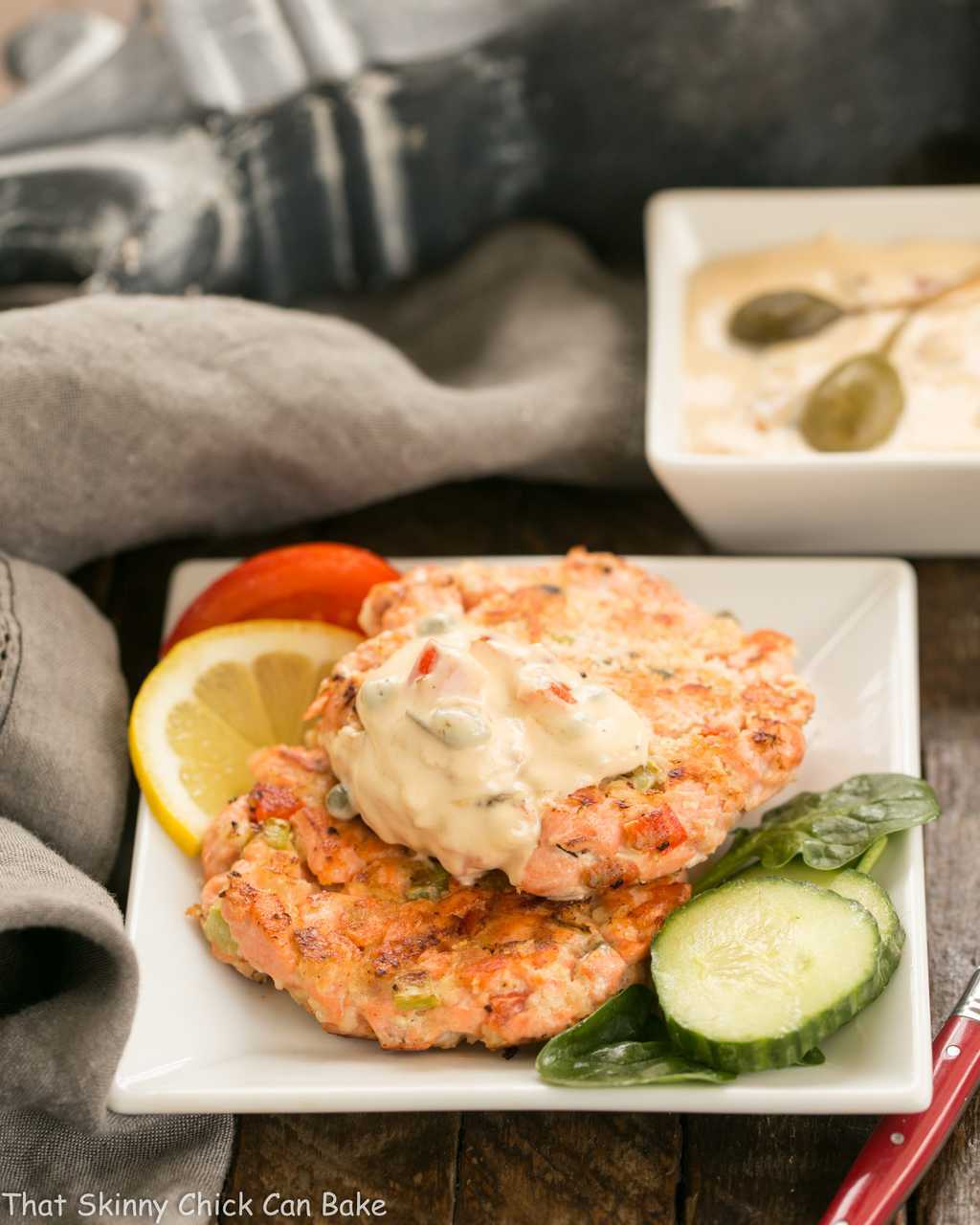 Expert Tips
These fresh salmon cakes were a hit with the family. I wasn't sure if Bill would reach for the ketchup, but he was quite pleased with a dollop of remoulade atop his patties. I even ate a couple of the cold leftovers right out of the fridge!
PRO-Tip: These can certainly be made with canned salmon, but it must be drained well and even set on paper towels to absorb the excess liquid before using. You may need some extra breadcrumbs.
Since these don't have much binder to hold them together other than a bit of mayo and bread crumbs, they are fragile.
PRO-Tip: You may use a biscuit cutter as a template to make the patties as round as possible. I simply placed the cutter on the pan, packed in the raw salmon mixture, and let cook for just a minute to allow the salmon to firm up a bit before lifting it off for the remainder of the cooking time. This is definitely an extra step only if you care a lot about their appearance. My family would eat these looking like blobs or amoebas in action, so do as you please!
Feel free to make bite-sized versions for appetizers, too.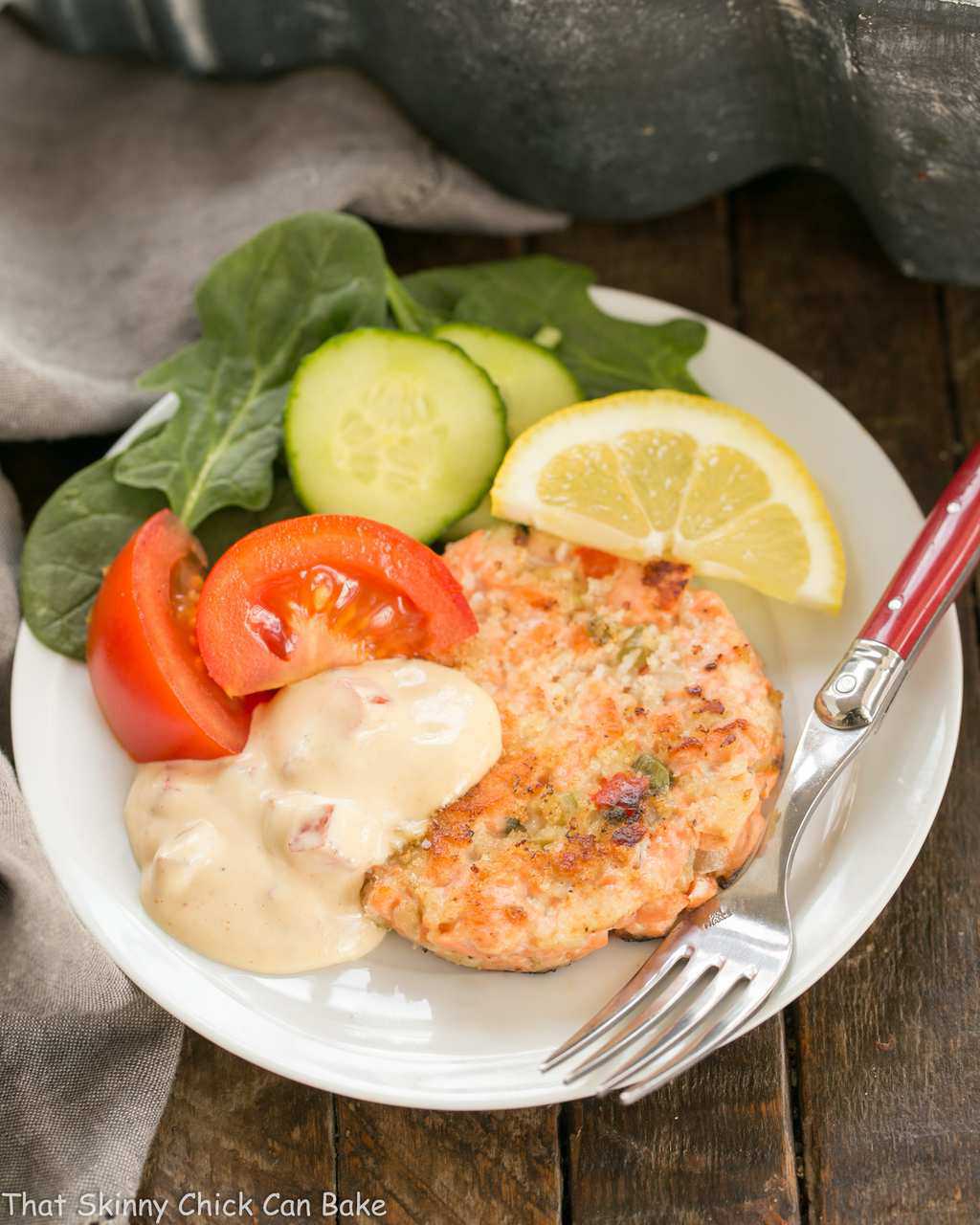 Frequently Asked Questions
How to You Prep Salmon for Salmon Cakes?
Check your salmon for bones and skin and remove as needed. Then coarsely chop your salmon.
How Do You Keep Salmon Patties from Falling Apart?
Using binders is key, but it's also important to use a gentle hand when flipping as they are delicate. Most recipes use bread crumbs, but eggs and/or mayonnaise also help hold the salmon cakes together.
Are Salmon Cakes Healthy?
Yes! Salmon is full of nutrients including protein, B Vitamins, Vitamin D, and Omega 3 Fatty Acids.
You May Also Like: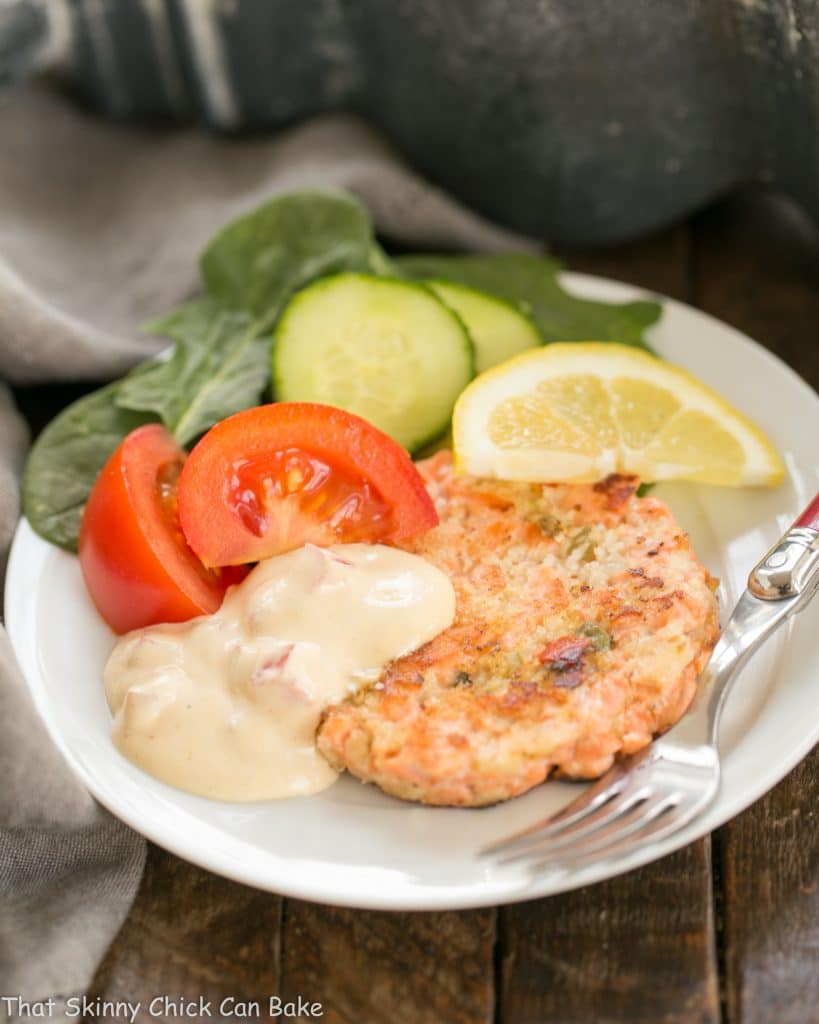 The Recipe:
Fresh Salmon Patties with Homemade Remoulade
Prep Time 30 minutes
Cook Time 8 minutes
Total Time 38 minutes
Yield 3
Ditch the canned salmon and make these flavorful fresh salmon cakes with homemade remoulade from scratch!
Ingredients
Salmon :
3 tablespoons olive oil, divided
1/4 cup minced onion
2 tablespoons minced red bell pepper
2 tablespoon minced celery
Salt and pepper, to taste
1 tablespoon capers
1 1/4 pounds fresh salmon, wild preferred, coarsely chopped
1/4 cup mayonnaise
1/4 cup plus 1 tablespoon panko bread crumbs, divided
2 cloves garlic, minced
1 teaspoon Dijon mustard
1 pinch cayenne pepper
1 pinch Old Bay seasoning
Remoulade:
1/2 cup mayonnaise
1/4 cup Dijon mustard
1 tablespoon capers
2 tablespoons diced tomato
1 teaspoon sriracha
Salt and pepper to taste, as desired
Instructions
To make salmon patties, heat olive oil in a skillet over medium. Saute the onion, red pepper, celery, and a pinch of salt in hot oil until the onion is soft and translucent, about 5 minutes. Add capers and cook for another minute. Remove from heat and cool to room temperature.

Mix together the salmon, onion mixture, mayonnaise, 1/4 cup panko, garlic, mustard, cayenne, Old Bay seasoning, salt, and ground black pepper together in a bowl until well-mixed. Cover the bowl with plastic wrap and chill for 1-2 hours.
Form the salmon mixture into round patties then sprinkle the remaining panko bread crumbs over each patty.
Heat olive oil in a skillet over medium heat. Cook until golden and cooked through, 3 to 4 minutes per side.
To make the remoulade, mix all ingredients and season to taste. Process in a food processor if you'd like a smooth sauce.
Serve hot with remoulade sauce on the side.
Notes
Recipes adapted from Cindy Peyton and All Recipes.
This recipe makes 3-4 servings. The number of patties depends on the size you make them.
Nutrition Information:
Yield:
3
Serving Size:
1
Amount Per Serving:
Calories: 924
Total Fat: 79g
Saturated Fat: 13g
Trans Fat: 0g
Unsaturated Fat: 62g
Cholesterol: 142mg
Sodium: 1464mg
Carbohydrates: 8g
Fiber: 2g
Sugar: 3g
Protein: 44g
Calories reflect using ALL the remoulade sauce which is not necessary.
I remember cracking up when my high school friend, Lisa, told me that she was having "salmon patties," for dinner. Ewwww….they sounded awful to my squirrely, immature 16-year-old ears. But how was I to know how fabulous they could be when I had never tasted them.
I'm definitely a convert since those judgmental teenage years! And adding a homemade remoulade sauce, that even Bill adored, made these salmon cakes a gourmet treat.
Note: This post may contain affiliate links; view
my Disclosure Policy
for details. I earn a small percentage from any purchase you make by clicking on these links at no extra cost to you.