Smoked Salmon Reuben Sandwich
We took a dream vacation to Alaska this summer, and I ate salmon at every port. When in Icy Straits Point for a whale-watching cruise, I spied a restaurant menu with a Smoked Salmon Reuben Sandwich listed as an entree.
But by the time we returned from our excursion, they were sold out of this tempting Reuben Sandwich Recipe. What's a girl to do other than copy down the sandwich description and make it at home!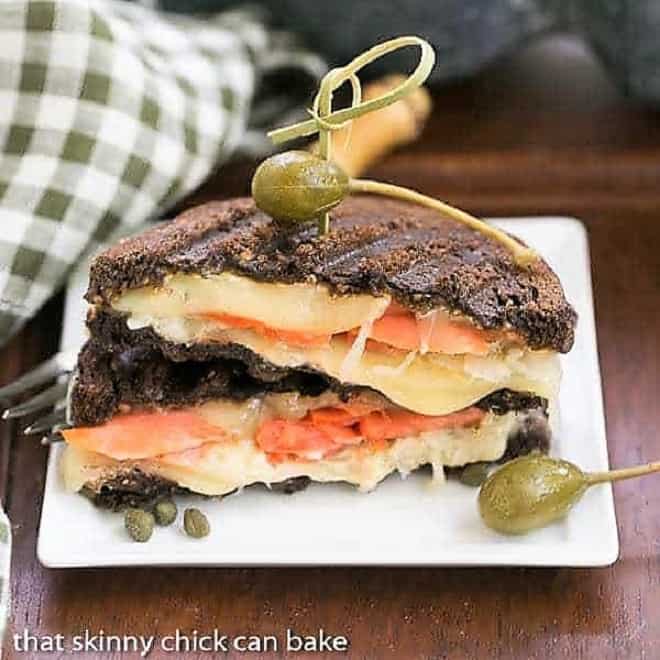 Why You Must Make
The picky hubby didn't show much interest in this smoked salmon Reuben sandwich (shocking, I know!), so I made these beauties for our youngest son, Nick, and me. Like me, he eats pretty much anything.
My son, Nick, and I both thought this twist on a Reuben was outstanding. I think you will, too!
This is a unique and delicious new way to use smoked salmon!
I'm a huge fan of the classic Reuben with corned beef and thousand island dressing and the Caribbean-inspired Cubano sandwich, but the smoked salmon and spicy remoulade gave both a run for their money! Try the sauce on crab cakes as well. It's amazing with a bit of heat from Sriracha, diced tomatoes, and capers.
Reader Endorsement:
From Pam via the comments: This is an amazingly delicious sandwich. A while back I had some smoked salmon (hot smoked from Wild Alaskan Company) and thought to myself that it would probably taste good in a Reuben but I'm not very confident about my palate so I googled looking for a recipe. Found this one. Made it. Hands down one of the very best sandwiches I've ever had. My husband, who is not generally a fan of fish in general or salmon in particular, said I MUST make this again. And, I will.
Serving Suggestions:
I love to order a Reuben sandwich if it's on a lunch menu. It's excellent served with:
Frequently Asked Questions
What is a Reuben Sandwich?
A Reuben is a sandwich made on rye bread with lots of sliced corned beef, Swiss cheese, and sauerkraut that can be served sauteed or cold. It's said to be created by a New York City deli owner, Arthur Reuben.
What's the Sauce in a Traditional Reuben?
Russian salad dressing, either homemade or storebought, is the most traditional sauce used on a Reuben sandwich, but Thousand Island dressing is another popular alternative.
You May Also Like:
The Recipe:
Smoked Salmon Reuben Sandwich
Prep Time 15 minutes
Cook Time 6 minutes
Total Time 21 minutes
Yield varies
A twist on the classic Reuben sandwich made with smoked salmon
Ingredients
For Spicy Remoulade Sauce (enough for 6-8 sandwiches):
1/2 cup mayonnaise
1/4 cup Dijon mustard
1 tablespoon capers
2 tablespoons diced tomatoes
1 teaspoon Sriracha
For each sandwich:
2 slices of rye or pumpernickel bread
2 slices of Swiss cheese
2 ounces smoked salmon
1-2 tablespoons sauerkraut
1-2 tablespoons remoulade sauce
1 tablespoon butter
Instructions
Make remoulade sauce by whisking all ingredients together in a small bowl.
Preheat a grill pan or panini maker.
Butter one side of two slices of bread. Spread 1 tablespoon of remoulade sauce on the unbuttered side of one slice of bread. Place the bread, the butter side down, on the grill pan and add one slice of cheese, salmon, sauerkraut, then the second slice of cheese.
Smear the second slice of bread with about 1 tablespoon of remoulade sauce and place it sauce side down on the sandwich.
Grill until the bottom layer of cheese starts melting and the bread is browned. Flip and grill until the sandwich is heated through and the cheese is melted.
Slice and serve.
Nutrition Information:
Yield:
1
Serving Size:
1 sandwich
Amount Per Serving:
Calories: 1464
Total Fat: 127g
Saturated Fat: 32g
Trans Fat: 1g
Unsaturated Fat: 89g
Cholesterol: 142mg
Sodium: 4826mg
Carbohydrates: 47g
Fiber: 9g
Sugar: 6g
Protein: 37g
The calories include the WHOLE batch of remoulade sauce, so individual servings will be much less.
Our Alaska Adventure
We spent nearly two weeks exploring our 49th state. After flying into Anchorage, we stopped for lunch in this easy-to-navigate capital city before heading to Denali National Park. Hoping to catch a glimpse of the elusive Mt. Denali, the former Mt. McKinley, we crossed our fingers for a change in the weather.
The overcast forecast was terrific for wildlife sightings, but not ideal for mountain viewing. But we did spot grizzly bears with their cubs, numerous bald eagles, caribou, moose, and Dall sheep. Next, we took a scenic train ride to Seward to catch our cruise down the coast. We had stops along the way and a number of excursions.
Favorite Alaska Destination:
My favorite experience was seeing the massive Hubbard Glacier in all its glory. The cloudy day brought out the blue of the ice and we witnessed large chunks of ice as they broke off into the sea with a thunderous rumble. A breathtaking view of one of the world's natural wonders.
Clockwise from upper left: Kids in the Grande Denali Lodge, kids with antlers in Denali National Park, Hubbard Glacier in Disenchantment Bay from our cruise ship (thunderous noises preceded the "calving" or breaking off of glacial chunks into the bay), and finally, a grizzly bear (one of many we spotted in Denali).
Note: This post may contain affiliate links; view
my Disclosure Policy
for details. I earn a small percentage from any purchase you make by clicking on these links at no extra cost to you.