Easy Smoked Salmon Dip with Capers
Smoked salmon dip is the perfect holiday party appetizer! With just five ingredients, this Easy Smoked Salmon Dip with Capers takes very little time to make and is deliciously addicting! This post is sponsored by DairyPure. As always, all opinions are my own.
When the finickiest member of the family asks if there is more salmon dip, you know you've hit a home run. The bonus is two-fold, super easy to make and a list of ingredients so small that you don't need to write them down on your shopping list!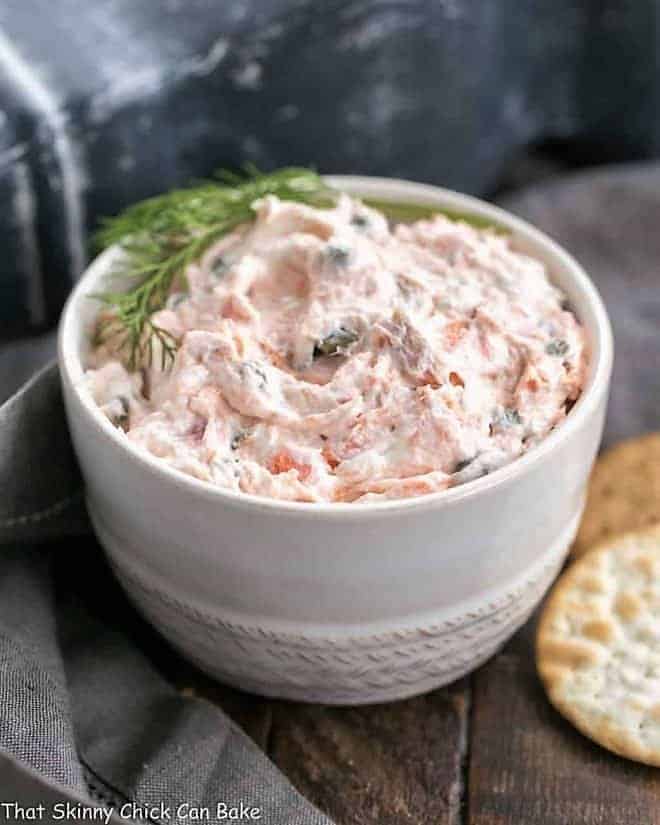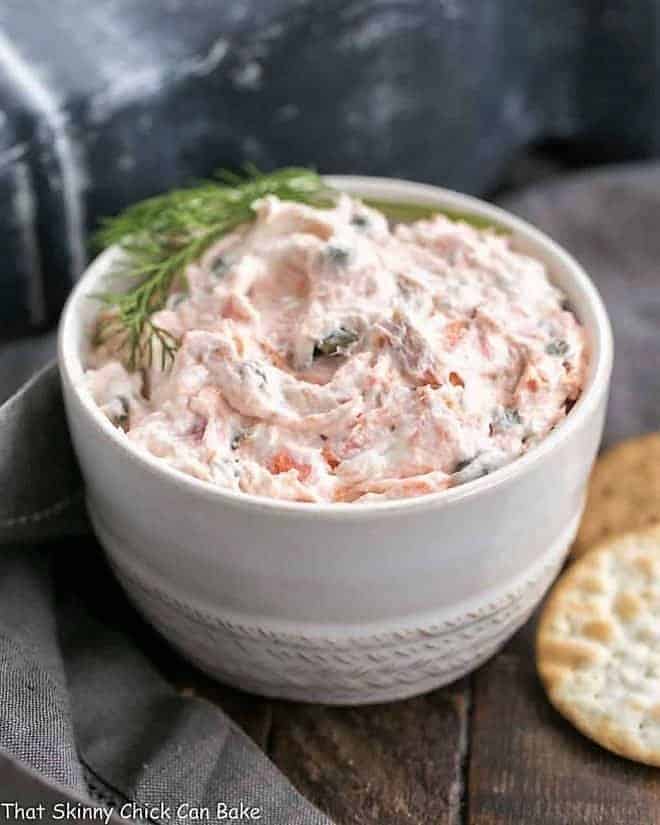 Why You Should Make this Smoked Salmon Appetizer
There's hardly a recipe out there with an ingredient list you can count on one hand. This capers-laden smoked salmon dip is definitely not short on flavor, though short on ingredients!!!
With only five easy-to-find components, you can whip up a terrific appetizer in no time. Perfect for the busy holidays and entertaining!
It's nice to shake up your party menu with a salmon dip. Especially one that tastes amazing!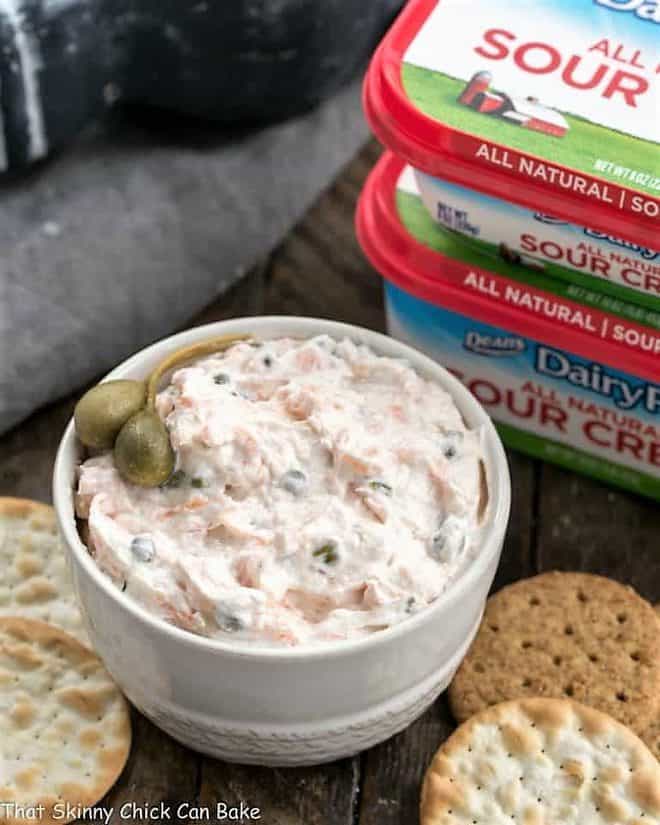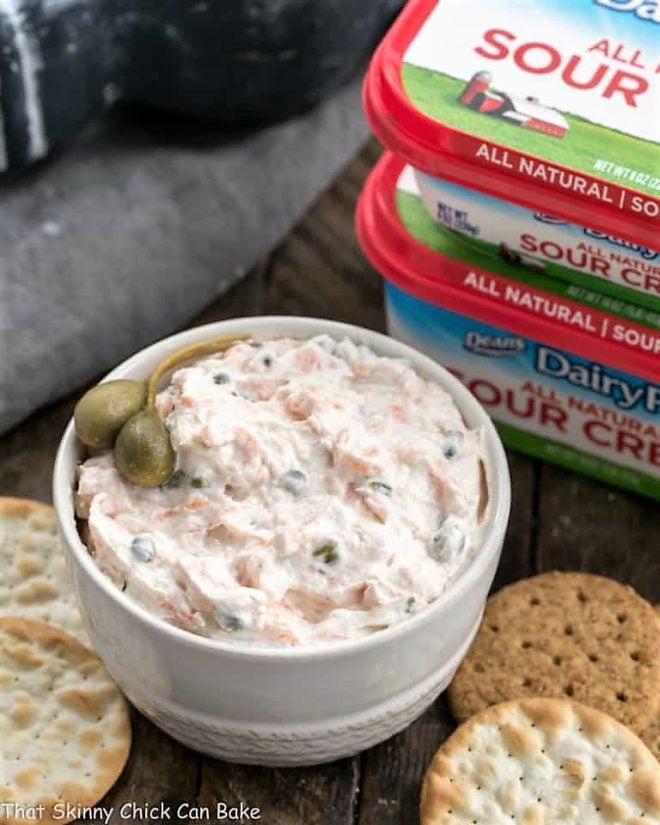 Smoked Salmon Appetizer with Capers
It takes less than 10 minutes to flake or chop the salmon, mix up the sour cream, cream cheese, and Worcestershire before stirring in the salmon bits and capers. My loyal readers know the hubby is a tough sell, but he went nuts for this salmon dip recipe, as did I! It also makes a wonderful spread on bagels.
Are capers a staple in your kitchen? I keep a jar in the fridge for those nights that a quick chicken piccata is on the menu. They come brined or packed in salt. Either will work, just rinse off the salt if you purchase the latter. Bill will usually leave a little pile on his plate when I cook up the Italian lemon chicken, but he didn't blink when eating capers in this dip!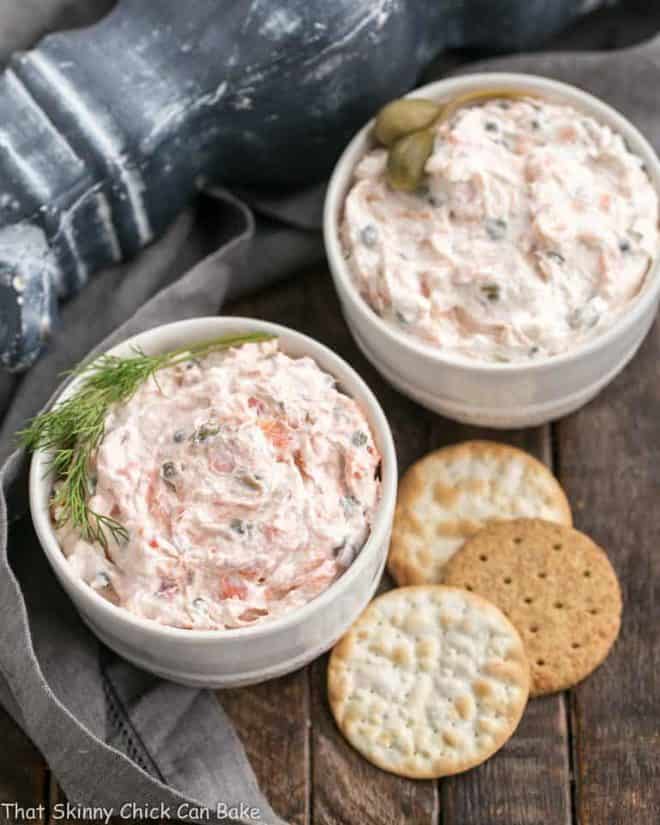 Smoked Salmon Options
Our market has two varieties of smoked salmon: sliced lox and thicker wedges of heat smoked salmon. Testing both was a definite pleasure as they each were splendid options. The latter produced a pinker, slightly less salty and maybe a wee bit more flavorful dip, but you can't go wrong with either type of smoked salmon.
Frequently Asked Questions About this Salmon Dip
Is This Smoked Salmon Dip Recipe Low Carb?
Yes, this salmon dip is low carb and would be a great snack for those on a keto diet. Just use fresh veggies to dip instead of crackers.
How Long Does Smoked Salmon Dip Keep?
It will keep up to 4 days if stored covered in the refrigerator. If you happen to serve it at a party, and it's out at room temperature longer than 2 hours, it's not safe to keep. The chances of food poisoning escalate after the 2 hour mark.
How Do You Make Smoked Salmon Dip?
The process is super easy. Room temperature cream cheese, sour cream and Worcestershire sauce are beaten together in a medium bowl. Then the chopped smoked salmon and drained capers are mixed in. The dip is better if the flavors are allowed to meld in the refrigerator for 2 hours before serving.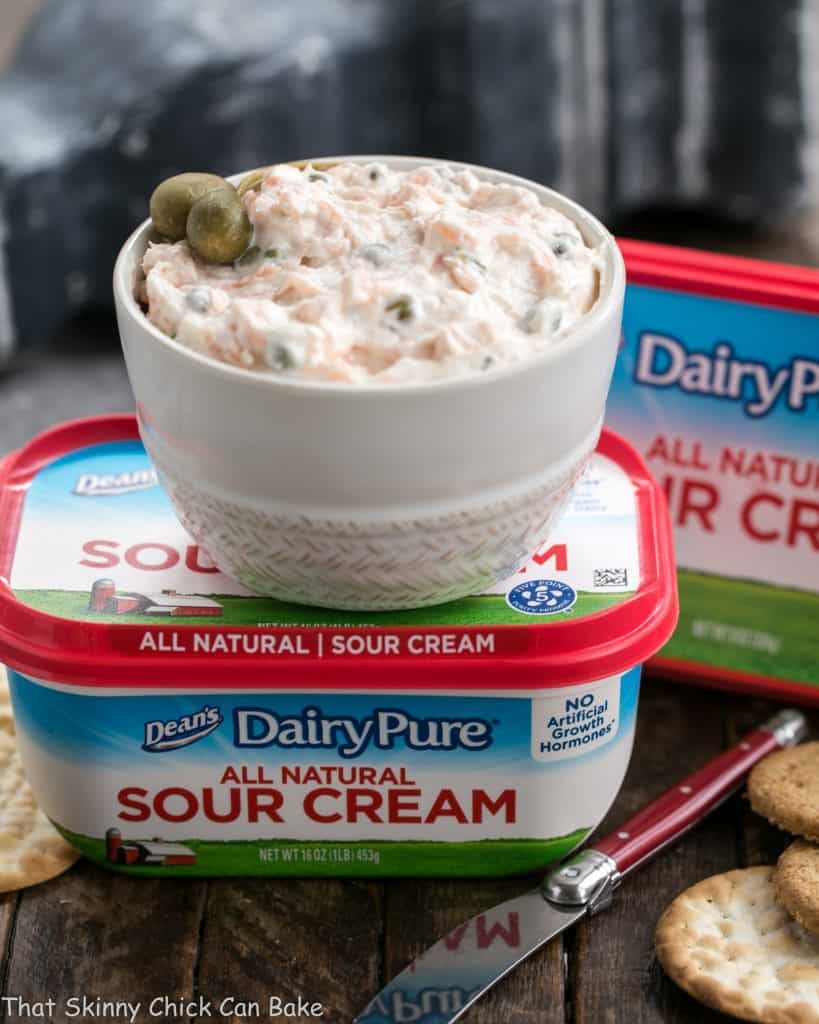 Ingredient Notes:
With only 5 ingredients, make sure you purchase good, quality ingredients for the best results.
Smoked Salmon: Both lox and heat smoked salmon work well. I like buying wild smoked salmon, but in this dip, farm-raised will work well, too.
Sour Cream: Full fat gives a richer, creamier result, but if you need to watch your fat intake, lower fat is better than no-fat.
Cream Cheese: Again, go with full fat. Philadelphia brand always outperforms generic.
Worcestershire Sauce: Lea and Perrins(affiliate link) is my go-to brand
Capers: These brined berries add a delicious saltiness and texture to the dip. Capers are a classic pairing with smoked salmon.
How to Serve this Smoked Salmon Cream Cheee Dip
This dip is perfect with simple crackers. There's so much flavor in the dip itself, there's no need for fancy, flavored crackers. For the healthier crowd it's lovely with vegetable dippers like carrots, cucumbers, and red bell peppers.
Don't forget to garnish! It only takes a second and you'll transform your bowl of dip into a restaurant worthy appetizer. The rule of thumb is to use what's in the recipe as the garnish, but I love the look of a fresh dill sprig. Large caper berries work well, too.
More Dip Recipes You'll Love: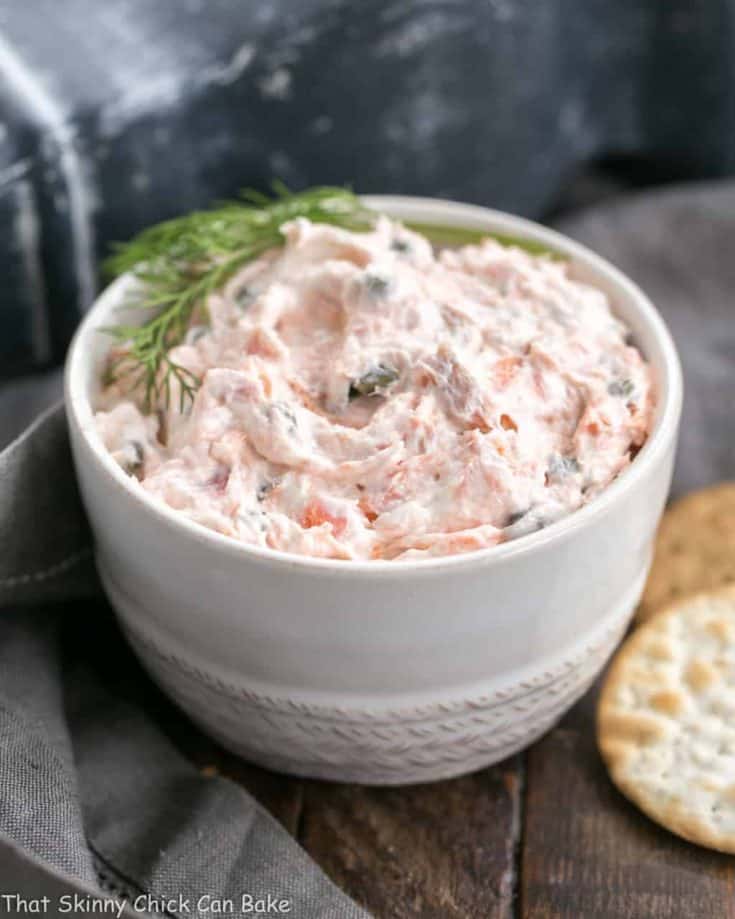 The Recipe:
Easy Smoked Salmon Dip Recipe
Prep Time 10 minutes
Total Time 10 minutes
Yield 2 cups dip
With just five ingredients, this recipe for Smoked Salmon Dip with Capers takes very little time to make and is the perfect holiday party appetizer!
Ingredients
6 ounces smoked salmon, finely chopped or shredded
4 ounces sour cream
8 ounces cream cheese, at room temperature
3 dashes of Worcestershire sauce
¼ cup capers, drained
Instructions
Chop or shred smoked salmon depending on the style of smoked salmon purchased.
In a medium bowl, beat together sour cream and cream cheese. Add Worcestershire sauce and mix well. Stir in salmon and capers.
Refrigerate 2 hours before serving. Serve with crackers, bagels or favorite dippers.
Notes
Keep leftovers refrigerated.
Garnish with fresh dill or capers if desired.
Nutrition Information:
Yield:
16
Serving Size:
2 tablespoons
Amount Per Serving:
Calories: 77
Total Fat: 7g
Saturated Fat: 4g
Trans Fat: 0g
Unsaturated Fat: 2g
Cholesterol: 21mg
Sodium: 311mg
Carbohydrates: 1g
Fiber: 0g
Sugar: 1g
Protein: 3g
Note: This post may contain affiliate links; view
my Disclosure Policy
for details. I earn a small percentage from any purchase you make by clicking on these links at no extra cost to you.