Easy Layered Taco Dip
This Easy Layered Taco Dip is chock full of your favorite Mexican ingredients: refried beans, guacamole, cheese, olives and spiced-up sour cream. It will be devoured at your next party!
We had a large group of guys for a cookout and this 7 Layer Dip garnered rave reviews. Plus, it's made in a springform pan, and when the rim is removed, each beautiful layer is revealed!
Why You Must Make
Our guests were vintage car racers who had been at the track all day. Running on adrenaline, they don't eat much at all while practicing or racing. I'd seen their appetites at dinner a couple of nights previously. So our appetizers needed to be hearty and delicious (of course!).
This easy taco dip is a fun summer appetizer!
It's made in a springform pan so when you release the sides, there are beautiful layers!
Cool and refreshing, it's delicious served with crunchy tortilla chips.
With seven colorful layers come seven different textures and all those Tex-Mex flavors that are so well-loved. This 7-layer dip was extremely popular with our guests!
Ingredient Notes
Refried Beans -16 ounce can
Sour Cream – I use full fat
A Packet of Taco Seasoning – Use your favorite brand. Adds flavor to the sour cream layer
Shredded Mozzarella Cheese – Use full fat. This isn't a low-cal dip and you won't save that many calories using low-fat cheese.
Shredded Cheddar Cheese – Use full fat.
Avocados – Should be ripe, will give a little when gently squeezed.
Lemon or Lime Juice – Will help prevent the avocado layer from oxidizing (browning)
Salsa or Picante Sauce – If you use fresh salsa from the refrigerator case, drain it first.
Tomatoes – Chop and remove seeds, if desired
Green Onions – AKA scallions, thinly sliced
Sliced Black Olives – 4¼ ounce can, drained
Tortilla Chips or Scoops – To serve
How to Make a Layered Taco Dip
First, make sure you have a 9-inch springform pan. This is the kind of round pan used to make cheesecakes with a rim that can be removed from the base. Using a removable rim makes it easy to keep the layers of this easy taco dip recipe aligned until they're well chilled.
Using an offset spatula, start spreading the different components in the order in which the recipe states.
Make sure your cream cheese is at room temperature for easy mixing and spreading.
Try to keep them spread or dispersed evenly for the best presentation.
How to Layer
First up is a can of refried beans. Super easy as all you need to do is open a can! I am no expert when it comes to refried beans, but I grabbed a 16-ounce can of La Preferida brand.
Next for this easy taco dip recipe is a mixture of sour cream and taco seasoning. Use a packet of your favorite brand, I purchased Old El Paso.
After the sour cream comes the cheese. A mixture of grated mild Cheddar and mozzarella created a nice white and orange layer. It would be easy to tweak this mixture and use sharp Cheddar and Monterey jack or even pepper jack cheeses.
An easy guacamole is made from avocados, lemon juice, and Picante sauce or salsa. It's nice to leave some texture when you mash your avocados. This is a chance to use another shortcut if you have a good source of premade guacamole.
Last comes layers of chopped tomatoes, green onions, and sliced black olives.
How to Serve This Mexican Dip
If you can chill this overnight, great. Otherwise, 3-4 hours will be OK.
To serve, remove the ring of the springform pan but keep the dip on the base. Next, place the base and dip on a serving plate and surround it with chips.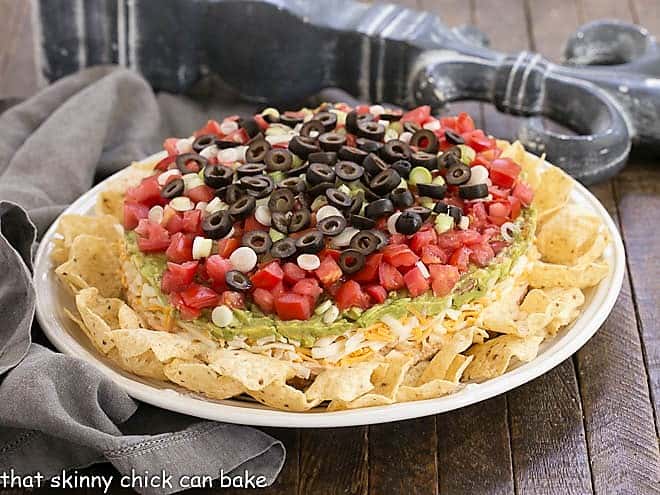 Frequently Asked Questions
Can You Make This Taco Dip Ahead of Time?
You can make it the day before, but keep it in the springform pan and make sure it's airtight to minimize the browning of the avocado layer. Also, make sure the tomatoes are well drained as otherwise, they can release a lot of juices.
Can Any Layers Be Omitted?
Yes, you can easily customize this dip according to your palate. If you don't like black olives, for example, you can easily leave them out. The Cheddar and Mozzarella layer can be replaced by Monterey Jack cheese, etc.
How Long Can You Keep Leftovers?
According to the FDA, as long as the dip hasn't been left out at room temperature for longer than 2 hours, leftovers are safe to eat. They can be stored in the refrigerator for 2-3 days.
You May Also Like
Dips are a terrific appetizer for game day, tailgates, summer, or casual parties. The varieties are endless and most can be made ahead of time and just need a bag of chips or crackers to serve. Here are more of the best dip recipes:
The Recipe:
Easy Layered Taco Dip Recipe
Prep Time 30 minutes
Total Time 30 minutes
Yield 16 servings
An easy Tex Mex 7 layer dip! Perfect for summer entertaining.
Ingredients
16 ounce can of refried beans
2 cups sour cream
1 package taco seasoning
8 ounces shredded mozzarella cheese
8 ounces shredded Cheddar cheese
3 avocados
3 tablespoons lemon or lime juice
3 tablespoons salsa or picante sauce
4 tomatoes, chopped and seeds removed if desired
4-5 green onions, thinly sliced
4 ¼-ounce can of sliced black olives, drained
Tortilla chips or scoops, to serve
Instructions
Spread refried beans on the bottom of a 9-inch springform pan.
Mix sour cream and taco seasoning and spread over the refried beans, then layer the cheeses.
Cut the avocados in half, remove the pits, and scoop the flesh into a medium bowl. Use a knife to cut the avocados into cubes. Add the lemon juice and salsa and mash with a fork. Spread over the cheese layer.
Top with tomatoes, green onions, then olives.
Chill for at least 3 hours or overnight.
When ready to serve, release and remove the sides of the springform pan and place the base holding the dip on a serving plate. Surround with chips to hide the bottom of the springform pan.
Serve with tortilla chips.
Notes
Adapted from Great Beginnings, Grand Finales.
Store leftovers wrapped well in plastic to minimize the avocado layer from browning. It can be kept up to 3 days as long as it wasn't left out at room temperature longer than 2 hours.
Recommended Products
As an Amazon Associate and member of other affiliate programs, I earn from qualifying purchases.
Nutrition Information:
Yield:
16
Serving Size:
1
Amount Per Serving:
Calories: 261
Total Fat: 20g
Saturated Fat: 8g
Trans Fat: 0g
Unsaturated Fat: 9g
Cholesterol: 40mg
Sodium: 421mg
Carbohydrates: 13g
Fiber: 5g
Sugar: 4g
Protein: 10g
Note: This post may contain affiliate links; view
my Disclosure Policy
for details. I earn a small percentage from any purchase you make by clicking on these links at no extra cost to you.