Sour Cream Spinach Dip
Add this fabulous Sour Cream Spinach Dip to a crudite platter. A copycat of Knorr's Spinach Dip, it's made of delicious, wholesome ingredients.
This Copycat Knorrs Spinach Dip is made without a seasoning packet filled with multisyllabic ingredients. Created totally from scratch, this Sour Cream Dip is a must-make for every gathering!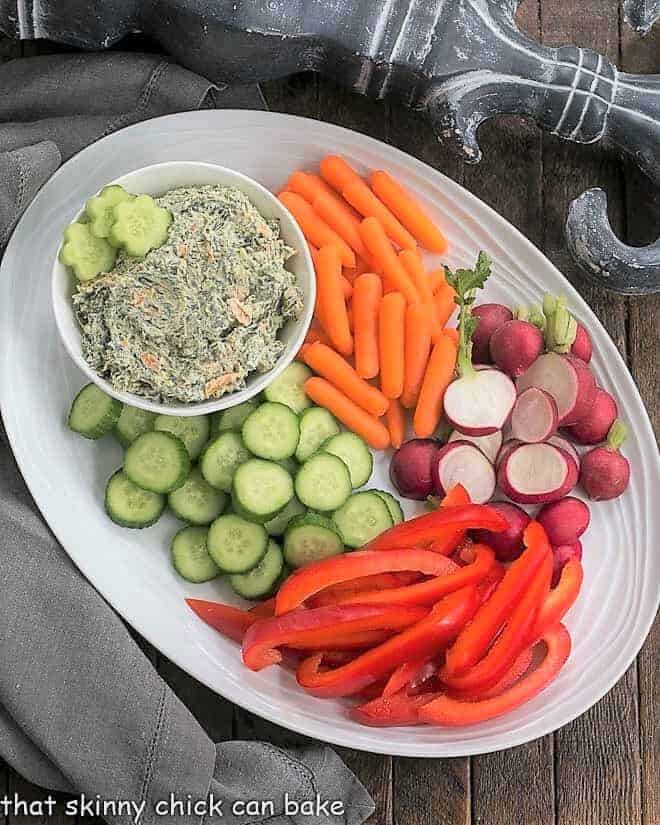 Why You Must Make
It's a homemade version of your favorite Knorr's spinach dip!
Fresh, wholesome ingredients flavor the dip instead of a packet.
It's perfect with vibrant fresh vegetables making it a healthier appetizer option.
With dear friends coming for dinner who do not like garlic, my menu had to be tweaked. Trying to keep things simple, a vegetable platter with a cold spinach dip recipe was perfect. I grew up loving the Knorr's spinach dip that was served in a bread bowl. Yup, I'm a child of the 1970s.
But most sour cream spinach dip recipes had raw garlic and raw onions. I decided to nix the garlic and finely mince and saute some sweet onions to remove the bite. All 6 of us dove right into the dip with our fresh vegetables.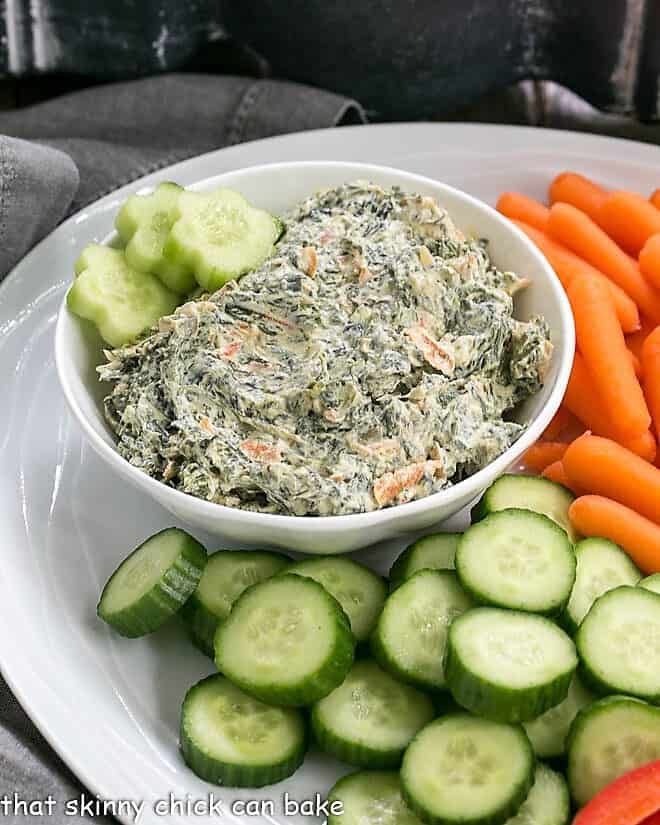 Expert Tips
When you use a seasoning packet, there are often flavor enhancers with loads of sodium along with a mixture of herbs and spices that's hard to replicate. Going back to basics, this cold spinach dip started with fresh spinach, shredded carrots, onion, sour cream, mayonnaise then pantry ingredients to add even more flavor.
There are certain ingredients that are known as flavor enhancers like salt, alcohol, soy sauce, Worcestershire, and citrus, so a few of these were added to this dip.
Salt is a must in most recipes. I prefer kosher salt for dips.
Lemon juice helps balance the richness of the sour cream and mayonnaise with its acidity.
Worcestershire provides umami, or that savory undertone due to its high glutamate content and salty flavor.
PRO-Tip: Sauteing the onions caramelizes them by bringing out the sugars and mellowing their bite. 
I omitted any garlic, but a couple of minced cloves can be cooked with the onions if that's your preference.
20 ounces of baby spinach is sauteed until it wilts, then chopped and squeezed to remove any liquid. Remove as much liquid as possible to avoid a watery dip.
It looks like a LOT of spinach, but it will reduce to the perfect amount.
The mixture of sour cream and mayonnaise is delicious for dips.
Sour cream has less fat than mayonnaise, so adding some mayo helps to provide richness to the dip.
PRO-Tip: Make this dip at least 2 hours before serving. This will allow the flavors to meld.
Serve with chips, crackers, or your favorite vegetables like mini carrots, red bell pepper strips, blanched asparagus, etc.
How to Make
Cook the aromatics and all vegetables except the spinach in a touch of oil. Set them aside.
Add half the spinach to the skillet to cook/wilt, then add the rest.
Place the wilted spinach in a colander, let it cool, then squeeze dry. Use paper towels to remove any remaining moisture.
Finely chop the spinach and add to the vegetables.
Add the sour cream, and the remaining ingredients to the vegetables and mix to combine.
Cover the bowl with plastic wrap and chill the dip for 2 hours or longer before serving.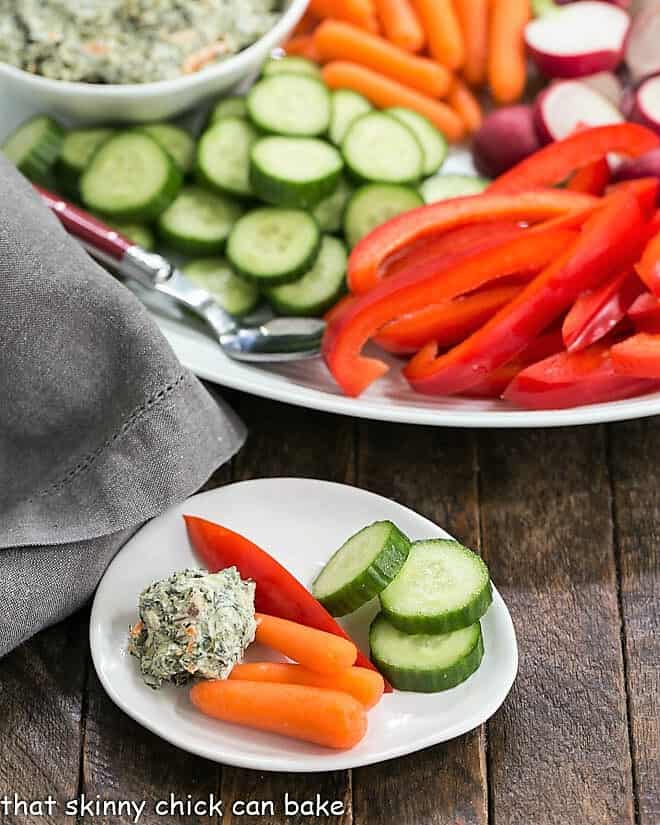 Ingredient Notes:
Carrots – Grate or shred, adds a touch of color
Red Onion – Soak the minced onion in ice water to reduce the bite or sharpness if desired.
Baby Spinach – There are fewer stems to deal with and the leaves are more tender than regular spinach.
Sour Cream – Use full fat for the best results (unless you really need to cut calories).
Mayonnaise – Use full fat.
Worcestershire Sauce – Adds umami or the 5th sense of taste.
A fresh lemon – A little citrus cuts the richness of the dairy and adds a clean, bright taste.
Check your pantry for salt, pepper, and olive oil.
Frequently Asked Questions
Is Spinach Dip Healthy?
There are healthy components like spinach and carrots. The dairy also has protein and calcium and can be served with healthy, low-calorie vegetables. But it's also high in fat due to the sour cream and mayonnaise. It is a healthier dip than many, but cannot be considered a healthy food.
Is Spinach Dip Supposed to Be Hot or Cold?
It depends on the recipe. This recipe was created to serve cold, but my Spinach Artichoke Dip is served hot.
What is Best to Eat with a Cold Spinach Dip?
Any of your favorite dippers would be delicious with this spinach dip. Vegetables, crackers, toasts, and baguette slices are all excellent options.
How Long Can You Keep Spinach Dip?
If it hasn't been left out at room temperature longer than two hours, it can be stored and eaten for up to 4 days. If it wasn't refrigerated within two hours, there is a chance of food poisoning, so it should be tossed.
You May Also Like
I love having a veggie tray and dip available for those who want some healthier fare. But there are numerous other dip recipes from seafood to cheese to chicken to dessert dips that are perfect for entertaining. This 7 Layer Dip is another classic and perfect party fare.
Stay in touch through social media @ Instagram, Facebook, and Pinterest. Don't forget to tag me when you try one of my recipes! And if you love the results, please give it a 5-star rating in the recipe card. Note: As an Amazon Associate, I earn from qualifying purchases. Visit my Amazon Store for my favorite products.
The Recipe:
Sour Cream Spinach Dip Recipe
Prep Time 10 minutes
Cook Time 10 minutes
Total Time 20 minutes
Yield 2 1/2 cups
A scrumptious spinach dip made from scratch.
Ingredients
2 tablespoons olive oil
1 cup shredded carrots
1/2 cup red onion, minced
1 teaspoon kosher salt, plus more to season spinach
1/2 teaspoon freshly ground black pepper
20 ounces baby spinach
1 cup sour cream
1/2 cup mayonnaise
2 teaspoons Worcestershire sauce
1 teaspoon freshly squeezed lemon juice
Carrots, cucumber slices, red bell pepper slices, blanched snow peas and/or asparagus, crackers for serving
Instructions
Heat the oil in a large frying pan. Add the carrots, onion, garlic, salt, and pepper. Cook, stirring occasionally until the vegetables are soft. Remove to a large bowl and set aside.
Return the pan to the heat, add half of the spinach, and sprinkle with salt. Cook, stirring occasionally until the spinach is wilted. Add the remaining spinach and cook, as before, until all the spinach is wilted.
Remove the spinach to a colander in the sink. Press on the spinach to remove liquid. Once cool enough, use clean hands to squeeze out as much liquid as possible.
Next, use layers of paper towels to again squeeze any residual moisture out of the spinach. Remove the paper towels, finely chop the spinach, and add to the bowl with the vegetables.
Add the sour cream, mayonnaise, Worcestershire, and lemon juice and stir to combine. Cover the bowl with plastic wrap and chill the dip for 2 hours or longer before serving.
Notes
Adapted from Chowhound.
Calories based on 16 servings.
If you don't like a sharp onion taste, soak your minced onions in ice water, for 10-15 minutes, then drain well before using
Nutrition Information:
Yield:
8
Serving Size:
1
Amount Per Serving:
Calories: 238
Total Fat: 20g
Saturated Fat: 5g
Trans Fat: 0g
Unsaturated Fat: 13g
Cholesterol: 23mg
Sodium: 466mg
Carbohydrates: 12g
Fiber: 4g
Sugar: 5g
Protein: 5g
Note: This post may contain affiliate links; view
my Disclosure Policy
for details. I earn a small percentage from any purchase you make by clicking on these links at no extra cost to you.