Creamy Lemon Tart
This Creamy Lemon Tart is bursting with lemon flavor and is incredibly luscious and tasty!
This Lemon Curd Tart was created for a bridal shower. When I learned the bride-to-be loved lemon, I turned to Dorie Greenspan for her take on a glorious citrus dessert.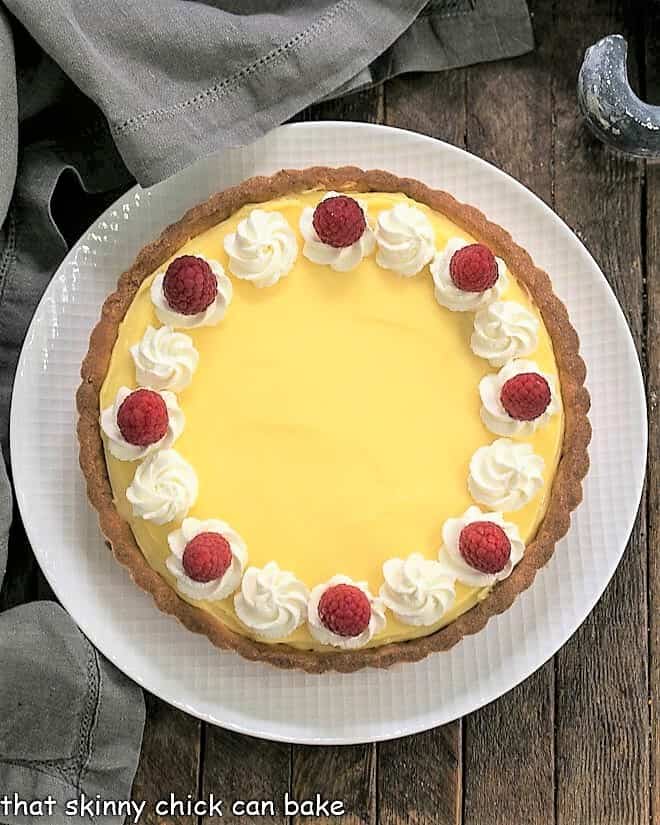 Why You Must Make
I made two of these exquisite lemon tarts for a bridal shower last weekend. As with most French sweets, they had just enough sugar and a nice citrus bite.
Dorie Greenspan created a creamy filling without cream by using eggs, butter, and a blender. Such an intriguing method to make lemon curd. She was inspired by Pierre Herme's emulsified lemon "cream" or curd.
Plus her recipe utilized one of my favorite tricks—to rub the lemon zest into the sugar to release all the essential oils from the peel.
The extra boost of lemon flavor makes this lemon curd tart one crazy delicious dessert!
Crust Ingredients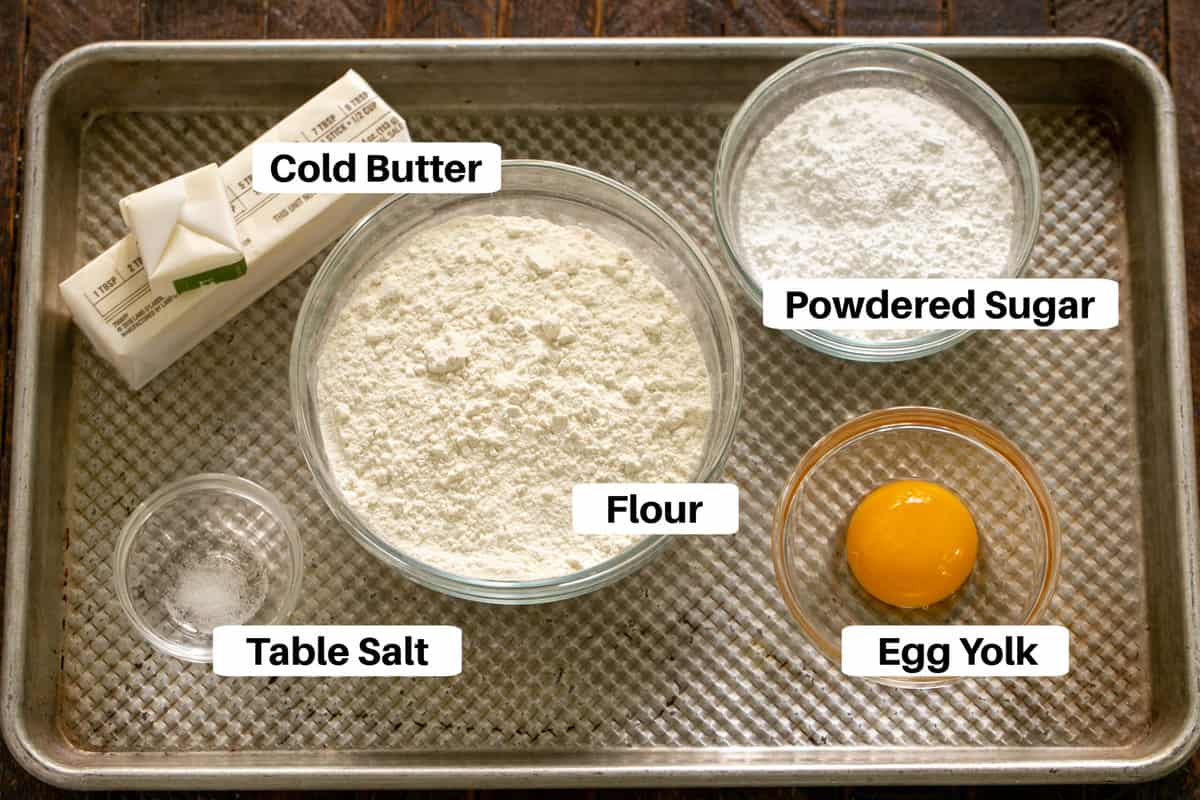 Filling Ingredients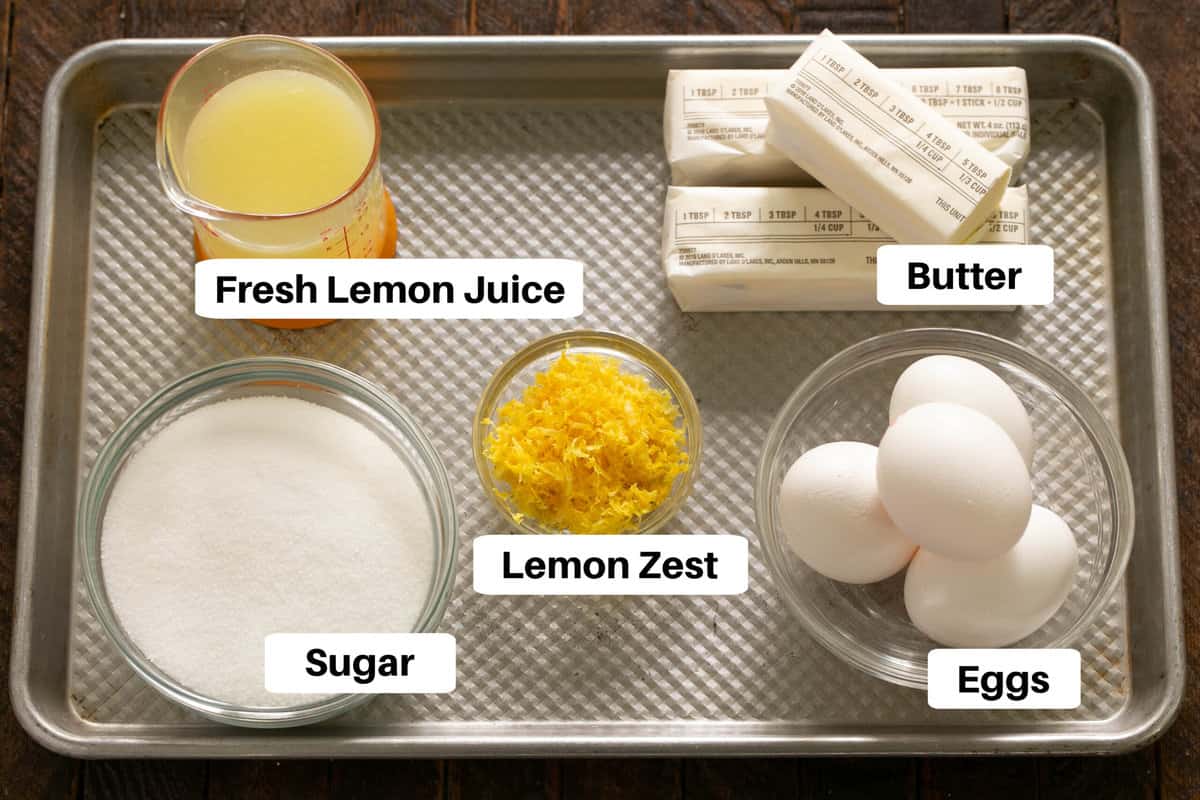 Ingredient Notes:
Sugar – Just regular granulated sugar
Zest of 3 lemons – Never use the dried lemon zest in a jar. And zest your lemons before squeezing. It's hard to zest a squeezed lemon!
Eggs – Always use large eggs unless otherwise noted
Freshly squeezed Lemon Juice (from about 4 lemons) – For the best flavor, always use fresh lemon juice, never bottled.
Butter – I use salted butter. Note that it needs to be at room temperature for this recipe.
9-inch pie crust or Tart Shell – Bake and cool before filling. Look for a recipe with butter or part butter part shortening for the tastiest results.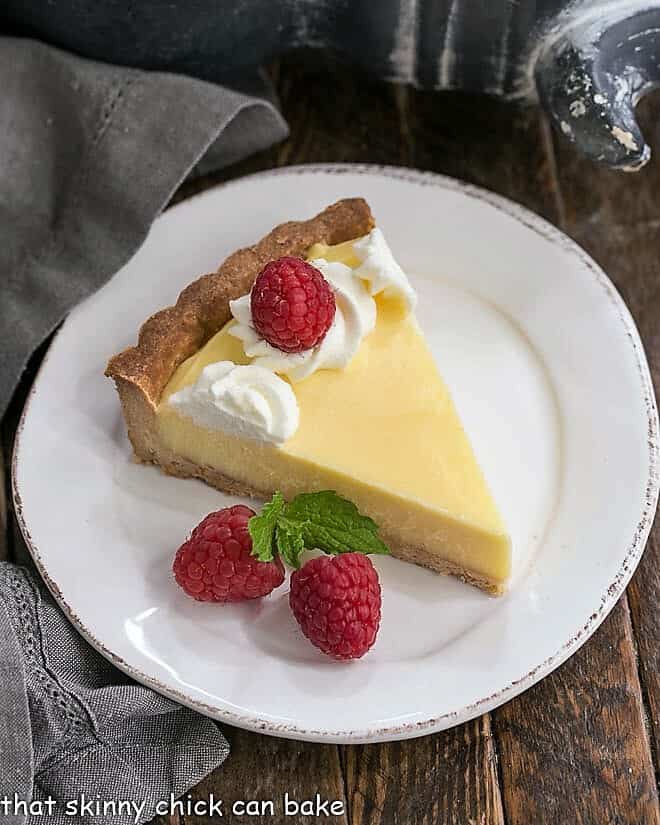 Expert Tips
The lemon curd filling is not made in the typical fashion. Because the butter does not melt and resolidify, it's super silky and luscious.
PRO-Tip: Rubbing lemon zest into the sugar releases the lemon oils which adds even more lemon flavor than simply mixing.
Once the custard thickens over a double boiler, it's slowly added to a (affiliate link) blender (affiliate link) to be emulsified with a boatload of butter. Definitely a new method for me.
If your blender motor starts getting warm, just blend for short spurts until the mixture is thick and creamy. A food processor is another alternative, but Dorie states that the blender is her preferred method.
An offset spatula (affiliate link) is perfect for smoothing and swirling the top of the lemon curd tart.
Lemon slices make a pretty garnish, but remove before slicing. Alternatively, pipe whipped cream stars around the perimeter of the filling and top each mound with a ripe red raspberry.
Bill, a bona fide lemon lover, sampled the leftover lemon filling in my blender and gave it two thumbs up. This Creamy Lemon Tart was a smash hit at the shower! This double Dark Chocolate Tart would pair nicely with this lemon gem if you need another alternative! And this Lemon Chiffon Pie is another winner.
How to Make
Frequently Asked Questions
Can You Make a Lemon Tart Ahead of Time?
Yes, you can easily make this tart the day before you plan to serve it. Just keep it refrigerated.
How Do You Know When the Filling is Thick Enough?
A cooking trick is to dip a spoon into the filling, then draw your finger across the surface of the spoon, wiping away the filling. If the line stays clean and distinct, the filling is ready to use.
How Do You Garnish a Lemon Tart?
Top slices with a dollop of sweetened whipped cream or a scoop of vanilla ice cream. Fresh strawberries or raspberries and a sprig of mint add a beautiful pop of color.
How Do You Store Leftovers?
Keep the tart covered and refrigerated for 3 to 4 days.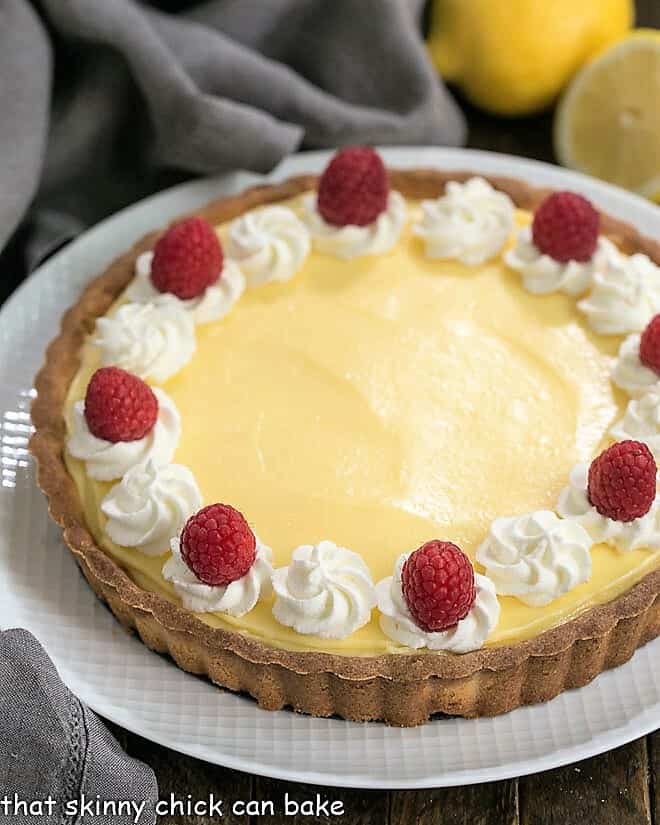 You May Also Like:
Stay in touch through social media @ Instagram, Facebook, and Pinterest. Don't forget to tag me when you try one of my recipes! And if you love the results, please give it a 5-star rating in the recipe card. Note: As an Amazon Associate, I earn from qualifying purchases. Visit my Amazon Store for my favorite products.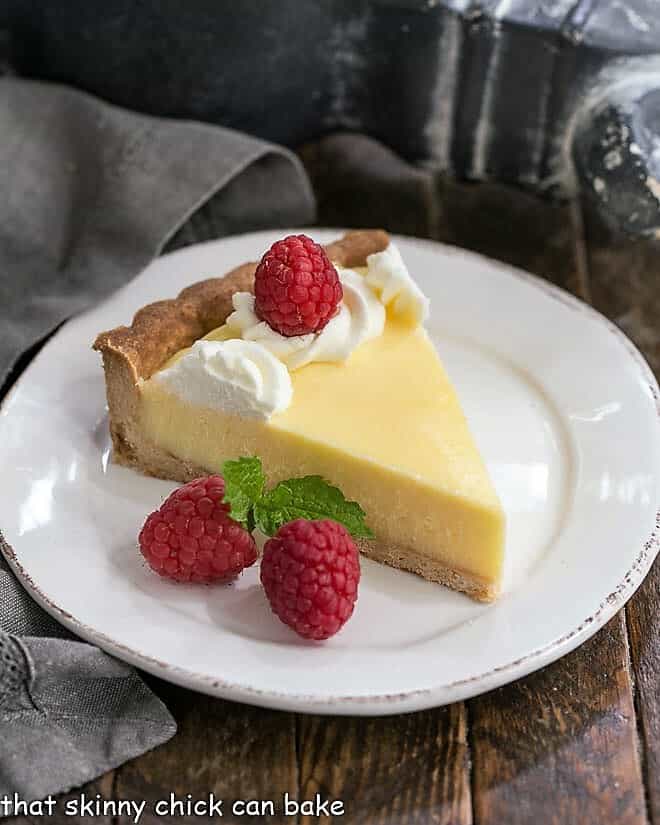 The Recipe:
Creamy Lemon Tart
Prep Time 30 minutes
Cook Time 10 minutes
Total Time 40 minutes
Yield 8 servings
Ingredients
1 cup sugar
Finely grated zest of 3 lemons
4 eggs
¾ cup freshly squeezed lemon juice (from about 4 lemons)
2 sticks plus 5 tablespoons (10 ½ ounces) butter, at room temperature and cut into tablespoon-sized pieces
1 9-inch pie crust or tart shell, baked and cooled (see a link to Dorie Greenspan's tart shell recipe in the ingredient notes above)
Instructions
Set up your double boiler by bringing a few inches of water to a boil in a saucepan (choose one whose size works to fit on top of the pan).
Put the sugar and zest in a large, heat-proof bowl that can be fitted into the pan of simmering water.
Rub the sugar and zest between your fingers till it's well incorporated and fragrant. Whisk in the eggs then the lemon juice.
Fit the bowl into the pan and make sure the water doesn't touch your bowl. Whisk until the mixture reaches 180º. Don't stop whisking or you may get bits of scrambled eggs in your custard.
Start checking the temperature when you notice the custard getting thick.
Remove from heat, then strain the lemon custard (to remove any bits of egg) right into your blender.
Let cool for about 10 minutes, then blend on high, adding 4-5 pieces of butter at a time. Scrape down the sides of your blender as needed.
Once all the butter is added, blend for a couple more minutes.
Pour the lemon filling into a container, press a piece of plastic wrap against the surface to create an airtight seal, and chill for at least 4 hours or overnight.
When you are ready to construct the tart, just whisk the filling to loosen it and spoon it into the tart shell. Spread and swirl with an offset spatula if desired.
Best when served immediately, but can be chilled overnight before serving.
Notes
You will need an instant-read thermometer to make the filling.
Total time does not include chilling time or the making and baking the crust if you choose to do a homemade version. I used Dorie's press in tart dough.
Nutrition Information:
Yield:
8
Serving Size:
1 slice
Amount Per Serving:
Calories: 316
Total Fat: 10g
Saturated Fat: 4g
Trans Fat: 0g
Unsaturated Fat: 5g
Cholesterol: 99mg
Sodium: 149mg
Carbohydrates: 52g
Fiber: 2g
Sugar: 32g
Protein: 6g
Note: This post may contain affiliate links; view
my Disclosure Policy
for details. I earn a small percentage from any purchase you make by clicking on these links at no extra cost to you.