Brie Grilled Cheese
This outrageously delicious Strawberry, Turkey, and Brie Grilled Cheese Sandwich provides sweet, salty, and spicy flavors in every bite. Shake up your grilled cheese routine with this out-of-the-ordinary recipe.
This Brie Sandwich is one of my favorite Grilled Cheese Recipes as the contrast in colors and texture is tantalizing to both the eyes and the palate.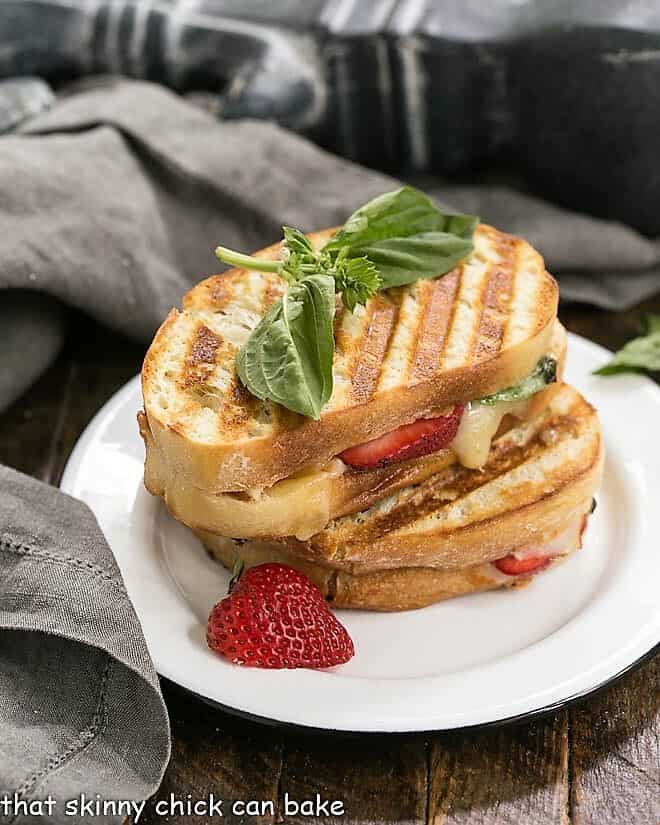 Why You Must Make
Who doesn't adore a classic grilled cheese: crisp buttery toast with hot, gooey cheese in every bite?
While the standard grilled cheese is made with white sandwich bread and American or Cheddar cheese, there are also numerous variations of this classic dish. Trying different cheese, bread type and spreads are fun ways to shake things up!
If you want to go gourmet, try a Brie grilled cheese sandwich.
My sister, Maddy, was here for a visit and we whipped up these Brie sandwiches one day for lunch. In agreement, we decided this was the best lunch either of us had eaten in months. Bill, AKA the picky hubby, finished every bite, too!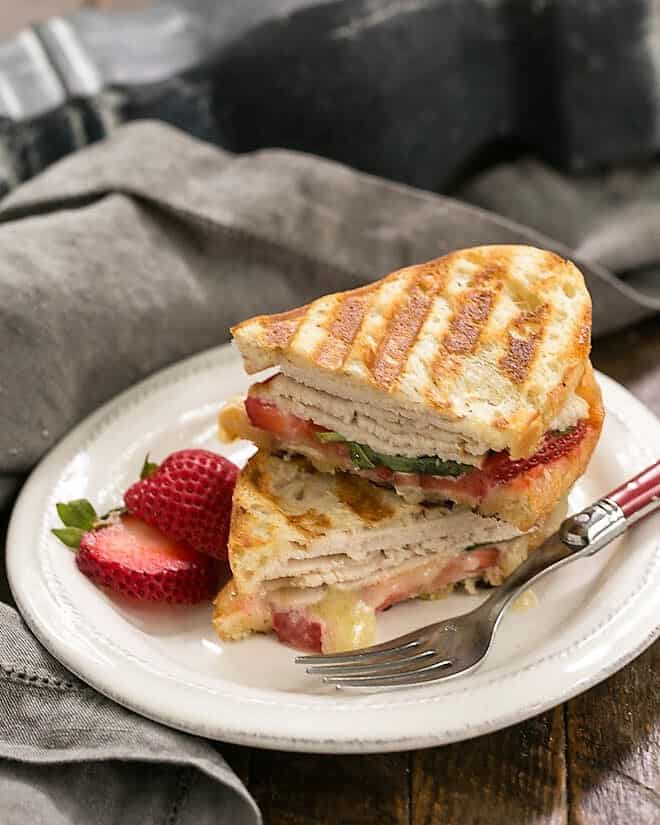 Expert Tips
The nontraditional mix of ingredients in this Brie sandwich tastes incredible. If you have a panini press, go ahead and go that route, but simply sauteing in a fry pan or grill pan creates an amazing grilled cheese sandwich.
I used ciabatta bread for this particular grilled cheese. Feel free to use your favorite sturdy bread.
The original recipe called for thicker slices of smoked turkey vs. the usual deli cut. This helps prevent excess shredding. If you don't like smoked turkey, regular deli turkey will taste great, too. And if you're looking for a use for leftover Thanksgiving turkey, thin slices will work be fine in this grilled cheese sandwich.
Remove the rind off your Brie before slicing. Brie is quite sticky, so don't worry if it's a messy process. Your Brie sandwich will taste wonderful no matter if your Brie is perfectly sliced or not.
PRO- Tip: You can always place the Brie in the freezer for 15-30 minutes to firm it up or spray your knife with a non-stick cooking spray to minimize sticking.
PRO-Tip: Do you know how to chiffonade herbs? It's a process of rolling a few leaves of the herb into a cigar-like shape, then thinly slice it perpendicular to the stem forming slivers of herbs. By using this method, there won't be any big pieces of basil in your sandwich.
Use a pastry brush to apply melted butter onto the exterior sides of the bread. These brie sandwiches are loaded so I found it easiest to butter one side of the bread, place it on the grill pan or panini press, add toppings, then butter the other slice and top the sandwich.
The red pepper jelly which I used was not spicy. Look at the ingredient list for red pepper flakes, jalapenos, etc. then pick either a spicy or non-spicy version depending on your palate.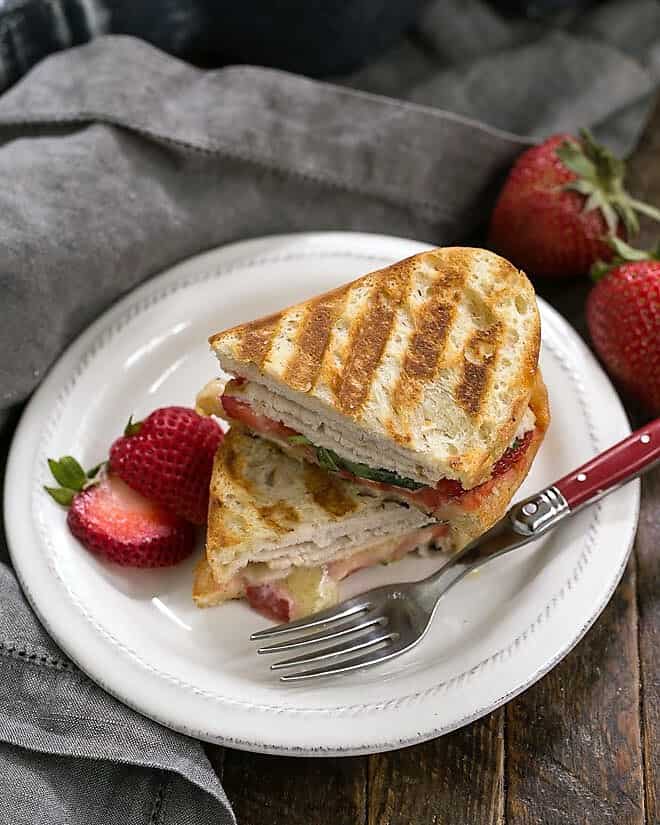 How to Make
Whether you crave a classic grilled cheese on white sandwich bread or a more exotic version, here are some tips for how to make the perfect grilled cheese sandwich.
Use good quality bread. Skip the mushy Wonder bread and go to the bakery section of your grocery store and pick out a hearty loaf of your choice. I love ciabatta, but it is full of holes, so it's doable, but it depends on your loaf.
PRO-Tip: If the bread is too thick, it will be hard to melt the cheese and warm the other fillings.
Shake up your cheese selection with your favorite melty cheese. Orange cheeses like American and Cheddar are standard, but Brie, Swiss or Gouda are delicious alternatives. Or use a couple of different cheeses for a more complex flavored sandwich. Much as I love Mozzarella, it's rather bland in a grilled cheese unless you're adding other flavorful ingredients.
Speaking of other ingredients, your sandwich can be more than bread and cheese. Consider adding bacon or ham, herbs, pickles, avocados, tomato slices, pesto, fruit, jams or relishes. 
Either butter your bread slices or put butter into your saute pan. If using a panini press to cook your grilled cheese, use a pastry brush to apply melted butter to either the press or the bread.
PRO-Tip: Jazz up your sandwich by coating in mayonnaise instead of butter or even mayo plus a generous sprinkling of Parmesan!
Don't cook on high heat. A lower temperature will allow the cheese to melt before the exterior gets too dark.
Frequently Asked Questions
What is Brie Cheese?
Brie is a double creme cow's milk cheese that originated in the Brie region of France. Most notable is the contrast of the soft interior and the rind, which is just dried cheese that has been in contact with Penincillium candidum, an edible mold.
Don't worry, though, as there doesn't appear to be a problem with those allergic to Penicillin, the antibiotic, having an adverse reaction when eating Brie. The rind is definitely edible, and in fact, when in France, it may insult your host if you don't eat it.

Brie has a mellow, nutty flavor with soft mushroom undertones. Old, past its prime Brie will have an ammonia odor. Avoid eating that!! Brie will last about 1-2 weeks in the refrigerator after opening.
What Jams go with Brie?
Red fruit jams and jellies are terrific with Brie. Think cherry, raspberry, strawberry. But even red pepper jelly or apricot jam work well.
What Can You Do with Brie?
Besides adding it to a cheese board (or grilled cheese sandwich), there are loads of other ways to enjoy Brie. Try a Brie mac and cheese or add to a cold sandwich instead of Cheddar. Serve with crackers and a small bowl of jam for a simple starter. Wrap a round of Brie in puff pastry and bake for a warm, gooey appetizer. Add it to your garlic bread or even on top of a plate of spaghetti or other pasta!
You May Also Like: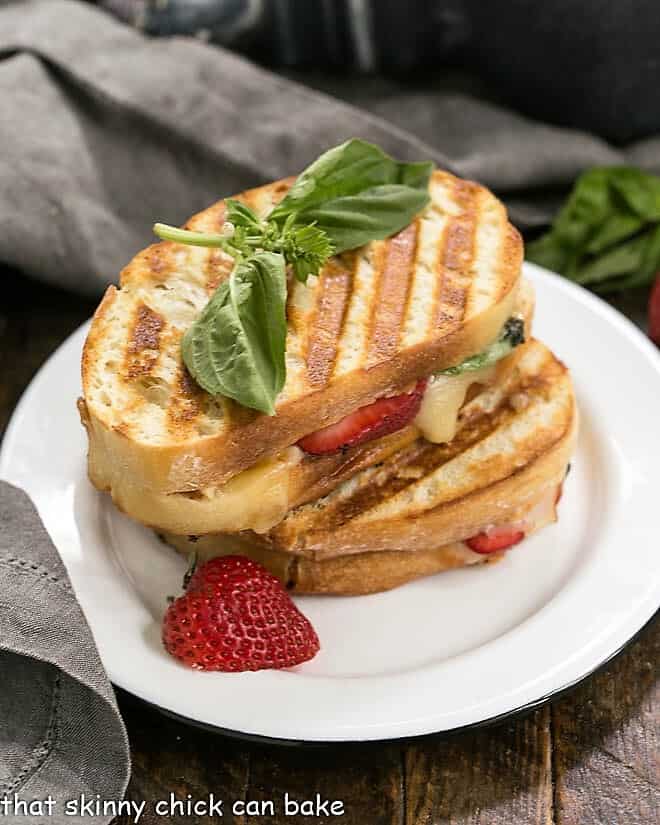 The Recipe:
Strawberry, Turkey and Brie Grilled Cheese Recipe
Prep Time 10 minutes
Cook Time 5 minutes
Total Time 15 minutes
Yield 4 servings
A gourmet grilled cheese sandwich made with Brie, turkey and strawberries!
Ingredients
8 ounces brie, rind removed, and sliced into ½ inch thick slices
8 slices bread (I used ciabatta)
8 ounces sliced smoked turkey (I used 8 slices)
8 fresh basil leaves, rolled and sliced into thin slices (chiffonade)
½ cup sliced strawberries
2 tablespoons pepper jelly
2 tablespoons butter, melted
Whole or halved strawberries for garnish, optional
Instructions
Layer 4 bread slices evenly with turkey, basil leaves, strawberries, and brie.
Spread 1 ½ teaspoons of pepper jelly on one side of each of the remaining 4 bread slices. Place bread slices, face down on top of brie. Brush sandwiches with melted butter.
Cook sandwiches, in batches in a preheated Panini press 2 to 3 minutes or till golden brown…or sauté in saute pan until golden brown. Garnish with fresh berries and basil, if desired.
Notes
Adapted from Southern Living.

Use any favorite jam in this recipe. Thinly sliced holiday turkey leftovers work well, too.
Nutrition Information:
Yield:
4
Serving Size:
1 sandwich
Amount Per Serving:
Calories: 508
Total Fat: 25g
Saturated Fat: 14g
Trans Fat: 0g
Unsaturated Fat: 9g
Cholesterol: 103mg
Sodium: 1389mg
Carbohydrates: 45g
Fiber: 3g
Sugar: 14g
Protein: 25g
Note: This post may contain affiliate links; view
my Disclosure Policy
for details. I earn a small percentage from any purchase you make by clicking on these links at no extra cost to you.