Baked Brie with Raspberries
Baked Brie with Raspberries: A round of creamy Brie wrapped in puff pastry along with fresh raspberries and rosemary makes a spectacular party dish.
This is my go-to Baked Brie Recipe as it's such an easy, impressive appetizer recipe! Using frozen puff pastry is a simple shortcut with magnificent results. Try my Spinach Feta Pinwheels and Pepperoni Pinwheels for a couple more terrific puff pastry appetizers.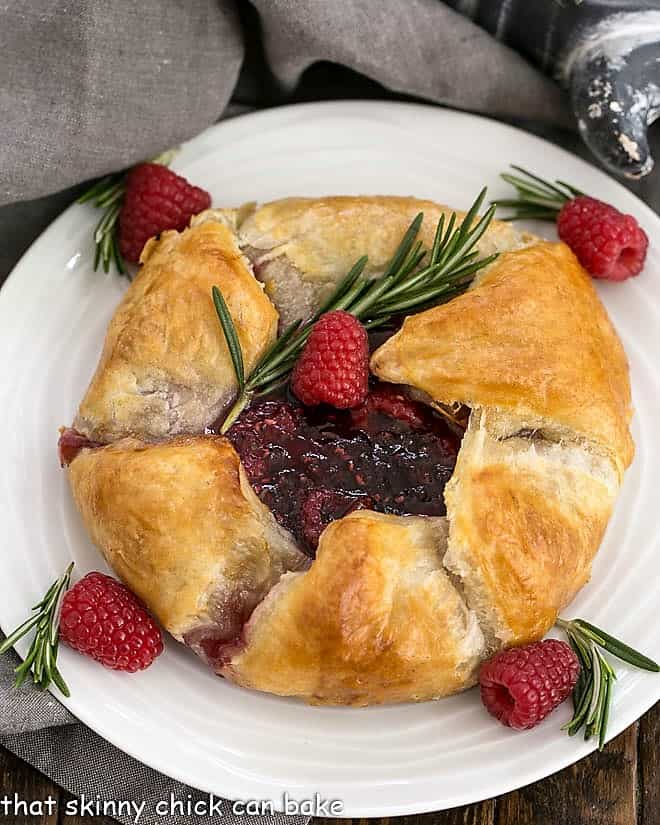 Why You Must Make Baked Brie in Puff Pastry
Baked Brie Recipes are one of my favorite appetizers. Gooey cheese is always a hit.
If the combination of raspberries and rosemary sounds a bit odd, don't worry. It's delicious!
You'll find baked brie at all sorts of catered events, but now you can make it at home!
I've made this appetizer for my book club, dinner parties and taken it to numerous events. In fact, I made two of this Baked Brie with Jam in Denver for my sister's massive art open house and had to give out the recipe!
How to Make:
Mix fresh raspberries with jam and minced fresh rosemary to top the Brie.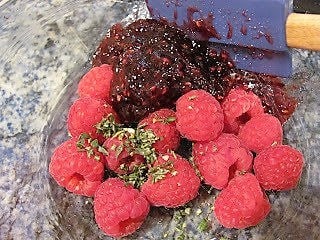 2. Remove the top rind of the Brie, place the Brie on a sheet of puff pastry and add the raspberry topping.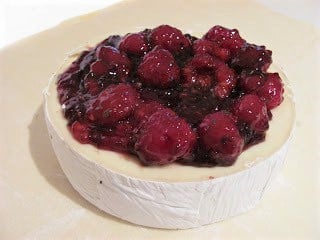 3. Fold the puff pastry over the Brie and trim away the excess. Use a cookie cutter to cut decorations from the puff pastry scraps if desired. Brush with the egg wash and bake as directed.
PRO-Tip: Remember that puff pastry puffs best when the puff pastry is cold and the oven is hot, so you may want to put the wrapped Brie in the fridge for a half-hour before popping it in the oven.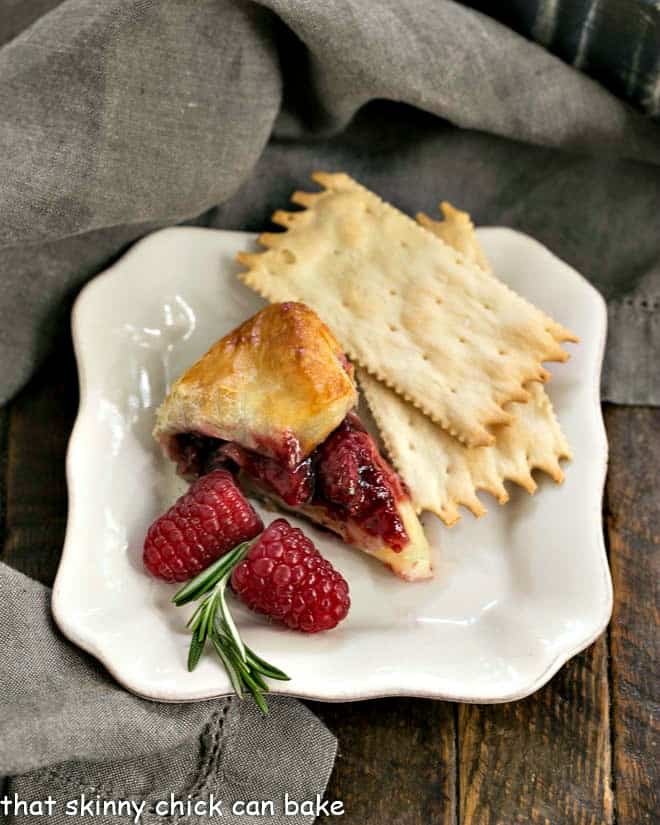 Frequently Asked Questions
What is Brie en Croute?
Brie en croute is the French phrase for Brie in Crust. Brie is the soft, creamy French cheese with a rind that can be wrapped in puffed pastry and baked for a show-stopping appetizer!
Can Brie en Croute Be Made Ahead of Time?
Yes! To make this raspberry-baked Brie ahead of time, just make and bake as directed, then refrigerate until a few minutes before you'd like to serve it. Reheat gently in the microwave for 1-2 minutes or until the Brie is soft.
Do You Take The Rind Off Brie Before Baking?
It's a personal preference. Removing the top rind will make it easier to scoop out servings, but it also could allow the melted Brie to ooze out of the pastry while it bakes. I prefer to remove a thin slice of the top rind.
Where Can I Find Brie Cheese?
Brie is readily available in most grocery stores with the cheeses in the refrigerated section. For this raspberry-baked Brie, a high-quality Brie is not necessary. A round of Brie from 7-14 ounces will work well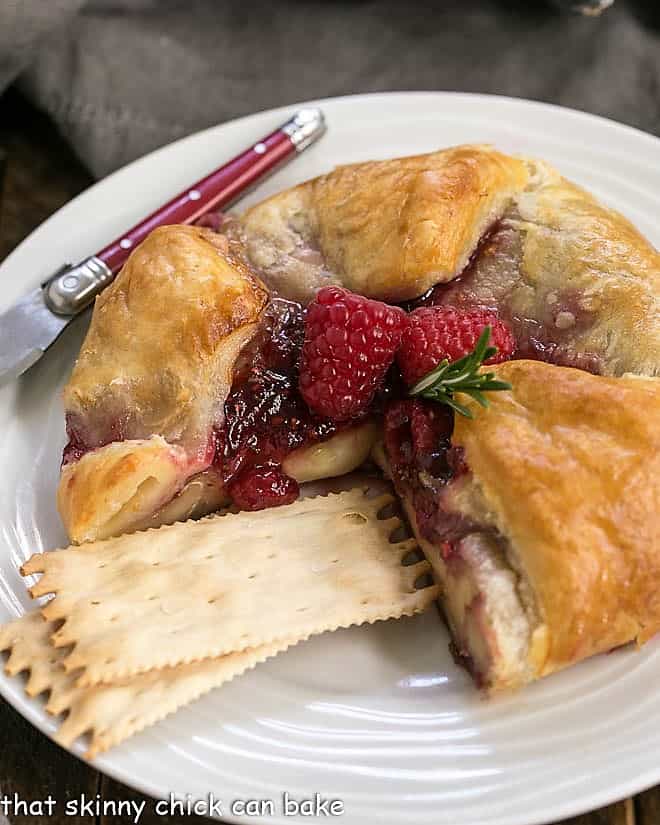 Serving Suggestions
Sturdy Crackers
Toasts or Baguette slices
Sliced apples or pears (slice right before serving to minimize oxidation or browning of the fruit when exposed to air)
Garnish with grapes, raspberries and/or sprigs of fresh rosemary.
Enjoy! I hope this becomes a regular appetizer for when you're entertaining guests. Nothing better than gooey Brie, sweet berries with jam, and puff pastry!
You May Also Like: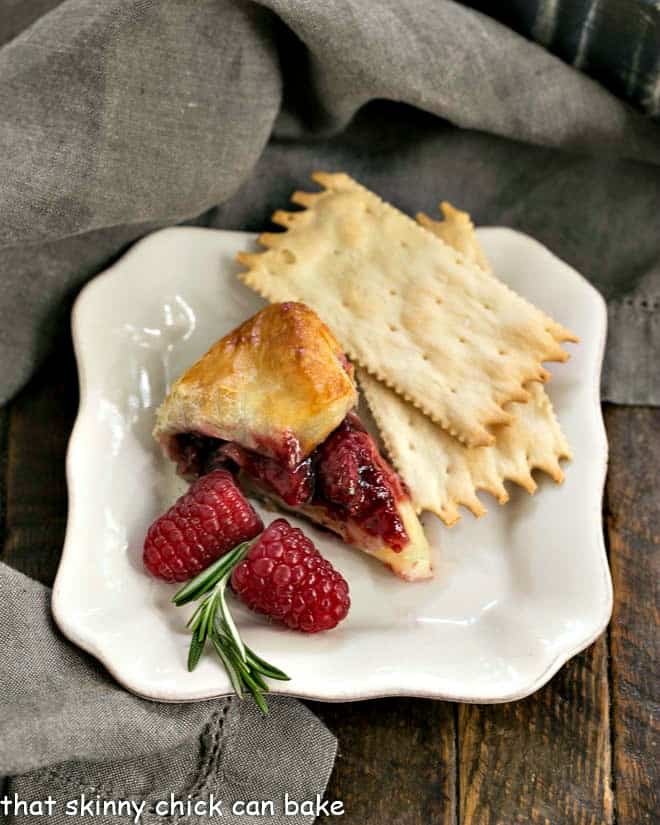 The Recipe:
Baked Brie with Raspberries Recipe
Prep Time 15 minutes
Cook Time 30 minutes
Total Time 45 minutes
Yield 12 servings
Brie topped with raspberries and rosemary, then wrapped in puff pastry.
Ingredients
½ cup raspberry jam or preserves
¼ cup fresh raspberries
½ teaspoon finely chopped rosemary leaves
1 sheet frozen puff pastry, thawed (I recommend Dufour brand. I find it at Whole Foods)
13 ounces Brie (about 6-7 inches in diameter)
1 large egg, beaten
Instructions
Preheat oven to 400º.
Gently stir together jam, berries, and rosemary in a small bowl.
Roll out puff pastry on a lightly floured surface to a 12-inch square.
Cut the rind off the top of the brie and discard. Place brie on the center of puff pastry, cut side up.
Spoon the jam mixture on top of the brie.
Fold pastry on top of brie...starting with two opposite sides, then the remaining two sides. Press along seams to seal. Brush pastry with beaten egg to glaze. Place the folded side down on the parchment-lined baking sheet.
Bake for about 30 minutes, till golden brown.
Let cool for 20 minutes before serving. Place on a platter and surround with crackers or baguette slices. Garnish with fruit if desired.
Notes
Tastes best with a brand of puff pastry made with butter like Dufour or Trader Joe's brand.
You can use smaller rounds of Brie if desired. It may take a shorter baking time.
Adapted from Bon Appetit.
Nutrition Information:
Yield:
12
Serving Size:
1
Amount Per Serving:
Calories: 165
Total Fat: 10g
Saturated Fat: 6g
Trans Fat: 0g
Unsaturated Fat: 4g
Cholesterol: 46mg
Sodium: 210mg
Carbohydrates: 12g
Fiber: 0g
Sugar: 8g
Protein: 7g
Note: This post may contain affiliate links; view
my Disclosure Policy
for details. I earn a small percentage from any purchase you make by clicking on these links at no extra cost to you.