Potato Blue Cheese Tartlets
Potato Blue Cheese Tartlets are an easy, elegant, and hearty appetizer! My family is glued to the TV every weekend during football season. For the big game, this easy appetizer recipe was on the menu!

Potato Blue Cheese Tartlets
With the big game approaching, I knew we'd need a hearty appetizer for halftime. My meat and potatoes family is all in favor of my potato skins, but I wanted to come up with something unique and irresistible. Potatoes can easily be the star of any football party. Starting with some pre-made shells makes this a super easy game-day treat to throw together. If you're having guests over, they'll think you spent hours in the kitchen. It will be our little secret!
Take the Russet Challenge!
I wasn't sure I could discern the difference between an Idaho® potato and an ordinary brand. But I was sure wrong! The volcanic soil, the weather conditions and the care given to these potatoes make for fluffier baked potatoes and dreamier mashed potatoes. I promise you will be able to taste the difference! That's why I always look for the Idaho® potato logo when I shop for potatoes. It's worth an extra few seconds to make sure you buy the best of the best!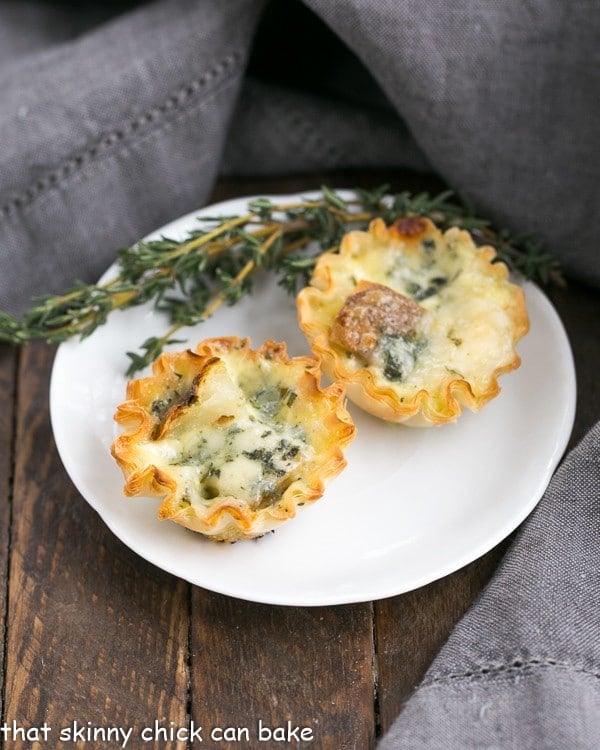 How to Make Potato Blue Cheese Tartlets
Though the potato blue cheese tartlets are an elegant, gourmet appetizer, they're super simple to make! Just make some extra baked potatoes so you have one or two leftover for the day you make these. Crumble some blue cheese and make a custard by whisking cream with an egg. Divvy up the cheese and potatoes between the ready made pastry shells, add the custard and bake!
Health Benefits of Potatoes:
Idaho® potatoes are ideal for a gluten-free diet
One potato provides 45% of the RDA of Vitamin C
One potato provides 8% of your daily fiber
One potato has more potassium than a banana
Naturally high in solids and low in moisture makes an Idaho® Russet potato perfect for baked potatoes!
Helpful Tools: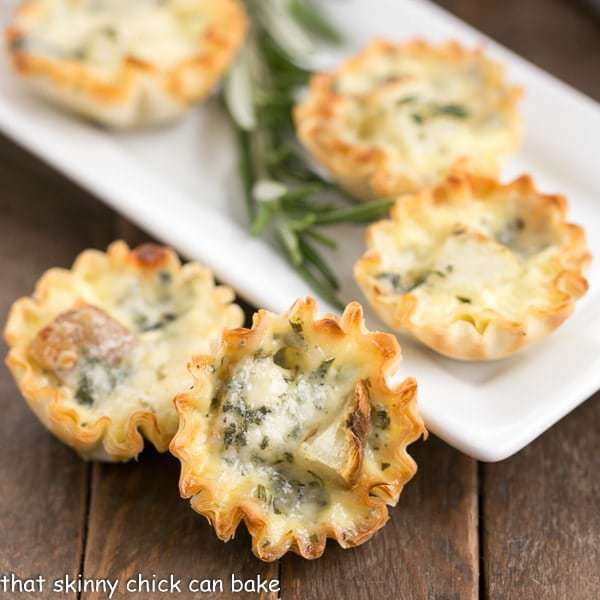 The Recipe:
Potato Blue Cheese Tartlets
Prep Time 20 minutes
Cook Time 30 minutes
Total Time 50 minutes
Yield 10 servings
Delicious potato tartlets inspired by Gourmet with blue cheese and herbs.
Ingredients
1 package Puff Pastry Shells (2 if not using Fillo shells)
1 package Fillo Shells (4 if not using Puff Pastry shells)
Filling::
3/4 pound Idaho® Russet potatoes
1 cup heavy cream
1 egg yolk
A pinch of salt
1 1/2 teaspoons minced fresh thyme
1 1/2 teaspoons minced fresh rosemary
1/4 pound blue cheese, crumbled
Instructions
Bake 1-2 medium Idaho® potato Russets (1/2-3/4 pound), then cool completely in the refrigerator.
Prebake your puff pastry shells according to package instructions, removing them 2-3 minutes early. Remove centers to make a well keeping the bottoms intact, once they've cooled for about 5 minutes. Set aside.
Have the oven set to 375°.
Dice potatoes slightly larger than ¼-inch. Set aside.
Whisk together cream, egg yolk, salt, and herbs.
Arrange a few cubes of potato in each shell, more in the puff pastry shells, less in the fillo shells.
Divided the blue cheese between the shells. Fill the shells with the cream mixture.
Bake tartlets on a baking sheet for 12-16 minutes, depending on size, or until custard is set.. Cool for about 10 minutes before removing from pans to serve.
Nutrition Information:
Yield:
10
Amount Per Serving:
Calories: 354
Total Fat: 26g
Saturated Fat: 11g
Trans Fat: 0g
Cholesterol: 70mg
Sodium: 381mg
Carbohydrates: 25g
Fiber: 1g
Sugar: 1g
Protein: 6g
Note: This post may contain affiliate links; view
my Disclosure Policy
for details. I earn a small percentage from any purchase you make by clicking on these links at no extra cost to you.