Cinnamon Apple Bundt Cake
This Cinnamon Apple Bundt Cake is a dense, old-fashioned Bundt cake chock full of apple slices and perfectly flavored with vanilla and cinnamon.
It's also known as a Jewish Apple Cake because there is no dairy in the cake batter. Whatever you call this dessert, it's utterly delicious!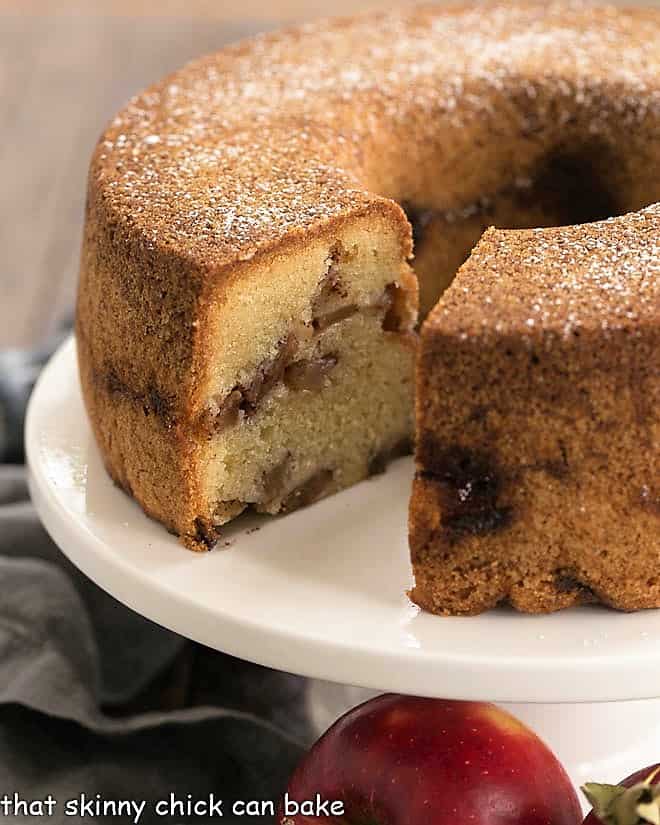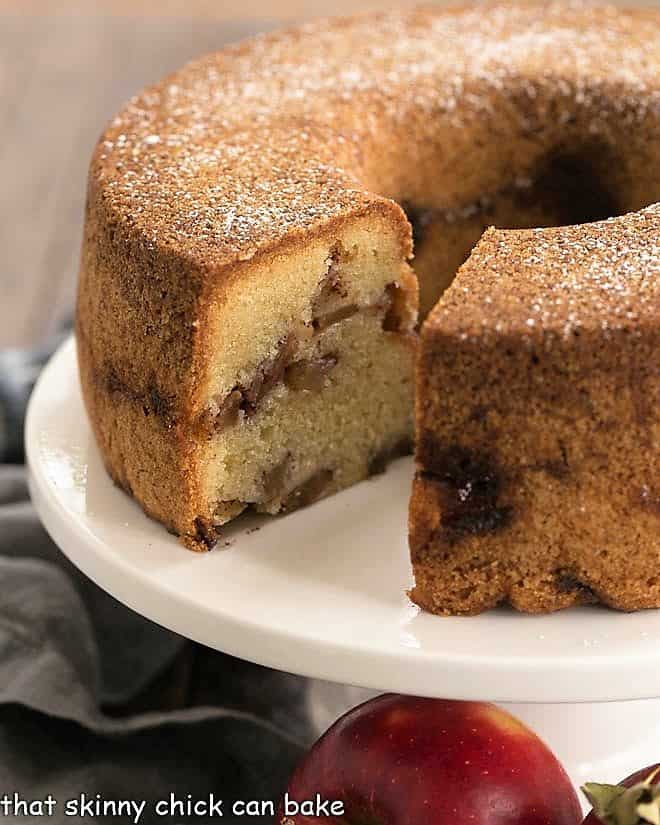 Why You Should Make this
When friends need comfort, I offer food. A dear friend lost her father and her grown children were returning home for the services. This is one of the best apple cake recipes around!
This is a variation on an apple cake I've been making for decades, a simple batter with chopped apples and the option of adding toasted pecans if that's your jam.
Bundt cakes are super easy to make, plus they feed a crowd.
Apples are always in season, so you can make this any time of year with delicious baking apples.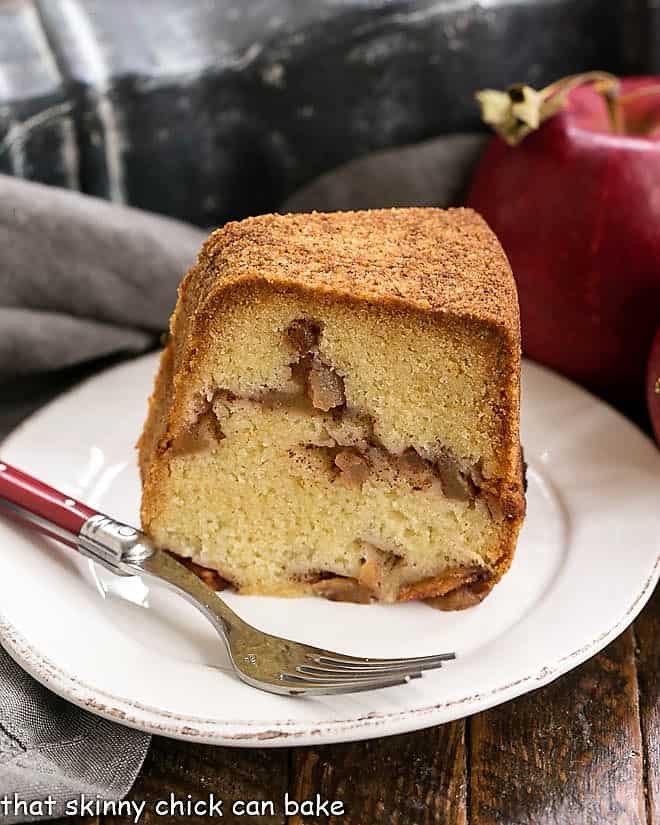 Jewish Apple Cake
You might wonder what makes this a Jewish apple cake. It's because there is no butter or dairy in the cake. Vegetable oil is used instead of butter making the cake dairy-free or pareve. Therefore, it can be eaten after a Shabbat or holiday meal according to Jewish laws/tradition.
This apple cake was delivered when family was gathering in town. I got a sweet text the next morning reporting that my friend's son and son-in-law were inhaling the cake. I think they may have considered it a reasonable breakfast option as it has many of the same ingredients as an apple coffee cake! Why not???!
For their version, I used my fancy, schmancy new Bundt pan, and I made sure to grease it well using the can of baker's spray made with oil and flour. And if you use a dark coated, non-stick pan, decrease the oven temperature to 325º and bake longer. If you bake at 350º, the crust will get dark before the cake is fully baked. The cake pictured in these photos was made with a simple tube pan.
Frequently Asked Questions
What Are the Best Apples for Baking?
My favorite apples for cakes are Honeycrisp, Jonagold, Braeburn, Pink Lady and Granny Smith. I used Honeycrisp for this Recipe.
How Do You Store an Apple Cake?
Keep your apple cake at room temperature, wrapped well in plastic wrap, for only a day or so. Because of the extra moisture given off by the fruit, move it to the refrigerator after 2 days and it should stay fresh for a few more days.
Can You Freeze an Apple Cake?
Yes, if it's wrapped well, it can be frozen up to 3 months. Wrap in plastic, then in foil. Defrost in the refrigerator before serving.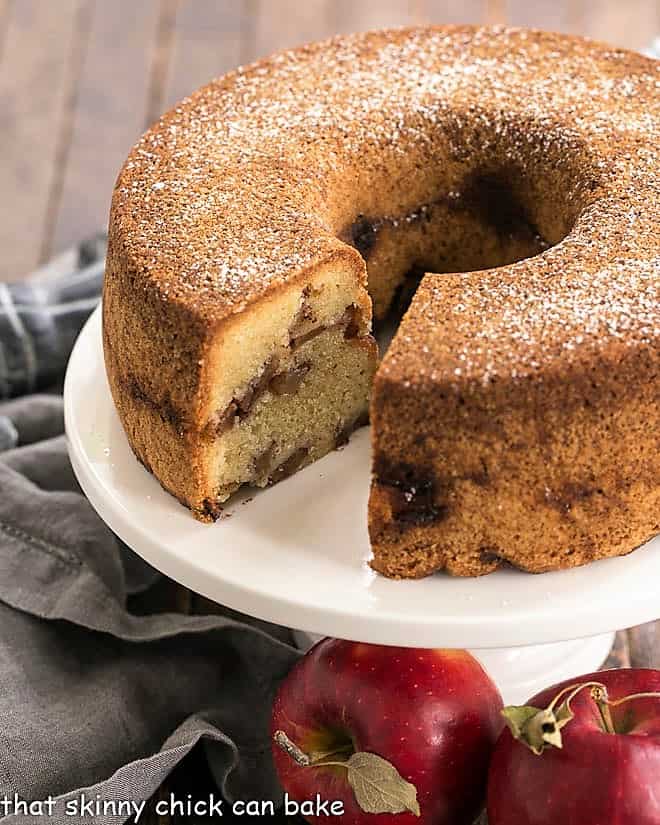 Tips for Making a Apple Cinnamon Cake
Use your favorite baking apples. In the fall, Honeycrisp are very reliable and what I used when I updated these photos.
My mom's recipe called to chop the apples, but I like the thinner slices because they ensure the apples are baked thoroughly.
To prevent sticking, look for Baker's Joy, a baking spray with oil and flour, or some equivalent in the baking aisle of your grocery store. If you don't have that specific item in your kitchen, just grease well with shortening, then dust with flour, tapping out the excess.
With so many apple pieces, a few are certain to caramelize and stick a bit. Selecting a tube pan with fewer nooks and crannies is a more reliable option than a traditional Bundt pan. Using a tube pan helps prevent the cake from breaking apart when released from the pan.
PRO-Tip: As mentioned in the recipe, decrease the oven temperature by 25º if using a non-stick pan with a dark surface to prevent over-browning. The cake will need to be baked longer at a lower oven temperature.
Please try this yummy Jewish apple cake while apples are in season, whether to give away or for your pleasure, it's a winner.
More Apple Desserts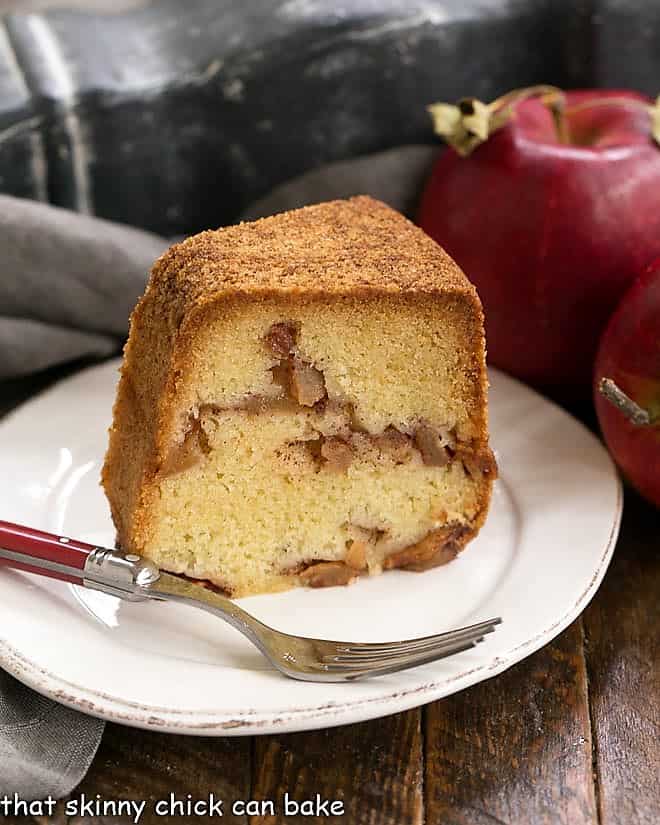 The Recipe:
Apple Bundt Cake
Prep Time 30 minutes
Cook Time 1 hour 15 minutes
Total Time 1 hour 45 minutes
Yield 10 servings
Vanilla Bundt cake with apples and cinnamon.
Ingredients
Cake
2 3/4 cups flour
1 tablespoon baking powder
1 teaspoon salt
4 eggs
1 1/4 cups vegetable oil
2 cups sugar
2 teaspoons vanilla
Apples:
3 cups peeled, cored, quartered, then sliced apples
1 tablespoon cinnamon
1/4 cup sugar
Instructions
Preheat oven to 350 or 325 if using a dark pan. Spray Bundt or tube pan with Baker's Joy or similar flour/oil spray or butter pan and dust with flour. Set aside.
In a large bowl, whisk together the flour, baking powder and salt. Set aside.
In another bowl, whisk together the eggs, oil, sugar and vanilla.
Pour the egg mixture into the dry ingredients and mix well with rubber spatula until well combined.
Pour half the batter into the prepared pan, smooth the top, then prepare the apples.
Mix together the apple slices with the cinnamon and sugar. Place half the apples along with some of the juice over the batter.
Scrape the rest of the batter over the apples, smooth the top,and evenly arrange the rest of the apples and some of the juices over the batter.
Bake for about 1 hour and 15 minutes to 1 1/2 hours or until a toothpick inserted into center comes out clean. Cool 20 minutes then remove from pan to rack to finish cooling.
Notes
Original recipe source unknown.
My mom added 1 cup chopped, toasted pecans, but I leave them out when baking for my family.
Nutrition Information:
Yield:
12
Serving Size:
1 slice
Amount Per Serving:
Calories: 493
Total Fat: 25g
Saturated Fat: 2g
Trans Fat: 1g
Unsaturated Fat: 21g
Cholesterol: 62mg
Sodium: 323mg
Carbohydrates: 64g
Fiber: 2g
Sugar: 41g
Protein: 5g
This recipe was originally shared in December 2013. Photos and text were updated in 2019.
Note: This post may contain affiliate links; view
my Disclosure Policy
for details. I earn a small percentage from any purchase you make by clicking on these links at no extra cost to you.