Caramel Apple Pie
Once apple season arrives, it's a given that apple pie is on the dessert menu. And bolstering this dessert recipe with some gooey caramel sauce makes this Caramel Apple Pie one of autumn's simple pleasures!
If you love Caramel Apples, why not use this classic combination and make a beautiful, autumnal pie!
Why You Must Make
The combination of apples and caramel is classic and delicious!!
Adding some caramel sauce to the pie filling kicks it up a few notches.
Serving a slice with a scoop of vanilla ice cream doused in caramel sauce is a heavenly combination!
Recipe Tips
I baked this pie for Sunday dinner when the boys join us most weeks; they were thrilled with pie a la mode for dessert. Even Bill, who swears not to like caramel, enjoyed a slice every night until it was gone. He abstained from the extra drizzle of caramel sauce, though!
In the autumn, there are loads of terrific pie apples in the grocery stores and farmers' markets. I was thrilled to find some Northern Spys, my favorite pie apple, at a farmer's market booth one Saturday. Ask which varieties are best for baking if you're unsure, and play it safe by using 2-3 different kinds of baking apples for the best depth of flavor and texture.
PRO-Tip: Mix sweet, tart, firm and not-so-firm apples. You definitely want the majority of the apples to hold their shape so you don't have an applesauce-filled pie. Using a variety of apples provides a wonderful depth of flavor.
You can easily use a store-bought pie crust if that's your preference. You can also use a jar of good quality caramel sauce (look for butter and cream in the ingredients!).
The pie crust recipe I've shared is from America's Test Kitchen so it's tried and true and very flaky. It's unusual as it contains vodka which gives some extra moisture to the dough, but evaporates during the baking process. There is no taste of alcohol in this very flaky crust. Feel free to use your favorite double pie crust recipe if you have one.
PRO-Tip: This pie crust also uses a combination of shortening and butter. The shortening makes it easy to work with and the butter provides a wonderful flavor. You can also use lard in place of the shortening which makes a super flaky crust, too.
Do not buy the lard that's stored on a shelf in the grocery store. I purchase leaf lard from a local butcher shop and it makes a fabulous crust, but beware that it's a bit harder to work with pie dough made with lard over shortening.
If you've ever made an apple pie and had a big, empty gap between the filling and top crust after it's baked, this recipe has a solution.
PRO-Tip: Precooking your apples helps prevent the shrinking of the filling that occurs when you bake with raw apple slices. It's that shrinking of the filling that creates the unwanted space under the top crust.
You May Also Like:
I love all things apple, but making a two-crust apple pie is often too complicated for a busy day. Here are some delicious alternatives.
Frequently Asked Questions
What are the Best Apples for Pie?
A combination of firm and soft, tart and sweet provides a delicious depth of flavor. Two easy-to-find apples that combine well are Granny Smith and Golden Delicious. Other tasty pie apples include Northern Spys, Honeycrisp, Rome, Jonagold, Jonathan, and Braeburn.
Why is Vodka Used in the Crust?
This is a recipe from Cook's Illustrated that consistently works well. The vodka provides liquid to help hold the pie dough together and makes it easier to manipulate, but it also inhibits the formation of gluten, making a tender crust.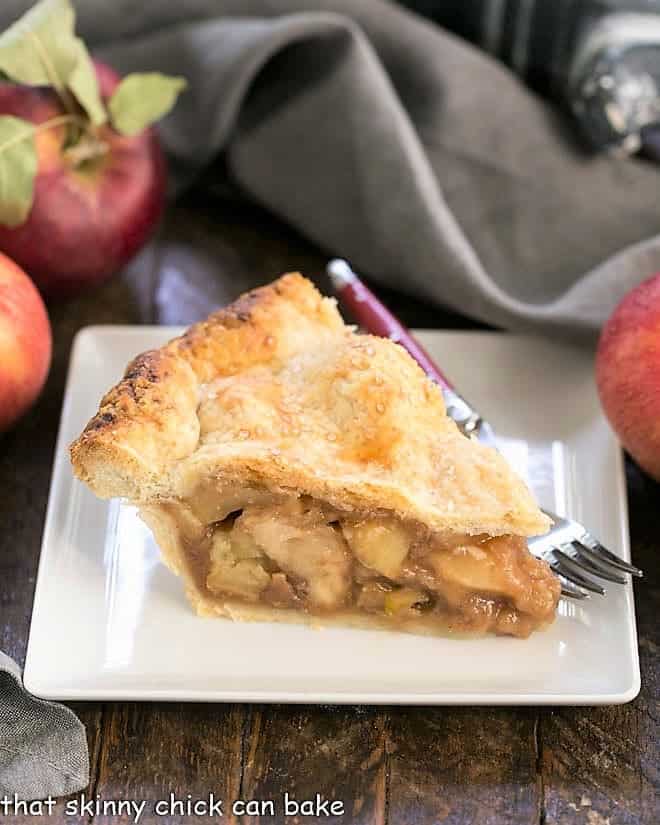 The Recipe:
Caramel Apple Pie
Prep Time 30 minutes
Cook Time 1 hour 30 minutes
Total Time 2 hours
Yield 8 servings
A classic double crust apple pie enhanced by homemade caramel in the filling!
Ingredients
For the crust:
2 1/2 cups flour
2 tablespoons sugar
1 teaspoon salt
12 tablespoons butter (cut into small pieces and chilled)
1/2 cup vegetable shortening (or lard, cut into 4 pieces and chilled)
1/4 cup cold vodka
1/4 cup cold water
For the filling:
4 pounds Granny Smith apples (peeled, cored and each cut into eighths), I used a combination of Granny Smith, Northern Spy and Jonathan
1/2 cup packed brown sugar
1/2 teaspoon ground cinnamon
1/4 teaspoon freshly grated nutmeg
1 tablespoon fresh lemon juice
3 tablespoons cornstarch
For the caramel:
1 1/2 cups packed brown sugar
1/3 cup corn syrup
6 tablespoons butter (cut into pieces)
1/2 teaspoon salt
1/2 cup cream
To finish the top crust:
1 egg white (beaten with 1 teaspoon water)
2 teaspoons sugar
Instructions
Make the crust:
Place 1 1/2 cups flour, sugar, and salt in a food processor and pulse till just combined. Add butter and shortening and process for about 10 seconds (dough will appear crumbly).
Scrape the sides of the bowl. Add the remaining 1 cup flour and give 4-6 quick pulses.
Remove the blade from the processor, then sprinkle vodka and water over the mixture. With a rubber spatula, mix and press dough until it sticks together.
Flatten the dough into two disks. Wrap in plastic wrap and refrigerate for about an hour minimum.
Roll out one disk of pie crust and place in a 9-inch deep dish pie plate. Refrigerate the pie shell and remaining dough round for 30 minutes.
To prepare the apples, in a large pot over medium heat, stir together the apples, brown sugar, cinnamon, nutmeg, and lemon juice.
Cover and cook, stirring occasionally, until the apples are just tender, about 20 minutes. Uncover and let cool to room temperature. Stir in the cornstarch.
To make the caramel, combine the brown sugar, corn syrup, butter, and salt in a heavy saucepan over medium heat.
Cook until the mixture is bubbling well for about 9 minutes, stirring only during the first couple of minutes of cooking.
Remove from heat, then carefully stir in 1/4 cup of the cream, then stir in the remaining 1/4 cup of cream. Let cool until just warm. Preheat the oven to 400°F.
If the dough in your pie pan is really firm, let it sit at room temperature for about 5 minutes. In a large bowl, combine the apple mixture and 3/4 cup of caramel. Save the remaining caramel to serve the pie.
Pour the apple filling into the pastry-lined dish and place the top crust over the pie. Trim the edges of the top crust so that both top and bottom crusts are flush with the rim.
Press crusts together around the rim and crimp as desired. Brush the top crust with egg wash and sprinkle with sugar.
Place the pie dish on a baking sheet. Bake until the crust is golden brown, about 1 hour.
If the crust is browning too quickly, cover the edges with foil. Remove pie from oven and let cool to room temperature on a wire rack. Serve with ice cream and rewarmed caramel sauce, if desired.
Notes
Crust adapted from The Best of America's Test Kitchen via The Mom Chef
Filling and caramel adapted from Williams-Sonoma
Calories reflect using all the excess caramel to drizzle over pie slices. We found we did not use it all.
Nutrition Information:
Yield:
8
Serving Size:
1 slice
Amount Per Serving:
Calories: 937
Total Fat: 45g
Saturated Fat: 25g
Trans Fat: 1g
Unsaturated Fat: 17g
Cholesterol: 93mg
Sodium: 638mg
Carbohydrates: 126g
Fiber: 8g
Sugar: 83g
Protein: 6g
This is my second go-around for this pie. Previously baked in 2013, I was looking through the blog at apple recipes and had to give it another whirl! It seems things didn't go smoothly with my first attempt, though it was inhaled by the pie-loving family!
If you want to hear about that experience, I've saved an excerpt for you:
This one had disaster written all over it. First I left the apples simmering on the stovetop and the Golden Delicious cooked into mush. Then the crust, full of lard and butter, didn't look too hot, either. When I added the cornstarch to the hot filling, instead of letting it cool first, I had to spend the next few minutes pulling white pasty bits from the apples.
My caramel had to be recooked to the proper temperature after my first half-hearted attempt (I was certain that the pie would be inedible). I didn't even plan to take photos until Nick (home from college for spring break), who had been tantalized by the aroma of this Caramel Apple Pie, had the first slice. The not-so-pretty crust was flaky and delicious. The filling, drizzled with some of the caramel, baked into apple pie perfection. And with a scoop of vanilla ice cream doused with more caramel sauce, we had a surprising success. My next pie will be made when I'm not multi-tasking in the kitchen. Hahaha, that'll be the day.
Note: This post may contain affiliate links; view
my Disclosure Policy
for details. I earn a small percentage from any purchase you make by clicking on these links at no extra cost to you.