Cream Cheese Apple Torte
Packed full of cinnamon-spiced apples, a surprise cheesecake layer over a buttery crust, this Cream Cheese Apple Torte is a sure-fire hit!
I designated this marvelous deep-dish Apple Tart as dessert for our autumn dinner club. It made a spectacular presentation and received rave reviews.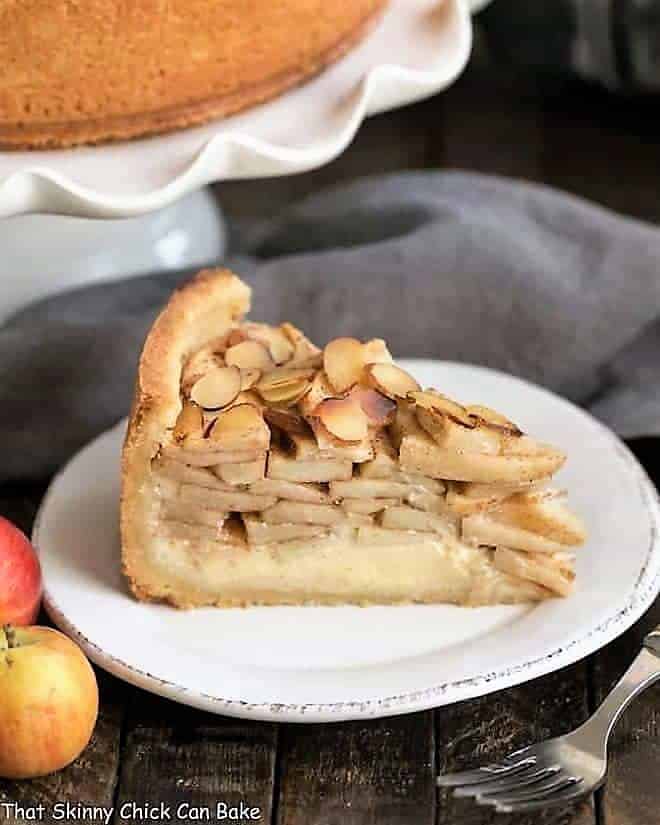 Why You Must Make
A friend and blog subscriber (now that's a good friend!) raved about this cream cheese apple torte, that I had bookmarked years ago. It was meant to be on our menu!
It's a perfect autumn dessert, but too delicious to limit it to just one season!!
A cross between an apple pie and cheesecake, you get TWO desserts in one.
Ingredient Notes
Kitchen Staples – Sugar, Flour, Eggs, Ground Cinnamon
Butter – Salted is fine as salt is a flavor enhancer and there's no added salt in this recipe. At room temperature.
Cream Cheese – At room temperature for easy incorporation.
Vanilla Extract – Always use real vanilla extract, not imitation.
Baking Apples – Cored, peeled, thinly sliced.
Lemon Juice – Fresh juice is best
Sliced Almonds – Add a great crunch. No need to toast them as they will brown slightly in the oven. If there are nut allergies, these can be omitted.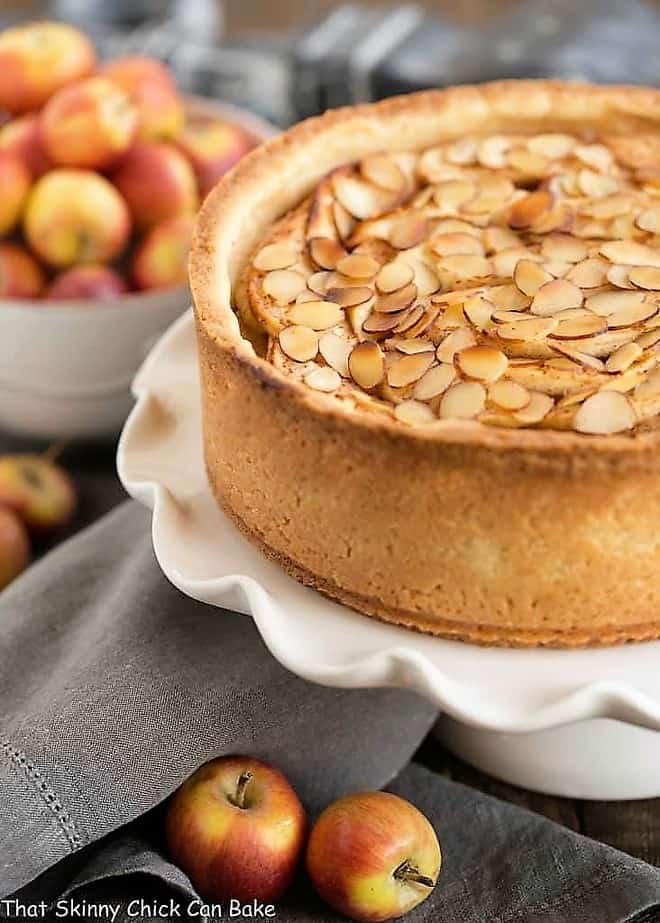 Menu Suggestions
Our dinner club was held at the beginning of December, so strawberry shortcake or peach pie were out as dessert options. As a huge lover of apple desserts, I had no trouble deciding this cream cheese apple torte would be the perfect grand finale. The rest of the menu was as follows:
Expert Tips
Margaret was right! This was a spectacular dessert. Between the buttery crust, the luscious cream cheese layer, then cinnamon kissed apples and the toasted almond topping, every bite was a taste sensation. Here are a few tips when it comes to making apple pies, tarts, and this torte.
I probably packed way too many apples into my crust as my torte needed some extra baking time. Just cover the top with foil if this happens to you, and bake until the point of a sharp knife can easily pierce the apples. My type-A side arranged the apples in tight semi-circles, so in retrospect, I imagine that loosely piling the fruit into the pan would work best.
PRO-Tip: I like using a variety of baking apples for the best flavor. In the fall, there are many more options. Some tart, some sweeter, some keep their shape, others get soft and mushy. It's OK to have one from each of these categories. I like Granny Smiths and Golden Delicious in the off-season, but in the fall look for Jonathan/Jonagold and Northern Spy. I've never used Honey Crisp, but heard they bake well, too.
PRO-Tip: If your crust starts getting too dark, take a piece of aluminum foil and cut out a circle from the middle, so you the foil will cover the perimeter crust, but still allow heat to reach the filling.
Unbeknownst to me, one of our guests was also a huge fan of apple desserts. He ate his own slice, topped with a scoop of Graeter's caramel ice cream, then finished his wife's portion. I call that a positive endorsement. Even Bill, the nut avoider, finished every crumb. This apple cream cheese torte will surely make a second appearance on our menu.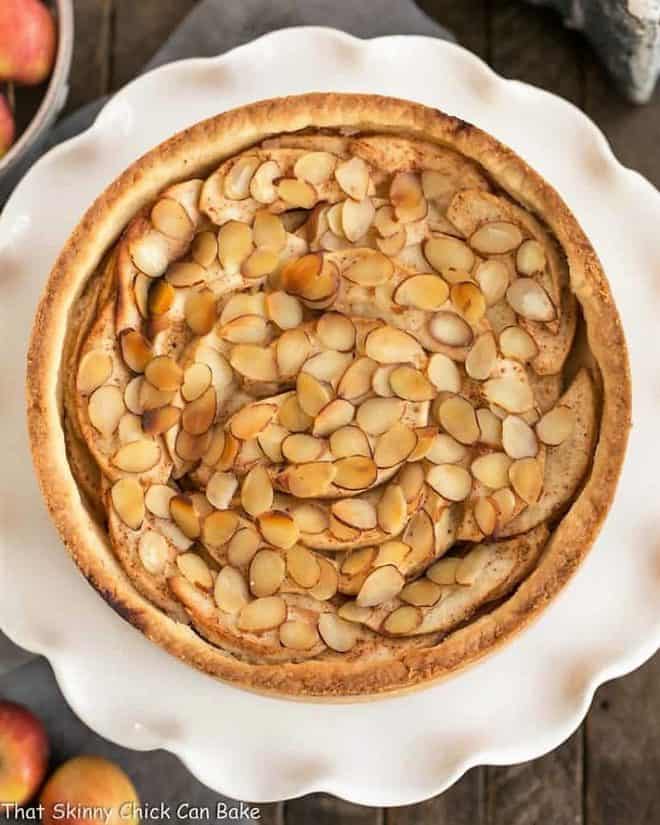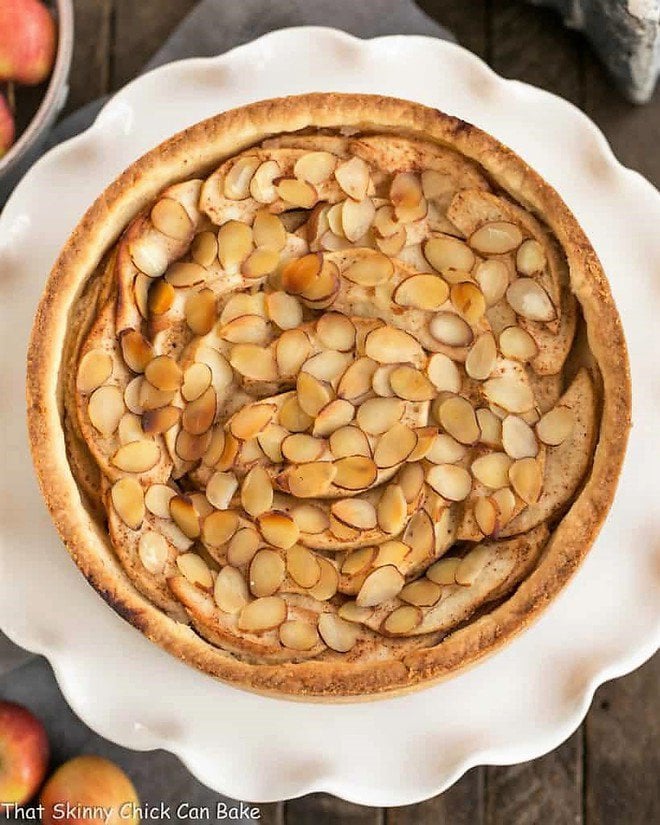 You May Also Like: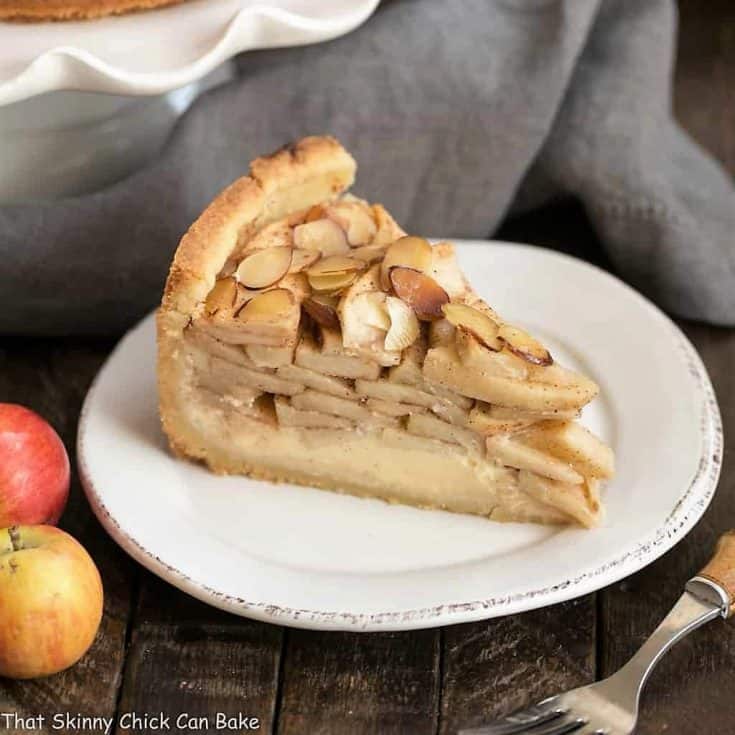 The Recipe:
Cream Cheese Apple Torte
Prep Time 20 minutes
Cook Time 40 minutes
Total Time 1 hour
Yield 8
I designated this marvelous Cream Cheese Apple Torte as dessert for our autumn dinner club. Packed full of apples with a surprise cheesecake layer over the bottom crust, it's sure to be a hit any time of year!
Ingredients
Crust:
1 cup (2 sticks) butter, at room temperature
2/3 cup sugar
2 cups flour
Filling:
8 ounces cream cheese, at room temperature
1/3 cup sugar
1 teaspoon vanilla
1 egg
5 apples, peeled, cored and thinly sliced
1/3 cup sugar
1 teaspoon cinnamon
lemon juice
1/4 cup sliced almonds
Instructions
Preheat oven to 425 degrees.
Beat together the butter and 2/3 cup sugar until light and fluffy. Add flour and mix well. Press onto bottom about 3/4 of the way up the sides of a 9-inch springform pan.
In another bowl, beat the cream cheese and 1/3 cup sugar until well blended. Add egg and vanilla; mix well. Spread evenly over crust.
Combine 1/3 cup sugar and the cinnamon in a large bowl. Add apples, and gently toss to coat. Spoon (or arrange) over cream cheese layer. Sprinkle with almonds.
Bake for 10 minutes. Reduce temperature to 375 degrees, and continue baking 25 minutes or until apples are tender.
Cool on a wire rack , then remove the rim of the springform pan. Cover and refrigerate 3 hours before serving. Store any leftovers in refrigerator.
Notes
Recipe adapted from Applehood & Motherpie, Handpicked Recipes from Upstate New York.
Nutrition Information:
Yield:
8
Serving Size:
1 slice
Amount Per Serving:
Calories: 432
Total Fat: 13g
Saturated Fat: 6g
Trans Fat: 0g
Unsaturated Fat: 5g
Cholesterol: 52mg
Sodium: 100mg
Carbohydrates: 76g
Fiber: 4g
Sugar: 46g
Protein: 7g
Note: This post may contain affiliate links; view
my Disclosure Policy
for details. I earn a small percentage from any purchase you make by clicking on these links at no extra cost to you.