Mixed Berry Torte
This super easy, moist Mixed Berry Torte, is equally as wonderful served as a coffee cake in the morning or as a simple dessert after your evening meal! Plus, it's terrific with all sorts of fruit!
Adapted from Marian Burros, this basic one-layer Berry Cake recipe lets the berries shine!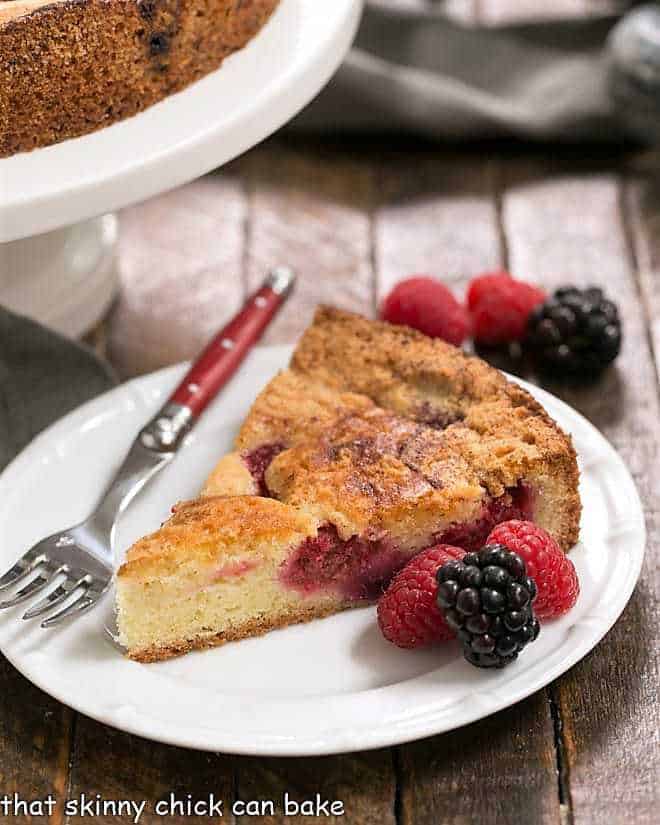 Why You Must Make
As a food blogger, I'm a bit out of touch. Apparently, the inspiration for this recipe appeared year after year in the New York Times's cooking section.
This featured torte recipe was made with 24 purple plum halves, but folks across the world successfully tweaked it using berries, peaches, apples, and more.
One September, the recipe was not printed and the plum torte fans revolted! A girlfriend brought her version to our knitting group and the whole room had a faint aroma of cinnamon and butter. I knew I'd have to bake this cake.
Ingredient Notes
Pantry Staples – Sugar, Table Salt, Large Eggs, Cinnamon
Butter – At room temperature for easy incorporation. I use salted butter and decrease the amount of salt.
Flour – All-purpose flour, sifted.
Baking Powder – Make sure your baking powder has not expired. It has a much shorter lifespan than baking soda. Check the date on the can and if it's near the expiration date, put a spoonful in a cup of hot water. If it bubbles vigorously, it's still active. If it does not, replace it before proceeding with the recipe.
Vanilla – Always use real vanilla extract, not artificially flavored.
Berries – I used raspberries and blackberries. Use other fruit or berries if desired. If using apples, you may want to cook them first to ensure they're done when the cake is done.
Lemon Juice – Use a squeeze of fresh lemon juice along with sugar and cinnamon to top the finished cake before serving, if desired.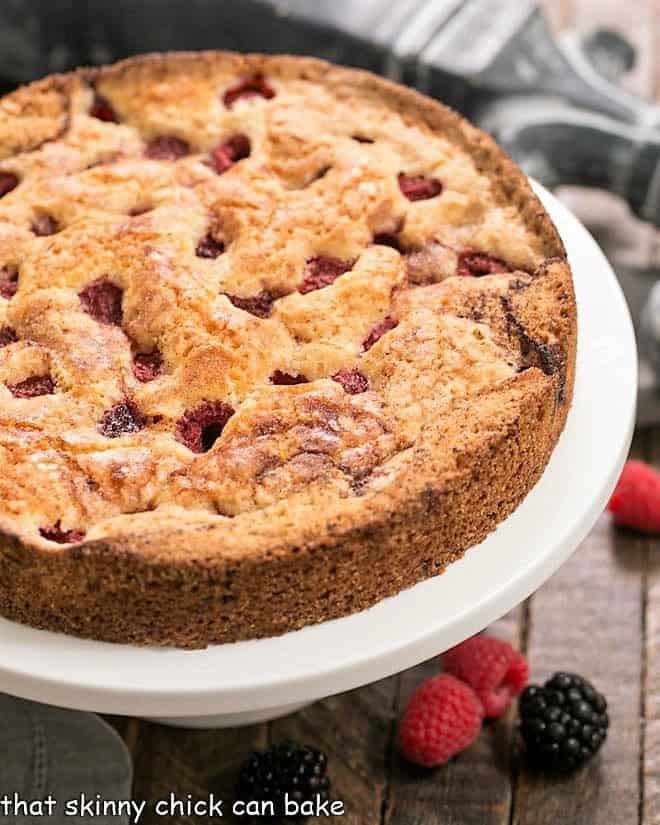 Expert Tips
As I mentioned above, this torte can be made with a variety of fruits. Purple plums may not be in season or available in your region, so it's nice to have alternatives, like using a variety of berries.
PRO-Tip: Replace the plums with 3 cups of fresh berries, like blueberries, raspberries, blackberries, or a combination.
PRO-Tip: If your fruit is super sweet or you want to serve this for breakfast, feel free to decrease the sugar from 1 cup to 3/4 cup.
Around the holidays, use cranberries and add some orange zest, too. Since cranberries are tart, I'd suggest using a full cup of sugar.
Even canned fruit will work well, especially in mid-winter when there are no fresh peaches, apricots, etc. in season. Using the best quality fruit available will make for the most delicious results.
I tried mixing the berries into the batter, but being fragile, they bled and discolored the mixture. The taste was fine, but next time I will sprinkle them over the batter as I scrape it into the pan.
I added vanilla to my batter. A touch of lemon extract would be lovely with blueberries, almond extract with apricots or peaches, etc.
Simple recipes need quality ingredients. Use the best butter you can find, a good quality vanilla extract (affiliate links), and top-notch fruit.
I baked my torte in a (affiliate links) 9-inch springform pan for 1 hour. If you use an 8-inch pan, you'll need to bake a bit longer and if you use a 10-inch pan, it may take less time in the oven. Use a toothpick to check the center for doneness. It should come out clean after insertion.
Serve with a sprinkle of powdered sugar or some of the toppings listed below.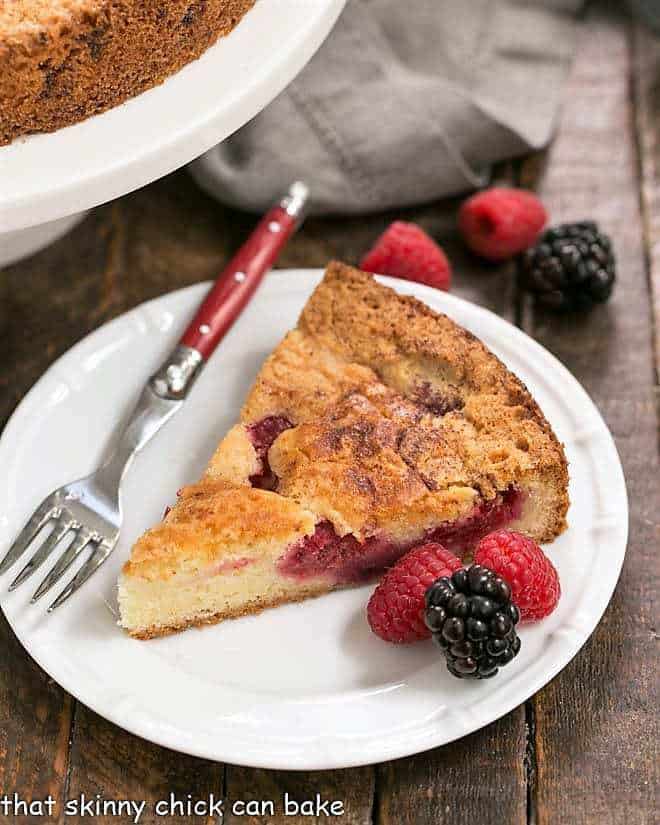 How to Serve
This cake is tasty with a dollop of lightly sweetened whipped cream or a scoop of vanilla ice cream. Try Chantilly Cream or even Lemon Curd Whipped Cream. A dusting of powdered sugar along with a few fresh berries is also a beautiful way to garnish. Offer coffee, tea, milk, or a glass of Chardonnay or Champagne.
Frequently Asked Questions
Who is Marian Burros?
Marian Burros is a cookbook author, a James Beard award winner for 3 of her cookbooks, and a New York Times food columnist since 1983.
What is the Difference Between a Torte and a Cake?
Tortes are a subcategory of cakes. They tend to be rich cakes made with little to no flour and often have many layers. Ingredients may include ground nuts or breadcrumbs to replace the flour, eggs, sugar, and flavorings. They often have many layers and can be filled with jams, frosting, etc.
What If I Don't Have a 9-inch Springform Pan?
With this recipe, you can also use a 9-inch cake pan. The original recipe called for an 8, 9, or 10-inch cake pan. The times will vary by a few minutes with the 8 and 10-inch pans. You can also use the other sizes of a springform pan, but again, the baking time will need to be adjusted. Note that the springform pan has the advantage of removable sides which makes it much easier to transfer the cake to a serving dish and slice it into wedges. 
You May Also Like:
This mixed berry torte will definitely grace our table again. I told Bill it was a coffee cake, and he happily ate slice after slice for breakfast and dessert until it disappeared.
Stay in touch through social media @ Instagram, Facebook, and Pinterest. Don't forget to tag me when you try one of my recipes! And if you love the results, please give it a 5-star rating in the recipe card. Note: As an Amazon Associate, I earn from qualifying purchases. Visit my Amazon Store for my favorite products.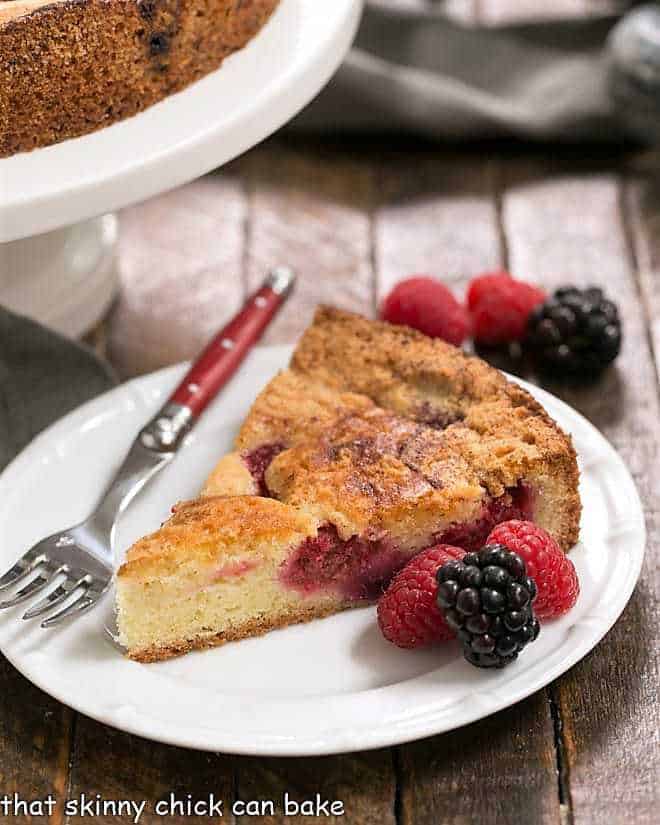 The Recipe:
Mixed Berry Torte
Prep Time 15 minutes
Cook Time 1 hour
Total Time 1 hour 15 minutes
Yield 8 servings
A simple berry torte that's always a hit!
Ingredients
¾ to 1 cup sugar
½ cup butter, softened
1 cup unbleached flour, sifted
1 teaspoon baking powder
¼ teaspoon salt
2 eggs
½ teaspoon vanilla
3 cups of berries, I used raspberries and blackberries
Sugar, lemon juice and cinnamon, for topping
Instructions
Preheat the oven to 350 degrees.
Cream together the sugar and butter. Add the flour, baking powder, salt, and eggs and beat until well combined. Stir in the vanilla.
Spread the batter into a greased 9-inch springform pan. Top the batter with berries, then sprinkle lightly with cinnamon, sugar, and a drizzle of lemon juice.
Bake for 1 hour or until a toothpick inserted into the middle of the cake comes out clean or with a few moist crumbs.
Serve with a dollop of sweetened whipped cream or a dusting of powdered sugar.
Notes
Adapted from the New York Times
Recommended Products
As an Amazon Associate and member of other affiliate programs, I earn from qualifying purchases.
Nutrition Information:
Yield:
8
Serving Size:
1 slice
Amount Per Serving:
Calories: 278
Total Fat: 13g
Saturated Fat: 8g
Trans Fat: 0g
Unsaturated Fat: 4g
Cholesterol: 77mg
Sodium: 237mg
Carbohydrates: 38g
Fiber: 3g
Sugar: 23g
Protein: 4g
Note: This post may contain affiliate links; view
my Disclosure Policy
for details. I earn a small percentage from any purchase you make by clicking on these links at no extra cost to you.