Vietnamese Beef Noodle Bowl
Udon noodles, rare beef slices, loads of veggies, and an Asian dressing make for an out-of-this-world Vietnamese Beef Noodle Bowl!
When you have leftover roast or grilled beef, add these fabulous Asian noodle bowls to your menu. The bold flavors, crisp vegetables, and light dressing create a memorable meal!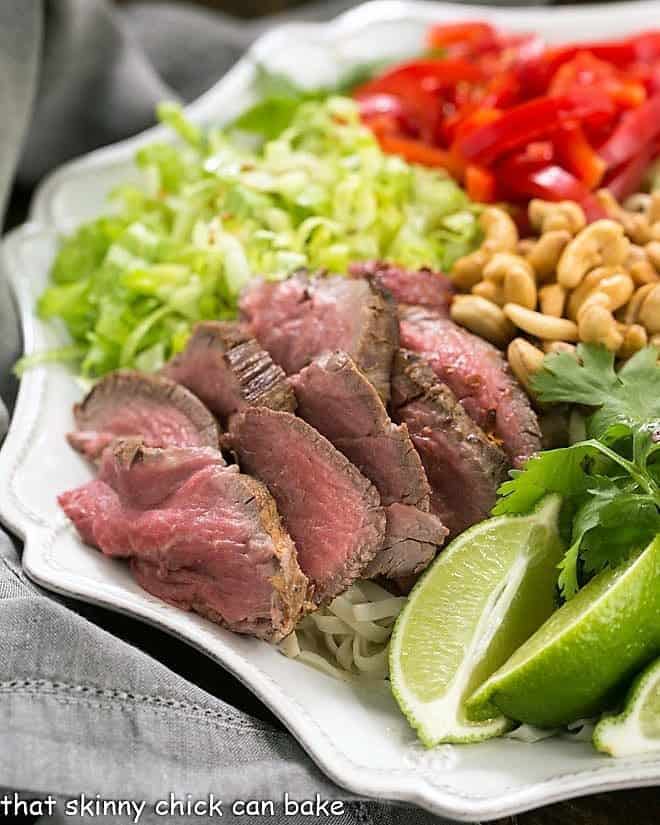 This post was originally shared in 2011. Some new text was added to offer some tips for making these noodle bowls along with new photos.
Vietnamese Beef Noodle Bowl
We had lots of perfectly grilled beef tenderloin leftover from my dad's birthday celebration. When discussing what we wanted to whip up for dinner, my sister, Mary, immediately suggested a Vietnamese noodle bowl. With all the decadent party food we'd consumed the night before, this sounded incredibly refreshing. We were not disappointed!
This would be fabulous with chicken or shrimp plus the veggies can be swapped for any of your favorites. I wish I could cook dinner with my sisters every night!
Tips for Making Asian Noodle Bowls
My friend, Susan, shared 15 Noodle Bowls You Can't Live Without. That alone opened my eyes to the wide variety of recipes available for noodle bowls. I think the only requirement is "noodles," but nowadays, noodles can be zoodles or zucchini or other spiralized vegetable noodles. The options are endless.
When I remade this recipe for Bill back home, you can imagine his response when I said Vietnamese Noodle Salad was for dinner. He's more of a meat and potatoes guy.
I dissuaded him from heating up the noodles, but he did zap his beef in the microwave. He ate the noodles and beef (with ketchup!) separately, but was a fan of them both. Whew. He's come a long way!
Since these are noodle bowls, let's start with the obvious ingredient, noodles. I used Udon noodles, which are Japanese wheat noodles, but even spaghetti would work. Following a gluten free diet? Use an alternative pasta or spiralized vegetable instead of wheat based noodles. You can even use a package of Ramen noodles, just ditch the seasoning packet.
The vegetables can be tweaked as well. I've chosen romaine, a sturdy lettuce, red bell peppers, cucumbers and carrots for a colorful array of produce.

Rare beef slices always please my crew, but other protein sources would also be delicious. Tofu for a plant based option or chicken, shrimp or even eggs would be delicious!
Roasted peanuts were called for in the original recipe, but I had whole cashews in my pantry and they offered a delicious crunch.
The dressing gives these noodle bowls their Vietnamese flair. There is no oil in the dressing, but the noodles are tossed in garlic oil, so when the "dressing" and the noodles are combined, a magical mixture coats all the components.
A simple combination of fish sauce, lime juice, brown sugar and red pepper flakes gives an enormous boost of flavor to this dish.
What is Fish Sauce?
If you haven't used fish sauce before, take note. The stuff has a pretty potent aroma, but provides an amazing flavor. Bon Appetit describes it as sweet, salty, fishy, and funky! It's a condiment made of fish coated in salt and then fermented. It's a staple in many Asian cuisines, like Vietnamese and Thai. Pick up a bottle and give it a try!
More Asian Inspired Recipes You'll Love
I'm always turning to Asian marinades for salmon and beef. So delicious! I've also been eyeing this Chinese Asian Pork Meatballs, this Chinese Chicken Salad, and this Sesame Ginger Grilled Chicken! If you have a picky family or a husband that doesn't think entree salads or noodle bowls are dinner material, make this Vietnamese Beef Noodle Bowl for a ladies gathering or a small batch for your lunches. I'm not going to wait 7+ years to make this winner again!
The Recipe:
Vietnamese Beef Noodle Bowl
Prep Time 20 minutes
Cook Time 5 minutes
Total Time 25 minutes
Yield 4 servings
Udon noodles, rare beef slices, loads of veggies and an Asian dressing make for an out of this world Vietnamese Beef Noodle Bowl!
Ingredients
8 ounces Udon noodles
1/4 cup peanut or canola oil
2 cloves sliced garlic
1/4 cup fish sauce
3 tablespoons lime juice
2 tablespoons brown sugar
1/4 teaspoon red pepper flakes
12 ounces Beef tenderloin, seared and sliced thin (I think grilled flank steak would be delicious, too)
Dry roasted peanuts
Carrots, peeled and julienned
Red bell pepper, julienned
English cucumber, peeled, sliced in half lengthwise, then sliced in thin slices
Head of Romaine lettuce, sliced
Fresh basil, chiffonade (roll basil leaves tightly like a cigar, then slice thinly)
Fresh cilantro, stems removed
Instructions
Cook noodles according to package instructions. Drain. Heat oil in large frying pan or wok. Add garlic and sauté till fragrant, being careful not to brown. Add noodles and toss till well coated with oil. Place noodles in large serving bowl.
Make dressing by combining fish sauce, lime juice, brown sugar and red pepper flakes. Add up to 1/2 cup of water to dilute dressing to taste. Set aside.
Arrange vegetables and beef around perimeter of bowl. Garnish with basil, cilantro and peanuts. Drizzle with dressing.
Nutrition Information:
Yield:
4
Serving Size:
1
Amount Per Serving:
Calories: 537
Total Fat: 30g
Saturated Fat: 9g
Trans Fat: 0g
Unsaturated Fat: 17g
Cholesterol: 72mg
Sodium: 1531mg
Carbohydrates: 39g
Fiber: 6g
Sugar: 11g
Protein: 30g
Our sweet mom is in a memory unit…but she joined us for this dinner. She was so happy and animated…a wonderful visit!
Note: This post may contain affiliate links; view
my Disclosure Policy
for details. I earn a small percentage from any purchase you make by clicking on these links at no extra cost to you.