Apple Monkey Bread Crockpot Recipe
Apple Monkey Bread Recipe is a delicious sweet treat, easily made in a slow cooker. This super easy monkey bread recipe uses store-bought biscuits!
This crockpot monkey bread will be the hit of your brunch! And if you have company, it doesn't take up oven space to bake!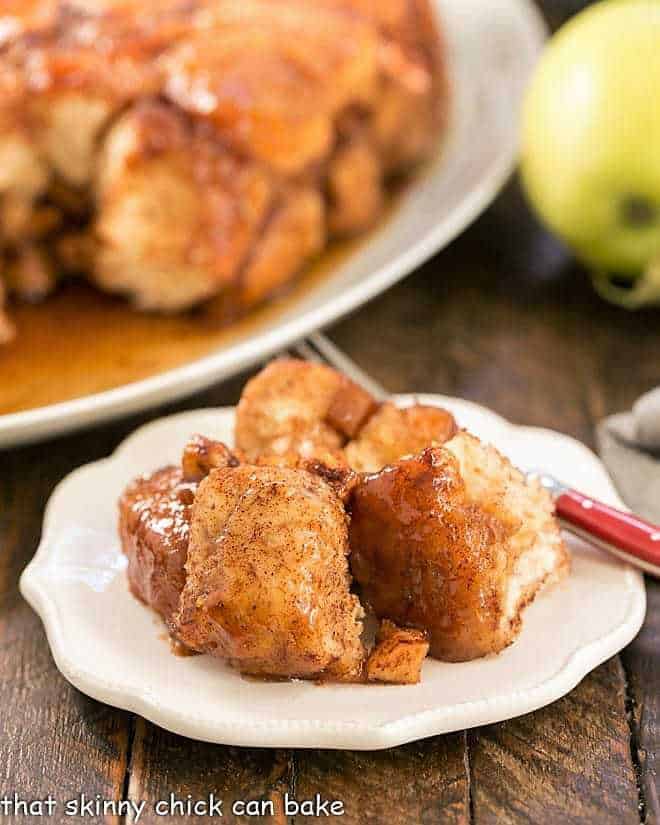 Why You Must Make
Using canned, grocery store biscuits is so much easier than making this monkey bread from scratch.
Cooking in a slow cooker makes this a "fix it and forget it" recipe. It's super easy.
Adding apple chunks along with cinnamon, elevate this recipe to a new high! And though yummy all year long, the apples and cinnamon make for a perfect autumn treat.
My family goes nuts for monkey bread or bubble rolls as we call them. Who doesn't love gooey breakfast bread, especially when they're spiced with cinnamon and studded with diced apples??? And what's most amazing is that this Apple Monkey Bread is made in a slow cooker or crockpot. Two and a half hours of hands-off cooking. Doesn't that sound perfect?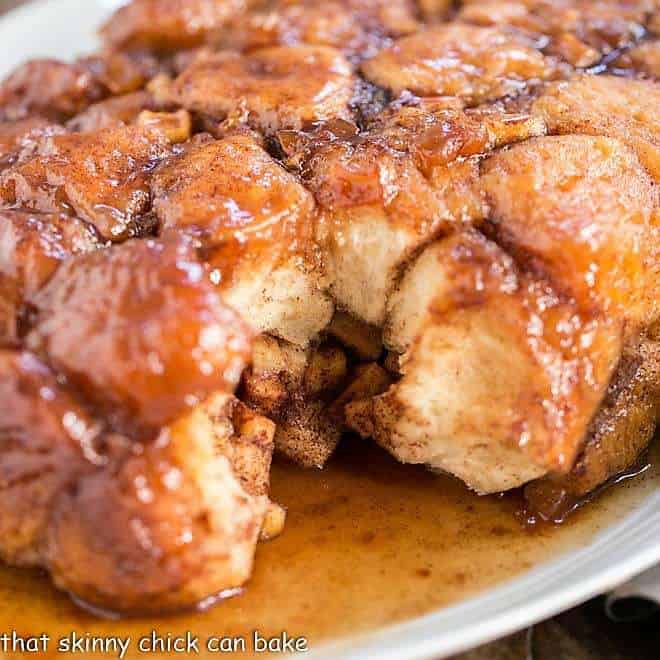 Expert Tips
These didn't puff up as much as I expected, but for a minimal-fuss recipe, made with canned biscuits, they are excellent. For all that I bake, I rarely eat more than a nibble. But see that plate in the top photo? That was for quality control and I made every morsel disappear quickly.
PRO-Tip: If you can't find the original Pillsbury Biscuits, use Pillsbury Grands instead. Both are available, but if sizes change, go by the ounces instead. Look for about 30 ounces of biscuits.
I found two packages that totaled approximately 32 ounces. They were Pillsbury Grands. If you find the original biscuits, use 4 packages which total 28 ounces.
Cut each biscuit into quarters, then gently roll them into balls. If you use the Grands, which are larger, feel free to cut them into more pieces. They didn't keep perfectly spherical when I tossed them with the sugar mixture, so rolling them is totally optional.
Tweak the spice mixture as you see fit. I'd definitely keep the amount of cinnamon as is written, but add any of your favorite apple pie spices.
The lid of the crockpot will collect some condensation. Take care not to let any of the moisture drip onto the rolls when you remove the lid.
PRO-Tip: You can line the lid with a couple of layers of paper toweling before you start the cooking process to absorb any moisture. It's also suggested that the monkey bread rest for 10 minutes before serving. At this point, you should add some paper towels between the lid and slow cooker to catch any drips.
I've made monkey bread from scratch and using frozen bread dough. I haven't tested either of those recipes in the crockpot, but there would most likely be a proofing time added to the baking time.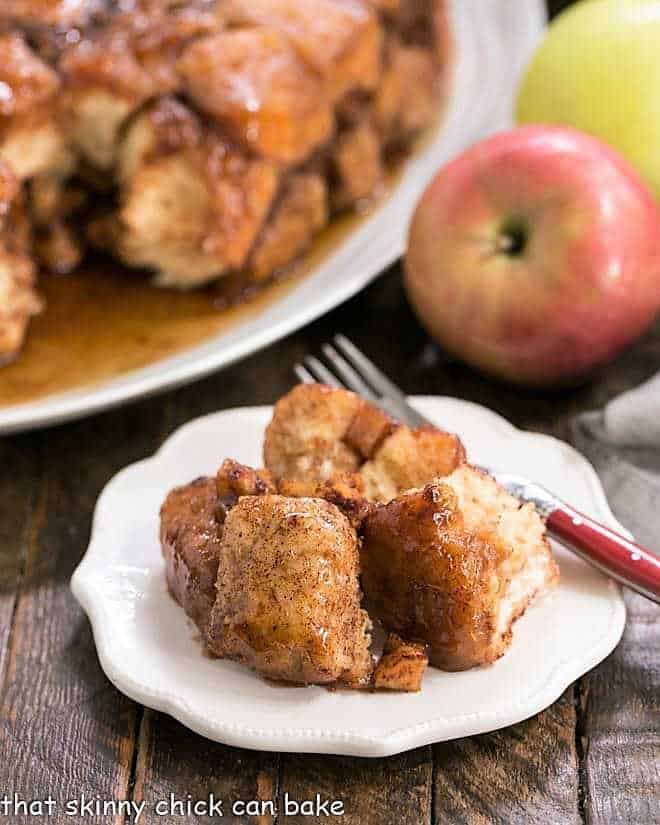 Frequently Asked Questions
What is Monkey Bread?
Monkey Bread is a pull-apart loaf formed from rounds of dough coated in butter, sugar, and spices, layered overlapping in a pan, then baked. After baking, the small rolls stick together. Monkey bread can also be savory, made with grated cheese, etc.
What is Monkey Bread Made Of?
Monkey bread is usually made of dough, which can be yeast bread dough or biscuit dough, melted butter, and sugar. Seasonings like cinnamon plus nuts and raisins can also be used.
Why is this called Monkey Bread?
Also known as bubble bread or bubble rolls, monkey bread is another popular term for these breakfast rolls. The name of this dish comes from the similarity of how monkeys use their opposable thumbs to "pick" at their food and how we eat this bread.
How Should Monkey Bread Be Stored?
Monkey Bread will keep at room temperature for 2-3 days if wrapped well. After that, it can be stored in the refrigerator for 4 more days. Leftovers can also be wrapped airtight and frozen for up to a month.
Do You Need to Make Monkey Bread in a Bundt Pan?
No, besides using a slow cooker, you can also use a solid bottom angel food pan (do not use a pan that comes in two pieces or all the melted butter and sugar will seep out the bottom). You can use a couple of loaf pans or a springform pan (wrap the pan in foil to prevent leakage into the oven).
Baking time will need to be adjusted if using 2 smaller pans instead of one.
You May Also Like:
Stay in touch through social media @ Instagram, Facebook, and Pinterest. Don't forget to tag me when you try one of my recipes! And if you love the results, please give it a 5-star rating in the recipe card. Note: As an Amazon Associate, I earn from qualifying purchases. Visit my Amazon Store for my favorite products.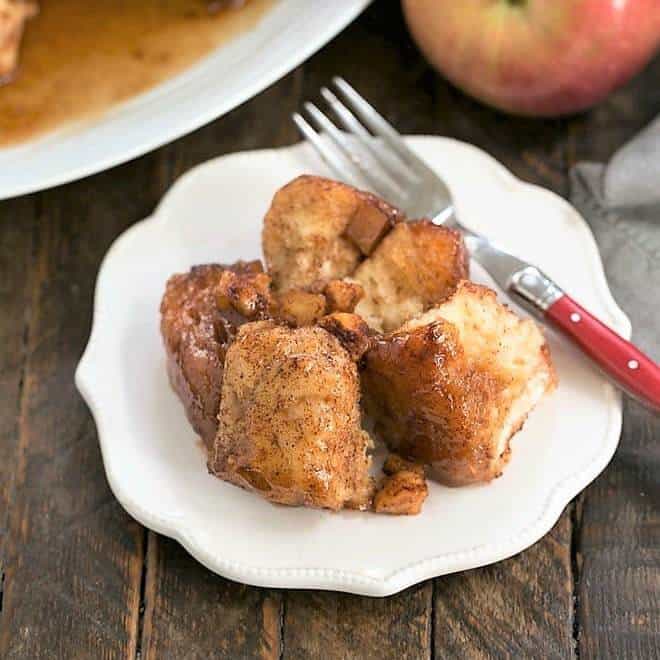 The Recipe:
Apple Monkey Bread Recipe
Prep Time 20 minutes
Cook Time 2 hours 30 minutes
Additional Time 15 minutes
Total Time 3 hours 5 minutes
Yield 12 servings
An easy, hands off monkey bread recipe filled with diced apples.
Ingredients
¾ cup granulated sugar
¾ cup packed brown sugar
1 tablespoon ground cinnamon
a few grates of fresh nutmeg or a pinch of ground nutmeg
¼ teaspoon ground ginger
2 (16 ounce) packages of Pillsbury Grands Southern Homestyle Original Biscuits or 4 (6 ounce) Original Southern Homestyle Biscuits
1 ½ cups diced, peeled cooking apples
½ cup butter, melted
⅓ cup apple cider
1 teaspoon vanilla
Instructions
Spray inside of a 4-quart slow cooker with cooking spray.
In a large bowl, mix together granulated sugar, brown sugar, cinnamon, nutmeg, and ginger.
Sprinkle 2 tablespoons of the sugar mixture in the bottom of the prepared slow cooker. Set the remaining sugar mixture aside.
Cut each biscuit into quarters or even smaller pieces if you'd like.
Add biscuits and apples to the sugar mixture in the bowl, tossing to coat.
Add mixture to slow cooker. Sprinkle with any remaining sugar mixture.
In a small bowl stir together butter, apple cider, and vanilla; pour over biscuits.
Cover and cook on the high heat setting for 2 to 2½ hours or until a knife inserted in the center comes out clean.
Turn off the slow cooker. Carefully remove the lid so that condensation does not drip onto the bread.
Cover the opening of the slow cooker with paper towels and place the lid on top. Cool for 10 to 15 minutes.
Run a knife around the edge of the slow cooker, then move the bread to a serving platter.
Spoon any topping from the slow cooker onto the bread; cool slightly. Serve warm.
Notes
Adapted from Better Homes and Gardens.
Recommended Products
As an Amazon Associate and member of other affiliate programs, I earn from qualifying purchases.
Nutrition Information:
Yield:
12
Serving Size:
1
Amount Per Serving:
Calories: 222
Total Fat: 10g
Saturated Fat: 5g
Trans Fat: 0g
Unsaturated Fat: 4g
Cholesterol: 21mg
Sodium: 170mg
Carbohydrates: 33g
Fiber: 1g
Sugar: 26g
Protein: 1g
Note: This post may contain affiliate links; view
my Disclosure Policy
for details. I earn a small percentage from any purchase you make by clicking on these links at no extra cost to you.