Easy Chocolate Mousse Bars
When the recipe for these Easy Chocolate Mousse Bars popped up in my email, they looked perfect for my chocoholic family!
No-bake made them super simple to put together and anything "mousse" makes the gang happy!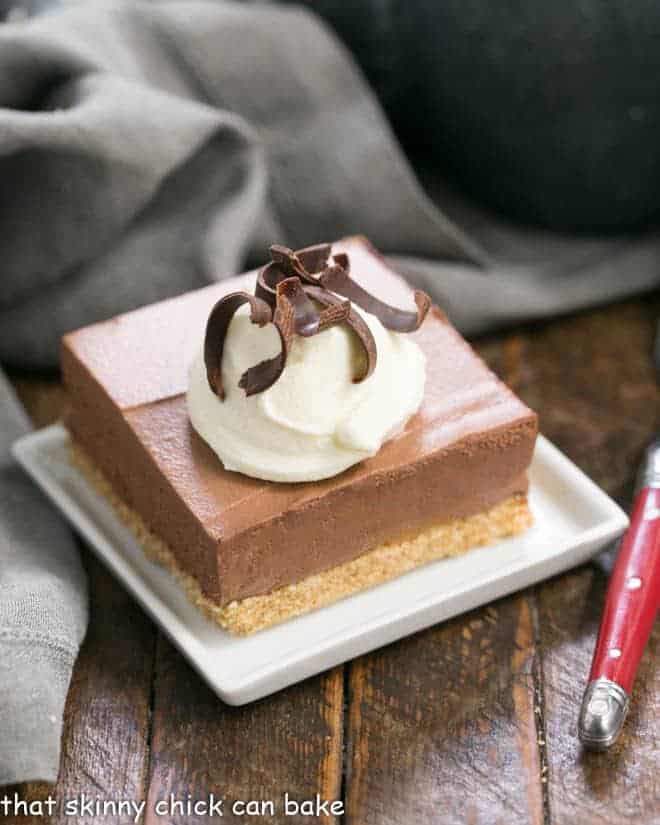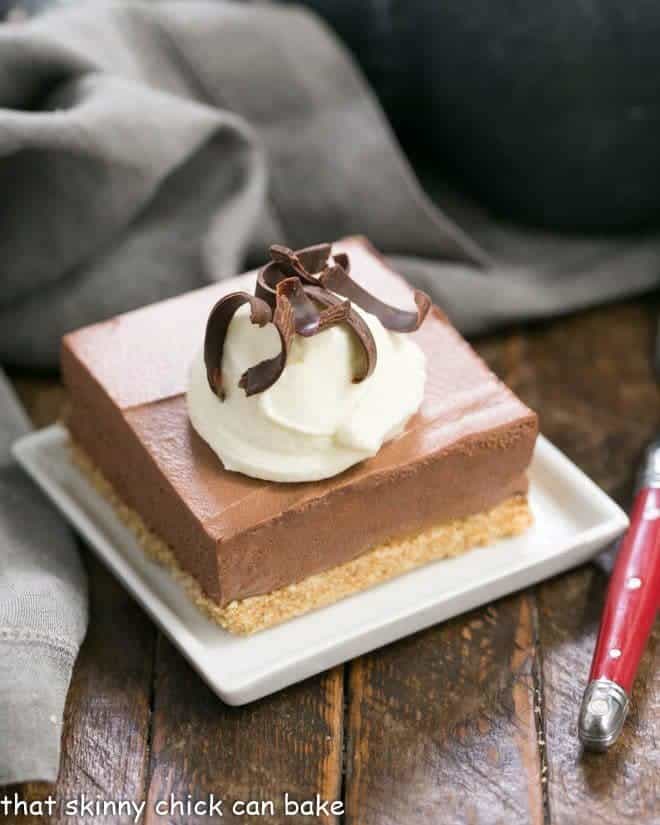 Easy Chocolate Mousse Bars
Much as I love a mousse made with eggs, they're definitely more time-consuming plus you have to worry about the possibility of salmonella contamination. It's tough to find pasteurized eggs around here anymore, so these chocolate mousse bars take the safe route!
I served these decadent treats to the whole family one Sunday night, then sent a few home with Nick to share with his med school roommates. The next Sunday he reported back that his roomies were fans of these mousse bars along with some leftover Chocolate Chip Caramel Butter Bars. These guys barely have time to cook for themselves, so I figure their standards are rather low. Consequently, I have some guinea pigs for my leftover treats!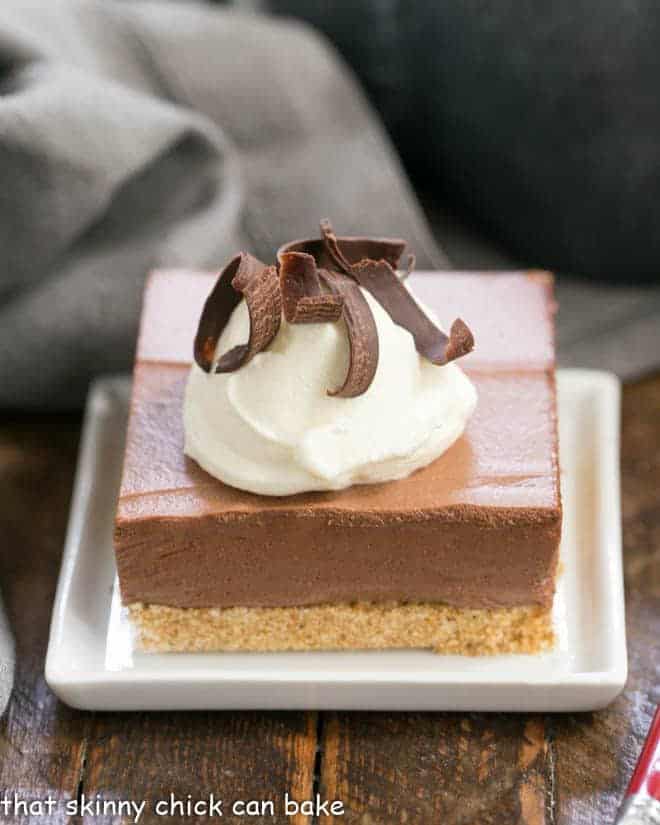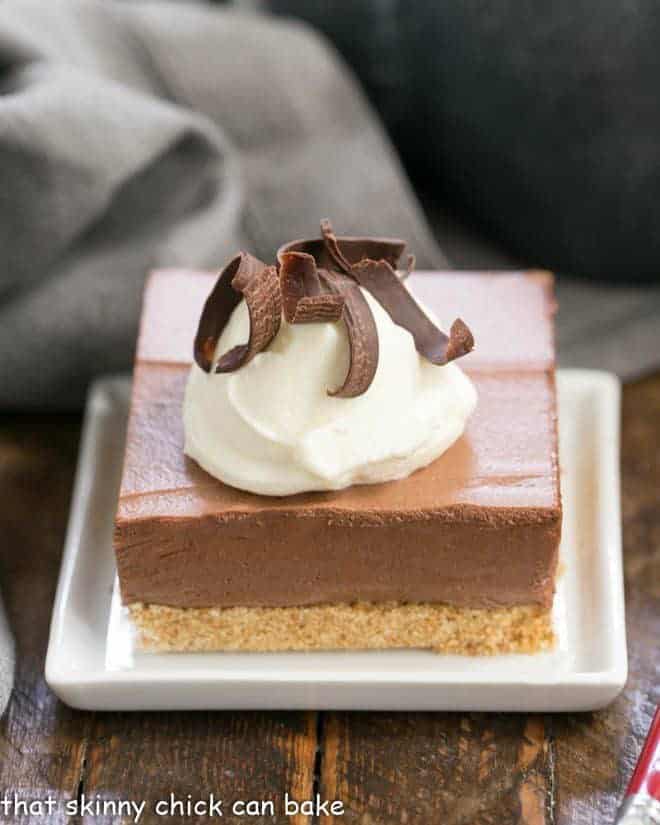 Tips for Making These Easy Chocolate Mousse Bars
Since the crust is not baked, it is popped in the freezer to firm up while making the mousse. It is more crumbly than a baked graham cracker crust so there is bound to be some that breaks off as you cut squares to serve.
You can purchase graham cracker crumbs or whiz your own in your food processor. I used the processor to mix in the butter and sugar so not to dirty another bowl. I also like to line my pan with nonstick foil for easy removal. Parchment is another option. Just leave enough hangover so you have "handles" to remove the bars to a cutting board if desired.
PRO-Tip: When you whip the cream to fold into the chocolate mixture, use a very cold bowl. I popped mine in the freezer while making the crust. Beating in a chilled bowl helps stabilize the cream.
To keep the mousse light, you first mix in a small amount of the cream and then fold in the rest.
If you aren't familiar with folding ingredients together, it's a process to prevent your whipped cream or lightened ingredient from deflating.
Use a rubber spatula and lift up the mixture from the bottom and gently "fold" the spoonful back into the mix. Keep repeating this circular motion until there are no white streaks left in the chocolate.
I like using an offset spatula to smooth out the top of the filling after it's scooped out onto the crust.
I also like slicing with a hot knife (run it through very hot water, then dry) as it glides through the mousse beautifully. Well, until it reaches the crust!
Did you know coffee can enhance the flavor of chocolate? There is 1 teaspoon of espresso powder in this recipe, which isn't enough to overwhelm the chocolate flavor with coffee.
If you want more of a mocha flavor, increase the espresso powder to 2 teaspoons.
To make chocolate shavings, zap a semi-sweet or bittersweet Ghirardelli bar (or whatever you have on hand) in the microwave for 5-10 seconds, just to warm slightly.
Then take a vegetable peeler and scrape down a flat edge onto a piece of parchment. If your chocolate is too warm, let it cool a bit and try again.
You May Also Like:
Besides numerous chocolate mousse recipes, I've shared a white chocolate mousse, raspberry mousse, grasshopper mousse and a strawberry mousse. I've also had my eye on some mousse recipes from some blogger friends like this elegant Chocolate Mousse Cake, this spectacular Easy Tiramisu Mousse, and this impressive Oreo Brookie Mousse Cake! You might also love these Dark Chocolate Mousse Bars! And if you cannot wait for your chocolate fix, try this Whipped Chocolate Mousse that takes only 5 minutes to make!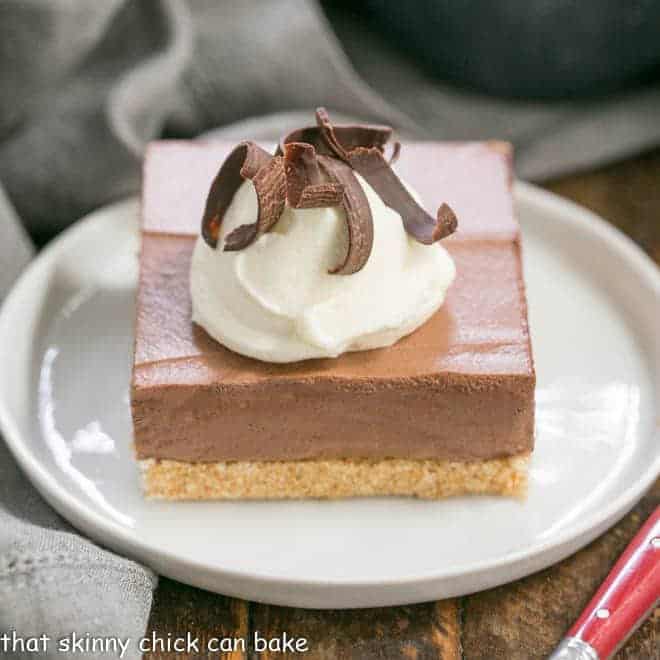 The Recipe:
Easy Chocolate Mousse Bars
Prep Time 20 minutes
Total Time 20 minutes
Yield 24 servings
A delicious, no-bake dessert with a graham cracker crust and chocolate mousse topping!
Ingredients
Crust:
18 graham crackers (whole rectangles)
1/2 cup butter (1 stick), melted
2 tablespoons sugar
¼ teaspoon  salt
Filling:
1 pound semisweet chocolate, finely chopped (I used 4, 4-ounce Ghirardelli bars)
3 cups heavy cream, plus more for serving
1 teaspoon instant espresso powder
1/4 teaspoon  salt
1 tablespoon pure vanilla extract
Whipped cream to serve, if desired
Instructions
Make the crust:
Line a 9-inch-by-13-inch baking pan with nonstick foil, leaving a 2-inch overhang on 2 sides.
In a food processor, process the graham crackers until you have crumbs. You should have about 2 1/4 cups.
Add the butter, sugar and salt and pulse until evenly moistened.
Tip the crumbs into the prepared pan and press them down into an even layer on the bottom.
Transfer to the freezer while you prepare the filling.
Make the filling:
Set the chocolate in a medium bowl.
In a small saucepan, heat 1 cup cream, espresso powder and salt until hot but not boiling.
Pour the hot cream mixture over the chocolate and let it stand for 2 minutes.
Add the vanilla and whisk until smooth.
Set aside to cool completely.
Assemble:
In a large bowl or in the bowl of a stand mixer fitted with the whisk attachment, whip the remaining 2 cups heavy cream until you have stiff peaks.
Add the chocolate mixture and gently fold to combine.
Pour the mixture over the prepared crust, and spread it out into an even layer.
Cover with plastic wrap and chill until firm, at least 2 hours.
To serve, cut into squares and serve with a dollop of whipped cream and chocolate shavings, if desired.
Notes
Adapted from the New York Times.
Nutrition Information:
Yield:
24
Serving Size:
1 square
Amount Per Serving:
Calories: 280
Total Fat: 21g
Saturated Fat: 13g
Trans Fat: 1g
Unsaturated Fat: 7g
Cholesterol: 44mg
Sodium: 136mg
Carbohydrates: 23g
Fiber: 2g
Sugar: 15g
Protein: 2g
Note: This post may contain affiliate links; view
my Disclosure Policy
for details. I earn a small percentage from any purchase you make by clicking on these links at no extra cost to you.