Raspberry Mousse
Raspberry Mousse: A light, luscious, creamy dessert made with frozen raspberries, cream, and eggs!
Fruit Desserts tempt me even more than chocolate and this mousse recipe is fresh with a delicious burst of raspberry flavor.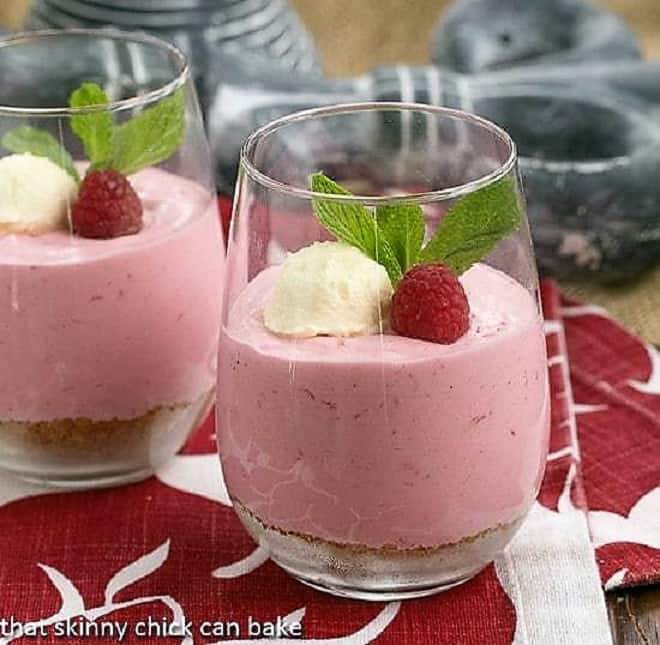 Raspberry Mousse
One Easter, my mom introduced us to Mile High Strawberry Pie, a dessert made with a couple of boxes of frozen strawberries, Cool Whip and egg whites over a pecan crust. The whole thing was popped in the freezer and we couldn't get enough of it.
This Raspberry Mousse is an updated version of that holiday dessert from my childhood. I switched up the berries, used real whipping cream and pasteurized eggs to make one of my favorite fruit desserts
. I've been cooking with Davidson's Safest Choice eggs since they became available in my local market. Raw eggs add marvelous silkiness and stability to so many desserts, but in this day and age, using non-pasteurized eggs puts you at risk of foodborne illnesses such as salmonella.
Pasteurized Eggs for the Safest Mousse
It wasn't my mom's dessert, but most likely a toddler's curiosity that resulted in my sister contracting salmonella. Mary was by my mom's side while our Sunday breakfast was being prepared. Most likely, sampling some under-cooked bacon or eggs caused her gastric distress.
Her symptoms are not exactly appropriate for a food blog, but they did trigger an urgent run to the doctor's office. So salmonella was a term I knew at age 5…decades before became a commonly known illness. PRO-Tip: If you're serving a recipe with undercooked or raw eggs, like this Raspberry Mousse, please use caution and do not offer to young children, anyone who is immune-suppressed or the elderly.
To make a most luscious raspberry mousse recipe, using eggs is key. Besides giving structure to the mousse, the silkiness eggs provide cannot be recreated with any other ingredients.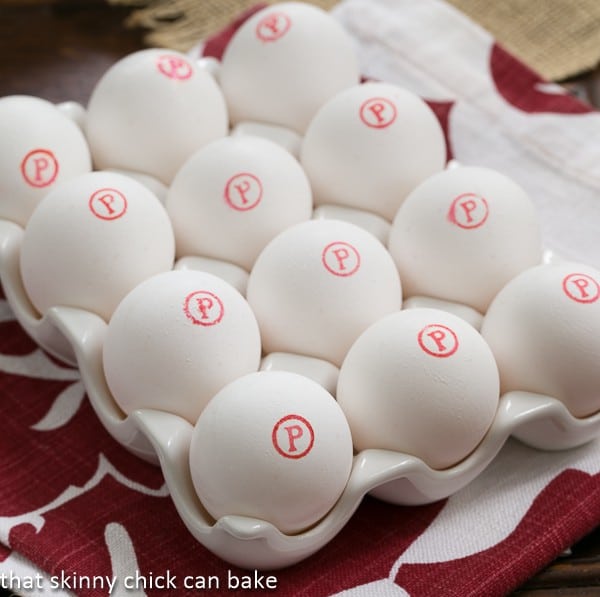 Look for the red P in a circle that distinguishes Safest Choice from unpasteurized eggs.
Tips for Making Raspberry Mousse
I tamped a simple mixture of graham cracker crumbs, melted butter, and brown sugar into my parfait glasses. The most difficult part of the recipe was pushing the raspberries through a sieve to remove the seeds.
Next time, I think I will whiz them in the blender before straining. The beating of the egg whites and cream, melting of the gelatin and folding all the components together was a cinch.
I can see serving these in shot glasses on a dessert buffet. I put a dollop of sweetened mascarpone on each plus a berry to garnish, but a bit of sweetened whipped cream would be just as fabulous!
PRO-Tip: If you cannot find pasteurized eggs, the key to making them at home is to cook your eggs covered with water at 140º for 4 full minutes. You will need to monitor the temperature closely so that it doesn't dip below 140ºF (60º C) or above 144º where the eggs will start cook instead of going through the pasteurization process. If the water gets too hot, pull the pan off the heat until the temperature returns to 140º.
You might also enjoy my Strawberry Mousse and Raspberry Topped Lemon Souffles.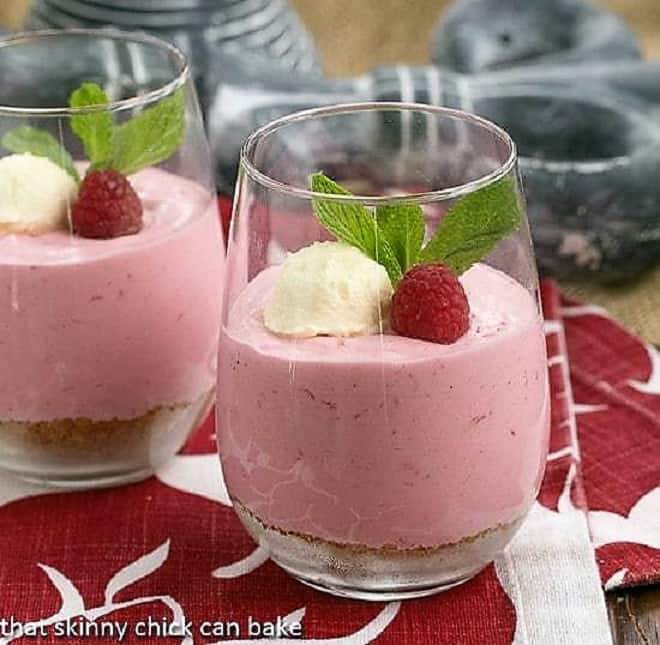 The Recipe:
Raspberry Mousse
Prep Time 30 minutes
Cook Time 1 minute
Total Time 31 minutes
Yield 6 servings
Raspberry Mousse - a light luscious dessert made with frozen raspberries and cream
Ingredients
3/4 cup graham cracker crumbs
2 tablespoons butter, melted
1 tablespoon brown sugar
10 ounce bag frozen raspberries, defrosted
3/4 cup sugar
2 egg whites (I recommend Safest Choice pasteurized eggs to avoid food borne illnesses)
1 envelope plain gelatin
1 cup whipping cream
Instructions
Mix first 3 ingredients together for crust layer. Divide between 4-6 parfait glasses.
Push raspberries through a sieve to remove seeds. Add sugar to berry puree.
Beat egg whites till frothy. Add to berries.
In a small microwave safe bowl, combine gelatin with 1 tablespoon cold water, stir and let dissolve. Place bowl in microwave and heat for 10-30 seconds till gelatin liquifies (this took about 12 seconds in my microwave).
Whip cream to stiff peaks in a large bowl. Pour in gelatin and mix to combine. Carefully fold raspberry mixture into cream. Divide raspberry mixture between parfait glasses. Chill for at least an hour before serving.
Yield: 4-6 servings, depending on size of glasses
Total time: 1 1/2 hours
Notes
Yield depends on the size of your serving dishes.
I recommend using pasteurized eggs to prevent food borne illnesses that can come with eating raw eggs.
Nutrition Information:
Yield:
6
Serving Size:
1
Amount Per Serving:
Calories: 352
Total Fat: 20g
Saturated Fat: 12g
Trans Fat: 1g
Unsaturated Fat: 6g
Cholesterol: 55mg
Sodium: 111mg
Carbohydrates: 42g
Fiber: 3g
Sugar: 33g
Protein: 5g
Note: This post may contain affiliate links; view
my Disclosure Policy
for details. I earn a small percentage from any purchase you make by clicking on these links at no extra cost to you.