Double Strawberry and Rose Shortcakes
I had no idea that roses and strawberries were closely related, so it's no wonder these Double Strawberry and Rose Shortcakes from Dorie Greenspan were an exquisite, delectable dessert!
My berries were at the peak of ripeness, juicy and ultra-sweet. Heavenly. Grab some fresh, fragrant strawberries and treat your family to this awesome dessert anytime you can find beautiful berries in the market.
Why You Should Make these Strawberry Shortcakes
Last month, I was thrilled to spend an hour with baker extraordinaire and cookbook author, Dorie Greenspan, in a Google+ hangout. In preparation for National Strawberry Shortcake Day on June 14th, Dorie gave us tips on making the perfect summer dessert: Double Strawberry and Rose Shortcakes. Partnering with my favorite Driscoll's berries, she added a few twists to this classic recipe:
Pairing rose extract with berries enhanced the flavor of the strawberries. Did you know that roses and strawberries are closely related??
Using both a strawberry sauce and fresh berries created more textural interest
Using buttermilk vs. cream in the shortcake biscuits made for a lighter shortcake base
Adding a bit of sour cream to the whipping cream gave a more luscious mouthfeel and a slight tang, similar to creme fraiche
Adding lemon zest to the shortcakes provided a surprising boost of flavor
Tips for Making Strawberry Shortcakes:
If adding lemon zest to your shortcakes, use your fingers to rub it into the sugar to release the lemon oils
Use your hands to mix the biscuit dough so it doesn't get overworked
Use cold ingredients to make your biscuits extra flaky
Check the expiration on your baking powder to make sure your biscuits rise

How to Garnish Homemade Strawberry Shortcakes
I make strawberry shortcakes numerous times each summer…they are definitely a family favorite. I was concerned that Bill, the picky guy that he is, would zero right in on the rose extract in the strawberry compote and the whipped cream. I decreased the amounts in both from 3/4 teaspoon to a half teaspoon hoping to tone down the floral fragrance. Well, what do you know, he didn't say a word. In fact, he even ate a couple for breakfast, rationalizing that its fruit, dairy, and a biscuit. All legitimate breakfast foods. Who can argue with logic like that?
Sugared rose petals were to be one of the lovely garnishes for this dessert. But we hit an August-like stretch of weather in May when I made these. Hot and horribly humid.
I brushed a few petals with egg whites and dusted them with sugar. Lighter-colored petals would have worked better as a few places never got dry and my uneven sugaring was quite obvious. I swapped them out for plain ol' petals…which looked quite nice.
Add a sprig of mint and a small ripe strawberry to each plate if you don't want to mess with rose petals.
Pipe on your whipped cream with a star tip for a more elegant presentation. A dollop of cream using a cookie disher is an easier option.
These shortcakes had 5 components: the lovely lemon biscuits, a cooked rose-flavored strawberry compote, vanilla and rose-flavored whipped cream with a touch of sour cream, sliced berries, and candied rose petals. An elegant dessert perfect for any occasion…or if you're my hubby, any meal.
More Strawberry Dessert Recipes
Besides these Double Strawberry Rose Shortcakes, this Berry Mascarpone Roulade is another fabulous dessert from Dorie Greenspan that's perfect during berry season! And if you want dessert for breakfast or brunch, try these Strawberry Shortcake Crepes!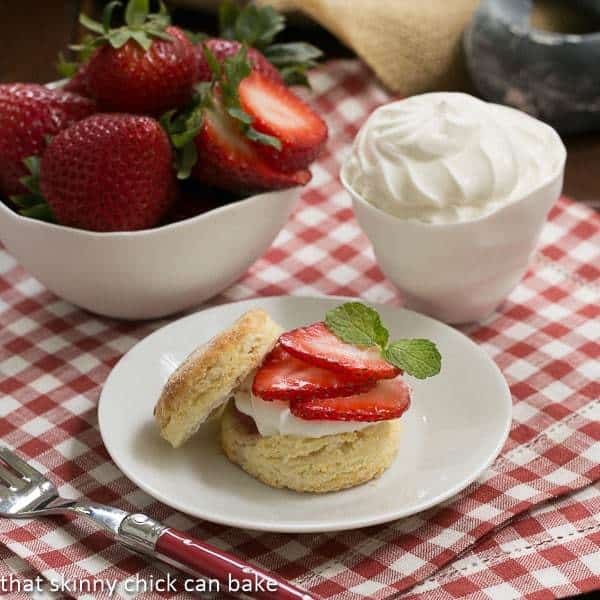 The Recipe:
Double-Strawberry and Rose Shortcake Recipe
Prep Time 30 minutes
Cook Time 18 minutes
Total Time 48 minutes
Yield 12 servings
I had no idea that roses and strawberries were closely related,  so it's no wonder these Double Strawberry and Rose Shortcakes from Dorie Greenspan were an exquisite, delectable dessert!
Ingredients
Rose Petal Decoration:
3 unsprayed roses
1 to 2 very fresh organic egg whites
granulated sugar or store-bought candied rose petals
Strawberry Compote:
3/4 pound (about 3 cups) strawberries, hulled
1 1/2 tablespoons granulated sugar
3/4 teaspoon pure rose extract
Lemon-Buttermilk Biscuits:
1 1/2 tablespoons granulated sugar (plus more for sprinkling)
freshly grated zest of 1 lemon
2 cups all-purpose flour (plus more for dusting)
1 tablespoon baking powder
1/2 teaspoon fine sea salt
1/4 teaspoon baking soda
6 tablespoons (3/4 stick) cold unsalted butter, cut into small cubes
3/4 cup cold buttermilk
Whipped Cream:
1 cup very cold heavy cream
2 tablespoons confectioners' sugar, sifted
1 teaspoon pure vanilla extract
3/4 teaspoon pure rose extract
1 tablespoon cold sour cream (optional)
red or pink food coloring
Topping:
1/2 to 3/4 lb. (about 2 to 3 cups) Driscoll's Strawberries, hulled
Instructions
Several hours ahead or the day before, separate the rose petals, rinse them quickly in cold water and pat them dry. Put one egg white in a small bowl and whisk until it's foamy. (You may or may not need the second white.) Put the sugar in another small bowl and place a sheet of parchment paper or a silicone baking mat on the counter. One at a time, dip a petal into the white and let the excess drip back into the bowl. Drag the petal through the sugar to coat both sides very lightly. Dry the petals on the paper or mat in a cool, non-humid place for at least 6 hours or for as long as overnight.
Strawberry Compote
Coarsely chop the berries and toss them into a small saucepan with the sugar. Put the pan over medium heat and cook, stirring, for 5 to 8 minutes, or until the juices are slightly thickened and syrupy. Scrape the berries and syrup into a bowl, stir in the rose extract and cool to room temperature. (You can make the compote up to 3 days ahead and keep it covered in the refrigerator.)
Center a rack in the oven and preheat the oven to 425°F. Line a baking sheet with parchment paper or a silicone baking mat.
Lemon-buttermilk biscuits
Put the sugar and lemon zest in a large bowl and, working with your fingertips, rub the ingredients together until the sugar is moist and fragrant. Add the rest of the dry ingredients to the bowl and whisk to combine. Drop in the pieces of cold butter and, again using your fingertips, crush, rub and blend the butter in. You'll have flakes of butter and small pieces and this is just right. Pour the cold buttermilk over the mixture, switch to a fork and toss and stir everything together until the milk is absorbed - your dough might look like curds, but that's fine. Don't stir too much, too vigorously or for too long and if there are a few dry spots in the bottom of the bowl, ignore them. Reach into the bowl and knead the dough gently, folding it over on itself and turning it over 6 to 8 times.
Dust a work surface lightly with flour, turn out the dough and, still using your hands, pat the dough out until it is ½ inch thick. (The thickness is what's important here.) Using a high-sided 2 inch cutter, cut out biscuits and place them on the baking sheet. Pat the scraps together until they're ½ inch thick and cut out as many more biscuits as you can. (The leftover dough can be cut into biscuits, but they won't rise as high or as evenly as the others - you can keep them as your baker's treat).
Bake for 15 to18 minutes, or until the biscuits have risen gloriously and their tops and bottoms are golden brown. Transfer the baking sheet to a cooling rack and allow the biscuits to cool until they reach room temperature. (The biscuits can be made up to 6 hours ahead; keep them uncovered at room temperature.)
Whipped Cream
Working with an electric mixer, beat the cream just until it mounds softly. Still beating, add the sugar, followed by the vanilla and rose extracts. When the cream is fully whipped and holds firm peaks, quickly beat in the sour cream, if you're using it. To tint the cream, beat in just one drop of coloring; continuing adding coloring a tiny drop at a time until you get the shade of pink you want. (The whipped cream can be made up to 3 hours ahead and kept tightly covered in the refrigerator; whisk a couple of times before using.)
Just before you're ready to put the shortcakes together, stand the berries up and, using a thin-bladed knife, cut each berry into 4 or 5 thin slices.
If you'd like to pipe the whipped cream, either spoon the cream into a pastry bag fitted with an open star or plain tip, or spoon the cream into a zipper-lock plastic bag and snip off a corner. Alternatively, you can simply spoon on the cream.
Slice off the top of the biscuit to create an even surface for piping the cream. Save the tops to nibble on later. Put a teaspoonful of strawberry compote and syrup in the center of each biscuit. Pipe (or spoon) a circle of whipped cream around the compote, leaving a bit of compote uncovered. Finish each shortcake by pressing two or three slices of strawberry together, fanning them out a little and placing them, broad side down, in the center of each cake. Add a rose petal for the finishing touch. (If you have any extra compote and/or cream, cover and keep in the refrigerator to enjoy at another time.)
Arrange the shortcakes on a platter. Scatter the remaining rose petals around the platter and serve immediately
Notes
Recipe used with permission from Dorie Greenspan and Driscoll's.
Nutrition Information:
Yield:
12
Serving Size:
1
Amount Per Serving:
Calories: 279
Total Fat: 14g
Saturated Fat: 9g
Trans Fat: 0g
Unsaturated Fat: 5g
Cholesterol: 70mg
Sodium: 287mg
Carbohydrates: 25g
Fiber: 1g
Sugar: 8g
Protein: 5g
Note: This post may contain affiliate links; view
my Disclosure Policy
for details. I earn a small percentage from any purchase you make by clicking on these links at no extra cost to you.