Double Cherry Muffins
These moist and delicious Double Cherry Muffins are full of fresh and dried cherries, plus a boost of flavor from almond extract!
Tender Buttermilk Muffins are a delicious way to start the day or as a lovely afternoon snack with a cup of tea or milk. Make sure to make this Cherry Recipe in the summer when cherries are in their prime, juicy, and delicious!
Double Cherry Muffins
Thank goodness for my girlfriends. You've heard this story before. The only cherries Bill will touch are in Cherry Koolaid, or "CK" as it's lovingly called at our house. So I'm so happy for a group of eager friends who even email to ask if I have anything to bring to our biweekly gatherings.
My first batch of these muffins didn't dazzle me, so I added more dried cherries and upped the almond extract. The buttermilk based batter created a moist and flavorful base…and I knew I'd hit the jackpot with these double cherry muffins.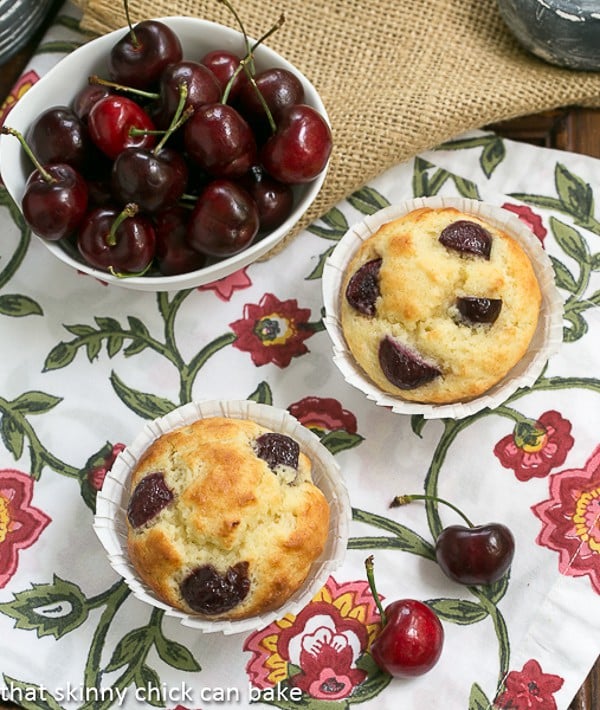 Tips for Making Perfect Muffins
There is one tip I retained from my high school Home Ec class which I'll share with you. PRO-Tip: Do not over-mix your quick bread batter. A classic rule of baking. I'm sharing some more advice for making the best muffins every single time.
Mixing Your Double Cherry Muffin Batter:
First, start by whisking together your dry ingredients. Since over mixing quick bread batter leads to tunneling, you'll want your leavening to be well mixed in with the flour before you add your liquids.
The liquids, which can include melted butter, eggs, and the usual suspects, should be mixed together, too. For the same reason as above.
Then you fold, which is a process done with a rubber spatula, the wet ingredients into the dry. You don't want to go crazy but gently lift and fold the batter over and over until there are just a few spots of unincorporated flour visible.
Once the liquids meet the dry ingredients, the leavener is activated so you want to bake your muffins immediately after mixing.
Filling Your Muffin Tins:
Fill your muffin cups 2/3 to 3/4 full if the recipe doesn't give you any specifications.
I like to use paper muffin liners inside my muffin tins for easy release. If you don't want to use the liners, just grease your tins with butter, shortening or non-stick cooking spray.
Baking and Storing Your Muffins
Your muffins are done when a toothpick inserted in the center comes out clean or with just a few moist crumbs.
As you do with cakes, release the muffins from the tins after about 10 minutes of cooling. This gives them time to cool and firm up a bit, but still, be warm enough not to be stuck to the pan.
Finish cooling on a wire rack. Serve slightly warm or at room temperature.
Store your fresh, cooled muffins in an airtight container up to 3 days. Muffins can also be frozen up to 3 months. I use a freezer gallon Ziploc bag.
#TwelveLoaves June: Cherries
Check out more bread, muffins, and danishes featuring summer cherries!
#TwelveLoaves runs smoothly with the help of our friends. Thanks to the wonderful Renee Dobbs and Liz Berg for their help this month!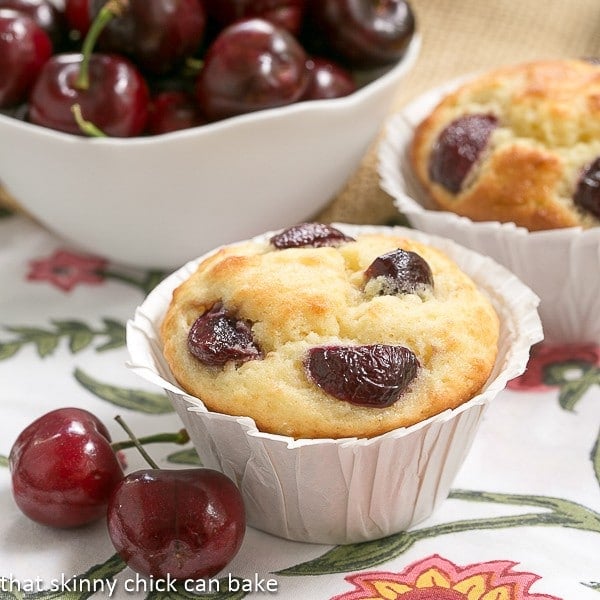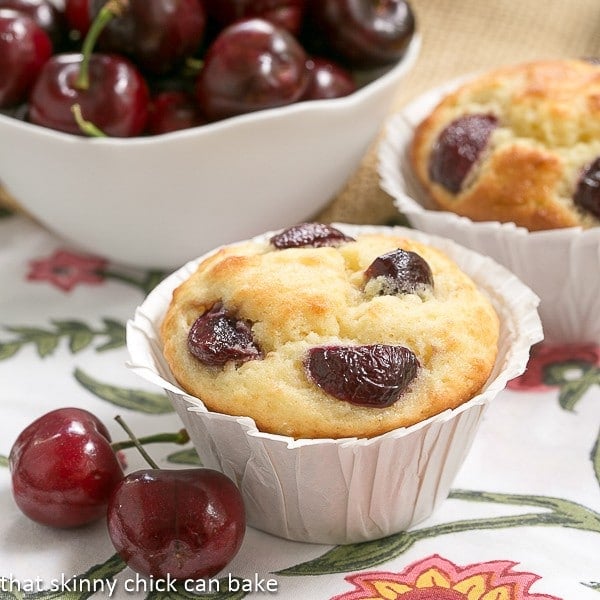 The Recipe:
Double Cherry Muffins
Prep Time 10 minutes
Cook Time 18 minutes
Total Time 28 minutes
Yield 12 muffins
A fabulous cherry muffin packed with fruit!
Ingredients
2 cups fresh sweet cherries, pitted and coarsely chopped
1 cup tart dried cherries
1 cup plus 2 tablespoons sugar
2 1/2 cups flour
2 1/2 teaspoons baking powder
1 teaspoon salt
2 eggs
1 stick (8 tablespoons) butter, melted and cooled slightly.
1 cup buttermilk
1 teaspoon vanilla
1 teaspoon almond extract
Instructions
Preheat oven to 425º. Line muffin tins with paper liners and set aside.
Whisk flour, baking powder, and salt together in large bowl. Whisk sugar and eggs together in medium bowl till well combined. Slowly whisk in melted butter. Whisk in buttermilk, vanilla and almond extract until combined. Then add dried cherries.Using rubber spatula, fold egg mixture into flour mixture. Do not overmix.
Add about a tablespoon of batter to each muffin cup, followed by a few chopped cherries, and then continue to layer till batter fills the cups. If you have leftover cherries and batter fill up a couple of ramekins to bake with the muffin tin.
Bake about 18 minutes till tops are firm and golden. Cool in tin for 5 minutes, then transfer to wire rack to finish serving.
Notes
You may be able to get 14 muffins out of each batch depending on the size of your tin and your muffins.
Nutrition Information:
Yield:
12
Serving Size:
1 muffin
Amount Per Serving:
Calories: 205
Total Fat: 4g
Saturated Fat: 2g
Trans Fat: 0g
Unsaturated Fat: 1g
Cholesterol: 38mg
Sodium: 347mg
Carbohydrates: 38g
Fiber: 2g
Sugar: 13g
Protein: 5g
Skinny Tip
I'm starting a new series of Skinny Tips. How I keep slim is one of my most frequent inquiries. I'll feature tips on some of my upcoming blog posts.
Tip #8: Brush your teeth when you're done with a meal or before you start cooking. You'll be less likely to snack or taste-test the batter when your mouth is minty fresh.
Note: This post may contain affiliate links; view
my Disclosure Policy
for details. I earn a small percentage from any purchase you make by clicking on these links at no extra cost to you.