Mile High Strawberry Pie Dessert
This Mile High Strawbery Pie is a scrumptious retro recipe! Updated from the 70s, this frozen dessert now uses fresh berries and cream.
This Frozen Strawberry Dessert has stood the test of time. With a couple of simple tweaks, it's even better than the original recipe from the 1970s!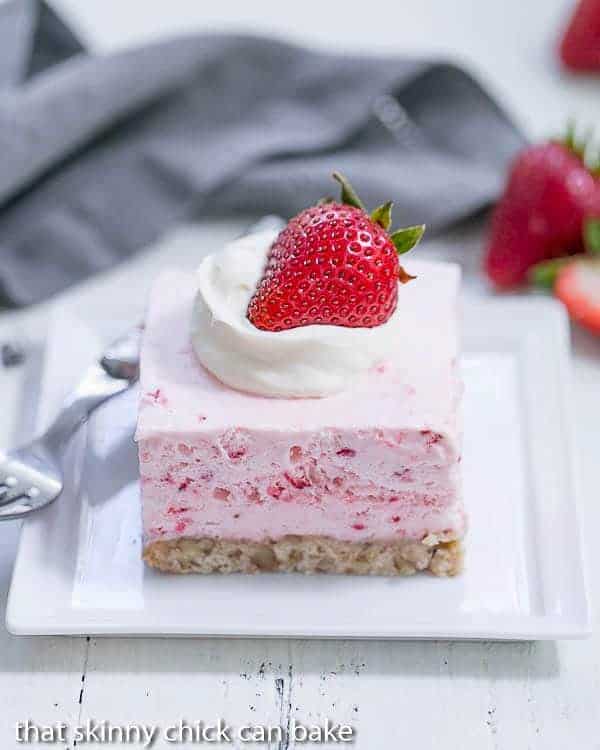 Why You Must Make
This is a delicious, retro recipe that we'd have for Easter (and other holidays) back in the 1970s!
I've updated my mom's version using fresh instead of frozen strawberries and real whipped cream. So it tastes even better than the original recipe!
It can be made as bars or piled into a pie tin so it's really a mile-high pie!
Since it's frozen, it can be made ahead of time, making it perfect for entertaining.
When it came to food, my mom pulled out all the stops for the holidays. I fondly remember her Mile High Strawberry Pie Dessert making its debut one Easter. I have a copy of her recipe on an index card in my recipe box. it was made with a "box" of strawberries from the grocer's freezer and piled high into a pie plate!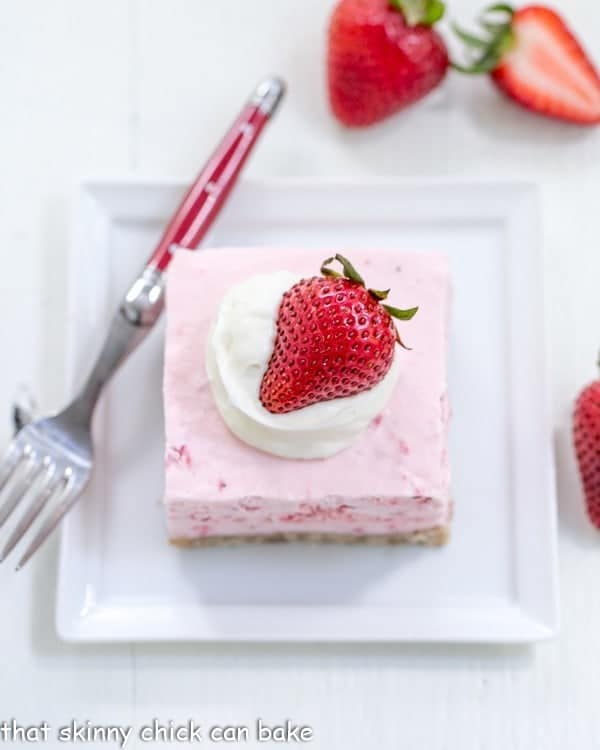 Ingredient Notes:
Chopped Pecans – Toast first to bring out the essential oils AKA flavor.
Egg Whites – Separate when cold, but bring to room temperature for the most volume when beaten. If you get any yolk in your whites, you'll have to start over. Any contamination from oil or fats, including egg yolks, will prevent them from whipping properly.
Fresh Strawberries – Make sure they're red, sweet, and fragrant for the tastiest results.
Lemon Juice – Fresh juice always trumps bottled juice.
Whipping Cream – Should be at least 36% butterfat.
Tips for Beating Egg Whites:
If you're new to making a meringue or dessert with egg whites, I have a few tips for you. PRO-Tip: Let your egg whites warm to room temperature before beating.
They will whip much higher and lighter than if they are cold. PRO-Tip: Also, make sure your beaters and mixing bowl are scrupulously clean. Any oil or grease residue will prevent the egg whites from whipping up into a billowy mass. This includes even just a speck of egg yolk.
I recommend separating your eggs one at a time in two small bowls. Empty the egg white into the mixing bowl before separating another. If any yolk gets into the white, just toss that one or save it for scrambled eggs.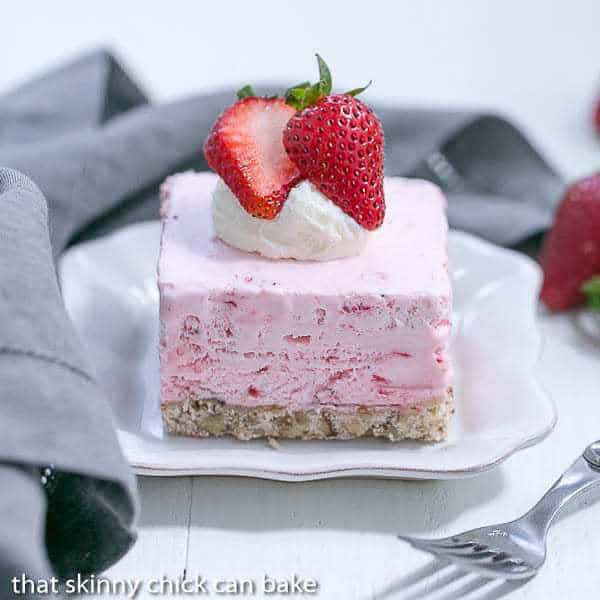 Frequently Asked Questions
Why Is This Dessert Called Mile High?
There is an option to make this recipe in a pie pan. When the filling is piled on the smaller crust, it is very tall. Much higher than your usual pie filling!
How Do You Select the Best Strawberries for this Dessert?
First, you must know when strawberries are in season. Florida strawberries are available around Christmas and California strawberries are best in the spring and summer. Local strawberries are often the tastiest! In Indiana, they're available starting early in June
Use your senses of smell and taste. Look for fragrant red berries without green or yellowish areas, with a slight sheen to their skins, free of blemishes, and seeds that are not brown and dry.
How Do You Prep Strawberries for Recipes?
Don't wash until you're ready to use as the moisture causes them to absorb water which shortens their lifespan. When you're almost ready to use them, rinse quickly in cool water and let them dry on paper towels.
Remove the stem using a paring knife, a coring tool, or even a metal or plastic straw. You'll want to remove the white core as well as the leaves. Then you can chop them for the recipe.
Is It Safe to Eat Raw Egg Whites? 
There is some risk you need to be aware of. Pasteurized eggs are recommended, but they're often difficult to locate. There is a slight chance that raws can be contaminated with salmonella bacteria. If you're serving this to anyone who is very young, very old, or immune-compromised, it's best not to serve them any recipe that contains raw eggs.
There are home methods to self-pasteurize by keeping your whole eggs at 140° for 3-4 minutes to kill any bacteria. This is done using a water bath and a good thermometer. But it's hard to know if the egg whites have reached the desired temperature for the needed time.
Simply Recipes has a newer technique in which you mix your egg whites with sugar and heat them over a double boiler, stirring constantly, until they reach 160° since when the eggs are in the shell, you have no way of knowing how warm they get.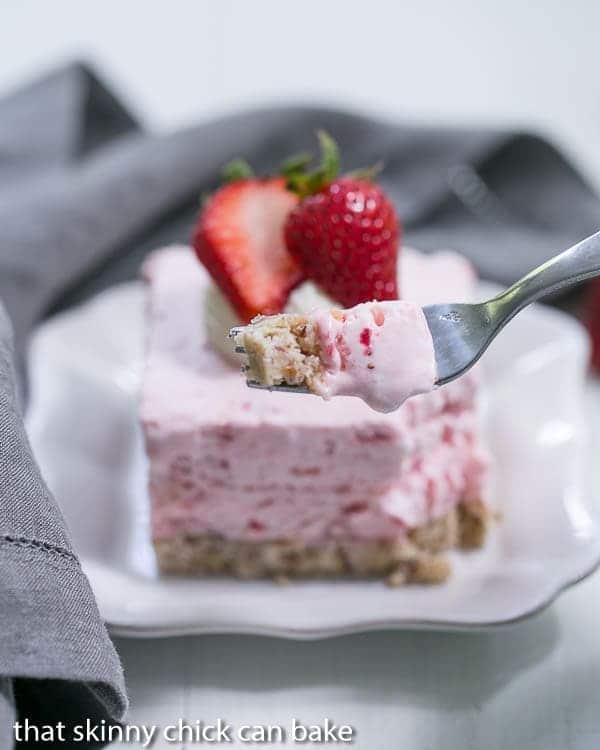 You May Also Like:
If you love this Mile High Strawberry Pie, you'll also enjoy these other strawberry sweets!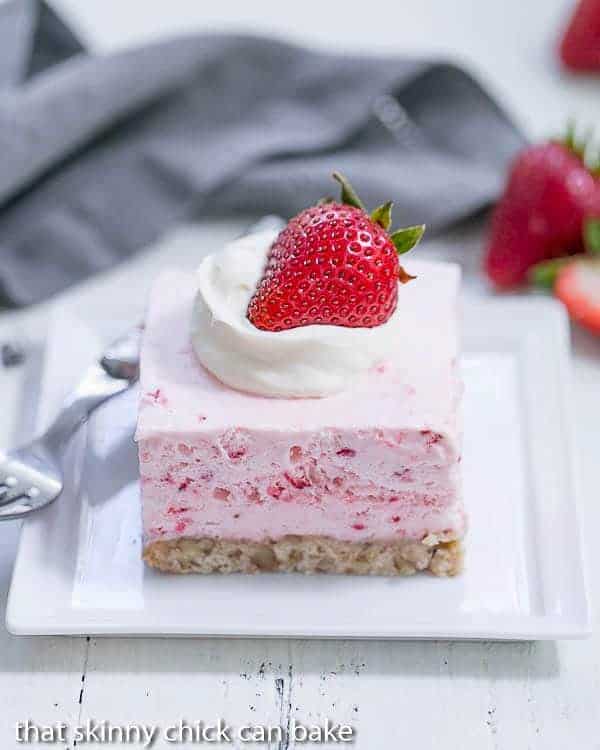 The Recipe:
Mile High Strawberry Pie Dessert
Prep Time 30 minutes
Cook Time 20 minutes
Total Time 50 minutes
Yield 18 servings
A fabulous retro frozen berry dessert with a modern twist!
Ingredients
Crust:
1/2 cup melted butter
1 cup flour
1/4 cup brown sugar
1 cup finely chopped pecans
Strawberry Filling:
2 egg whites, at room temperature (I recommend pasteurized as they will not be cooked in this dessert)
1 cup sugar
2 cups chopped fresh strawberries
2 tablespoons fresh lemon juice
1 cup whipping cream
Fresh strawberries and sweetened whipped cream, to garnish (optional)
Instructions
Preheat oven to 350º.
Place flour, brown sugar, chopped pecans, and melted butter into a bowl and mix well. Pat into the bottom of a 9" x 13" pan.
Bake for 20 minutes or till lightly browned. Cool to room temperature
Combine egg whites, sugar, berries, and lemon juice in the bowl of a stand mixer. Beat for 8-10 minutes till whipped and stiff.
In another bowl, whip the cream until firm peaks form. Fold into strawberry mixture, then spread over the crust.
Freeze for at least 6 hours before serving. Remove from the freezer about 10 minutes before serving.
Slice into squares and garnish with a dollop of whipped cream and berries, if desired.
Notes
Total time does not reflect freezing time.
Nutrition Information:
Yield:
18
Serving Size:
1 slice
Amount Per Serving:
Calories: 221
Total Fat: 14g
Saturated Fat: 7g
Trans Fat: 0g
Unsaturated Fat: 7g
Cholesterol: 29mg
Sodium: 51mg
Carbohydrates: 22g
Fiber: 1g
Sugar: 15g
Protein: 2g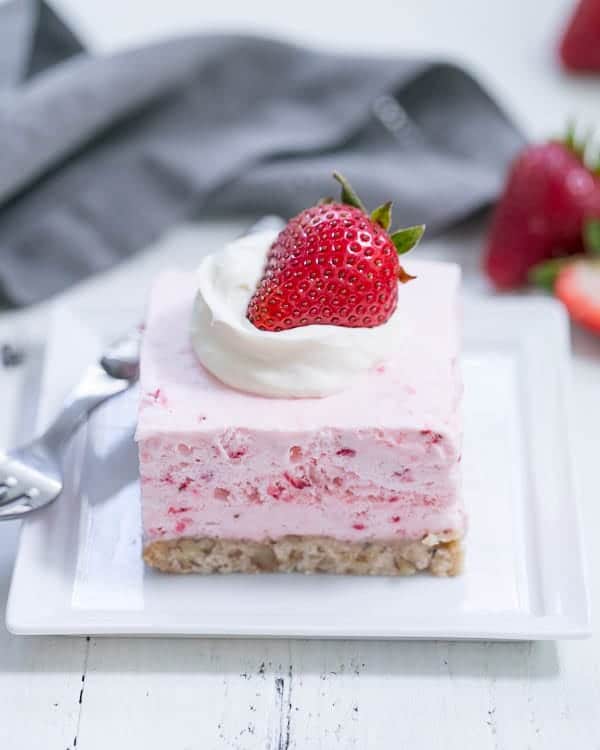 Note: This post may contain affiliate links; view
my Disclosure Policy
for details. I earn a small percentage from any purchase you make by clicking on these links at no extra cost to you.